Often when people return from traveling Xinjiang and the Silk Road, they tell me their favorite memory was the local Uyghur food. While it's virtually impossible to recreate this memory at home, it's always worth a try. For this reason, I've collected some of the best Uyghur food recipes for you to use in your own home.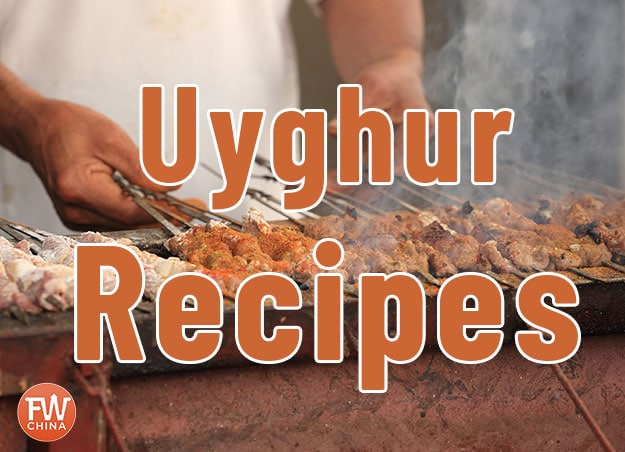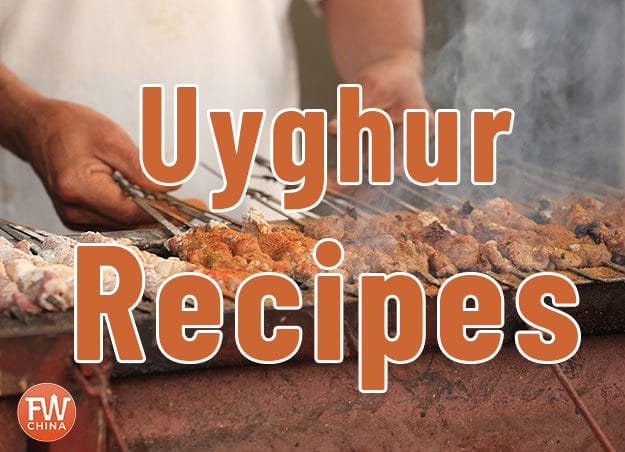 Unfortunately – at least as far as I can tell – there is no formal Uyghur food cookbook in English. There's plenty available in Uyghur and a few in Chinese, but that doesn't help much.
Thankfully, there are plenty of online resources that can help…if you're willing to dig and find them! I've decided to take a few minutes here to share with you a few of my favorite Xinjiang foods as well as the recipes that will allow you to cook them at home.
Each dish will have an internal link that will give you more details about the specific dish, as well as an external link to an authentic recipe for you to use.
Uyghur Bread Recipe – Naan (馕)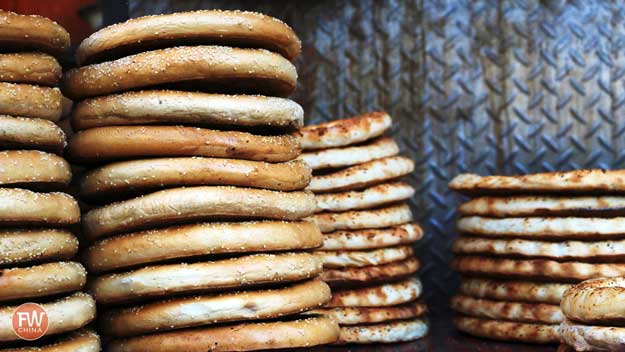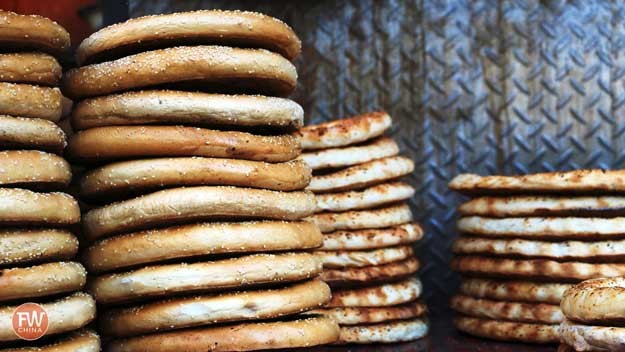 A couple years ago, I had the opportunity to go behind the scenes at a Uyghur bread shop in Turpan to learn how they make the famous flatbread. It was an incredible experience, but is it possible to do this same process in your own home?
Believe it or not, with the use of a good pizza stone or some clay quarry tiles, it is possible. It might not be exactly the same as what you remember in Xinjiang, but it will be the next best thing.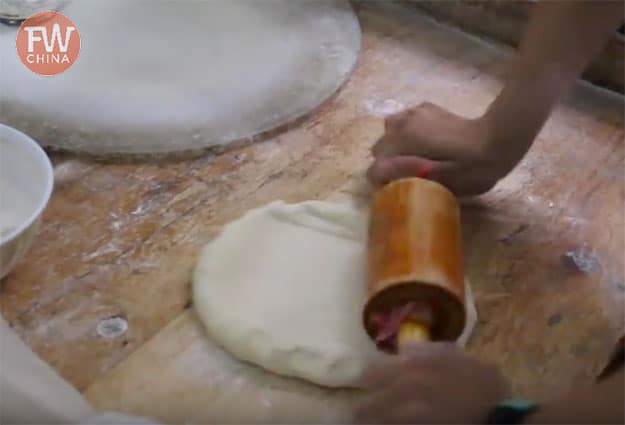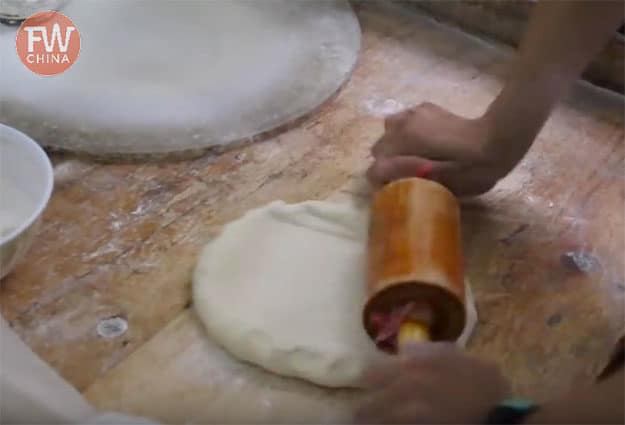 Check out this video to see how Uyghur bread is made in Xinjiang!
---
Big Plate Chicken Recipe – DaPanJi (大盘鸡)
Big Plate Chicken is probably one of the most tried and failed recipes in all of Xinjiang. Most people just don't realize that the secret behind what makes DaPanJi so special is the red sauce.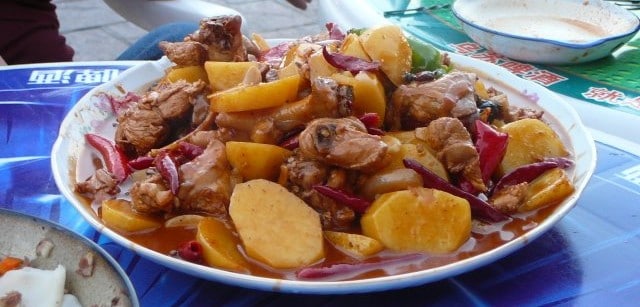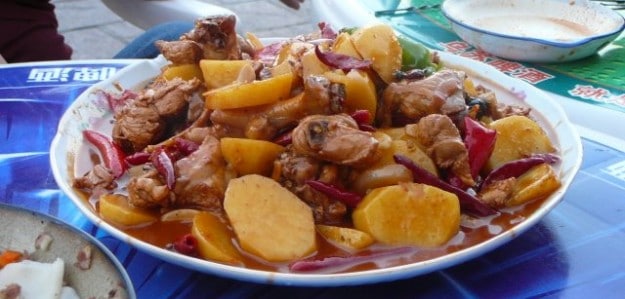 The DaPanJi recipe I'm sharing here is a bit difficult because there are some unfamiliar ingredients (Shaoxing wine for example), but this can be overcome.
If you don't have access to a Chinese supermarket to get rice wine, a pale dry sherry will do the trick (apple juice will do if you don't want to visit the liquor store). Also, the Xinjiang spice can be either a complex mix of spices, or you can just substitute cumin.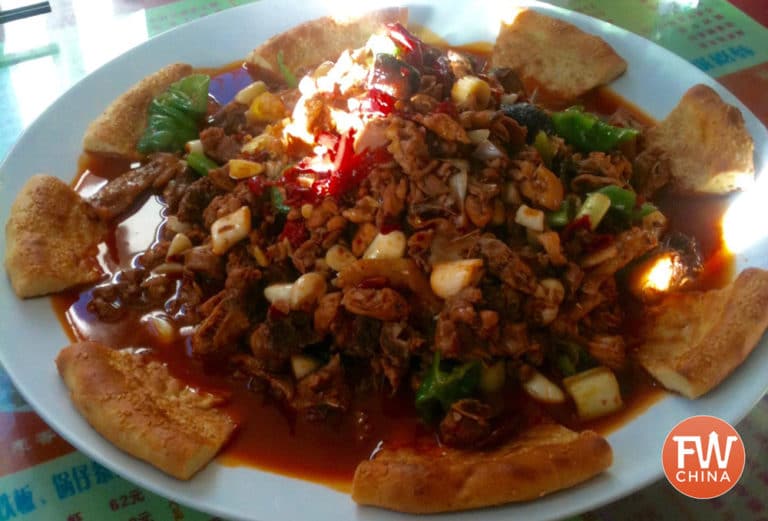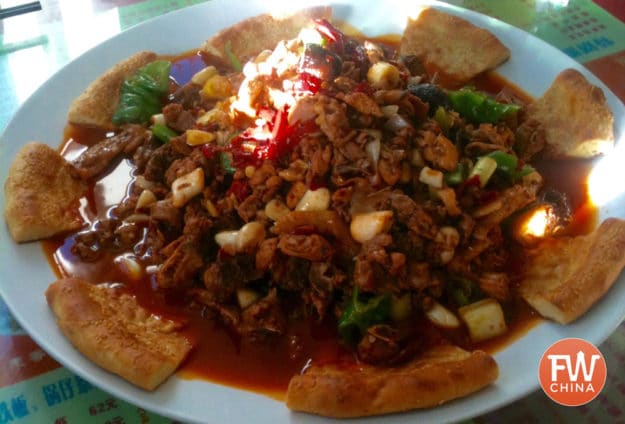 ---
Uyghur Polo Recipe – Pilaf (抓饭)
Some people call it Uyghur Pilaf; in Xinjiang, it's mostly referred to as Uyghur Polo or "zhua fan" after the Chinese name for the dish.
Although I believe this dish is more "Central Asian" than "Uyghur food", it is still a dish that most people absolutely love when they travel here to Xinjiang.
There are quite a few different types of polo that the Uyghur people make, but the most common is what you see here (and what the recipe describes).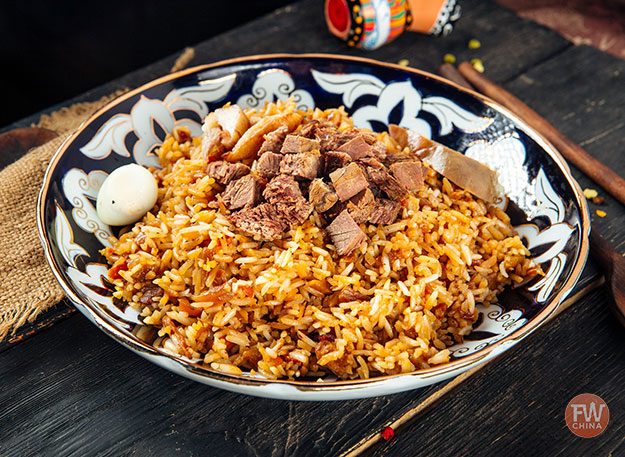 ---
Uyghur Lamb Kebab Recipe (烤肉)
One of the staple street foods in Xinjiang is the famous lamb kebab. In some areas of the province they are cooked over wood while others are cooked over coal, but the smell is irresistible either way.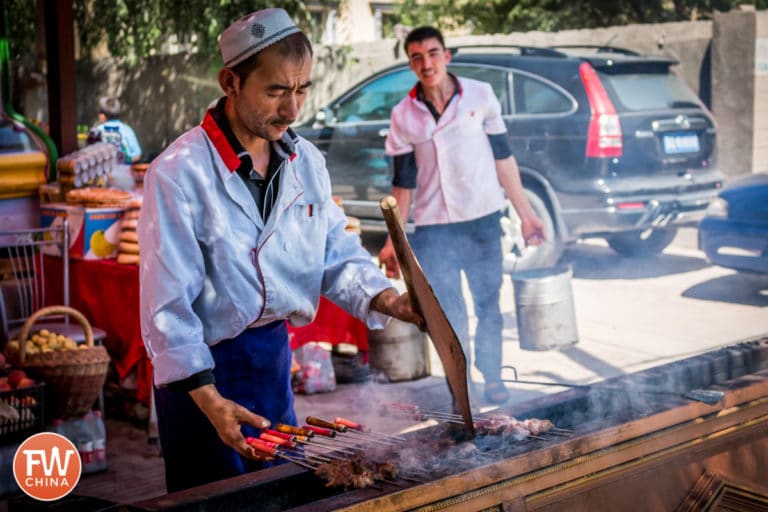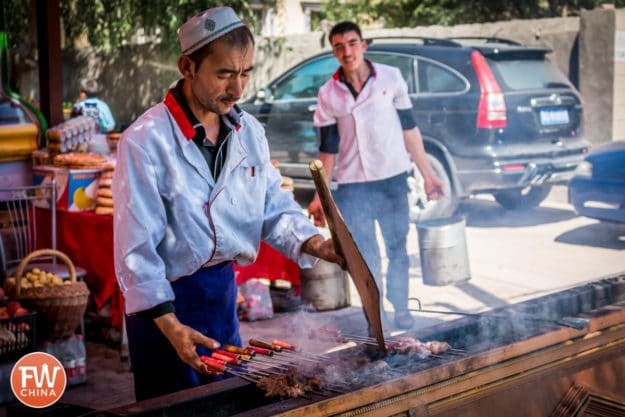 No matter what you do, it's going to be impossible to perfectly replicate a Xinjiang lamb kebab. I personally took lessons from a kebab seller on how to make lamb kebabs and I can't do it.
Still, armed with this recipe you can at least give it a try!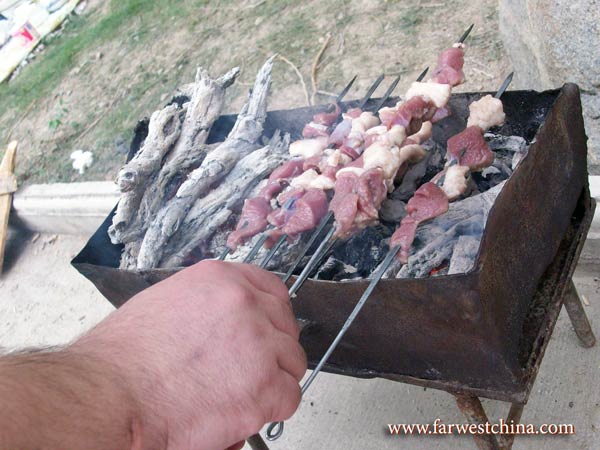 ---
Uyghur Laghman Noodles (拌面)
In my mind, it's almost as fun to watch a Hui or Uyghur man make "pulled noodles" as it is to eat laghman. It's a talent that takes years to perfect, so don't expect to do it at home (I just use spaghetti noodles as a substitute).
If you want to try your hand a making and pulling your own noodles, see this noodle recipe. Oh, and good luck with that :)
For the rest of us, the following recipe will suffice when it comes to recreating another great Xinjiang dish.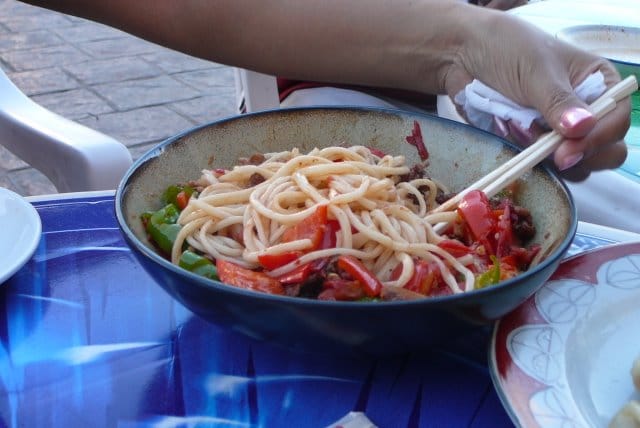 Uyghur Samsa Recipe (烤包子)
Last but not least, another great street snack from Xinjiang. Similar to the Uyghur bread, it's impossible to accurately replicate this dish without a coal-heated oven, but it can still be done.
The following recipe is written in Chinese characters and I wouldn't consider it completely "authentic", but it's great for home use. Best of all it comes with pictures for everybody who wants a step-by-step guide. Ha!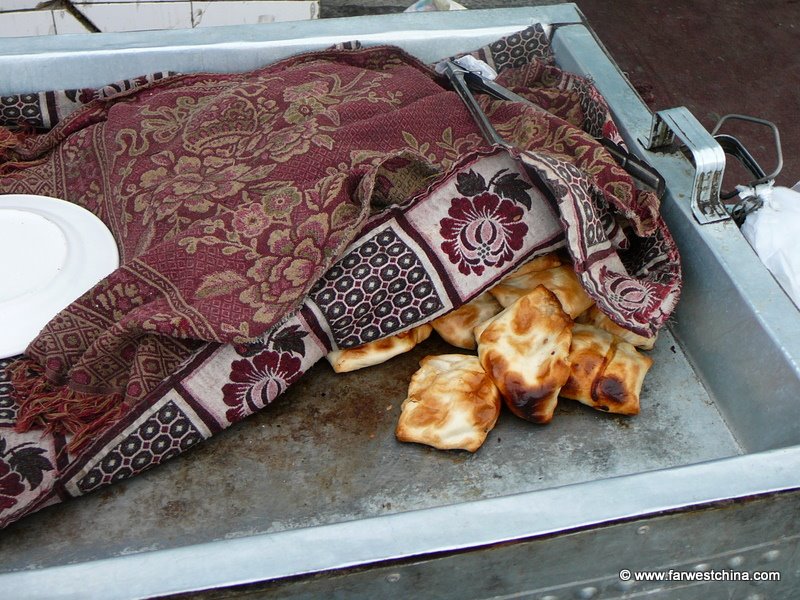 ---
Great Chinese Cookbook in English
If looking through these recipes and trying them out at home is something that appeals to you, I highly suggest this book called Beyond the Great Wall.
While most of the recipes are the recognizable Chinese dishes, there are also quite a few Xinjiang recipes you'll enjoy.
Aside from recipes, the book also covers many of the ingredients you'll need – including descriptions of what they are and how they're used. Grab a copy for yourself – and help support this website in the process!
Final Thoughts | Uyghur Recipes
When it comes to Xinjiang, people tend to travel for a number of different reasons: beautiful scenery, history, exploration, culture, etc. But more often than not, people tell me that they travel to Xinjiang to experience the Uyghur food.
Whether you can make the trip or not, it's so much fun to try these Uyghur food recipes at home. You can find out more about the most popular Uyghur cuisines and then give them a try yourself.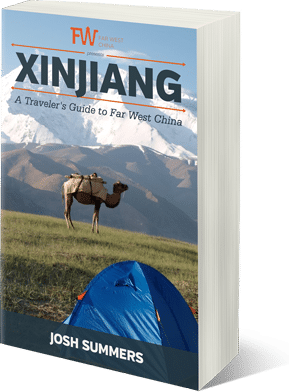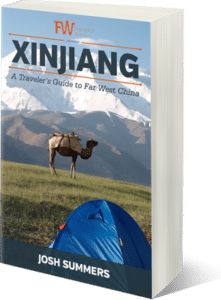 Oh, and one more thing…
If you're planning to visit Xinjiang in the future, make sure to grab a copy of the FarWestChina Xinjiang Travel Guide. Not only will you support this website, it's also the most comprehensive, up-to-date book on the region available.
Has this been helpful? Please share it with others :)