Local Name: ئۆپكە-ھېسىپ
Chinese Name: 面肺子 (miànfèizi)
Alternate Names: Öpke-hésip
Description: Boiled sheep lung and intestine stuffed with a rice and flour mixture.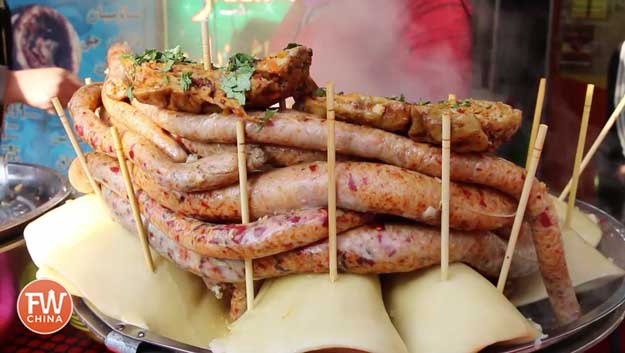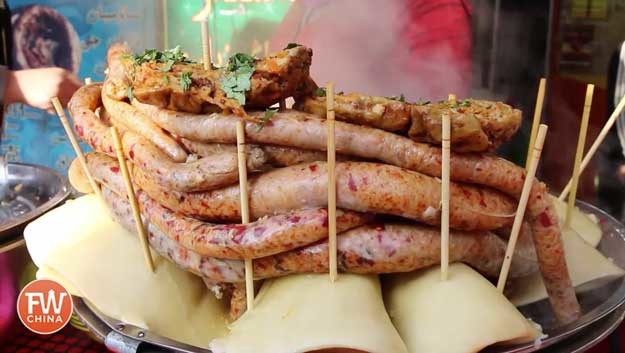 As you plan your trip to Xinjiang, you should consider how you want to experience Uyghur cuisine–an important part of any journey through Xinjiang.
As we continue our series on great Xinjiang foods, I'm excited to introduce to you a food that most people don't think about when they think "Uyghur food."
Not Your "Typical" Uyghur Food
Anybody with a familiarity with Uyghur food in Xinjiang–or with Central Asian food in general–probably already knows about delicious lamb kebabs, rice pilaf (Uyghur polo), laghman, and flatbread, to name a few.
There are some dishes, however, that don't get the same recognition. Öpke-hésip (sheep lung and intestine) is a good example.
Over the past decade, I've walked past this dish numerous times in the back alleys of Urumqi and have never gathered the courage to try it out. Yes, I'm aware that any kind of sausage is basically stuffed intestine, but there's just something about the way that Uyghur stuffed intestine is displayed that makes it look…
…disgusting.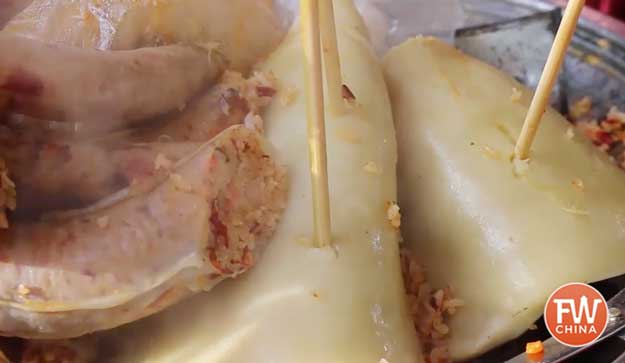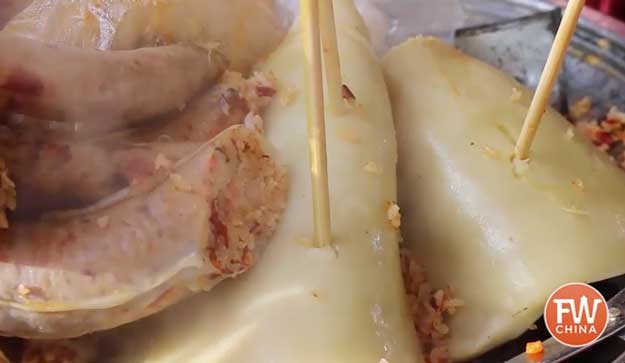 Tell me honestly … does something like that make your mouth water? Don't lie.
However, in order to maintain my credibility as a "Xinjiang expert" of sorts, I couldn't avoid the dish any longer. I called up my friend Waris and asked if he would be willing to join me as I tried this Uyghur dish known as "öpke-hésip."
Check out the video below for a short introduction, and give it a thumbs-up if you enjoy!
Don't miss the rest of this season! Subscribe to FarWestChina on YouTube.
Sheep Lung & Stuffed Intestine
The fact is that this isn't a dish you can find at most Uyghur restaurants, particularly here in the capital of Urumqi. The only places I've seen it are on the side of the road next to hole-in-the-wall restaurants.
The lung and intestine is usually wrapped around a large bowl that is steaming to keep warm, placed outside the entrance to a restaurant to attract customers.
The owner of this particular hole-in-the-wall explained to me that öpke-hésip usually takes a full day for one person to make: preparing the rice flour mixture, stuffing the intestine, and cooking it all together.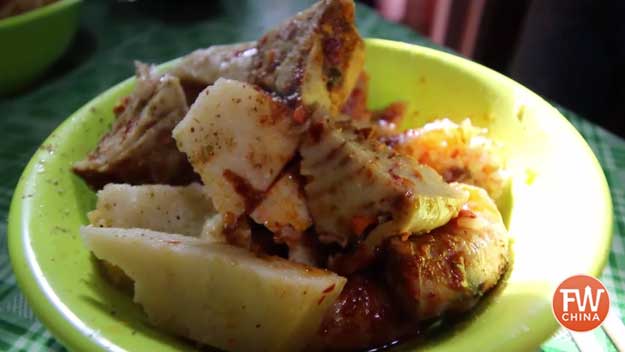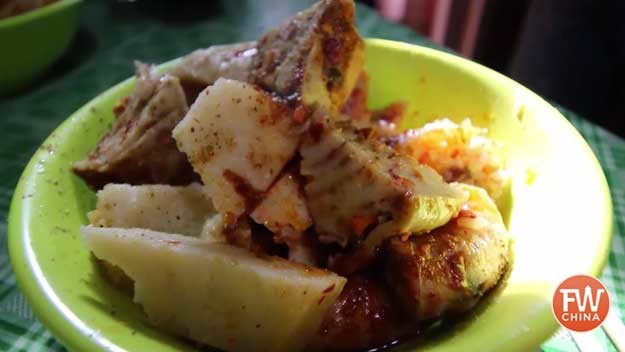 It's also not considered a "main course" in Uyghur cuisine. It's usually served as an appetizer before or after a main meal. My Uyghur friend tried to tell me it was a "dessert" but I quickly corrected him, explaining that no Westerner in their right mind would consider this a dessert!
Sometimes the stuffing is spicy (as was the case for the öpke-hésip I tried), and other times it's plain. I was served a bowl that had chopped-up intestine, lung, and a bread-like substance all together.
Surprisingly, I can say that it was actually pretty good!
Uyghur Polo "Sushi"?
I know this may sound weird, but the best phrase I can come up with to describe öpke-hésip is "Uyghur polo sushi." Before you write me off, let me explain.
When the intestine gets cut up and served in a bowl, what you end up with is a sushi-like bite where lamb meat takes the place of raw fish and intestine is used to wrap it all up instead of seaweed. Most of what I taste is the rice and flour stuffing, which although spicy, was quite tasty!
For the adventurous foodie, giving öpke-hésip a try probably won't be a problem, but if you're like me I know you'll probably hesitate before sitting down for a bite.
Let me encourage you: give it a try at least once! No doubt you'll enjoy Uyghur laghman or polo while you're here, but you never know–maybe you'll find yourself coming back for more öpke-hésip.