[sam id="1″ codes="true"]Local Name: "keebab"
Chinese Name: 烤肉 (kăo ròu)
Alternate Names: Xinjiang BBQ, kebabs, lamb-on-a-stick
Description: Alternating pieces of lamb meat and fat roasted with spices on a stick
Continuing our presentation of the daily food we eat here in Xinjiang, I will now introduce you to our good friend Mr. Lamb. Now before my wife and I arrived here in China we had never eaten lamb before and I think many other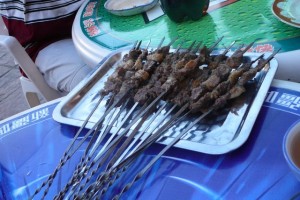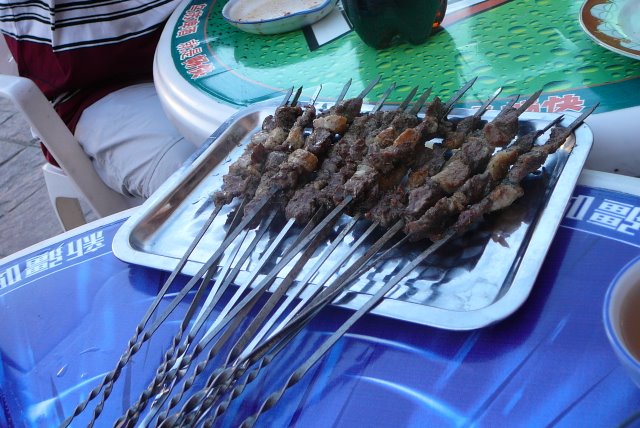 westerners are the same way . Needless to say, new meats are always an interesting experience, and lamb is no exception.
Uyghurs and Lamb
Uyghur, one of the many different people groups present here in Xinjiang, are the experts at cooking lamb kebabs. Come to think of it, they're experts at everything having to do with sheep meat and all other body parts. Because they are usually Muslim, naturally they can't eat pork. While this does leave chicken and fish as options, they usually forgo these two and make every dish with some part of the lamb.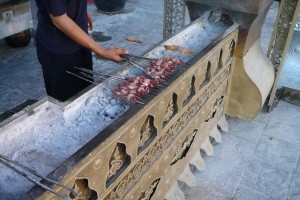 Various forms of kebabs are available (with various parts of the lamb), but the most common and our favorite is what is simply referred to as "ke-bab". It usually involves alternating pieces of meat and fat (surprisingly good!) seasoned with a blend of spices which can be quite tasty (albeit a bit spicy) and cooked over a special grill using coal – not charcoal.
[sam id="2″ codes="true"]
Warning: Do not try Coal at Home
This last point is important because the story has been passed down of an American here in Karamay who thought it would be so cool to grill steaks for his Chinese friends. Sounds like a good idea, right? Well, using coal for his grill just as he would charcoal, he ended up grilling a fine layer of coal grime onto the steaks while simultaneously smoking out the neighborhood. Grilling with coal is an art, and unlike us Americans, the Uyghur have it down.
The best part about kebabs? They are super cheap! One kebab costs one RMB (update: that was in 2008… in 2010 they are 2-4 RMB), the equivalent of 15 cents, so the plate of kebabs in the picture above probably cost us close to $3. It's not a full meal in itself, but it makes for a nice side order. Although the best kebabs are found in Xinjiang, you can find them in almost any major city in China…once you find a Muslim restaurant or a Muslim quarter, you'll find lamb kebabs.