Uyghur bread, also known as "naan", is an incredible Central Asian flat bread served all throughout China's western region of Xinjiang. It's unbelievably delicious and I'm excited to introduce you to this amazing Uyghur cuisine.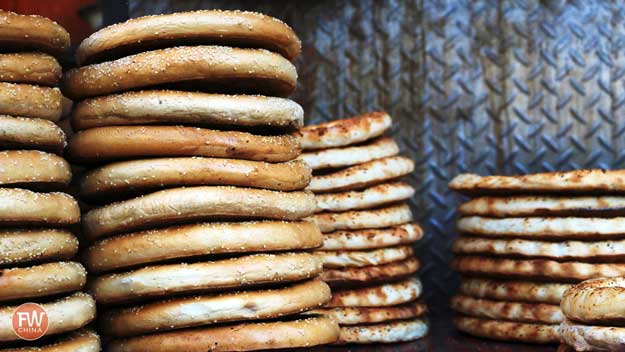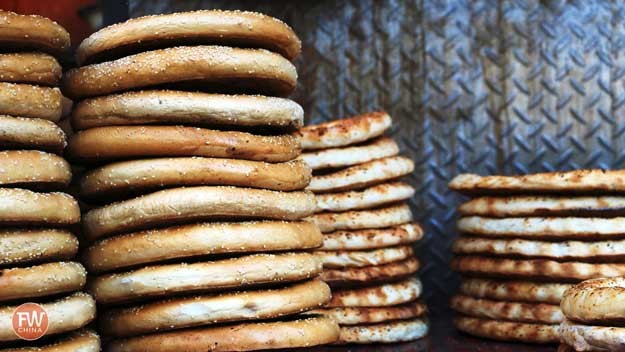 Local Name: "nang" or "nan"
Chinese Name: 馕 (náng)
Alternate Names: Uyghur bread, flat bread
Description: A local bread made in various forms.
In Xinjiang, there is no other food that better encapsulates the culture and cuisine of an ethnic group than Uyghur bread.
Yes, there is plenty of unique food in Xinjiang worth trying, but this local bread is different.
Because it is baked outside, the smell of this bread is often the default scent of many neighborhoods in Xinjiang (particularly ones that are majority Uyghur).
What makes Uyghur bread so special?
Join me as I introduce to you the culture of bread in Xinjiang and why it's something you can't miss when you pass through here.
Uyghur Bread Stands in Xinjiang
It's pretty much impossible to walk a city block anywhere in Xinjiang without running into a Uyghur bread stand.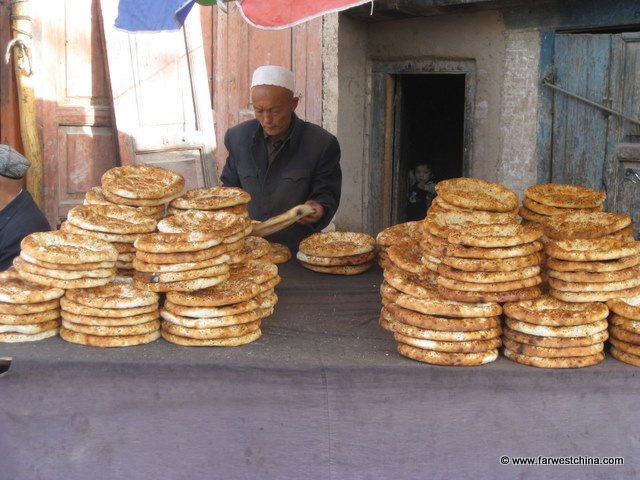 The stands selling this bread, also referred to as "nan" or "nang", are more common to this part of China than Starbucks is in America (but thankfully they're much cheaper!).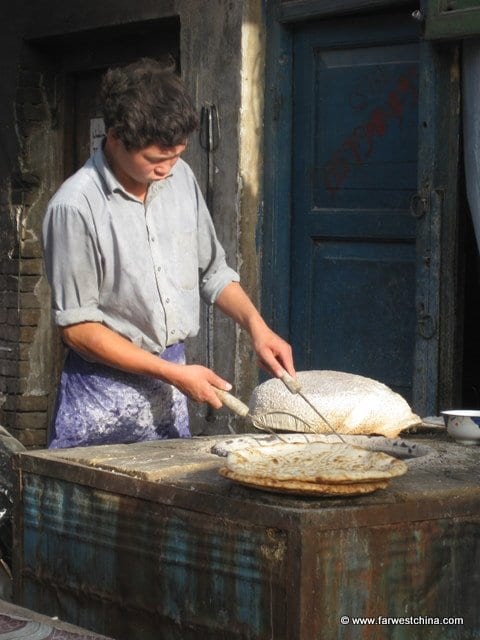 The stand itself is pretty simple. It usually consists of a small room to mix the dough next to a large oven located outside, called a "tannur" or "tandoor".
This cylindrical oven similar to what you'll find all across the Middle East is usually made of sun-dried earth bricks and heated by either coal or wood.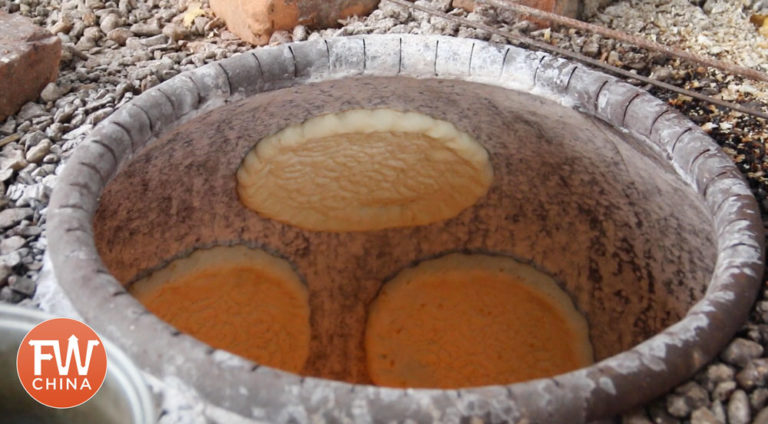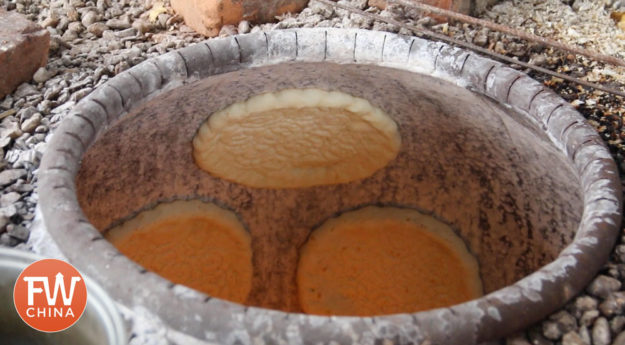 For nearly twelve hours a day this stand is occupied by two or more Uyghur men and women. One makes the dough and one cooks the bread. Sometimes there's one other to sell or deliver the bread.
For many this is their livelihood, a skill passed down from generation to generation and taught as a specialized trade. Making bread at a Uyghur bread stand is not as easy as it looks, I promise you.
There's no formal school in which to train and no recipe books exist (that I know of). If you're looking to make your own Uyghur-style bread you can try to follow a Uyghur bread recipe, but I guarantee it won't be the same.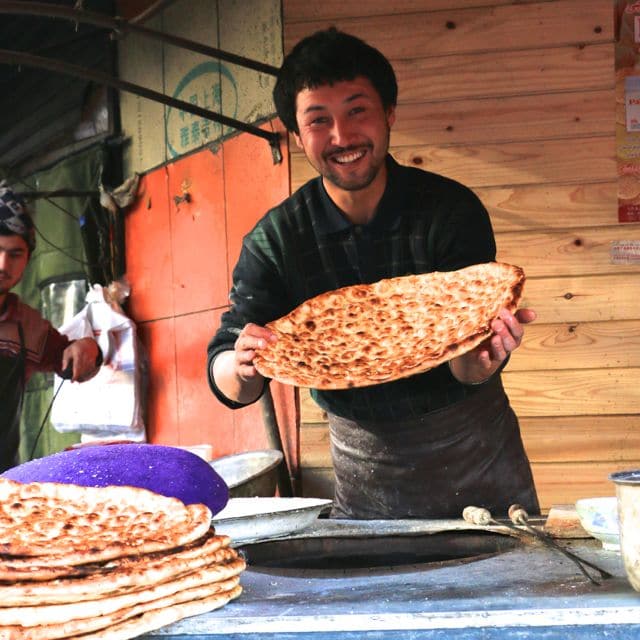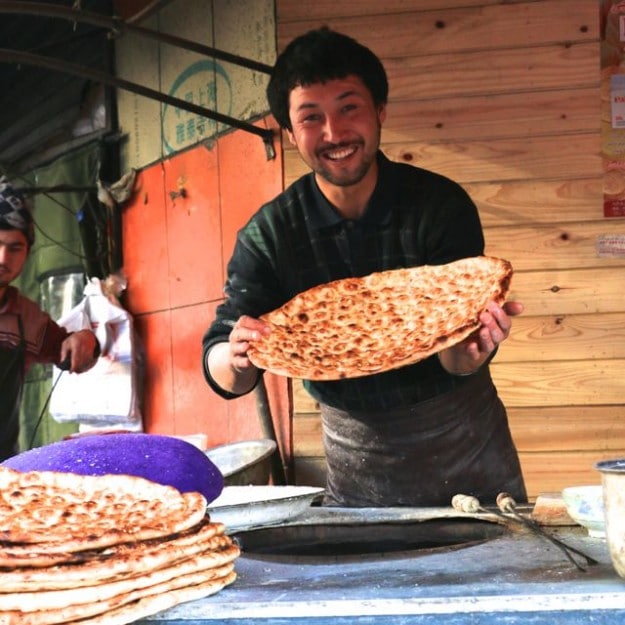 Whenever I pass one of these stands I can't help but be taken in by the intoxicating smell of fresh bread and during the bitter cold of the winter I am drawn to the heat generated by the stove.
In fact, this may be one of the strongest memories that I carry with me now that I'm no longer living in Xinjiang.
Types of Uyghur Bread in Xinjiang
I have been told that there are over 50 different kinds of Uyghur bread.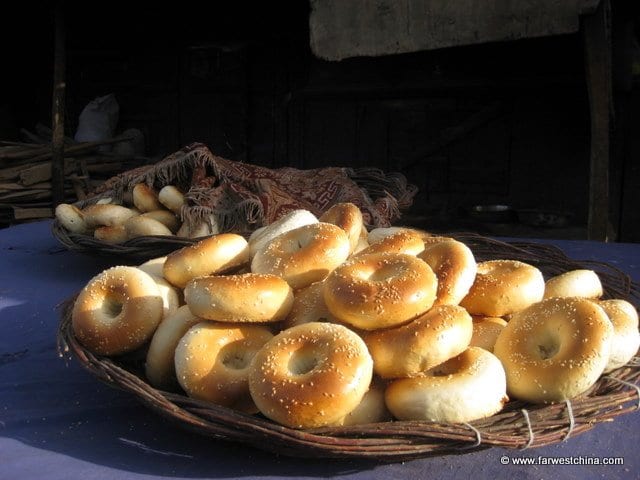 I didn't believe this number until I noticed that I rarely see the same kind of bread at two different stands.
There are also different kinds of bread based on which city you visit in Xinjiang.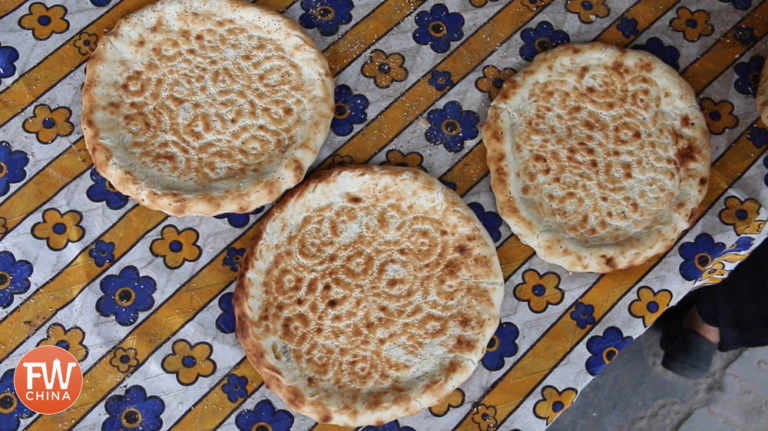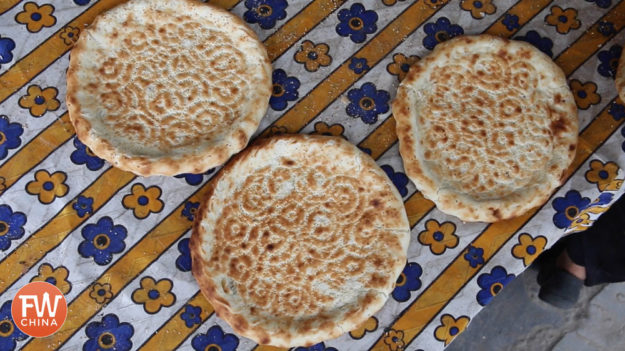 Here's a small list of just a few that I have seen so far:
Flat Bread – usually round in shape
Flaky Bread
Small Baguette Bread
Sourdough Bread
Bagel Breads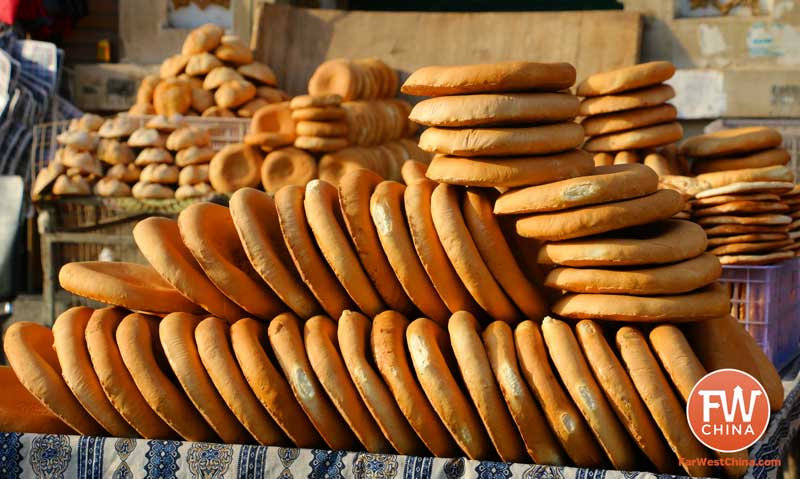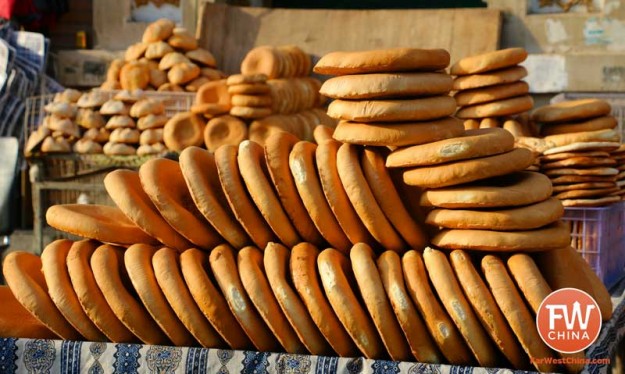 On top of that, each stand has its own assortment of "goodies" that they may mix or cover the bread including onions, sesame seeds, hot spices, and meat.
It really is amazing to see the creativity that is put into some of these family recipes.
Visiting Xinjiang & Eating Bread
Visiting Xinjiang without eating Uyghur bread is pretty much a sin. I'm just being honest with you.
It's dirt cheap as long as you're not buying it at the airport or a tourist trap. Just remember that if you're paying anything over 3 yuan for a single piece, you're getting ripped a good one.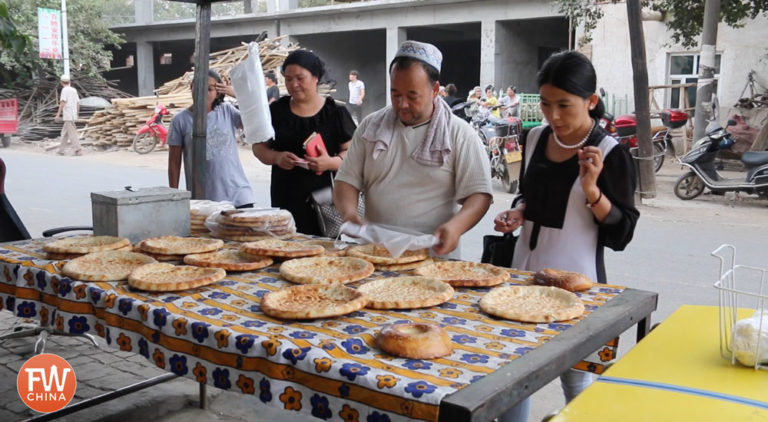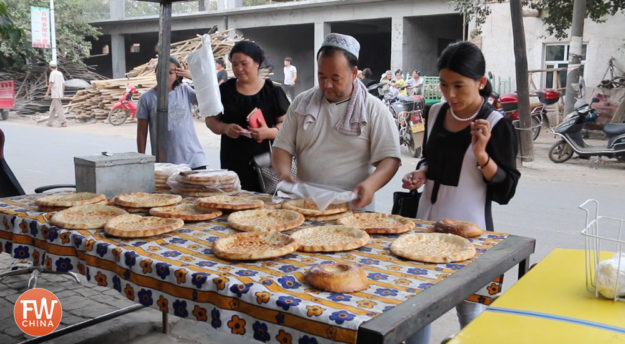 Also it's a good idea to get it while it's hot, as I personally enjoy my bread soft instead of crunchy.
Whether you eat it with kebabs, dip it in a plate of DaPanJi (aka Big Plate Chicken), or just eat it by itself…
…don't miss out on the special Uyghur bread in Xinjiang!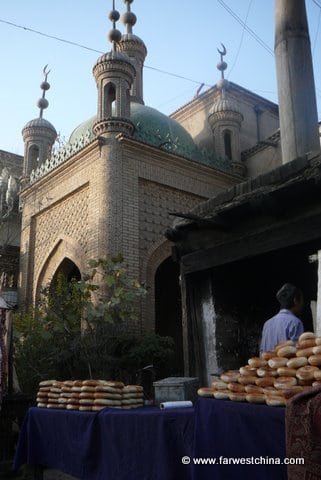 Finally, if you're planning a trip to Xinjiang, I highly recommend the FarWestChina Xinjiang Travel Guide, the only comprehensive travel book on this part of the world.
It not only covers all the great food you need to try, it goes into detail about what's worth seeing in each and every city you'll visit in Xinjiang.