Anybody who plans to travel to Xinjiang knows that Uyghur food and other local cuisine is going to be a memorable part of their journey. The local Uyghur food is well-known throughout China and praised among travelers.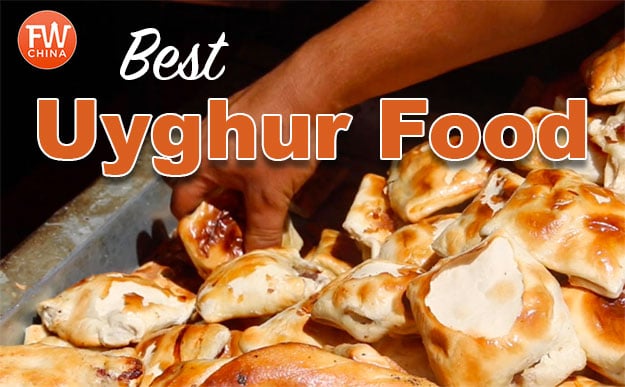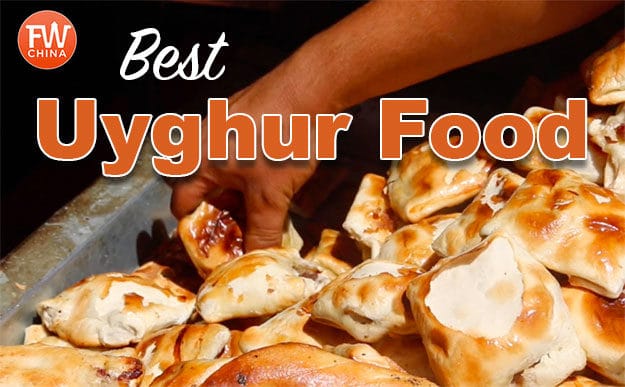 It's not just Uyghur food, though. Whether you want to eat Hui food, Kazakh food or Chinese food – Xinjiang has it all.
Unfortunately, not everybody knows what to eat…or even how to order it! That's where you'll find this guide and video useful.
It doesn't matter if you eat in a restaurant, on the street or at either the Urumqi International bazaar or the Kashgar Sunday Bazaar, you're likely to run into the same types of foods wherever you go.
The following recommendations for good Xinjiang food obviously don't cover everything there is to try…but it's a good start. If you have the opportunity to eat each of these foods at least once while you're here, you will have had a well-rounded taste of Xinjiang cuisine.
NOTE: I realize that some people may take offense at my use of "Xinjiang food" or "Xinjiang cuisine". I choose to sometimes use this phrase not out of discrimination against the majority Uyghur people but out of recognition that the region's cuisine is comprised of multiple ethnic groups – Uyghur, Hui, Kazakh, Tajik, etc.
VIDEO | Best Xinjiang Uyghur Food
Because the written word doesn't accomplish enough in the quest to describe ethnic cuisine, the next best thing besides taking you to a restaurant is to show it to you.
Take a few minutes and join me here in Xinjiang as I introduce my top 10 favorite Xinjiang dishes!
Watch more great videos on the FarWestChina YouTube channel!
Would you like to have an easy reference guide of these and many other Xinjiang foods? Click below to download the FarWestChina guide that gives you all of these foods written in English, Chinese, Pinyin and Uyghur!
Download the Uyghur Food Guide
Top 10 Uyghur Foods & Xinjiang Foods
To give you a quick rundown, here are the ten foods I recommend you try while traveling to Xinjiang. You may not like each and every one of them, but you won't regret at least giving them a try. I promise you!
1. Uyghur Polo / Pilaf
Known throughout Central Asia as "rice pilaf", Uyghur polo is a tasty mix of rice, carrots and lamb meet slow cooked in oil. It is without a doubt that Uyghur polo is the most popular local dish in Xinjiang.
You can request this dish by just saying "polo". It is known in Chinese as 抓饭/Zhuāfàn.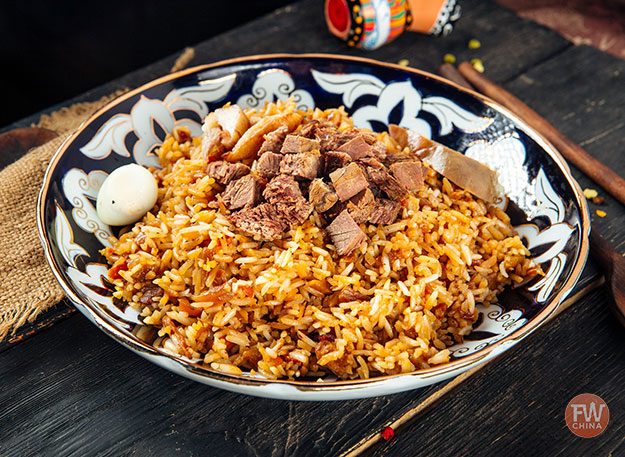 2. Uyghur Laghman / Hui BanMian
The Uyghur and Hui have similar dishes here – Uyghur laghman and the Hui Banmian. The concept is simple: pulled noodles covered in a concoction of meat, vegetables and oil.
As I've already mentioned, the dish is known by many names, but the most popular Chinese name is 拌面/Bànmiàn.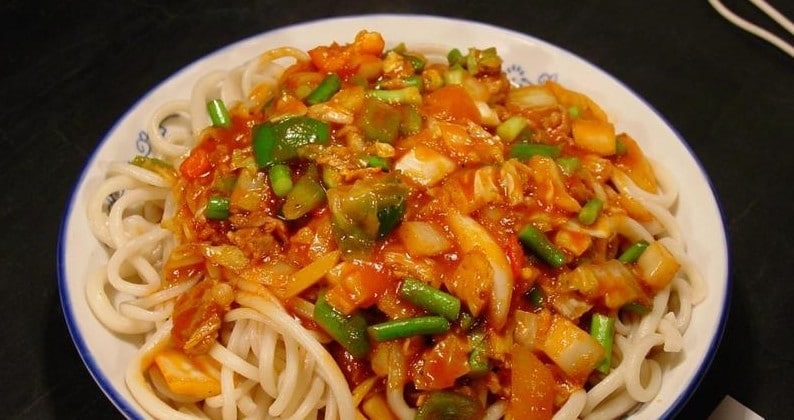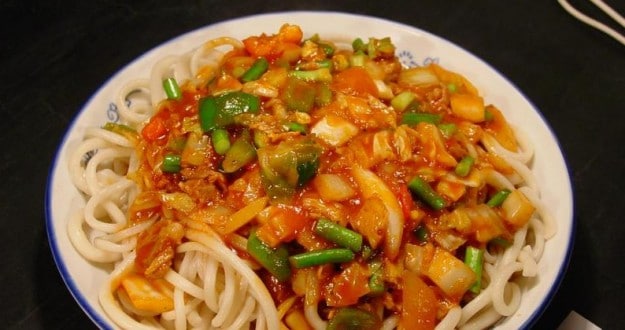 3. Lamb Kebabs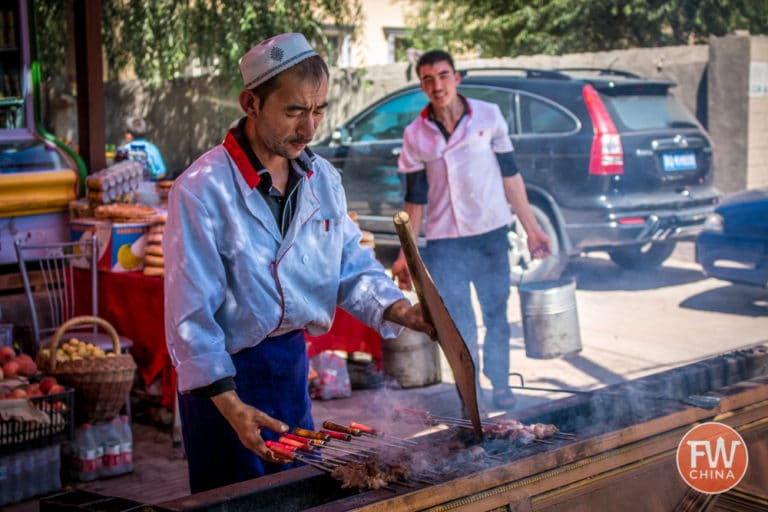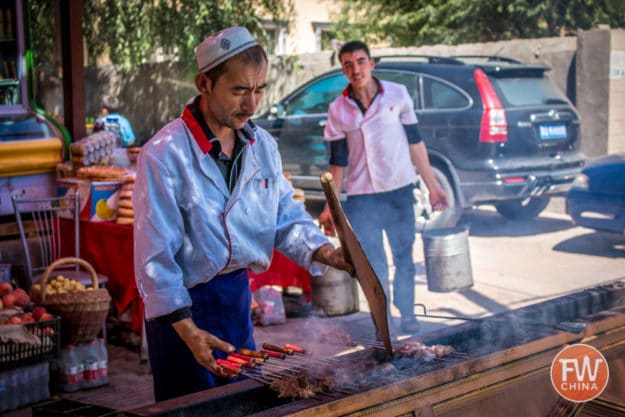 A staple of the Uyghur diet, lamb kebabs will have you drooling over a kind of meat you never thought you'd love – lamb. It's not just the meat, though; the Uyghur use a spice mixture of cumin and pepper that is amazing.
If you like kebabs, you might enjoy the conversation with a Uyghur friend of mine who told me the secrets behind the perfect Uyghur kebab.
4. Uyghur Bread
Again, this is something you'll find all throughout Central Asia, yet the Uyghur people have done a wonderful job putting their own spin on the food.
Uyghur bread comes in all shapes and sizes, including flatbread and thick bagel-like bread. I recently had the opportunity to learn how to make Uyghur bread.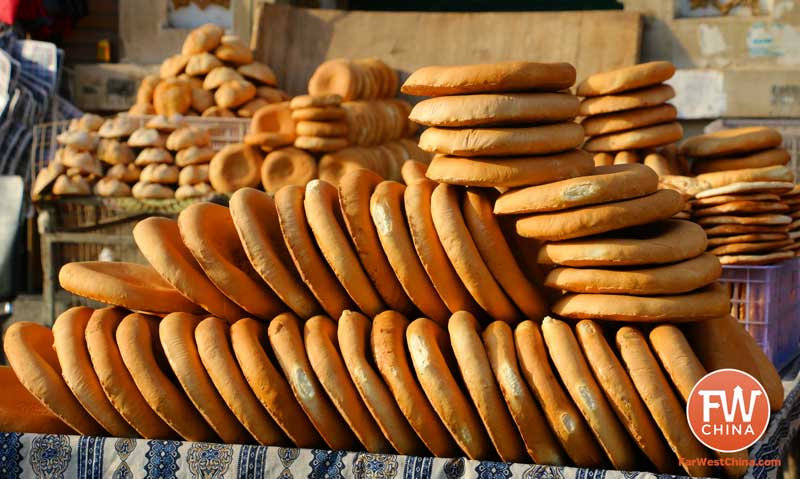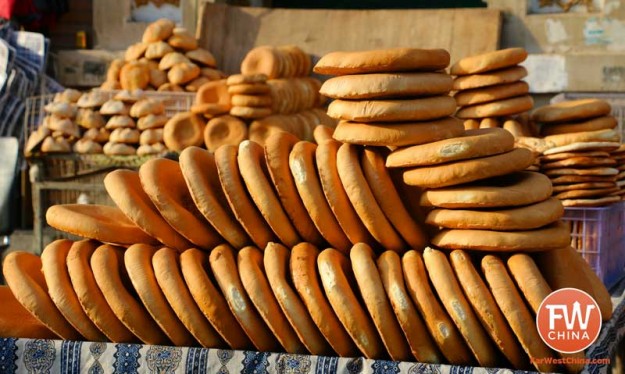 5. Uyghur Ice Cream
During the summer months, you might see mounds of ice cream being served from street carts in Xinjiang. This is affectionally referred to as "Uyghur Ice Cream".
Although it's different than traditional ice cream, it's still the perfect summer treat. A cup usually costs only a few kuai and there are a few different flavors I've tried.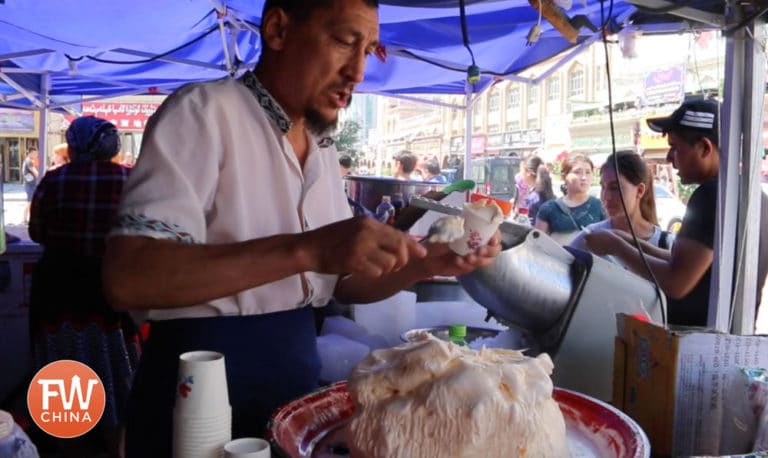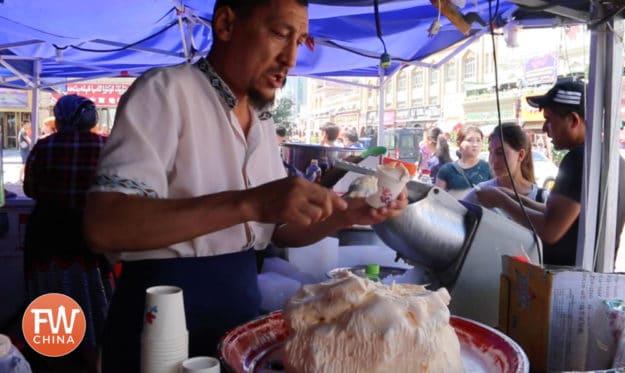 6. Samsa | Kao Baozi
I once described Uyghur samsa as "a grilled Hot Pocket". A mixture of lamb meat and onion is covered with breading and baked until crisp. It's an oily treat (as is most Uyghur food, for that matter), but enjoyable none-the-less.
These treats also make great snacks to bring on a bus or train for a long ride.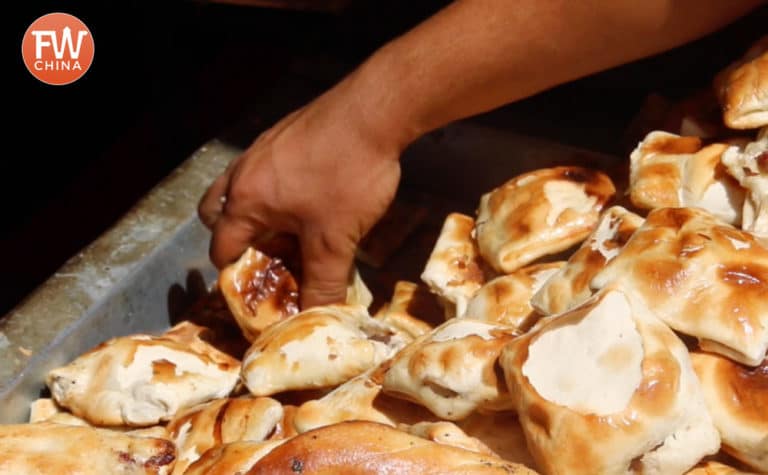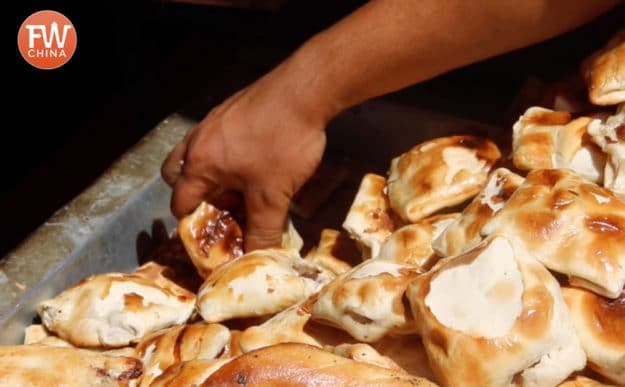 7. DaPanJi / "Big Plate Chicken"
A lot of people mistakenly think this is a Uyghur dish when in fact it is part of the Hui cuisine. The name directly translates to "Big Plate Chicken" and it's a pretty good description: it's an entire chicken, cut up and cooked with potatoes, onions and other vegetables and served on a big plate.
Generally speaking, this is a dish you'll want to share with a group of friends. It's best served with Uyghur flat bread (see #4 above).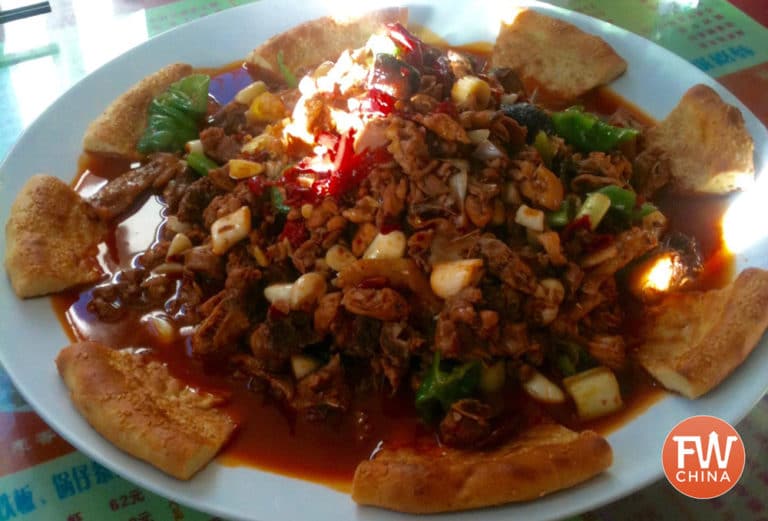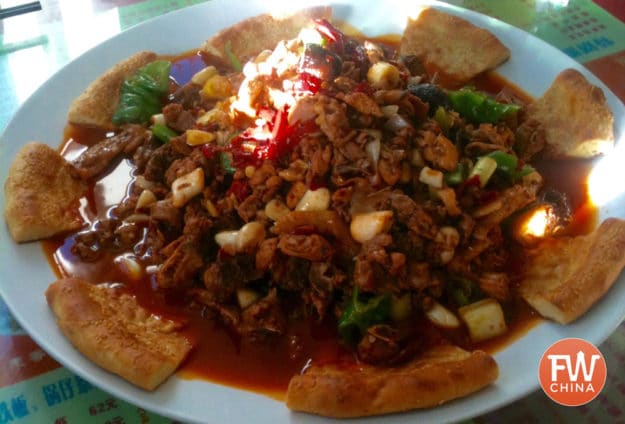 8. Stuffed Lamb Intestine
This is a surprisingly good dish that's worth a try. A rice and lamb meat mixture is stuffed into lamb intestine and served along with lamb lung.
Don't knock it before you try it! Learn more about Uyghur stuffed lamb intestine here.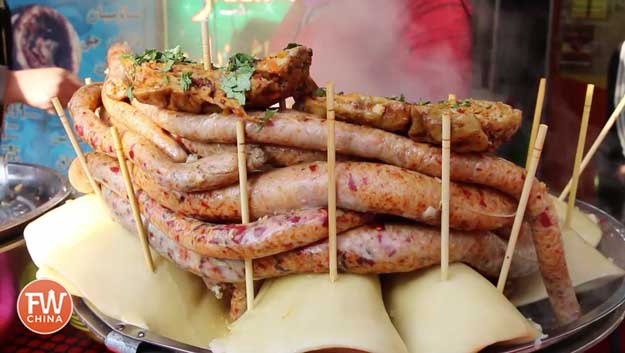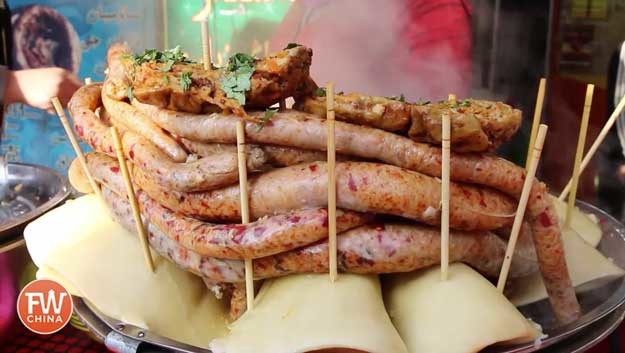 9. Uyghur Matang | Nut Snack
Uyghur matang is a nut snack (walnuts, almonds, etc.) usually sold on the streets by Uyghur vendors. It's extremely chewy but easy to transport, so it makes for a fun snack on the bus or train.
You usually buy matang by the slice and often you'll have a number of different varieties to choose from.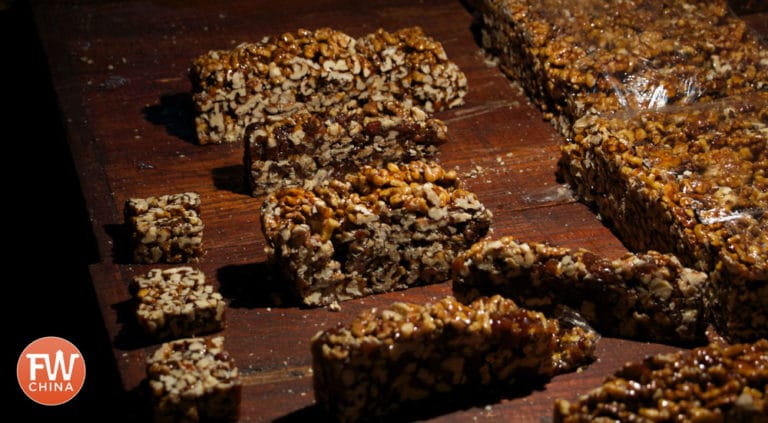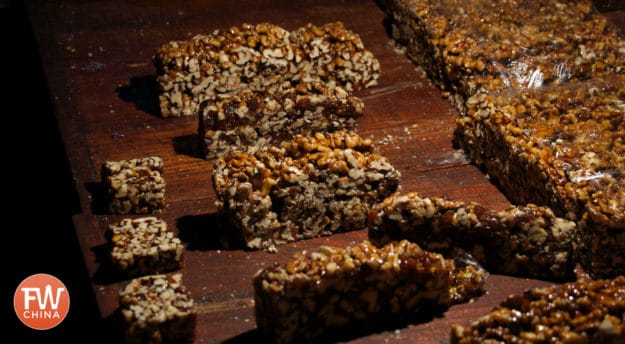 10. Xinjiang Fruits
Did you know that people in Xinjiang eat more fruit per capita than any other region in China? (check out other interesting Xinjiang facts) It's true, and one of the reasons is that we have the best fruit.
Almost every region of Xinjiang has it's "specialty" fruit and if you can find out what it is (i.e. Hami melon, Turpan grapes, Korla pears, etc.), buy some to enjoy.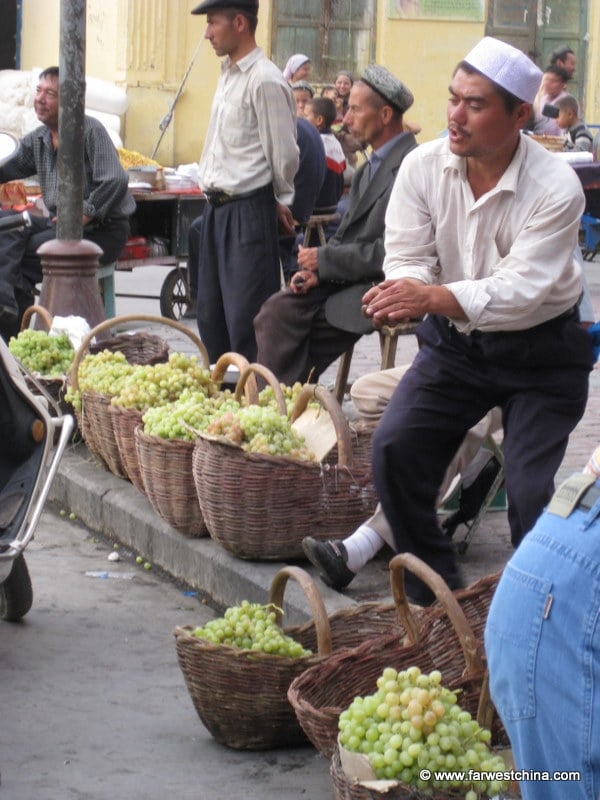 Conclusion | Best Xinjiang Foods?
So what do you think of this list? Like I said, I've left a number of great dishes off the list. If you think one of your favorites is worth a mention, please let me know in the comments below!
Also, if you'd like to download a reference guide for these foods and how to say them in both Chinese and Uyghur language, join the FarWestChina community using the button below. I'll immediately send it to your inbox!