Uyghur laghman, also known as "lagman" or 拌面 (ban mian), is one of the most popular dishes you can find in China's western region of Xinjiang. Personally…I love the dish! And I'm excited to give you a brief introduction to what it is and why it's so special.
Local Name: "laghman"
Chinese Name: 拌面 (bàn miàn)
Alternate Names: laghman, noodles
Description: Homemade noodles topped with a meat and vegetable sauce
In the world of Uyghur cuisine, there are three primary food groups:
Which is the most popular? It really depends on who you ask. Some people prefer the rice-based cuisine while others love the delicious noodles found in laghman.
Whichever you prefer, one thing is for certain: you need to try Uyghur laghman at least once during a visit to Xinjiang.
You won't regret it.
What is Uyghur Laghman, aka "Ban Mian"?
If you're wondering, the term "ban mian" is actually just the Chinese translation for a dish that isn't really considered Chinese food.
If you look up the phrase "ban mian" on Google you'll find that this Chinese name is used to describe various dishes from Fujian, Singapore, and is also the English equivalent to what we call "Lo Mein."
All these may be perfectly good dishes, but it's not the same as what is served here in Xinjiang.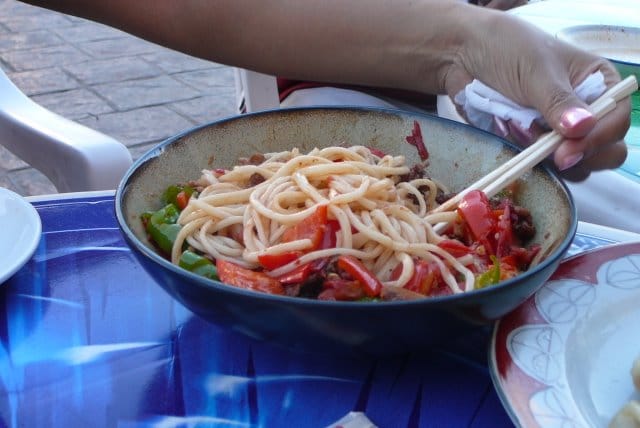 The reason this particular dish is different is because it isn't Chinese, it's Uyghur Cuisine.
The Uyghur are an ethnic group here in China that up until this past decade made up the majority of the population in Xinjiang. And yes, these are the same Muslim people that have experienced cultural genocide at the hands of a brutal local government.
But I digress.
Uyghur laghman is a noodle dish that often contains:
Vegetables (tomatoes, peppers, etc.)
A mean (usually beef or mutton/lamb)
Noodles
It's that last one – the noodles – which makes this Uyghur dish so special.
Special Noodles | Uyghur Laghman
Uyghur noodles are special in how they are "hand-pulled". If you get a chance, watching this being done at a restaurant is amazing.
For us, my wife was privileged to have a local friend teach us the art of Uyghur noodle pulling. What we learned was that…
…it's harder than it looks!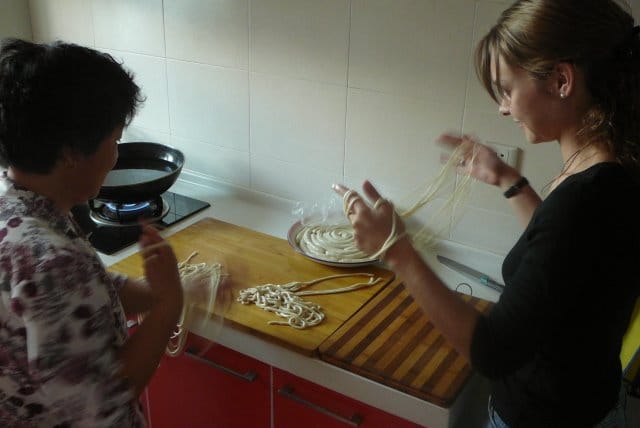 The noodle is made using a combination of flour, water, salt, and oil. The ingredients are mixed, rolled out and then stretched using a unique slapping technique.
After lacing the rolled noodle between your fingers as if you're creating "Jacob's Ladder", you open up your arms and whip the noodles downward.
Doing this multiple times will stretch out the noodles into a more bite-sized diameter.
The people who do this for a living are amazingly quick and sometimes enjoy making a show out of the "stretch 'n' slap" procedure – you really ought to see it if you can.
After the noodles are boiled, they are served with the vegetable and meat topping poured over it.
The Uyghur Dining Experience
I do want to add that one of my favorite parts of eating Uyghur food is the atmosphere.
During the warmer months we love getting a group of friends together to eat at a restaurant where tables have been placed outside, music is playing, and kebabs are being grilled nearby.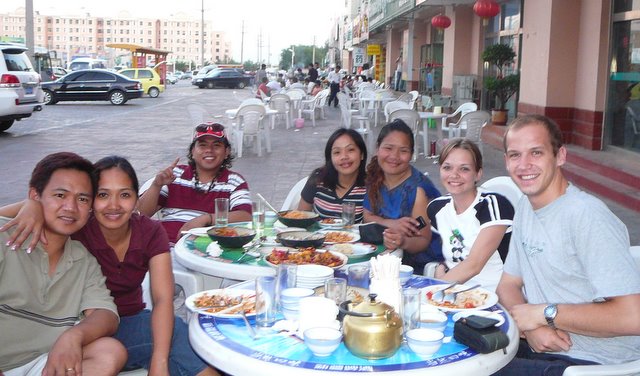 The sounds…the smells…the food…it all comes together to provide a Xinjiang dining experience you can't find anywhere else.
Whether it's eating Uyghur laghman or enjoying one of those tasty lamb kebabs, food is one of the top "must-try" things in Xinjiang.