[sam id="1″ codes="true"]Local Name: "lagman"
Chinese Name: 拌面 (bàn miàn)
Alternate Names: laghman, noodles
Description: Homemade noodles topped with a meat and vegetable sauce
About a week ago, Tiff and I were invited to a special "learn to cook Xinjiang food" session over at our friend's home.  Actually…let me rephrase that.  We were invited to a friend's house where Tiff was given a "learn to cook Xinjiang food" lesson while I sat in the living room chatting with the husband.  That's usually how it goes.  Anyway, it was good weather, good company, and of course, some very good food.  Our friend Helen, a teacher at our school, taught Tiff to cook one of the most well-known dishes from this area known as 拌面 ("ban mian").
What is Lagman / Ban Mian?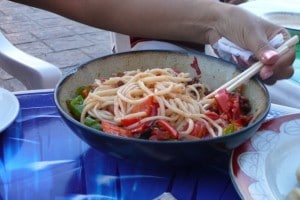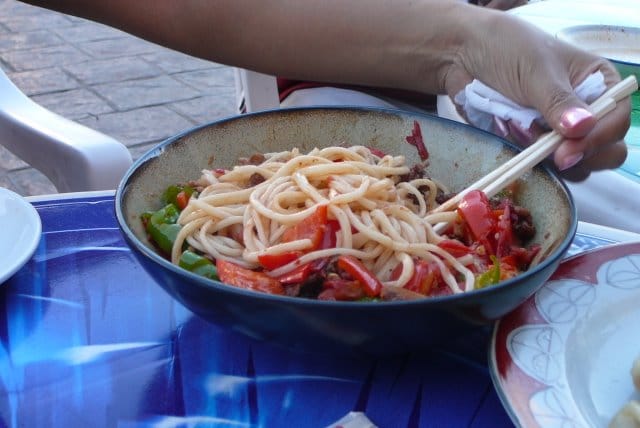 Actually, "ban mian" is the Chinese translation for a dish that, in this instance, is not from China.  If you look up the phrase "ban mian" on Google you'll find that this Chinese name is used to describe various dishes from Fujian, Singapore, and is also the English equivalent to what we call "Lo Mein."  All these may be perfectly good dishes,  but it's not the same as what is served here in Xinjiang.  The reason this particular dish is different is because it isn't Chinese, it's Uyghur, an ethnic group here in Xinjiang numbering about as many as the Chinese.  These are the same people who brought us Big Plate Chicken and Kebabs.
The Noodles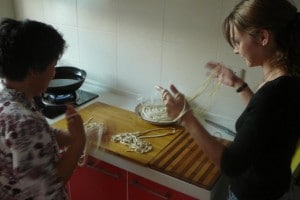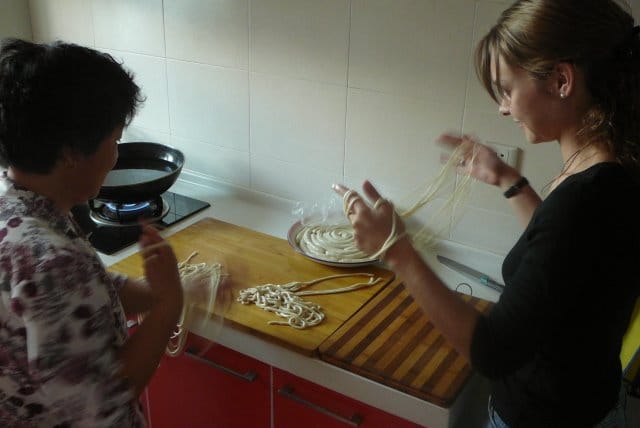 Ignoring this little bit of irony, though, we happily went over to our Chinese friend's house to learn to make this Uyghur dish.  Pretty much the most fascinating part of Xinjiang's ban mian is the made-from-scratch noodles.  Using a combination of flour, water, salt, and oil, Tiff was shown how mix, roll out, and then stretch the noodles using a unique slapping technique.  After lacing the rolled noodle between her fingers as if she was creating "Jacob's Ladder", she opened her arms and whipped the noodles downward, hitting the counter top and effectively stretching it into a more bite-size diameter.  The people who do this for a living are amazingly quick and sometimes enjoy making a show out of the "stretch 'n' slap" procedure – you really ought to see it if you can.  The noodles are then topped with a mixture of vegetables, meat and spices and served in a bowl.
[sam id="2″ codes="true"]
The Uyghur Atmosphere
I do want to add that one of my favorite parts of eating Uyghur food is the atmosphere.  During the warmer months we love getting a group of friends together to eat at a restaurant where tables have been placed outside, music is playing, and kebabs are being grilled nearby.  The sounds…the smells…the food…it all comes together to provide a Xinjiang dining experience you can't find anywhere else.