About this time last year I was invited by a good Uyghur friend to take part in one of Xinjiang's most popular pastimes: the BBQ.  Having spent part of his life behind a Xinjiang kebab stand outside the province my friend shared with me the secrets that make the kebabs in Xinjiang that much better than those beyond the provincial borders.
Because I was born and raised in the great state of Texas, the term "BBQ" carries a baggage of memories that I had to completely redefine while living in Xinjiang.  The meat of choice would be lamb, not pork ribs, and unless you've had the privilege of traveling to Xinjiang you won't understand just how delicious that can be.
Secret #1: The Type of Fire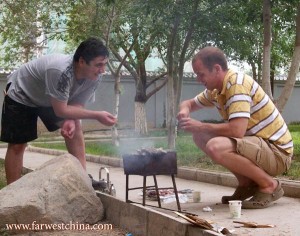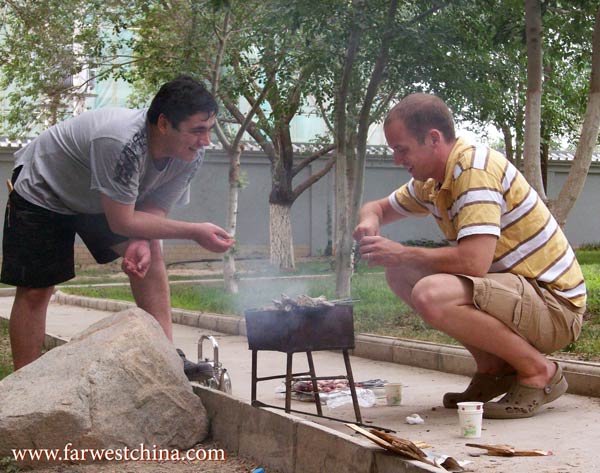 When my wife and I arrived at our friends' home early one Saturday we were each given specific tasks.  It was my job to head to the basement and grab the grill.  Expecting a large setup not unlike what I might find along the streets, I was surprised to encounter a grill no bigger than a half a meter.  "This will make the grilling faster" my friend explained.
Throughout our travels in China, my wife and I have seen kebabs cooked in all sorts of ways, my favorite being those I saw in Beijing cooked with a hair dryer.  A few kebabs were fried, some at the fast food restaurants were just heated on an electric stove, but my Uyghur friend explained that today we would be doing kebabs the "authentic way".
…if you want a really good kebab you have to use wood…
Translation: We wouldn't be burning the ever-abundant coal often used throughout China and northern Xinjiang – we would be using wood more popular in the south of the province.  Apparently this wood was a valuable commodity in our desert area and he had to pay a high price to get some for us.
"People use coal because it's cheaper, but if you want a really good kebab, you have to use wood."  Coal is also preferred because it cooks faster than wood he explained, but it would give the meat a better flavor.

Secret #2: The Type of Meat
It makes sense that not all lamb meat is created equal, just like all steaks aren't the same.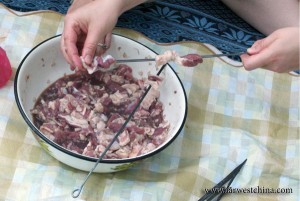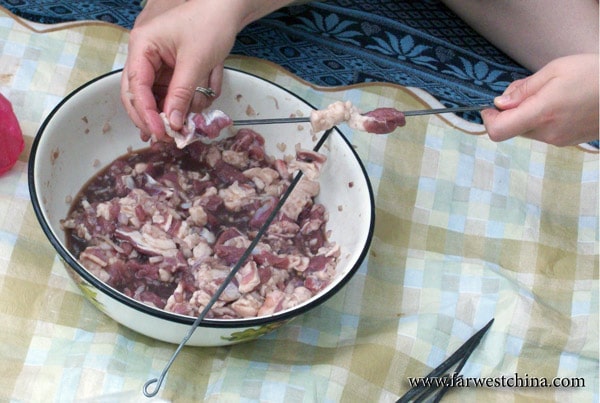 Apparently most kebab stands cut costs by using the less-desirable meat and cutting it into incredibly small pieces that grill quickly.
Prior to our arrival my Uyghur friend had already gone to the market to select the perfect slab of lamb with a balanced combination of meat and fat.  It had been cut into medium-sized chunks and was being marinated in a large bowl – something that most street vendors fail to do.
"My secret to the perfect kebab is the marinade" he told me, although he never revealed the exact ingredients to his marinade.  After only an hour in the bowl both our wives sat down to the task of preparing the skewers.  Meat – fat – meat – fat – meat – fat.
Most restaurants offer a variety of kebabs…
"Most restaurants offer a variety of kebabs" my friend said.  "It's a mistake to buy the cheapest ones because those are usually made with the lesser meat.  The good kebabs are usually thick, prime and a bit more expensive."  Try almost 2-3 times as expensive.  A regular kebab in Xinjiang usually costs about 1-3 RMB, but the better quality skewers run upwards of 6-8 RMB.
[sam id="2″ codes="true"]
Secret #3: Quality Matters, not Quantity
At first I thought it had something to do with our small grill, but my Uyghur friend refused to cook more than 8 kebabs at one time.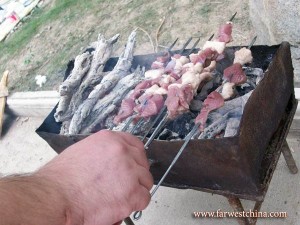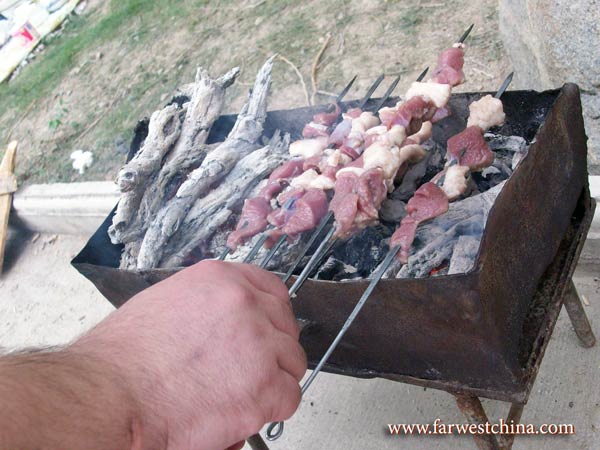 He insisted that creating an even heat distribution was key to a perfect kebab.  "People who really know what they're doing might be able to cook 20 or 30 at a time, but often they end up sacrificing taste for time."
Our thick kebabs, skillfully prepared by our wives, sat on the grill for at least 10 minutes per group of eight.  Every couple of minutes they would be turned and sprinkled with generous portions of cumin and ground peppers.
I could tell my friend was a kebab master just by the way he handled the skewers.  Instead of turning them one-by-one he was able to grab the whole lot and turn them in one swoop.  It sounds (and looks) simple, but I can share from experience that amateurs will either drop one in the fire or end up having to turn them individually anyway after their failed attempt.
Secret #4: Always Request the Bread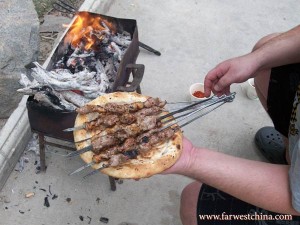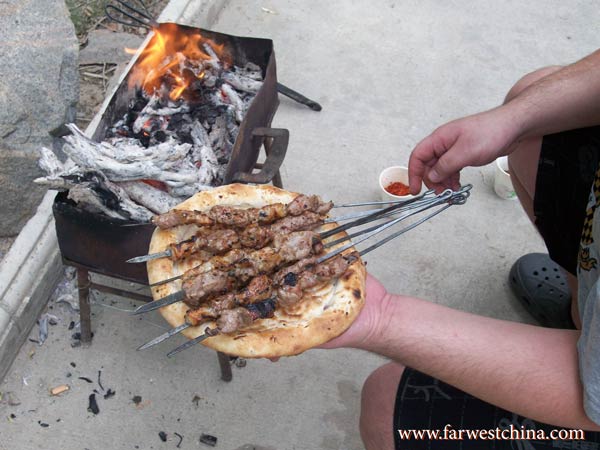 Lamb meat is naturally greasy and there is no better use for that grease than on a piece of Uyghur bread.  "I always ask for the bread" my friend said.  Usually kebabs are served alone on a plate, but by requesting bread the grease from the kebabs will be used to soften and flavor the bread.
Every Uyghur restaurant in Xinjiang will either have bread on hand or have somebody run down to the nearest bread stand, which usually isn't far.  Since kebab makers outside Xinjiang don't have the same luxury most people miss out on this incredible food pairing.
Secret #5: Kebabs are Meant to be Eaten Outside
I believe it's not just the food, it's also the atmosphere.  While BBQing with our friends we laid out a blanket in the grass and enjoyed the breeze.  If I'm going to a restaurant I don't even hesitate to request outdoor seating.
Because we only grilled 8 kebabs at a time, our meal was stretched out for hours as we leisurely conversed and downed cold beverages.  Even thinking about it today makes me want to pull out my grill but I have no doubt that any kebabs I made just wouldn't compare to those of my Uyghur friend.
I'm convinced that even though Uyghurs may not have invented lamb kebabs, they have perfected the art of cooking them.