The Uyghur pilaf you'll find in Xinjiang, China is one of the most popular dishes of the region. It's known in the local Uyghur language as "polo" and referenced by the Chinese as "zhua fan"…but for most any traveler to Xinjiang it's really only one thing: insanely delicious.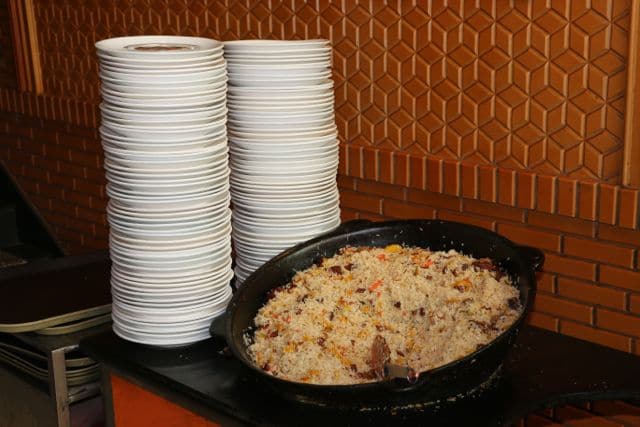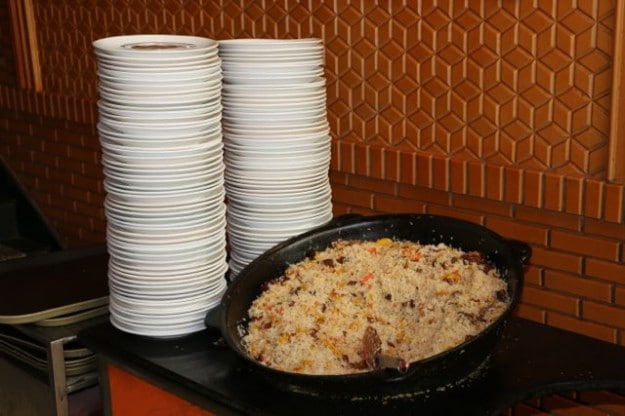 Local Name: "Polo" or "Pulao"
Chinese Name: 抓饭 (zhuā fàn)
Alternate Names: Rice pilaf, Uyghur rice
Description: Dish of rice mixed with carrots and various other ingredients usually topped with a sizable portion of lamb meat.
For those who have never tasted Uyghur polo, you're in for a treat. This is one of a number of Uyghur dishes I recommend everybody try.
Even if you've never been a big fan of lamb meat before, this is the one dish that I think might be able to change your mind.
In this introduction to Uyghur pilaf, I'm excited to share with you:
Of course, I'll end with a Uyghur polo recipe you can use to try to make it yourself if you're so inclined. It probably won't be as tasty as the authentic Xinjiang cuisine, but that's just the way it goes.
Before your mouth starts to water too much, let's dive in!
Uyghur Polo: Primary Ingredients
The main ingredients of Uyghur polo are surprisingly simple. There are different variations of the dish, but the primary ingredients include:
Rice
Carrots (both orange and yellow)
Onions
Raisins (in some variations)
Lamb meat
Oil
Everything gets cooked in a whole ton of oil – and I do mean a ton of oil.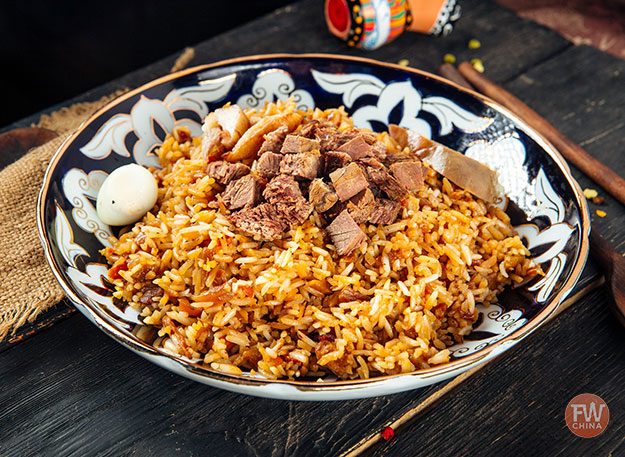 I've had Uyghur friends try to convince me that this rice pilaf dish is healthy for you. To my surprise, some of them think it is.
But I can guarantee you won't find this dish on any diet plan. The oil and chunks of lamb meat ensure the dish contains plenty of fat and cholesterol.
Regional Variations of Uyghur Polo
As with many regional cuisines, Uyghur polo has a number of regional variations. The polo you eat at one restaurant in Urumqi is probably going to be different than what you eat in Kashgar.
And if you are privileged to get home-cooked Uyghur polo, this will definitely be different!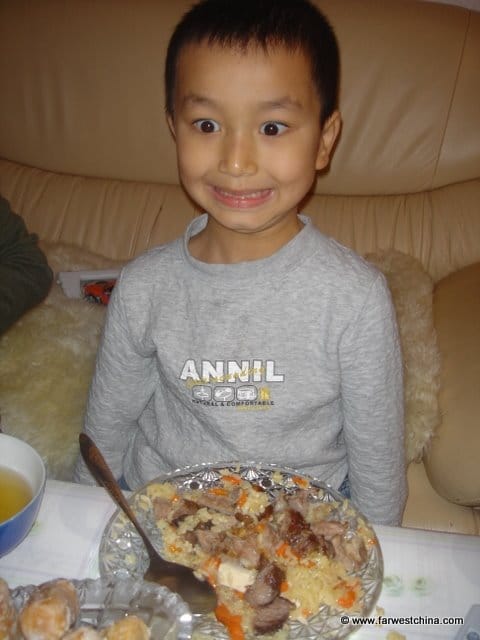 Here are a few variations I've come across:
Added Raisins or Small Fruits: Some Uyghur polo is made using a combination of different raisins, apricots or other small fruits. This isn't quite as common, but it's worth a try because I found it to be delicious!
Chunks vs Whole Lamb Meat: Some restaurants cook the lamb meat separately and just plop it on top when served. Others chop up the meat into cubes and cook it with the rice. I prefer the latter.
Different Meats: Although not common, I have seen some Uyghur polo served with chicken. I've never seen beef used in polo and since the Uyghur are Muslim, I can guarantee you'll never find a pork version.
As you can tell, it's really all up to the individual cook and how they prepare the dish.
Ordering Uyghur Pilaf at a Restaurant
First things first: if you come across any restaurant claiming to be a "Uyghur" or "Xinjiang" restaurant (in China or internationally) and they don't serve Uyghur polo…
…get out of there immediately!
It'd be like going to a Mexican restaurant that doesn't serve tacos. It's just not right.
However, because the dish does require a long preparation time, it's usually only served during lunch so don't expect to be able to order it late at night.
Historically, Uyghur polo used to be served as a community dish placed in the middle of a table where everybody dug in by hand. Interestingly, this is where the Chinese name "zhua fan" comes from, which translates to "food eaten by hand".
抓饭 (zhua fan) = "Food eaten by hand"
Although you might still find Uyghur polo served as a communal dish in some parts of Xinjiang, most restaurants will serve each person their own plate. And don't worry, you'll be given a spoon to eat it with.
Because pollo is very heavy on the oil, it often gets served at restaurants with a small plate of cold, cooked mixed vegetables soaked in vinegar.
If you're lucky you might even get a complimentary bowl of Uyghur yogurt. If available, I definitely recommend ordering this yogurt to finish off your meal of Uyghur pilaf.
How to Make Uyghur Polo at Home
Before we move straight into a good Uyghur polo recipe, let me start by saying that there's no one way to cook this dish. While Uyghur pilaf is usually cooked in a large wok, I've also seen it prepared in a regular rice cooker.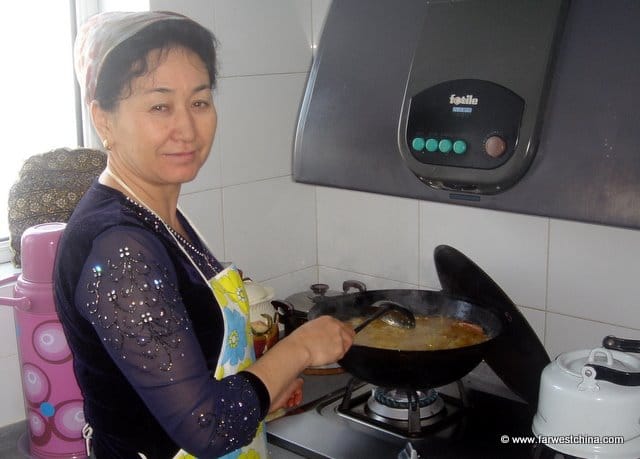 The hardest part of this Uyghur polo recipe is finding and selecting good lamb meat, which is a big part of what gives this rice pilaf its distinct taste.
Although there is no Uyghur recipe book that you can buy on Amazon, I highly recommend you check out this Central Asian cookbook that has a number of great recipes.
Uyghur Polo Recipe (1 Hour)
Ingredients for a good Uyghur polo include:
1 lb of lamb meat
2 cups of rice
1 lb carrot
1 garlic bulb
1 large onion
1/2 cup raisins (optional)
1/2 tsp cumin
Salt to taste
2-3 cups of water
1/2 cup of oil
Directions: Prepare by chopping up the carrots, onion and garlic. Heat the oil in a wok (or pot if you don't have a wok) over high heat. Cut the lamb meat into cubes and cook in the oil until browned. Add the carrots, onion, garlic and salt to taste.
Add the water, cumin, and raisins, lower the stove temperature and let boil for 10 minutes.
Once the vegetables and meat are thoroughly cooked, raise the heat and add rice. You might need to add more water as well. Do no mix the ingredients. Let the rice cook on top of the meat and vegetables for 20-30 minutes.
When the rice is fully cooked, turn down the heat, mix all the food together and cover the pot/wok for another 20 minutes.
Serve: Uyghur polo is best served hot on a plate with flatbread.
Final Thoughts | Delicious Uyghur Cuisine
As my wife can tell you from experience, the recipe is difficult to get right and will never taste as good as an authentic Uyghur restaurant.
But it's worth a try, trust me.
And if you have a chance, try to find a local Uyghur restaurant near you for a more authentic rice pilaf flavor. You might be surprised to find that one exists in your state or near where you may be traveling soon (New York, California, Texas, etc.).
And let me know in the comments below what you think. Is Uyghur polo one of your favorite Central Asian dishes too?