Considering Xinjiang is China's largest province, it stands to reason that transportation logistics should be a top concern for travelers.  Whether you decide to fly, take a train, or hit the highway, it's a good idea to know what you're getting into.  Here you'll find tips and advice on everything from purchasing your tickets to finding the correct station.
Click on the links above to navigate the page.
In the Air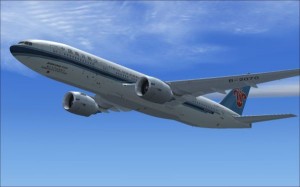 There are currently 16 Xinjiang airports in operation, the highest number of any province in China. However, only two of these airports – Urumqi and Kashgar – boast international flights. Most provincial flights run strictly between Urumqi and any of the other 15 airports. Tickets can be bought at the airport, travel agencies, or online.
Buying Xinjiang Plane Tickets
Buying a plane ticket in Xinjiang is relatively easy. There are three main options:
At the Airport: Ticket counters at the airport sell tickets for all flights, although you're not likely to get a discount with this approach.
Local Travel Agent: Travel agencies can be found in every city in Xinjiang nowadays. Ask around or get a newspaper to find the location of these travel agencies.  Either by phone or in person you'll be able to get a good discount from any of these agencies. Be warned: 95% of the time these places DO NOT accept credit cards. It's cash only.
Things to Know
While flying in Xinjiang it's good to keep a few things in mind:
You are allowed to take One (1) Xinjiang knife in your check-in luggage. It may be possible to get more for souvenirs, but if you catch a security guard on a bad day, they may get confiscated.
Taxis in all parts of Xinjiang and China love to take advantage of tourists. Make sure your driver starts the meter and the meter should begin at no more than 6 RMB.
Airports in Xinjiang DO NOT have good restaurants. If you know you're going to be hungry, bring your own food.
(back to top)
On the Tracks
By far the most popular form of transportation in China is the train, and thankfully the amount of track in Xinjiang is growing rapidly. By 2020 the length should double what it was in 2010 and cover more space than any other province in China. Currently there are only three ways to exit or enter Xinjiang by train – two through Kazakhstan and one through the Gansu province.
Buying Train Tickets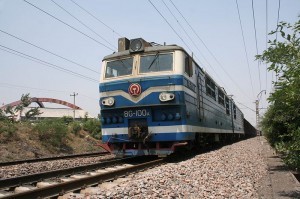 Getting a hold of train tickets in China can be a hassle if you're not used to the process. The most important thing to know is that NOBODY can get tickets longer than 10 days before the departure date. That includes travel agencies.
There are two primary ways to get a train ticket:
At a Train Station: The easiest way to get your ticket is at the actual train station. The ticket halls are usually very large and quite crowded, but it shouldn't take you longer than an hour during a regular day. Ask around to make sure you know which line to wait in…nothing sucks more than waiting for 30 minutes only to find you were in the wrong line.
Agent or Ticket Office: Aside from the station you can also get tickets through an agent or a ticket office. Remember, they can only get tickets 10 days in advance, no matter what. Using this option will most likely cost you a small commission (20-50RMB depending on the season and number of tickets).
Things to Know
Train tickets can only be bought 10 days in advance.
You can only buy tickets for trains departing from the city you are in. In other words, you can't buy a Beijing-Shanghai train ticket while you're in Urumqi. You can only buy Urumqi to anywhere.
Trains in China are usually divided into three classes: Hard seat, Hard sleeper, and Soft sleeper. If you are doing anything longer than 8 hours it is highly suggested that you DON'T get a hard seat. For more information on train classes, read this article on the Urumqi Train Station.
Urumqi Train Schedule
DestinationTrain #Departure TimeHard Seat PriceHard Sleeper PriceSoft Sleeper Price
| | | | | | |
| --- | --- | --- | --- | --- | --- |
| Beijing | T70 | 8:03pm | 363 | 609 / 631 / 652 | 964 / 1006 |
| Shanghai | T54 | 5:20pm | 389 | 653 / 675 / 699 | 1033 / 1079 |
| Lanzhou | T296 | 3:00pm | 215 | 365 / 377 / 390 | 574 / 600 |
| Chengdu | K454 | 2:05pm | 305 | 516 / 534 / 552 | 817 / 854 |
| Chongqing | K544 | 9:36am | 331 | 557 / 578 / 598 | 882 / 921 |
| Hangzhou | K596 | 11:36am | 395 | 663 / 687 / 710 | 1049 / 1096 |
| Xi'an | 1044 | 11:46pm | 135 | 265 / 276 / 287 | 445 / 467 |
| Dunhuang | K728 | 6:57pm | 140 | 240 / 248 / 257 | 374 / 390 |
| Kashgar | K9786 | 12:57pm | 191 | 324 / 335 / 345 | 506 / 529 |
| Kashgar | 7556/7 | 10:44am | 135 | 260 / 270 / 279 | N/A |
| Hami | K9782 | 11:08am | 79 | 140 / 145 / 149 | 215 / 224 |
| Hami | 7552 | 10:15am | 79 | 140 / 145 / 149 | N/A |
| Korla | 5812/3 | 8:13pm | 41 | 86 / 89 / 92 | 138 / 144 |
The Wheels on the Bus…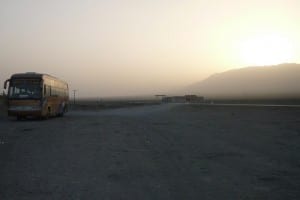 If airplane tickets are too expensive and train tickets are sold out, you can always count on the buses to provide needed transportation. Buses in Xinjiang maintain a regular schedule and for the most part are usually clean. Short trips are accomplished with a normal seated bus while trips of 12 hours or longer use what is known as a "sleeper bus".
Buying Bus Tickets
Since bus tickets can't be bought online, the two most common ways to get a hold of a ticket is:
At the Bus Station: Bus stations are usually conveniently located within a city (unlike airports or train stations) so getting to the bus station to buy a tickets is relatively easy. Lines aren't long and cash is the only accepted payment.
Through an Agent: In some cases you can get an agent at a foreigner cafe like John's Cafe to buy bus tickets for you, but unless you're running low on time their commission usually isn't worth it.
Things to Know
Check your ticket to make sure you know what time you're leaving – all bus tickets will be in Beijing time.
You can bring ANYTHING you want on a bus. Don't be shy.
Sleeper buses often don't have bathrooms.
Bus Stations usually won't sell a bus ticket any earlier than 3 days before departure.
(back to top)
Cars for Hire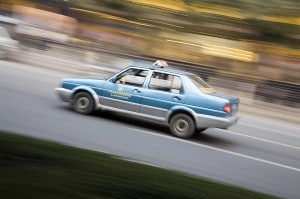 When you're touring a Xinjiang city, the best way to get around is to either figure out what bus to take (hard if you can't read/speak Chinese) or grab a taxi. In Xinjiang, a taxi fare usually begins at 5RMB except in Urumqi where the fee starts at 6RMB.
Tips for Using Taxis
Don't pay with anything higher than a 50 RMB note. Taxis are notorious for giving fake bills in exchange for 100 RMB notes.
If you are less than 4 people, most taxi's won't let you sit in the front seat in the evening or at all.
Don't use a taxi that doesn't have a meter unless you feel comfortable haggling in Chinese.
If you want a taxi…take it. Often you'll just have to push and shove or you'll never get a ride.
Tips for Using City Buses
All buses are 1 RMB and bus drivers do not give change for larger bills.
Giving up your seat for the elderly will earn you many brownie points with the local population.
It's perfectly acceptable to ask the driver if they stop at a certain location. It beats getting on the bus and finding out the hard way!
(back to top)