For most travelers, flying into Urumqi Diwopu International Airport (乌鲁木齐地窝铺国际机场/Wūlǔmùqí Diwōpù Guójì Jīchǎng) marks their first step into the Xinjiang province.
The Urumqi airport is the primary transportation hub and one of only two airports in Xinjiang that offer international flights (Kashgar is the other).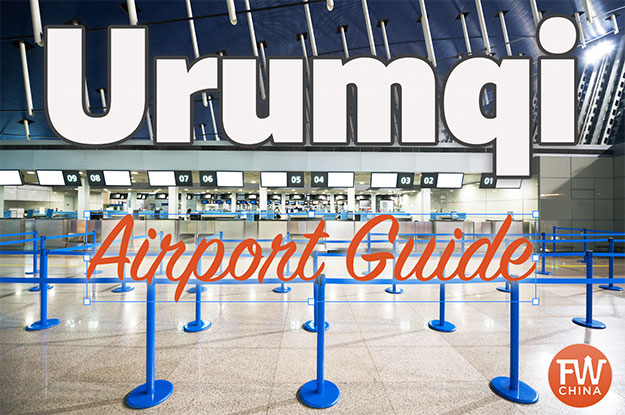 In the hopes of making things as easy for you as possible, I'd like to share with you everything you need to know about the Urumqi international airport.
I've flown through this airport more times than I care to count and I've used every single terminal there is.
Keep in mind that all of this information is included in the comprehensive FarWestChina Xinjiang Travel Guide. If you're planning a trip anywhere in China's Xinjiang region, this is an indispensable guide to help you along.
*Note* Some of the links within this article are affiliate links, which means at no extra cost to you, I might be compensated should you choose to use the services recommended. Rest assured, I don't recommend anything I haven't used personally. Thank you for your support to make this website free to use!
Urumqi Airport Terminal Guide
The Urumqi International Airport is currently divided into three different terminals which are creatively named "T1", "T2" and "T3".
While the majority of travelers will use Terminal 2 and Terminal 3, there are a few small flights that still use Terminal 1.
WiFi is available in each of the terminals, although it will require a Chinese phone number for text verification to use. There are ways to get a SIM card that will work in Xinjiang, but often I find that the easiest method to stay connected is to figure out creative ways to find WiFi in China.
Urumqi Airport Terminal 3 (T3)
Urumqi's Terminal 3, sometimes labeled "T3", was opened back in 2010 and is the newest wing of the airport. Known for it's "eagle's wings" rooftop, it boasts a modern design and supposedly faster passenger check-in.
If you're flying on China Southern, chances are that you'll be using Terminal 3, since this is their branded terminal.
Unfortunately, there's not much by way of food options in Terminal 3 of the Urumqi International Airport. There's a KFC, a couple noodle places and some overpriced coffee shops.
If you're looking for a Starbucks or McDonalds, you won't find that anywhere in Xinjiang, much less the airport.
Finally, there aren't many duty free options if you're flying international out of Urumqi. They have a perfume shop, a cigarette shop and a liquor shop, but they're really not worth stopping by.
Urumqi Airport Terminal 2 (T2)
Urumqi's Terminal 2 used to be the primary terminal prior to the T3 opening in 2010. It's an older terminal, but it still functions well.
Like Terminal 3, there aren't that many food and drink options in Terminal 2. The best you'll find is a Best Food Burger available before you enter the gate area (Xinjiang's low-quality version of McDonalds).
Past the security checkpoint there are a couple places to sit down and order tea or buy some last-minute, overpriced souvenirs, but that's all.
Although Terminal 2 is home to a couple China Southern flights, you'll more than likely use Terminal 2 if you're flying any other China airline.
Urumqi Airport Terminal 1 (T1)
Terminal 1 is the smallest and oldest terminal at the Urumqi International Airport. Chances are, you're not going to step foot in this terminal.
Personally, I've only used the terminal once for an obscure flight to Khotan (Hotan).
Don't expect any food options or any lounges in Terminal 1.
Where can I fly to/from Urumqi airport?
Urumqi has become a major hub for travel not just within Xinjiang but also internationally. Considering it's strategic location there's no doubt that will continue to grow.
Check out the Urumqi City Guide
For simplicity sake, I'll break out your flight options as either within Xinjiang, within China or internationally.
Flights Within Xinjiang from Urumqi
There are a total of 24 airports in Xinjiang, including the Urumqi International Airport. However, not every airport in Xinjiang has passenger flights.
Although you might not have multiple daily options, Urumqi usually services each of these cities at least once per day throughout the travel season.
For best pricing options, I recommend you look at prices on Trip, a local Chinese online travel agency:
If you're traveling within Xinjiang, don't forget to grab a copy of the FarWestChina Xinjiang travel guide to help you understand the best places to visit and how to get there.
Grab a copy on Amazon, available both on Kindle or paper back.
International Flights to/from Urumqi
International flights to and from Urumqi have increased rapidly over the past few years, although that has changed with Covid. Time will tell how much that returns to "normal", but it's definitely a reflection of the increased importance of Urumqi's central location.
For those who are making Xinjiang a stop on their round-the-world adventures, here is a quick list of most of the international destinations that the Urumqi International Airport used to serve (and likely will again after Covid subsides):
Almaty, Kazakhstan
Astana, Kazakhstan
Bishkek, Kyrgyzstan
Kabul, Afghanistan
Baku, Azerbaijan
Osh, Russia
Moscow, Russia
Istanbul, Turkey
Dushanbe, Tajikistan
*Other smaller international are serviced on occasion, but these are the major ones.
China Domestic Flights from Urumqi
Instead of listing them all here, just know that Urumqi International Airport has non-stop service to almost every major airport in China and a few smaller ones as well.
This includes Beijing, Xi'an, Shanghai, Guangzhou, Chengdu, Kunming and many others.
Purchasing Flights in Xinjiang
There are three primary ways that you can purchase tickets for flights to Urumqi but I'll go ahead and tell you now that the best way is from the comfort of your computer.
In general, purchasing flights in Xinjiang is no different than any other part of China. For that reason, I recommend you read through this 5-step process to get the cheapest China flights.
Here are your three primary options:
Purchase Flight Tickets at the Airport: Ticket counters at the airport will sell you tickets on the spot, although I highly discourage this since you will have to pay full price for these tickets. They're never discounted.
Local Travel Agent: From inside Xinjiang you can easily buy tickets at the many local travel agencies. They can often get you discount that are equal to or greater than what you can find online.
Purchase Tickets Online: By far the easiest and most accepted way to purchase flight tickets in Xinjiang is online. The most popular of these is a Chinese travel site called Trip. Flights found here are cheaper than international sites like Expedia or Kayak because Trip is a domestic Chinese company. They even offer their website in English.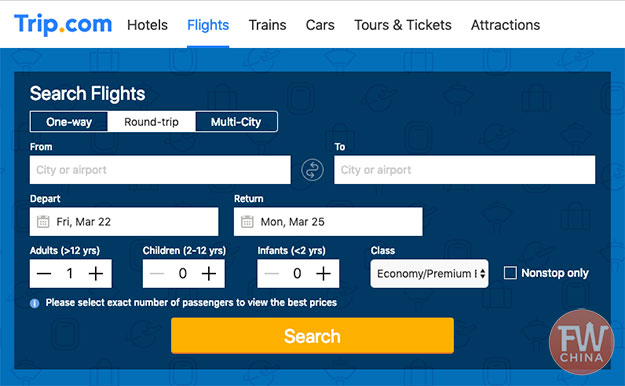 Urumqi Airport | Shuttles & Transportation
The most nerve-wracking part of arriving in a new city is getting from the airport to your hotel. I don't know about you, but I'm always on high alert for getting ripped off, especially when I arrive at night.
There are four primary ways that you can find transportation to/from the Urumqi airport.
1. Urumqi Metro / Subway
Opened in late 2018, Urumqi's first metro is an attempt to ease the congestion that plagues the roads of the city.
Line 1, the first of the planned metro lines in Xinjiang, starts at the Urumqi airport and travels south through the center of town and into the southern end of the city.
Follow signs to the metro station and be ready to go through intense security and stand in line to purchase tickets using your passport.
2. Taxis in Urumqi
When you exit the baggage claim area in both Terminal 2 and Terminal 3, you'll find a line of taxis that are a common way to get into the city.
As long as you always take a certified taxi (it has a meter) and they drop the flag on the meter, you'll be fine.
Expect to pay between 40-60 RMB to get into the city, depending on where you're going.
3. Urumqi Airport Shuttle
Another option is to take the shuttle. They have a couple, some of which go to the city center while others go to the Urumqi train station, all with stops in between.
There is a desk right before you exit the doors, so be prepared with the name of your hotel and show the clerk. They'll let you know if they can take you there.
By doing this, you'll save yourself some money, as the average shuttle costs less than 20 RMB.
4. Urumqi City Buses
Finally, there are a number of city buses that stop at the Urumqi International Airport that stop on the lower floor between Terminal 2 and Terminal 3.
Keep in mind that these buses can take up to an hour to get to the city center, so although they only cost 1 RMB, they are unbelievably slow.
Traveling via the Urumqi Airport
There's nothing to fear when arriving at the Urumqi International Airport. Most of the signs are in English and there are currency exchange booths outside of baggage claim.
While you shouldn't expect the highest level of comfort or the best food options at Xinjiang's capital airport, everything runs pretty smoothly. Security is a bit tight (as it is all across the region), but you can rest assured that it's safe to travel to Xinjiang.
If you have any questions, please feel free to leave a comment below!