Are you planning to travel by train to/from Urumqi in China's Xinjiang region? Before you do, make sure you read this 2023 guide to help you understand which train station to use (there are multiple), how to buy tickets and everything else you'll need to know as a traveler.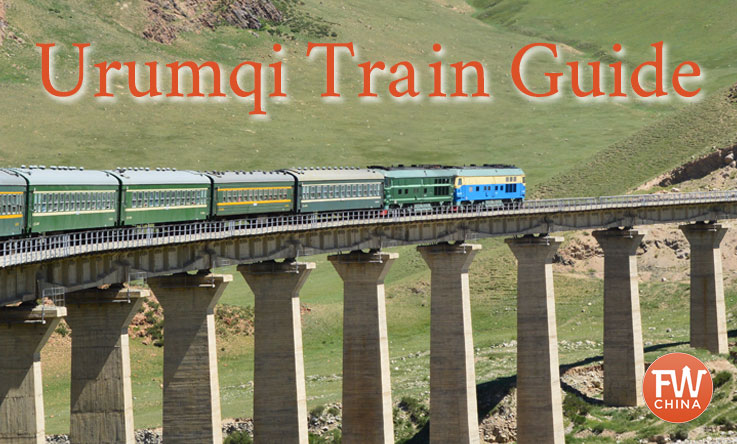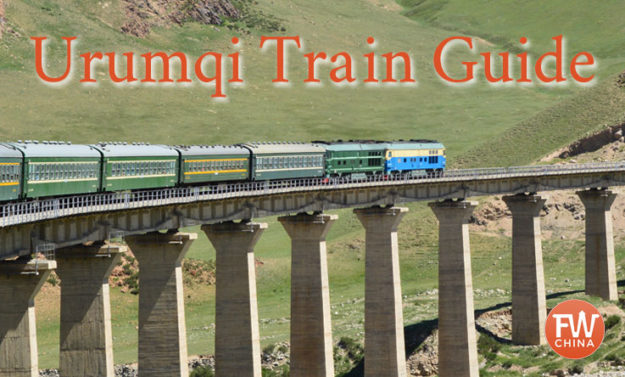 Traveling by train in China, especially in Xinjiang, has been one of the most rewarding travel experiences during my time here.
Traveling around Xinjiang by train is not only cheap from the Urumqi train station, it's also a great way to see the beautiful scenery the province has to offer. It can be daunting for first-time travelers, though, and many major travel guides are now out-of-date.
In this Urumqi train travel guide, we're going to cover:
You can use the navigation links above to learn more, or you can continue to scroll down to read the full guide.
Are you traveling to Xinjiang?
You'll find this and all kinds of helpful travel and transit information in the FarWestChina Xinjiang travel guide.
It's the most up-to-date travel guide on the region with beautiful maps and personal recommendations.
Check it out!
*Note* Some of the links within this article are affiliate links, which means at no extra cost to you, I might be compensated should you choose to use the services recommended.
Which Urumqi Train Station?
For the past five decades, millions of travelers have entered and exited Urumqi through one, primary train station.
Recently, however, Xinjiang was thrust into the 21st century with the introduction of high speed trains. This led to the building of a newer Urumqi train station.
At this point, there are two train stations in Urumqi, Xinjiang that I'd like to introduce you to below.
Urumqi South Station | 乌鲁木齐南站
Previously the 乌鲁木齐南站/Wūlǔmùqínánzhàn was the only passenger train station in Urumqi. Now, it is simply referred to as the "South Station" due to its location on the southwest corner of the city.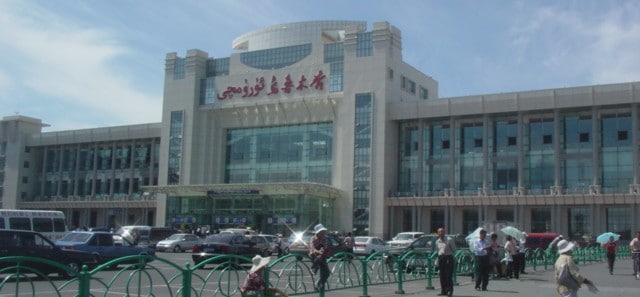 The building looks dated and the security there is tight, but all of the standard trains and a few of the high speed trains depart from here.
What to Expect: Because of the 3-4 checkpoints, I usually budget at least 30 minutes to get through security on a normal day. During the holidays it's much, much longer.
You'll find the train ticket hall is on the left side of the main building, which requires you to go through only one security checkpoint. The ticket hall is open from 5:30am to 12:30am (Beijing time). Tickets can be purchased there, but I recommend you pre-purchase your tickets online.
The main building is broken out into three floors with waiting halls on each side. If you feel confused, there is an info desk to ask directions immediately after you enter the station doors.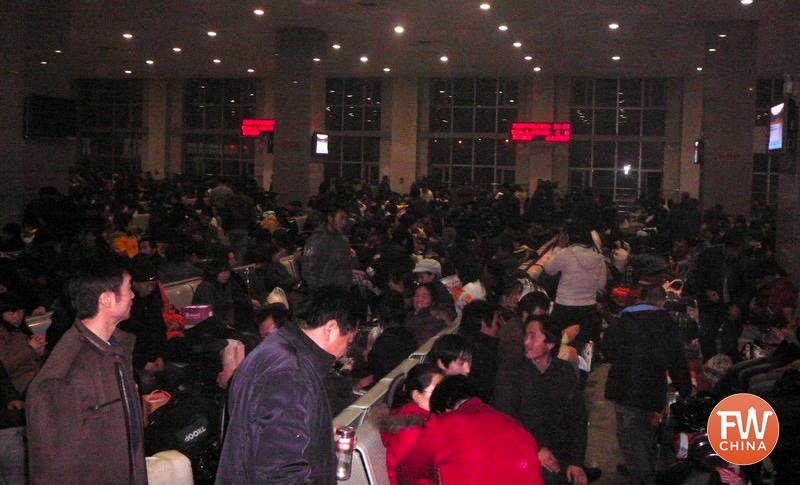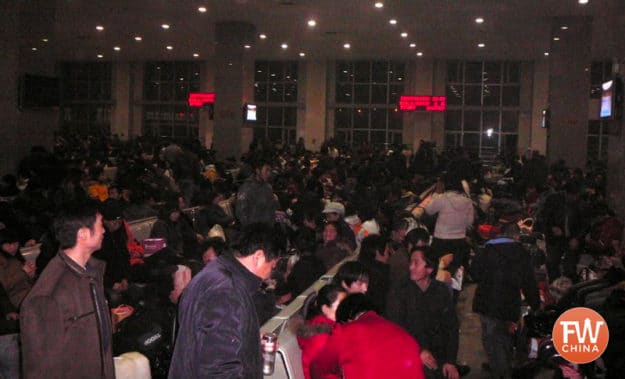 If you are looking to stock up on food and drinks before you depart, there are a number of mini-marts all around the train station that are open throughout the day as well as a few smaller (and more expensive) stores once you get inside.
Transportation to/from Urumqi South Station: Unlike the Urumqi airport, which is far to the northwest of town, Urumqi's South Station is located not far from the city center in the southwest corner.
Despite a good location, travelers still often complain of difficulty leaving the station. To make it simple, there are three primary means of transportation away from the train station:
Taxi: Directly in front of the station exit there is a taxi lane where you can find transportation.
Shuttle: Near the taxi lane there is usually a shuttle bus parked that heads to the airport. The shuttle costs 10 RMB per person but should not be relied upon if you're rushing to catch a flight.
Public Bus: Taking the bus is by far the most common way to enter the city – that is, if you're willing to brave the system. As you exit the station you can head to the right (south), where all of the Urumqi BRT buses start, or to the left (north) where the city buses begin.
Getting to the train station is fairly straightforward. Taxis are usually your fastest option while BRT 1 is a close second. On the bus signs, look for "火车南站" as the final stop.
Urumqi High Speed Station | 乌鲁木齐高铁站
As the names suggest, the Urumqi high speed train station 乌鲁木齐高铁站/Wūlǔmùqígāotiězhàn services all high-speed trains (marked by a "D" on your ticket).
This beautiful looking station, which was first opened in 2016, is located in the development district northwest of Urumqi.
What to Expect: Whereas the south station looks old and rundown, the high-speed train station is spacious and futuristic. If you've been to other Chinese train stations across the country, this design will feel familiar.
Ticket halls are located on the first floor of the structure with window number 5 designated as the "bilingual window" (good luck getting English-speaking help, though!). You'll have to go through a bit of security to access the ticket hall
There is another set of security checks to enter the 2nd floor waiting hall, which are divided into section "A" and section "B" to the left and right.
Before you enter those two sections, you'll see a number of fast food restaurants serving food on the raised level and seating scattered throughout (before you get through the second level of security).
ATMs are available should you need cash as well as hot water dispensers for drinkable water.
There are plenty of digital signs that switch between Mandarin, Uyghur and English, so you shouldn't have a difficult time figuring out which platform is yours.
The easiest way to find your gate is to look on the upper-right hand corner of your ticket.
Transportation to/from Urumqi High Speed Station: The advantage of building this new station from the ground up is that city planners had a chance to ease the congestion that plagues the South Station.
Taxi: Upon exiting the station, you'll turn left to find the taxi line. You'll get mobbed the moment you exit by private drivers, but it's much cheaper to use the taxi if you're willing to wait.
Bus: A number of buses stop at the Urumqi High Speed train station, including the BRT-5. This will by far be the cheapest transportation option into the city.
Eventually, there will be a subway station that stops at this station, but that will be a number of years before it opens. For now, taxis, buses and private transportation are you only option.
How to Buy Urumqi Train Tickets
One of the most frequent questions I receive about train travel in Xinjiang is how to buy train tickets. It's not always a simple process unfortunately, but it's definitely good to know your options.
Book Train Travel Online: Back in 2011 China opened up the option to buy tickets online (https://www.12306.cn). There's a catch, however. In order to do this you must 1) be able to read Chinese and 2) possess a Chinese credit or debit card. You're out of luck if you don't meet that criteria. If you're adventurous, here's a tutorial for buying China train tickets online.
Buy at the Train Station: The cheapest way for foreigners to buy their tickets is at the ticket hall in either of the Urumqi train stations. It is possible to purchase China train tickets up to 30 days in advance, so keep that in mind. Before you stand in line, I always recommend you check availability of your desired ticket so you don't waste your time.
Buy Through Your Hotel/Hostel: If you're staying in a Urumqi hotel or hostel, they will usually offer a service to purchase tickets for you. There is a fee involved (budget around 50RMB extra) but if you're short on time it's worth it.
Buy Through a Travel Agency: For those who want to purchase their tickets before arriving in Urumqi, this is going to be your best option. You will probably pay a small fee, but it takes all the hassle out of purchasing train tickets (plus they can deliver the tickets directly to your hotel). I have personally used and recommend ChinaHighlights.com.
Bear in mind that China's "real name" ticketing system requires you to show your passport or valid ID both when you purchase the ticket and when you board a train.
Understanding Trains in China
Xinjiang trains are no different than any other China train, but if you've never taken a train here you'll find it to be quite a unique experience.
Almost every standard train (with a few exceptions) is divided into three sections, listed from the cheapest to most expensive:
Hard seat (硬座);
Hard sleeper (硬卧);
Soft sleeper (软卧);
Below are some pictures of the three primary classes you'll find in a standard (i.e. "slow") train in Xinjiang.
Soft Sleeper: 4 beds in a room with a lockable door
Hard Sleeper: 6 beds with no door. Much more crowded but not unpleasant.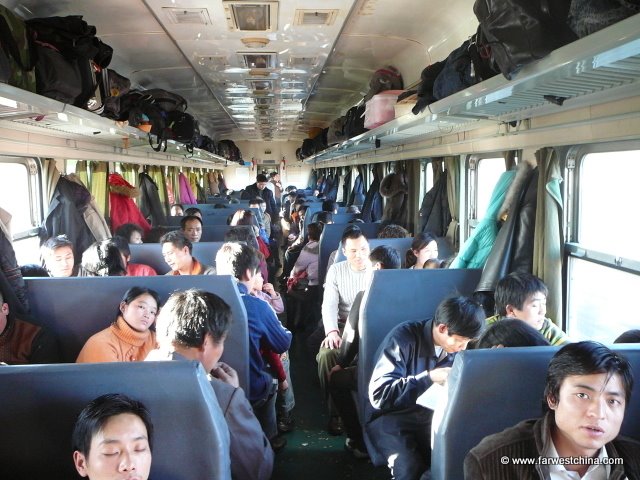 Hard Seat: Like the name says, these are no Lazy Boy recliners. Imagine sitting for hours on end in your dining room chair.
---
High-speed trains are divided into two sections: first class and second class. Throughout China you'll find high speed trains with even higher classes (i.e. "business class"), but those haven't made their way to Xinjiang yet.
Below are pictures of the two classes of seats that you'll find in the typical high-speed train in Xinjiang.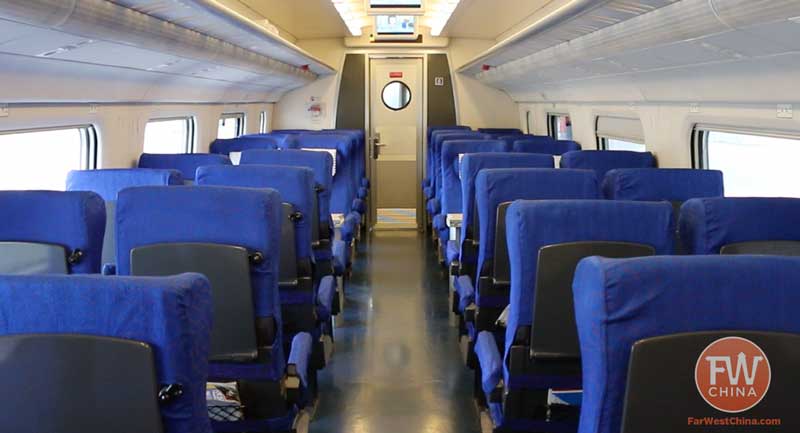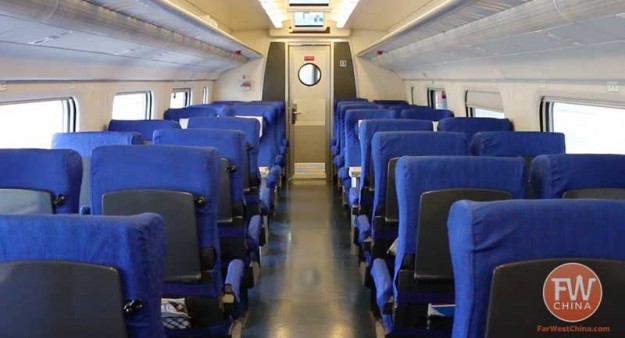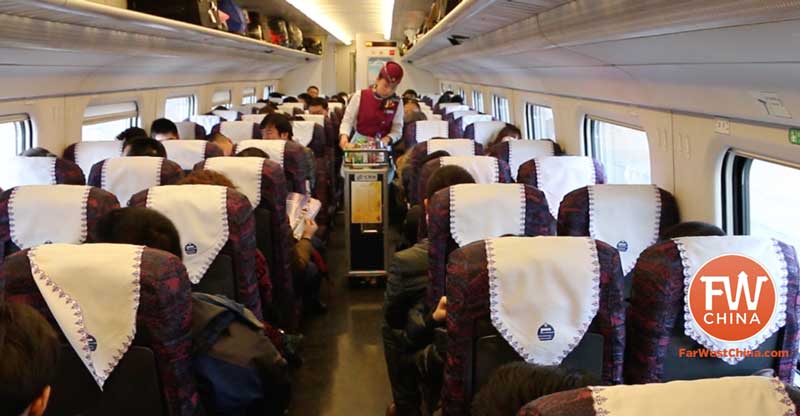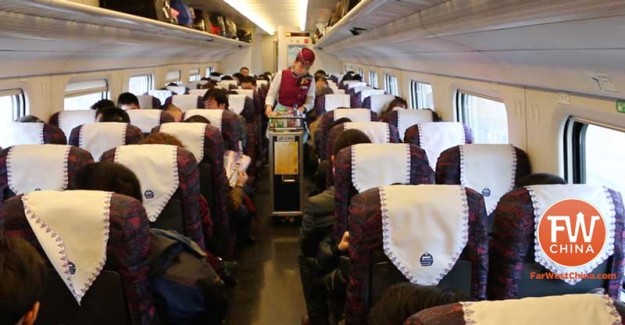 For more detailed information, check out this comprehensive look at trains in China.
Train Stations in Xinjiang
When traveling by train to/from Urumqi, Xinjiang, there are three directions you can head using the regular service lines: south toward Kashgar/Hotan, west toward Ili/Kazakhstan and east toward the rest of China.
Instead of listing all of the possible destinations throughout China, I will focus on Xinjiang's primary cities of interest.
Kashgar: 135/262 RMB (hard seat/hard sleeper), 20-23 hours
Turpan: 23/69 RMB (hard seat/hard sleeper), 1.5 hours
Ili (Yili or Yining): 86/152 RMB (hard seat/hard sleeper), 10 hours
Hotan: 165/318 RMB (hard seat/hard sleeper), 31 hours leaving only once per day at 11:10am
Kuqa: 102/178 RMB (hard seat/hard sleeper), 11 hours
Beitun (Altay): 98/171 RMB (hard seat/hard sleeper), 12 hours leaving only once per day at 8:23pm
Hami: 78/139 RMB (hard seat/hard sleeper), 5 hours
As mentioned earlier, I recommend using a service like China Highlights to purchase your train tickets in advance.
Trains from Urumqi to Kazakhstan
There are two trains per week that service Urumqi to Almaty and Urumqi to Astana.
The first leaves Urumqi for Almaty on Monday and Saturday at 11:58pm (K9795) and one that leaves for Astana every Thursday night at midnight (K9797) from the Urumqi South Station.
Tickets for both trains should run approximately 900-1100 RMB for a journey that takes around 30 hours, give or take a few hours depending on customs at the Alashankou port.
The tricky part about getting on these trains is buying the tickets. The only counter that sells tickets is in the lobby of the Ya'ou Hotel to the right (north) of the Urumqi South Train Station. You will need to pass through one level of security just to enter the hotel and the ticket counter is closed on Sunday, Tuesday and Friday.
Unfortunately, you can't hire a proxy service to buy these tickets for you. You must show up to the ticket counter in person with your passport in order to make a ticket purchase.
Urumqi Train Tips & Hacks!
After almost a decade of traveling across Xinjiang, China on more trains than I can count, here are a few simple tricks I've learned along the way.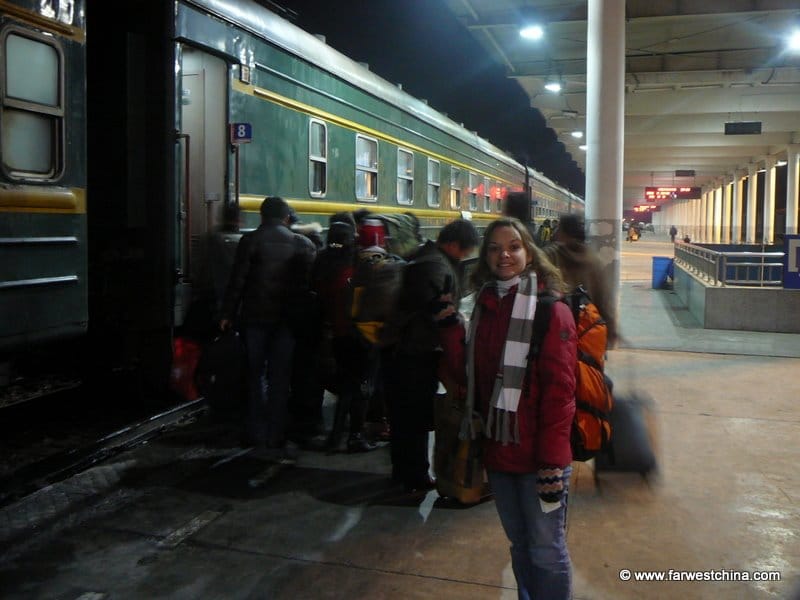 First, if you're taking any train longer than 8 hours (which is most all of them here in Xinjiang), for your own sanity you really ought to avoid the hard seats.
It's just not fun.
Here are a couple other quick tips to consider for taking a train in Xinjiang:
The Urumqi train stations are about a 20-25 minute taxi ride from the center of town. If you're leaving during peak traffic hours, you'll need to adjust accordingly.
Urumqi is the primary point of departure, although there are a couple trains that begin in Kuitun.
Conclusion | Urumqi Train Travel
I highly recommend you jump on a train in Urumqi to explore the rest of Xinjiang. Not only do you avoid most of the security checkpoints you'll run into on the highways, you'll also get to chat with locals, see the scenery and enjoy the comfort of a train.
I hope that this guide helped you understand better how to take a experience Urumqi train travel.
If you have any questions, feel free to leave a comment below and make sure to download a copy of the FarWestChina Xinjiang travel guide which goes into even more transportation details for Urumqi.
Have a safe trip!