Since you're already pretty deep into Central Asia when you visit China's western region of Xinjiang, many people take the opportunity to visit some neighboring countries as well. Kazakhstan makes an excellent introduction to "the Stans" and is easily reachable from far west China. Here's how to travel from Urumqi to Kazakhstan.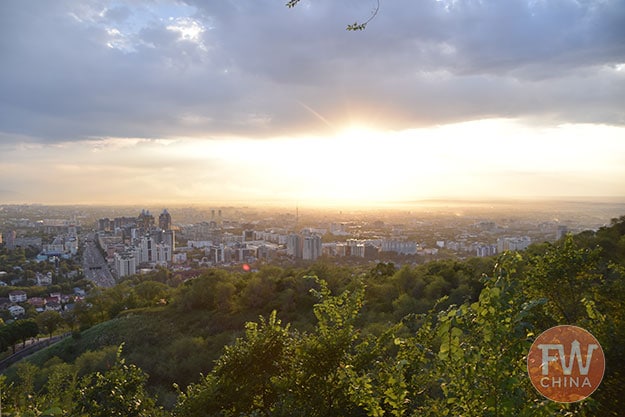 There are plenty of good reasons to make the trip across the border to backpack through Kazakhstan.
In addition to discovering the beautiful city of Almaty, tucked beneath the Zailiski Alatu Mountains, there are plenty of other great places to visit that I'll share below.
Kazakhstan is a dream for adventure lovers and those looking to escape the well-trodden tourist paths. This wild land of steppe, desert and mountains is steeped in history and was an important part of the ancient Silk Routes.
So, let's find out the best way to travel from China to Kazakhstan!
Crossing the Border: China to Kazakhstan
There are three different ways you can cross the border from China to Kazakhstan.
Fly Urumqi –> Almaty (Check flight prices here)
Train: Take the Urumqi to Almatay train
Daily Sleeper Bus
We're going to cover each option here, but there are even more details in the FarWestChina Xinjiang travel guide.
Urumqi to Almaty by Plane
Pros: Quickest option
Cons: You miss the stunning Tian Shan scenery
Journey Time: 2 hours
Cost: From ¥500 ($70)
China Southern has flights on Sunday, Monday, Wednesday and Saturday, and Air Astana has one flight on Thursdays. Each of these flights departs from the Urumqi international airport.
Total flight time is under two hours.
China Southern Airlines also has scheduled flights from Urumqi to Nur-Sultan on Sunday's and Thursdays, and Air Astana on Saturdays.
Flight time for these flights is approximately three hours. I've flown the route with Air Astana and found the service very good.
Urumqi to Almaty by Train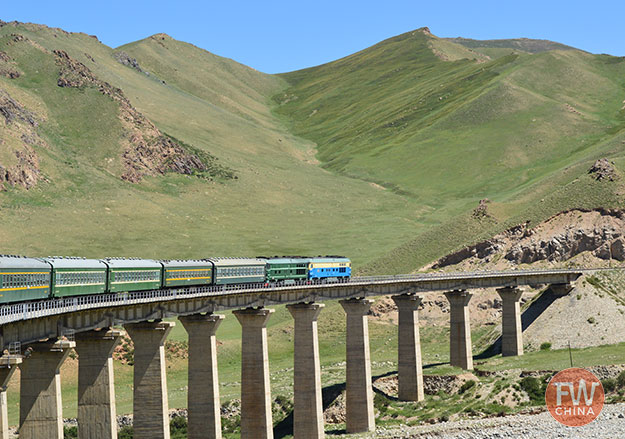 Pros: Easy to arrange, comfortable
Cons: Slower and pricier than the bus
Journey Time: 33 hours
Cost: ¥735 ($105)
There are two weekly train services between Urumqi and Almaty. The journey time is around 33 hours which is longer than going by bus.
The reason for this is that the bogies (train car wheels) need to be changed as the track gauges in China and Kazakhstan are different.
Check which station the train departs from as the trains can go from both the new Urumqi station or the older Urumqi South (learn about the Urumqi train stations here).
You can buy tickets at desk 12 of Urumqi South Railway Station.
Be aware that there is no restaurant car so stock up on supplies for the long journey. Hot water is available on each carriage. Toilets will be locked at the border and when changing the bogies so try and plan for this.
Urumqi to Almaty by Bus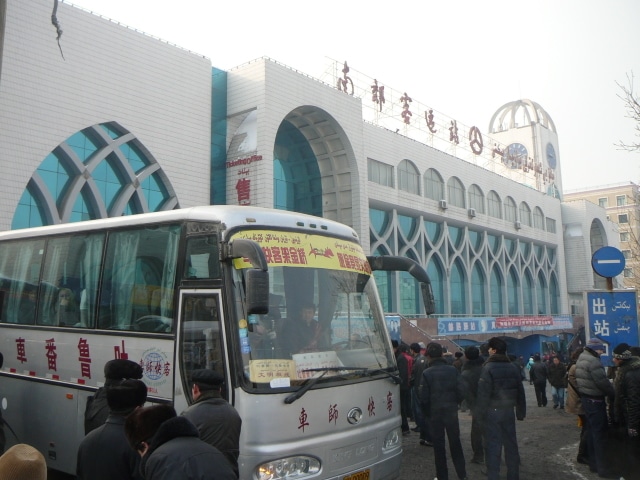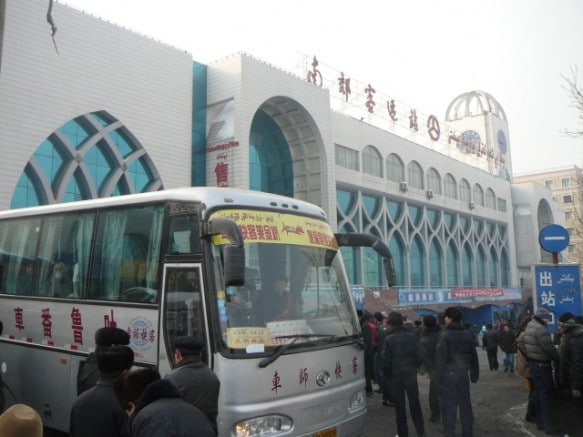 Pros: Cheap and quick
Cons: Hassle to arrange
Journey Time: 20 hours
Cost: Around ¥300 ($40)
I have crossed the border between China and Kazakhstan four or five times by bus so know the ropes pretty well by now (though things are constantly changing).
Buses no longer depart from the Nianzhigou Bus Station (I went there to buy a ticket in July 2019 but the building had been torn down). I was unable to find out where the bus leaves from in Urumqi so decided to take a train to Yining close to the border where I knew there to be buses.
I have since discovered that the Almaty bus now departs from Urumqi International Bus Terminal next to Urumqi Railway Station (that is where I was dropped off when I did the journey in reverse in August 2019).
If, however there are no buses on the day(s) you wish to travel, you can take the train to Yining (4.5 hours by fast train or 6 to 10 hours slow train).
From Yining Railway Station take a taxi to the bus station where you can take a bus to the border town of Khorgas (2 hours).
You will be dropped at the Khorgas Bus Station from where you can buy a ticket to Zharkent on the other side of the border. The bus departs when full, but from previous experiences this is around 3pm.
If you arrive early make sure you have a good book as there is a little to see or do in Khorgas!
The Chinese Border
The bus will drive the short distance to the Chinese border where you will need to exit with all of your luggage. Make sure to pick up a Chinese exit card from one of the desks and fill it out. Proceed through the customs check as normal.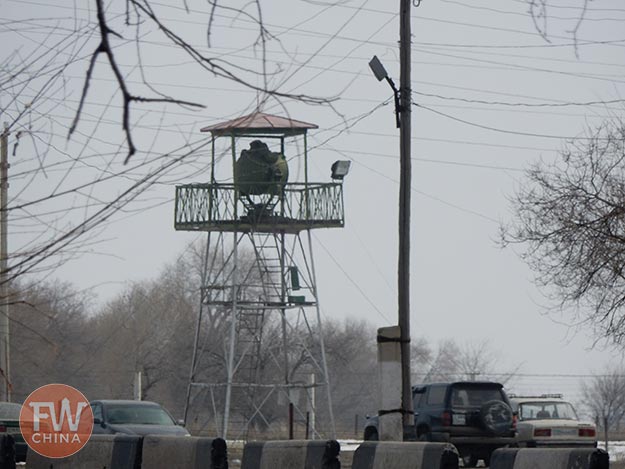 Note: If you are making the trip in reverse and entering China from Kazakhstan, border authorities will go through your phone. Ensure you have nothing controversial on there (I was made to delete a couple of "memes" they didn't find funny)!
Those traveling in this sensitive area can expect extended questioning at the border (both ways) so try and befriend people on the bus/the driver so they don't leave without you (again, speaking from experience).
Once you have completed the customs and border checks go and wait at the exit with the others from your bus. You will need to wait around an hour for the bus to be checked and make its way through.
The Kazakh Border
You will repeat the same process on the Kazakh side and exit the bus with your belongings, proceed through immigration and wait for the bus.
The bus will then drive the hour or so to Zharkent where you will need to take a bus or private taxi to Almaty (6 hours $40).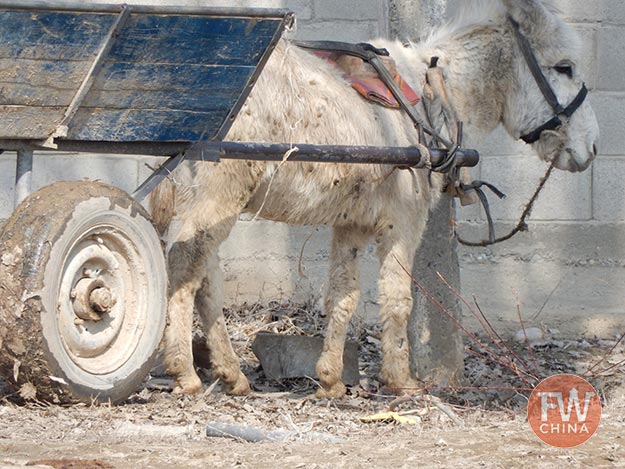 Zharkent is a pleasant enough small town/village and you might consider spending the night there to get a real taste of rural Kazakhstan before making the onward trip across the desert and steppe to Almaty.
Things to do in Almaty, Kazakhstan
Almaty is one of my favorite places in the world!
Wherever you are in the city, you can see the imposing snowy peaks of the Tian Shan. The Russian architecture such as Zhenkov Cathedral, the street-side cafes, the food and the general laid-back nature of the city never fails to warm me.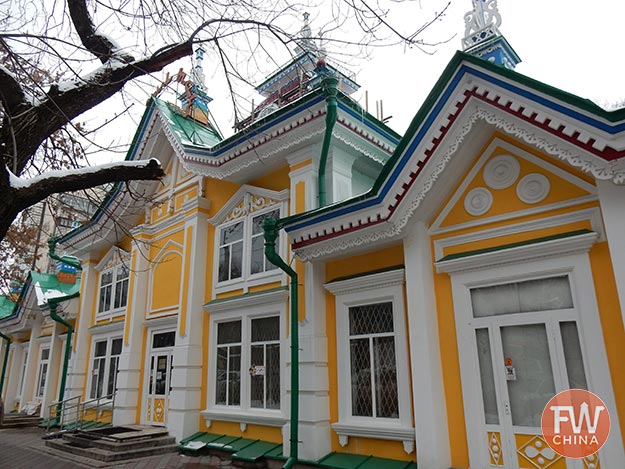 You could be forgiven for thinking that you are in Paris as smartly dressed people sip coffee at the cafes lining leafy-green boulevards (though not in winter).
Almaty's Top Five Must See Places
Paniflov Park
Paniflov Park is centrally located and a pleasant place to escape the city.
It houses the beautiful blue, yellow and white Zhenkov Cathedral, built in the Russian orthodox style.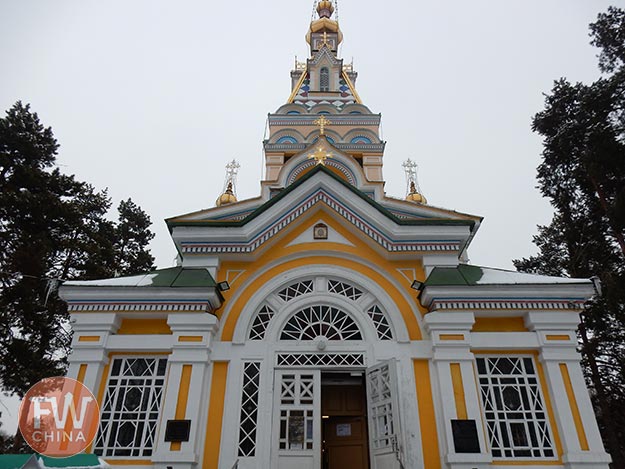 There is also an eternal flame and soviet war memorial with square-jawed soldiers clutching arms and flags.
Nearest Metro: Zhibek Zholy.
Kok Tobe
Kok Tobe Mountain is home to an amusement park that overlooks the city.
Be sure to walk to the very back where you will find the Kok Tobe Café (more of a restaurant and bar) where you can enjoy some of the best shashlik and beer in town, with breath-taking views over Almaty.
Get there for sunset! You can reach Kok Tobe by cable car from outside Hotel Kazakhstan on Dostyk Avenue.
Medeu
Medeu is home to the world's highest ice-skating rink at 1,691 metres (5,547 feet).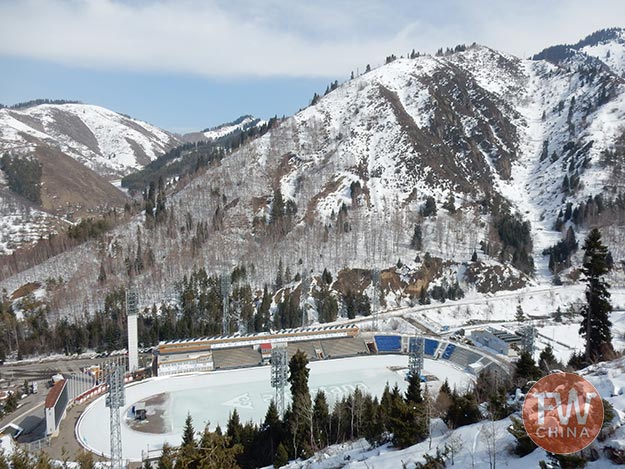 In summer it hosts different events and activities such as go-carting and is a great place to start hikes around the city.
Take bus 12 from outside Hotel Kazakhstan on Dostyk Avenue. Journey time is around 30 minutes.
Shymbulak
Central Asia's premier ski resort, you can reach Shymbulak by cable car from Medeu.
It's worth visiting year-round for the great views and upmarket restaurants and bars. There is also some great hiking to be had around Shymbulak.
Big Almaty Lake
The jewel in Almaty's crown has to be Big Almaty Lake.
It's not the easiest place to get to, but you will be rewarded by this beautiful, glassy lake surrounded by mountains and pine forest. Do be aware that the lake is very close to the border with Kyrgyzstan so stick to the paths and heed the signposts.
The best way to get there is by taxi and it takes around 40 minutes from the center of Almaty.
---
About Steve Rohan
Steve Rohan is originally from England but has lived in China for five years. He has travelled the Silk Road many times as he tries to avoid flying at all costs, and makes an annual journey from China to England overland. He is planning on moving to Almaty in the near future and his writing can be found at The Trip Goes On.