If you have a little extra time in Urumqi and you don't quite know what there is to do, I have a suggestion for you. Perhaps you've already bought all the souvenirs you need at the Urumqi Grand Bazaar and you've said hello to the mummies on display at the Xinjiang Uyghur Autonomous Region Museum – but that would be pretty sad if that's all there is to do here.
UPDATE: As of early 2018, this beautiful alley has now been torn down and no longer exists. I am keeping this article published as a record of the Uyghur culture beauty that used to exist in the Xinjiang capital of Urumqi.
Why not take a walking tour of the back alleys of Urumqi? Experience real life in the city instead of the tourist facade.
If this interests you at all, then join me as I share with you one of my favorite spots to bring people who are first-time visitors to my home here in Urumqi.
The Back Alleys of Urumqi
Before I go further, I want to say that I don't take credit for this walking tour. This is a little gem that has been passed down to me by foreigners who have lived here longer than I have.
I'm grateful that somebody took the time to walk me through these alleys and my desire is that this can help you appreciate all the beautiful culture hidden deep within Urumqi, a city that sadly most people try to avoid.
(Remember to subscribe to the FarWestChina YouTube Channel!)
The Urumqi Walking Tour begins across the street from the Grand Bazaar, whose minaret acts as well-known icon for the city.
Frankly, I'm not too fond of the bazaar. It's fun to walk around for those who have never been but it's an expensive place to buy generally poor-quality souvenirs.
Across the street is ErDaoQiao (二道桥), a long market that also panders to the tourists. By following the street on the north side of the market, however, you can slowly make your way into the back alley.
Using the map below you should be able to get a good idea of where this is.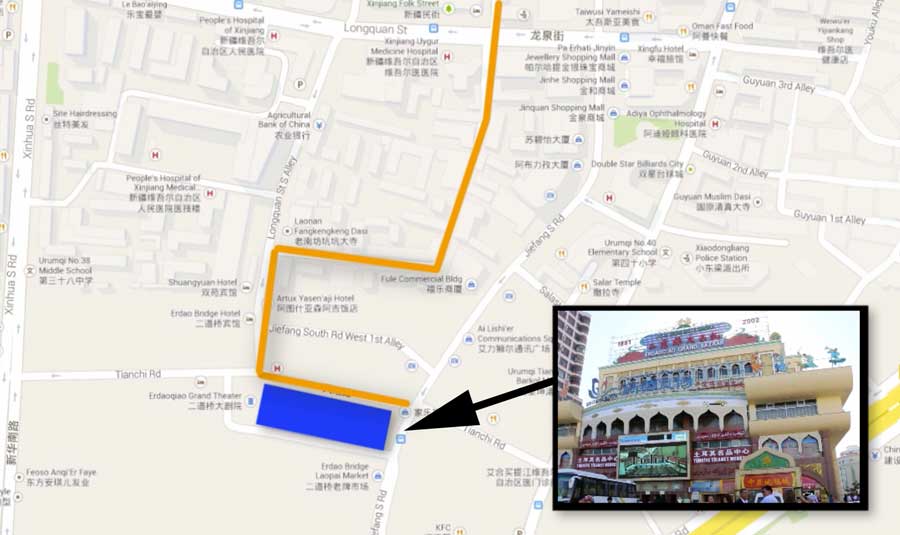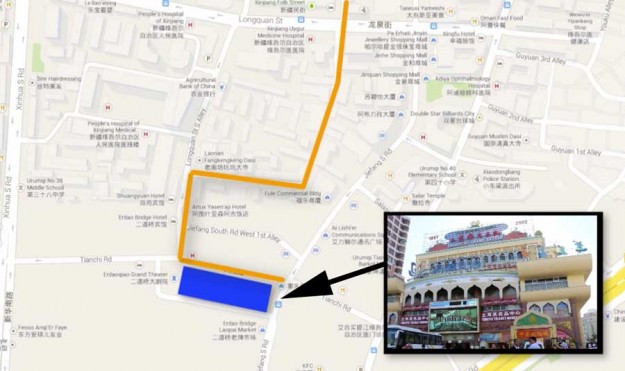 All throughout these narrow alleys there are small shops selling almost everything you could imagine (some of which might make great souvenirs!), hole-in-the-wall restaurants that you can try at your own risk, and snack stands every few feet.
The alleys run east for a bit and then north for a long while basically until you reach the South Gate (Nanmen 南门). One of my favorite things to do is make this walk and end it by having coffee or ice cream at the Texas Cafe.
Urumqi Walking Tour Tips
If you plan to take this walking tour in the back alleys of Urumqi, here are a few tips:
Don't be Scared: yes, you may be the only white face and you'll get plenty of stares because of that but people don't really mind that you're there.
Take Small Bills: I'm referring to money here, and I say this not because of theft (although you should always take care of your belongings) but because you'll want to have plenty of small change to pay for things like ice cream, drinks, kebabs or other low-cost items whose sellers may not have change for a 100RMB note.
Be Adventurous: make it a point to try at least 3 things you've never had before – even if it looks weird! This even includes fruit that maybe looks familiar but you can't quite tell what it is. If it's in-season, it's going to be awesome.
Mosques + Cameras Don't Mix: don't be surprised if the men outside the mosque ask you not to point the camera their way.
So what do you think? I hear most people say that they want to get out of Urumqi as quickly as possible but perhaps this might be something you would enjoy. I know I did.
Helpful Urumqi Links
Traveling to Urumqi? Check out these other free resources from FarWestChina: