As many of you know, these past few months have been quite difficult here in Urumqi, the capital of China's far western region of Xinjiang. It seemed like a distant problem back in March when Kunming was struck with a violent knife attack but sadly came knocking on our doorstep in late April when the Urumqi train station was bombed.
This entire month of May has resurrected the type of tension not felt since 2009, and that was before yet another terrorist bombing attack claimed the lives of 33 39 43 mostly elderly, innocent people on May 22, 2014.
It didn't take long for foreign reporters to land here in Urumqi and the world is now flooded with stories whose headlines shout words like "volatile", "fear" and "crackdown".
The Uyghur people (pronounced wee-gur), Xinjiang's primary ethnic group that is unfortunately tied to each of these tragic events, are slowly losing any international credibility with each terrorist act.
But I'm not interested in re-hashing what you can easily read online. As someone who calls Urumqi my home, I just wanted to share some updates on what's really happening on the ground here in Xinjiang – things that most reporters either don't see or don't find worthy to report on.
If you plan on traveling to Xinjiang or if you have any interest in this part of the world, I think you'll find my answers to these questions interesting…especially the last question.
What's Happening in Urumqi?
You know you've lived in Xinjiang too long when the sight of a massive, armored tank outside your local grocery store doesn't faze you. Round-the-clock military guards standing behind protective steel cages has been a normal sight even before any of these things started happening.
It's not like Xinjiang's security forces let down their guard and were suddenly surprised by these attacks."
In other words, it's not like Xinjiang's security forces let down their guard and were suddenly surprised by these attacks. How do you stop someone who is intent on sacrificing their own life?
Life must go on, though. Businesses are still open, buses are still running and transportation in/out of the city continues.
But despite outward appearance, things have definitely changed. I stopped by my local fruit market to buy some bananas and the friendly lady whom I have begun to know well these past few months asked me bluntly, "Are you scared?"
"Worried" I replied, "but not scared. You?"
"I'm not scared" she said defiantly. But the fact that she even asked the question – the first time I have ever been asked that here in Urumqi – was an indication to me that things have changed.
The guard at my community gate, a friendly Uyghur man who rides his rusty bike to work in his faded blue uniform just yesterday started wearing a protective helmet, vest and baton.
Early indications point to the fact that this year – a little over a month before we celebrate the 5th anniversary of Xinjiang's deadliest riots – will prove to be just as pivotal for this region as 2009.
How is China Reacting?
Last Friday afternoon, just a day after the Urumqi bombing, I received a text message informing me of an impending city curfew. Translated, the text read:
Starting at 6pm this afternoon, traffic controls will be in place starting on Nanhu Road stretching down BeiMen, NanMen, JieFang Road, DaWan Road, Renmin Road, and HePing Road. All traffic will be prohibited from passing through and we ask that everybody detour around these roads.
For those who don't know the road layout of Urumqi, this message basically lists every major thoroughfare that runs through city, meaning that a "detour" would have been a massive headache. At the time nobody knew what was happening to warrant such closures, but I later saw pictures of what occurred.
A massive display of force rolled through Urumqi while trucks fitted with loudspeakers screamed slogans of harmony in both Mandarin and Uyghur languages.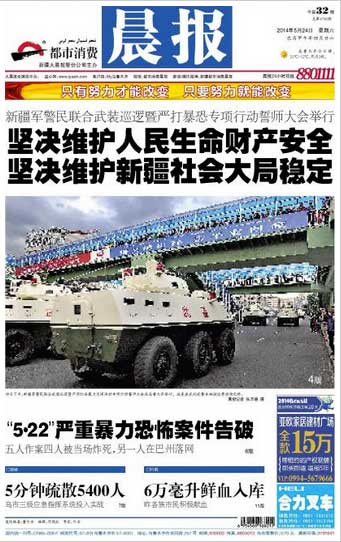 The front page of Saturday's newspaper boldly proclaimed "Firmly Safeguarding People's Lives, Property and Safety; Firmly Safeguarding Xinjiang's Society, National Interests and Stability".
The message was directed as much toward the citizens of Xinjiang as it was toward potential terrorists. In spite of how courageous my local fruit seller sounded today, she – like many people here – want their government to do more to protect them.
The Children's Park here in Urumqi, normally a busting center of activity on a Saturday afternoon, was practically a ghost town. The park was open, but an imposing tank sat at the entrance with no less than 10 armed guards forming a perimeter.
Friday prayers at the local mosques continued as usual, albeit with quite a police presence. I expect that won't be changing anytime soon.
My understanding is that yesterday marked the beginning of a year-long "strike hard" campaign. A whole year. If this first day is any indication, I believe I'll be saying hi to that tank outside my grocery store for quite a while.
Is it Safe to Travel to Xinjiang?
I always receive a barrage of emails following an incident like this – and that's not a bad thing. Many of you sent messages asking about the safety of me and my family. I haven't been able to respond to all the messages yet but I do want to say a special thank you. You all have been a huge encouragement to me.
If you want to come to Xinjiang, you still can."
The majority of the emails, however, ask one of two simple questions: Is it still safe to travel to Xinjiang? Is it still open to travelers?
Before I go into my answer here, it's important to note that the US Embassy in Beijing recently instructed all staff to "defer personal travel to Xinjiang". That speaks volumes and it would be foolish of me to say otherwise.
It used to be I would tell people that "Traveling to Xinjiang is no more dangerous than any other part of China. Just use common sense and you'll be fine". Unfortunately I can't really do that anymore. These recent attacks, although premeditated and calculated, have targeted random people here in the city.
As much as I want to say otherwise, random is not safe.
My advice for now is to stay away for the next two months."
Xinjiang has not, to my knowledge, closed its borders to travelers willing to come out here. It never happened back in 2009 and I don't believe it will happen now. If you want to come to Xinjiang, you still can.
My advice for now, though, is to just stay away for the next two months. I don't think you know how hard that is for me to admit. I HATE saying that. I love this region and despite conventional wisdom, I don't plan on leaving in the near future.
But with a sensitive anniversary coming up this July and tensions at an all-time high, it's frankly just a terrible time to be traveling here.
———————————————–
It is my hope and prayer that this is a temporary situation. Not for the sake of travelers, but for the sake of the people here – Han, Uyghur, Hui and all the other minorities, who deserve to live a life not haunted by fear and prejudice.
I believe it can happen. I have to or else I wouldn't still be here.