The pollution in and around Urumqi Xinjiang is getting about as bad as any other major city in China. The thought of any sort of exercise – whether that's running, basketball or any other sport – just doesn't feel like a good idea.
Check out this tweet from earlier this year to prove my point:
You know it's bad when your city's air quality is worse than Beijing & Shanghai…COMBINED. #Xinjiang #cough pic.twitter.com/881WF9aeZ4

— Josh Summers (@farwestchina) November 15, 2013
So when the opportunity to join some Uyghur locals to hike the Tian Shan mountains that surround Xinjiang's capital, I was thrilled. Who cares that we're in crazy negative temperatures out here, I need to get out!
Over the past decade, outdoor clubs have become a huge thing in Xinjiang. Groups organize almost every week to hike, ski, camp and bike every part of this massive province.
Many of these outdoor clubs are based out of the numerous outdoor equipment stores that have popped up like sunflowers here in Urumqi. It's crazy because these stores in Urumqi seem to be as ubiquitous as Starbucks in the U.S.
Although not ethnically exclusive, most of these groups are Han with a few small ones being Uyghur. Before this last week I didn't have much of a preference. You'll understand why that's changed after you read this.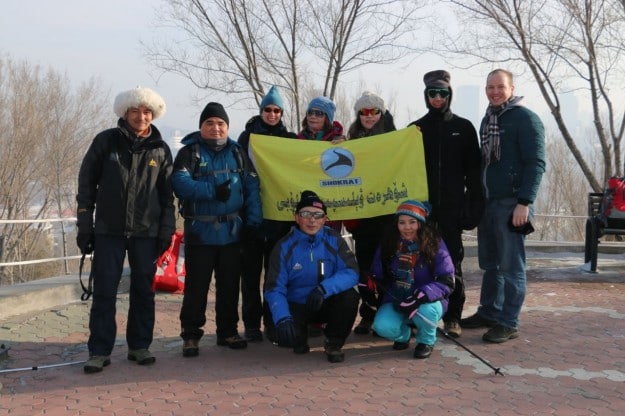 Our group of hikers, with the customary group sign. I'm far right.
The Urumqi Day Hike
Surprisingly, the BRT bus stop wasn't far from the trail head in the southwestern part of Xinjiang. The area is known as Yamalika (雅玛里克山) and it is home to numerous TV and cell towers.
In local folklore it is called the "Demon Mountain" because back in the day when the Urumqi River often flooded the locals considered this hill and Hong Shan to be the demons that caused it. Matching pagodas were built on each hill to tame them.
Both of these pagodas are still there today. The river, sadly, is mostly gone.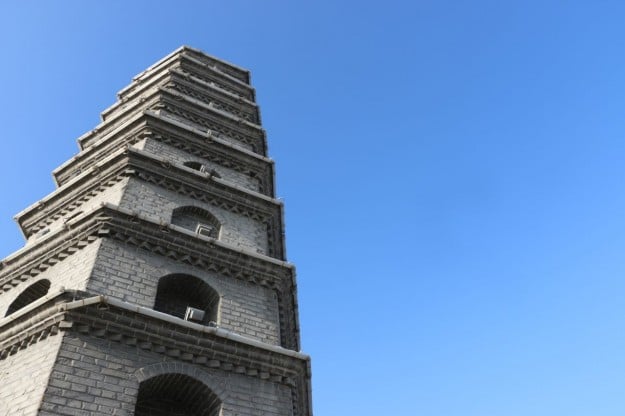 We were a group of 9 people, 6 of whom were some of the most fun-loving, friendly Uyghur people I've ever met. Communication bounced between English, Uyghur and Mandarin depending on the topic and fluency of the speaker, but there was one language that everybody understood.
Dancing.
This is the first time in my life that I can say that I have danced down a mountain. The leader of the group brought battery-powered speakers in his backpack that blasted the catchy beats of Uyghur music and it wasn't long before everybody was dancing.
Yamalike "Mountain"
For those of us who live in Urumqi, Yamalika is an excellent option to get away. It's quiet, not far from the city and gets high enough to evade the pollution.
In reality, the highest point on the mountain is only about 1,310 meters and the hike wasn't strenuous. In all we hiked about 10 miles around the park covering beaten paths as well as paved roads. This used to be a barren hill but the local government has poured tons of money into a forestation project that they claim has added 73 million trees. They now cover the hills everywhere in perfect rows, although they're pretty lifeless in the winter.
There are few spots that turned out to be great views of the city and when the air cleans up a bit I'll probably return to get some better pictures. Stay tuned!
For now, hopefully you can enjoy a few of these photos I got from our hike.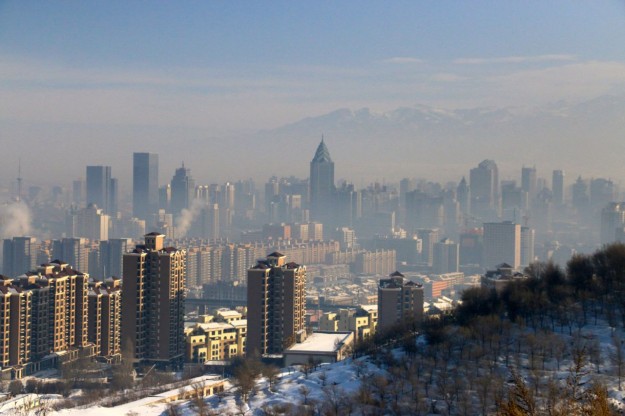 A beautiful yet polluted view of Urumqi, Xinjiang's capital. That's the Bogda Mountain you see in the background.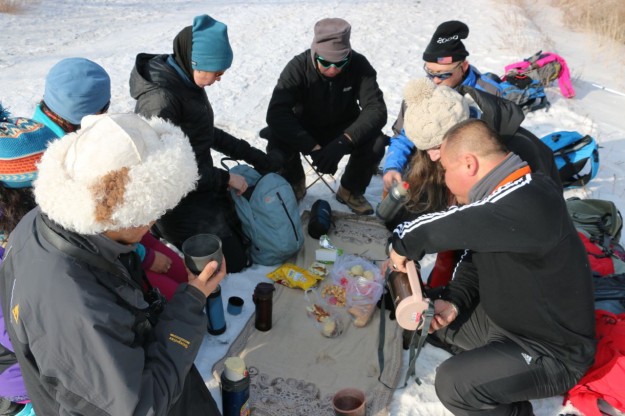 We stopped for a bit of Uyghur lunch during the middle of the hike.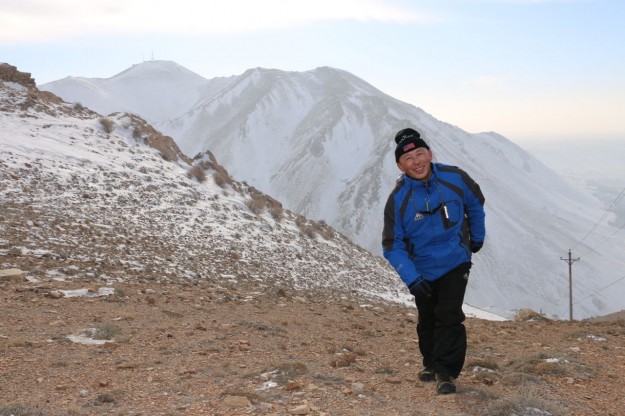 Our hike leader was a fun, very outgoing Uyghur man.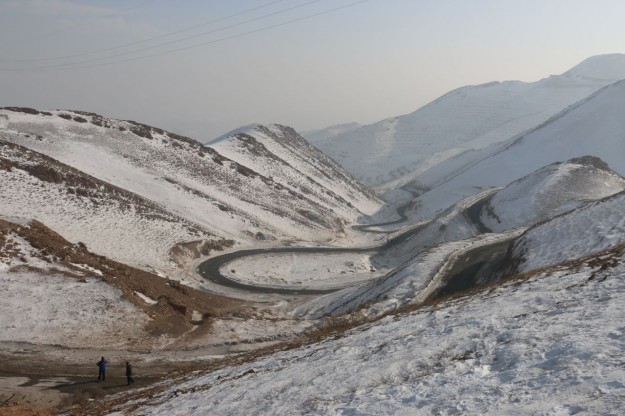 Descending the mountain required us to follow a winding, very icy paved road.