A desert camel trek into one of Xinjiang's deserts is a memorable and thankfully simple adventure to arrange. From Turpan all the way to Kashgar, there are a number of picturesque sand dunes to choose from.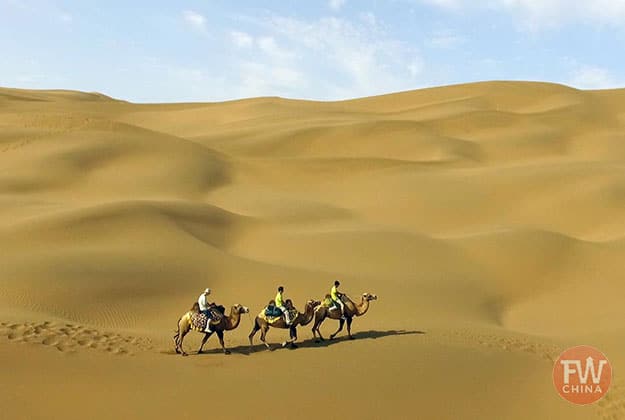 While it's possible to pay for a short ride or picture on a camel, many travelers ask about overnight treks into the Xinjiang desert.
These treks usually involve hiring a guide along with multiple camels used to transport your party and all your gear. They can last from a single night to a full week or more depending on where you want to go.
Costs for this kind of desert adventure can add up quick, but here's a basic breakdown:
Camels are usually rented out at a rate of around 300 RMB/day;
3-4 camels are required for every 2 people depending on the length of the journey.
Additionally, a camel guide is required for every 4 camels which usually cost about 200 RMB/day.
Once you factor in the cost of private transportation to the desert, which can range from 500-1200 RMB round trip from a major city, you can see why this isn't a cheap adventure.
However, having participated in an overnight camel trek, I can tell you that it's an excellent adventure that makes for incredible pictures and a great story to tell your grandkids one day!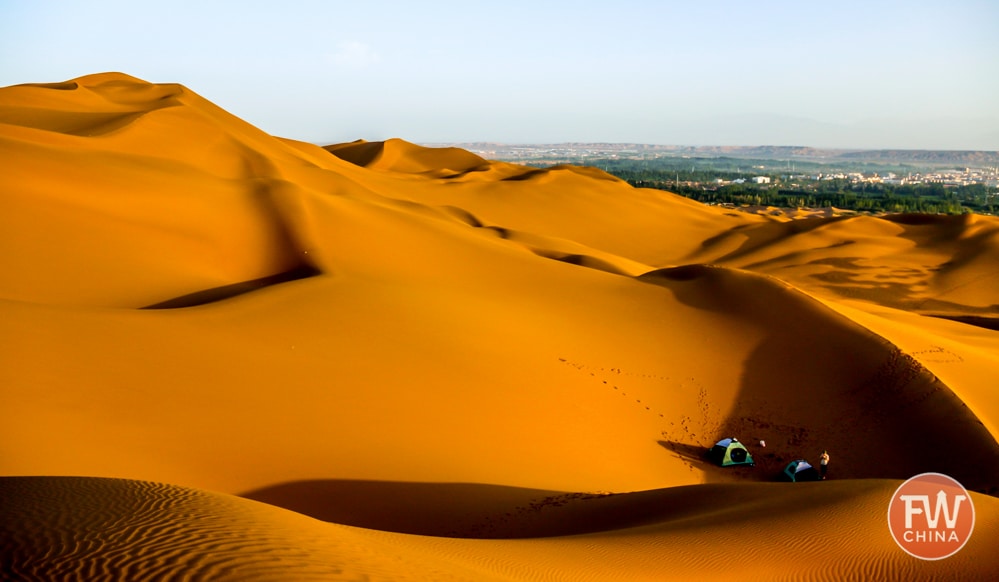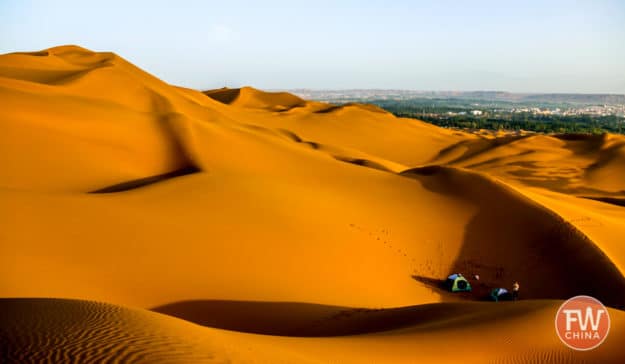 It is possible to enter the desert at literally thousands of points all around the Taklamakan and Kumtag deserts in Xinjiang, but for the average traveler there are only a couple places I recommend to begin a camel trek:
The information I'm sharing here is exactly what you'll find in the FarWestChina Xinjiang Travel book, the most comprehensive guide to the region you'll find anywhere.
Camels in the Kumtagh Desert at Shanshan
Approximately two hours east of Silk Road oasis of Turpan, the little town of Shanshan rests beside sand dunes whose towering size and scope rival those of Dunhuang in neighboring Gansu province.
Considering its convenience (at least compared to the next two options!) and the beauty of the Kumtagh sand dunes, this is probably the best place to consider any kind of camel trek.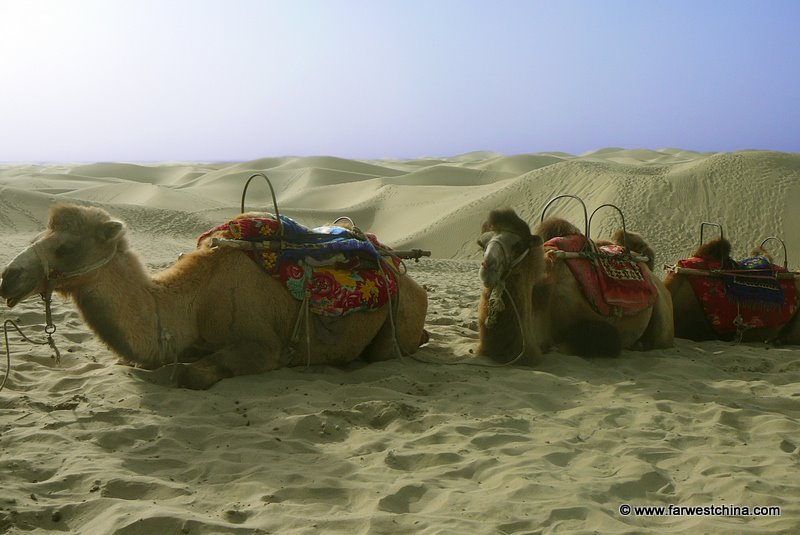 All it takes is about 3km before you're surrounded on all sides by nothing but waves of desert sand.
You'll need to pay an entrance fee for the Sand Dunes Park but they can help you connect with a camel herder and rent you a tent for the day.
I had the camels drop my group off for the evening and then pick us up in the morning.
Ride a Camel: Taklamakan Desert in Hotan
Equally impressive are the endless sand dunes of the Taklamakan Desert near Hotan (aka 和田 or "he tian").
The only downside is the time and expense required to get there. The Urumqi to Hotan train takes approximately 30 hours!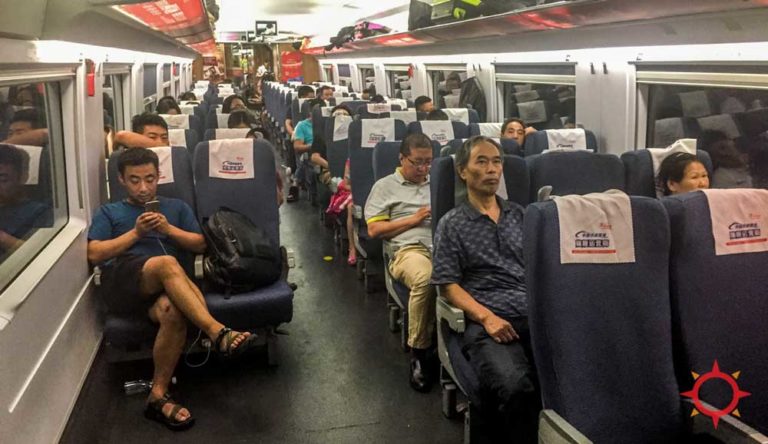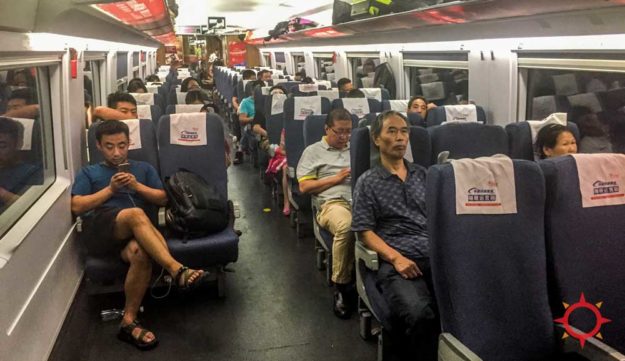 From this point in the Taklamakan Desert, travelers can follow the footsteps of explorers like Aurel Stein and Sven Hedin, both of whom spent months in these desert sands excavating ancient cities.
While you probably won't be able to visit these ancient ruins, you'll still get to experience life in a desert.
There is no entrance fee for this portion of the Taklamakan Desert, but hiring a private car from Hotan is quoted at least 1000-1200 RMB round trip for a sedan.
Camel Riding: Taklamakan Desert near Kashgar
Finally, I'll mention the portion of the desert most easily accessible from Kashgar.
It's not quite as picturesque as what you'll find near Hotan but it's more convenient. The Dawakul Lake Desert Park is located 130km southeast of Kashgar, which takes a little less than two hours' drive.
The area has been heavily commercialized but they do offer an authentic camel experience and camels that are always ready for tourists.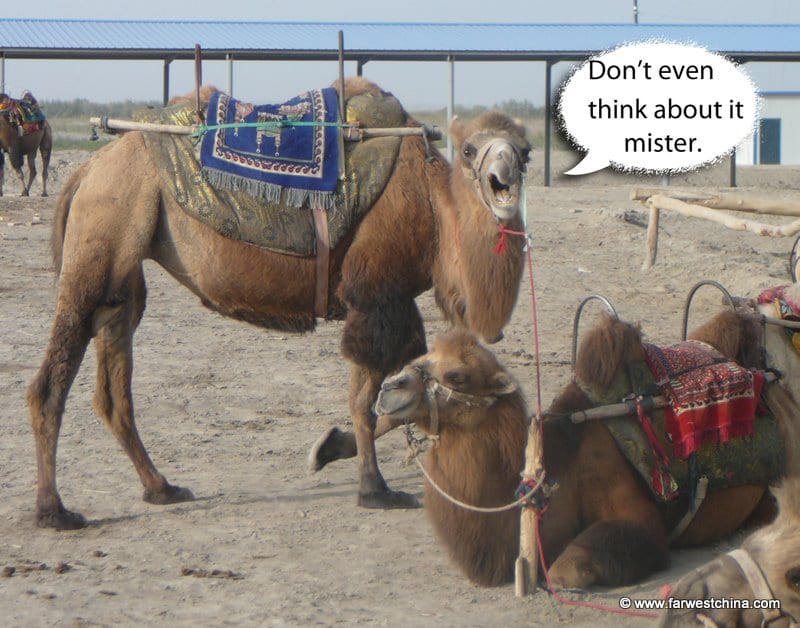 Final Thoughts | China Desert Camel Experiences
Honestly, I don't find riding a camel to be very comfortable. I have no idea how people did it for weeks on end when they crossed the desert.
But as a tourist, it's essential that you try the China desert camel riding experience. It can be done in many places around China, but none will be quite as good as what you can find in Xinjiang.
Whether it's the Kumtagh Desert, the Gobi Desert or the Taklamakan Desert, China's western region of Xinjiang is the place to be for camels.
Oh, and like I said earlier, if you'll be traveling to Xinjiang, make sure to purchase a copy of my Xinjiang traveler's guide. Things change in China on a daily basis, but this is the most up-to-date guide available!