Mention the name "Xinjiang" and most people who know their Chinese geography picture vast deserts crossed by dirty looking camels and a beating sun.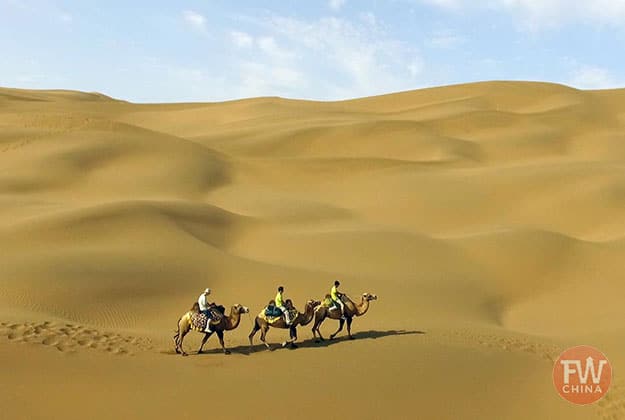 It's a nostalgic picture that was made popular by the famous Silk Road but it's a stereotype Xinjiang can't seem to shake. The truth is that these immense deserts are locked in by incredible mountain ranges and watered by a multitude of lakes and rivers.
Some of these lakes provide the most breathtaking scenery that Xinjiang has to offer.
Although there are many lakes that dot the Xinjiang map, there are a couple that will give any person living or traveling to Xinjiang a chance to break away from the normal tourist destinations and find themselves in a place that would make a professional photographer leap for joy.
Welcome to Xinjiang's four "Great Lakes".
Heavenly Lake 天池 near Urumqi
The most well-known of Xinjiang's lakes is Heavenly Lake (aka 天池 "Tian Chi") located only a short distance from the capital of Urumqi. Although it boasts beautiful scenery including the lofty "Peak of God" (Bogeda Feng), the main draw of Heavenly Lake is how easily accessible it is.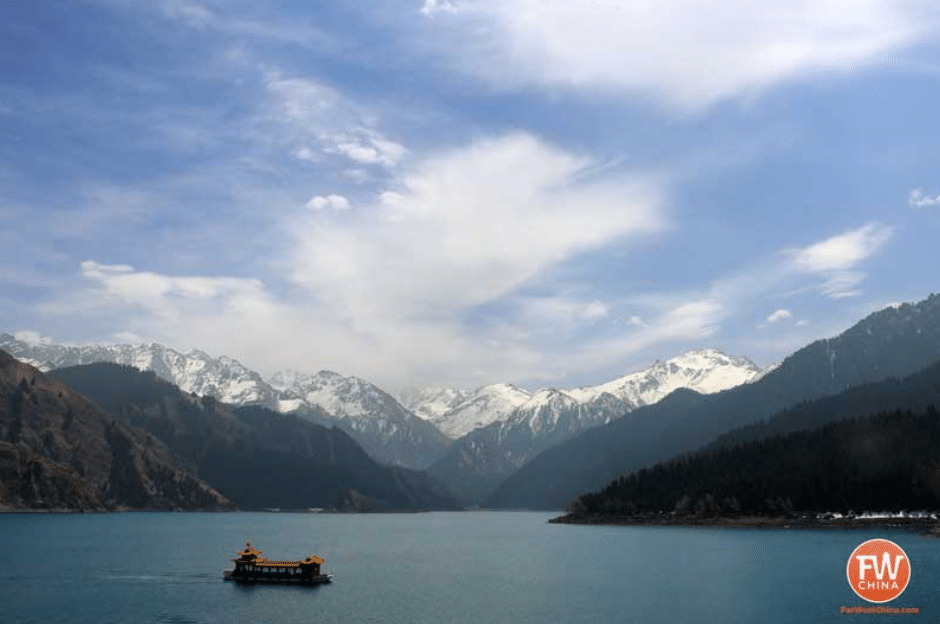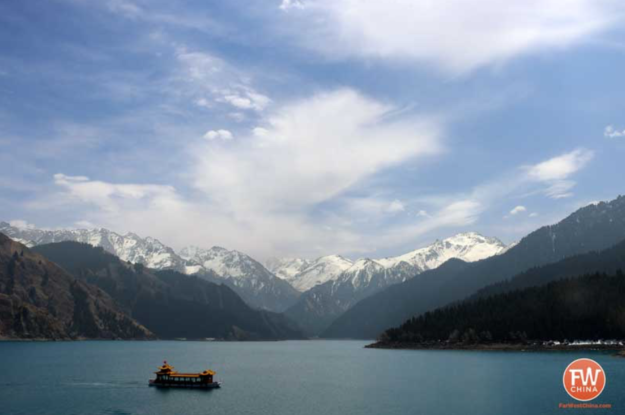 A little more than an hour by bus makes it a simple day trip that is light on the wallet. Over the years the locals have learned that tourism brings in big money however, so much of the lake has unfortunately become very commercialized and ripe for rip-offs.
Don't let this discourage you!
Heavenly Lake is a must-see if you don't have time to travel deeper into the heart of Xinjiang.
Around here you'll find plenty of Kazakh yurts (or gers) which offer very cheap and exciting overnight accommodation. During the day make sure to get in a good hike or two, enjoying a break from the polluted air that plagues the nearby capital of Urumqi.
Kanas Lake 哈纳斯 in Northern Xinjiang
Xinjiang's most famous lake aside from Urumqi's Heavenly Lake is Kanas Lake, located within a large natural reserve in the Altay region near the Russian border. In reality, this lake is but a wide portion of the glacier-fed Kanas River, but it makes up for it small size by being one of the deepest lakes in China (about 190m at its deepest).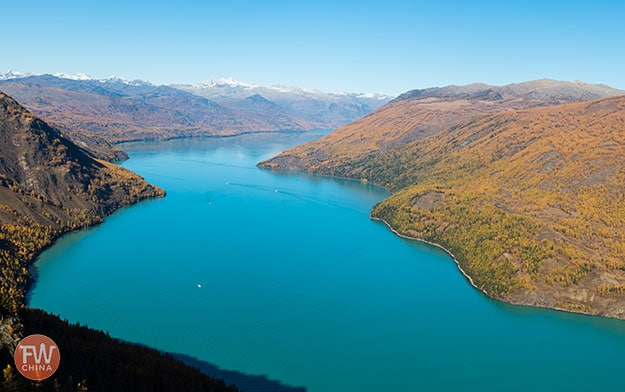 Traveling to Kanas will run around 10 hours from the capital by car, so spending the night near the lake is a must, but the experience is worth the time. Hiking trails, crystal blue water, and even a Loch Ness-like lake creature are enough to keep you busy for days.
Accommodation along the lake and in the nearby town is famously over-priced, but like the Heavenly Lake you can usually find yurts to rent. Although officially against area policy, many people have been known to bring their own camping equipment and avoid overnight costs altogether.
This area used to be closed during the winter but with the upgrade of roads and addition of an airport in the nearby town, Kanas now hosts a small winter festival in January.  The best time to visit would be during the spring or fall.
Karakul Lake 卡拉库勒湖 near Kashgar
Karakul Lake, which literally means "Black Lake" in the local language, is anything but black. I've personally witnessed the water changing colors from light purple to a glowing blue and it really is spectacular.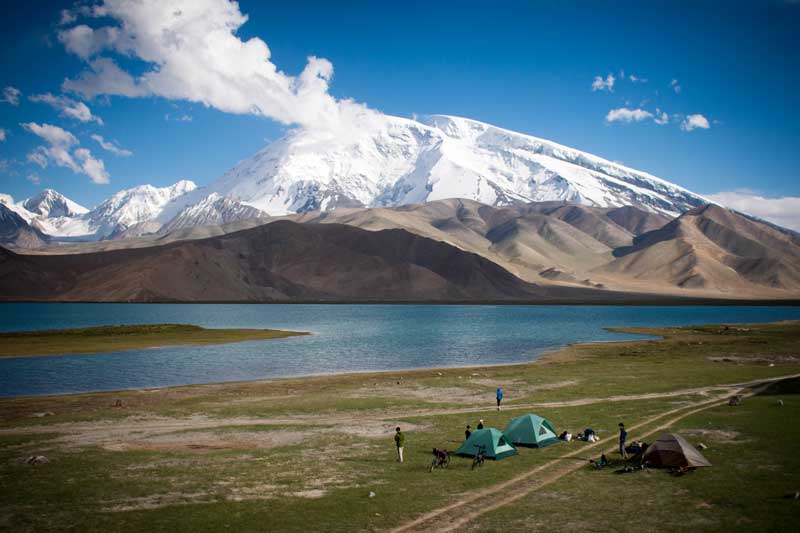 The lake's location along the Karakoram Highway near Kashgar makes it a wonderfully secluded place where very few tourist tend to travel.
At the foot of the Muztag Mountain lies a small village whose buildings are still made of mud and brick, a great place to buy a hand-made wool carpet from Kyrgyz locals. As always, be prepared to spend the night in a comfortable yet rustic yurt.
The area surrounding the small Karakul lake isn't quite as green as the other three lakes, but there is still plenty to do. While most every lake offers some sort of horse or camel riding experience, Karakul is one of the few spots where you can completely circumnavigate the lake in less than a few hours on horseback.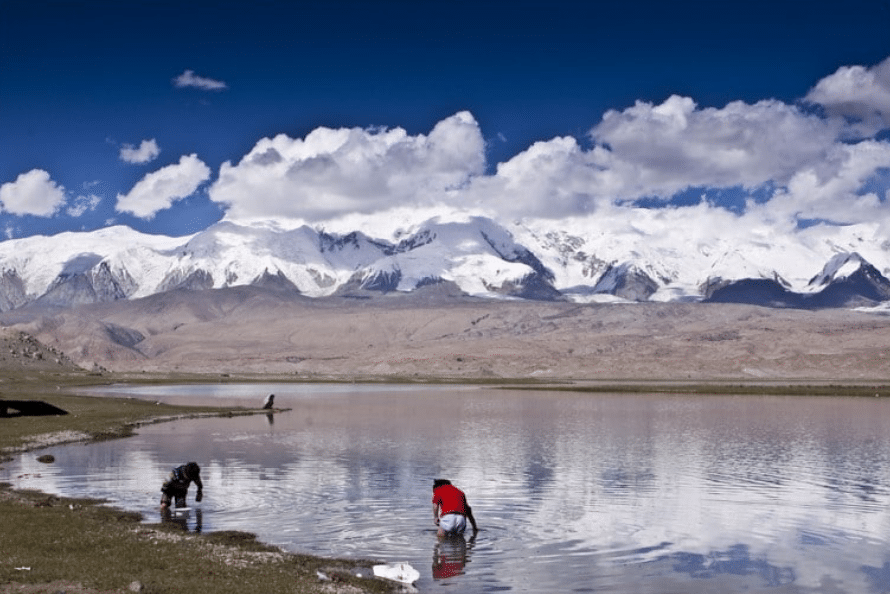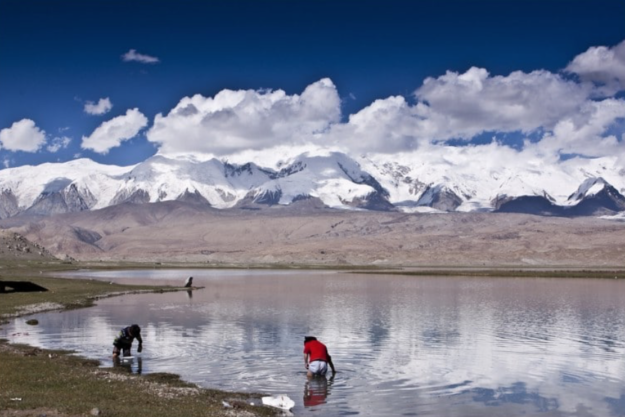 It's also possible to hire a guide to help you climb the neighboring mountain, but their safety record is less than desirable (3 deaths in 2008 out of only 300 climbers according to one local).
Salimu (Sayram) Lake 赛里木湖 near Yili
Along the road from Urumqi to the beautiful grasslands of Yili county it's almost impossible to miss the grand Sayram Lake. During the summer months the magnificent background of mountain scenery creates a beautiful contrast to the lush green meadows where you'll likely find herds grazing.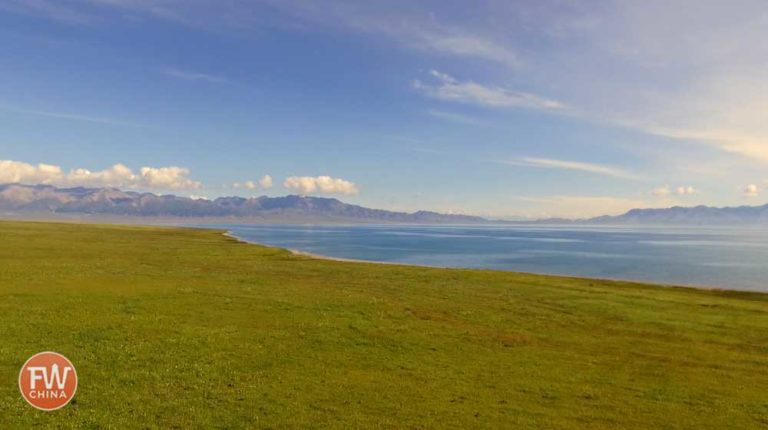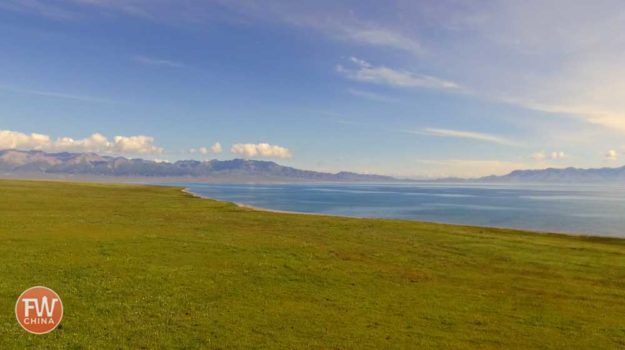 Even today this lake has been able to avoid too much tourism and retain plenty of local flavor.
Even still – as always – yurts are available in the warm months. Because of it's close proximity to Yining (120km north), this lake makes a great rest stop on your way to or from Urumqi. Get out, take a few good pictures like the one below, and get on your way.
Traveling to Xinjiang? Find out which China Travel book is best for YOU!