There are a few lakes named "Heavenly Lake" in China, the most beautiful is Xinjiang's Heavenly Lake (新疆天池). Located about two hour's drive from the capital of Urumqi, Heavenly Lake offers scenic views of the mountains as well as respite from the smog and noise of the city..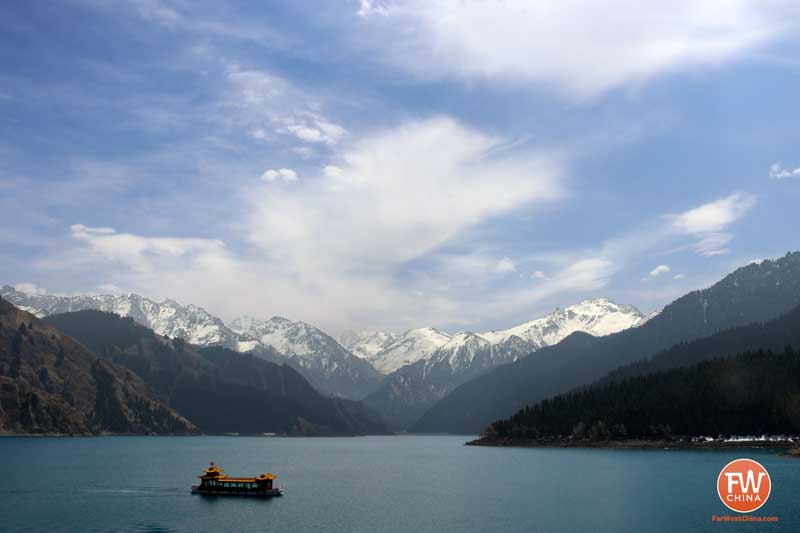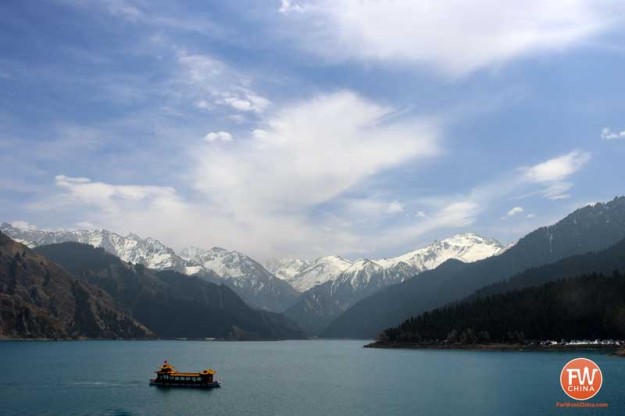 It's tempting to blow this destination off as nothing more than a tourist trap. The fact is that when a place is both beautiful and accessible, you can expect there to be tons of Chinese tourists.
Personally, a destination loses its appeal at the point where easy access (i.e. paved roads, comfortable crazy toilets in China, etc.) and mainstream Chinese popularity meet. It is here where you get throngs of tourist destroying what should have been a peaceful vacation experience.
I'm spoiled here in Xinjiang, I admit. It's hard to get away from the masses in eastern China but it's what I've come to love and expect here in western China.
But the good news – what I plan on sharing with you below – is that while Heavenly Lake (i.e. 天池 "Tian Chi") has become one of Xinjiang's most crowded tourist destinations, with just a little effort it can transform into a haven of solitude and beauty.
What I'd like to do is share with you some of my experience, some tips on how you can best enjoy Heavenly Lake, and then I'll end by provide pricing, practical tips and maps.
Tourism at Heavenly Lake (Xinjiang)
For most people the journey to Heavenly Lake starts at the gate of Urumqi's People's Park. It's here where the majority of tourists set up their day trip which includes a 2 hour bus ride to the main gate, entrance fee, transportation to the lake (I'll explain this in a moment) and sometimes a meal.
Personally, I rented a car since I had convinced a bunch of friends to join us on the trip. I know it seems crazy, but the longer I live here in China the more I enjoy those rare moments of independence.
Once we arrived at the main gate of the tourist complex, however, I was forced to park my car and experience Xinjiang's Heavenly Lake like everybody else does.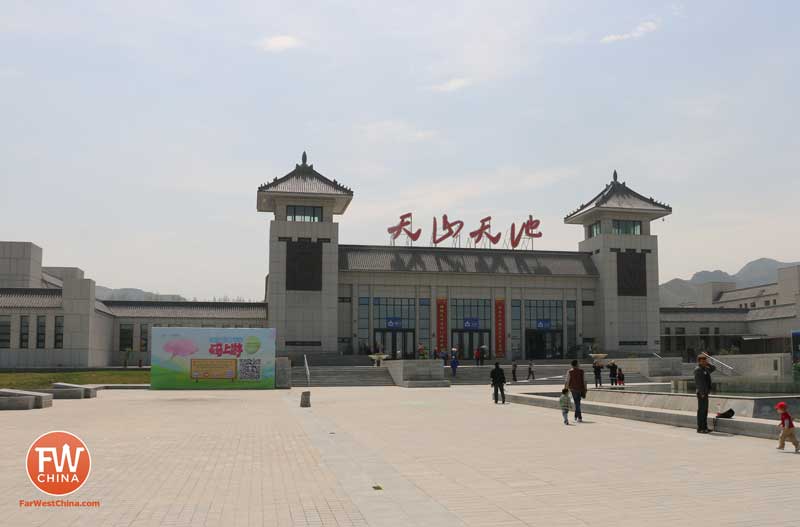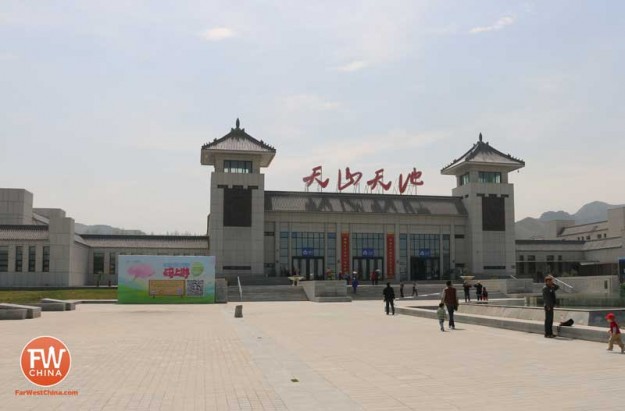 We began by jumping on a bus, one of what looked like 100 that they had parked there in the parking lot, for a 30 minute drive to Heavenly Lake.
With the exception of a dumb tourist trap to check out an "authentic Kazakh village", the ride was beautiful but mostly uneventful. For those who easily get car-sick, the winding road you see here might cause a few problems, so I advise a window seat.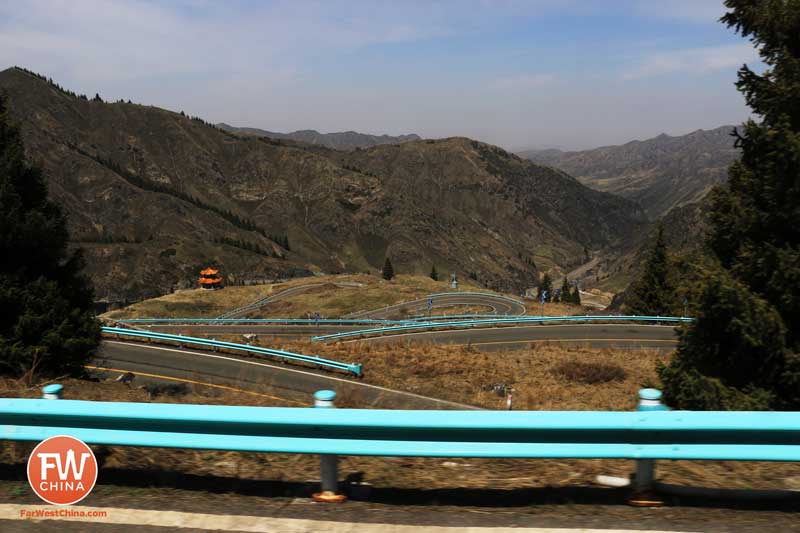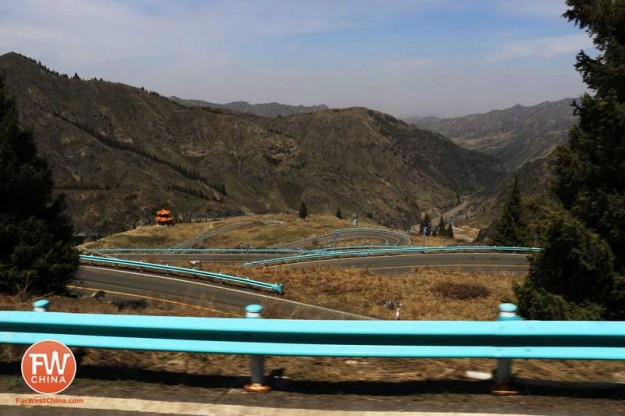 You'll actually meet quite a few Kazakhs during your trip to Heavenly Lake, which I found to be a lot of fun. Most of them are selling a service and might seem over-bearing at first, but it's possible to get to know them and have a nice conversation – even one in English.
Once you get off the bus you'll have another kilometer to walk (or take an electric car for 10 RMB) to reach the picturesque Heavenly Lake. It's incredible how this lake instantly comes into full view at the crest of a hill.
All along the north end of the lake you can meander along paved walkways, take pictures next to a big stone that says "天池景区" or board a boat that will give you a tour of the lake (an extra fee).
My group of friends had packed a lunch and set up along the grass next to hundreds of other Chinese tourist doing the same.
For some people this experience is enough and Heavenly Lake is set up to accommodate you. Sit and enjoy the view and take a bus back whenever you're done.
For those who want a little more adventure, there are paths that can take you all the way around the lake (it's smaller than it looks in the pictures, trust me) as well as Kazakh families who have set up their yurts for overpriced meals and even an overnight stay.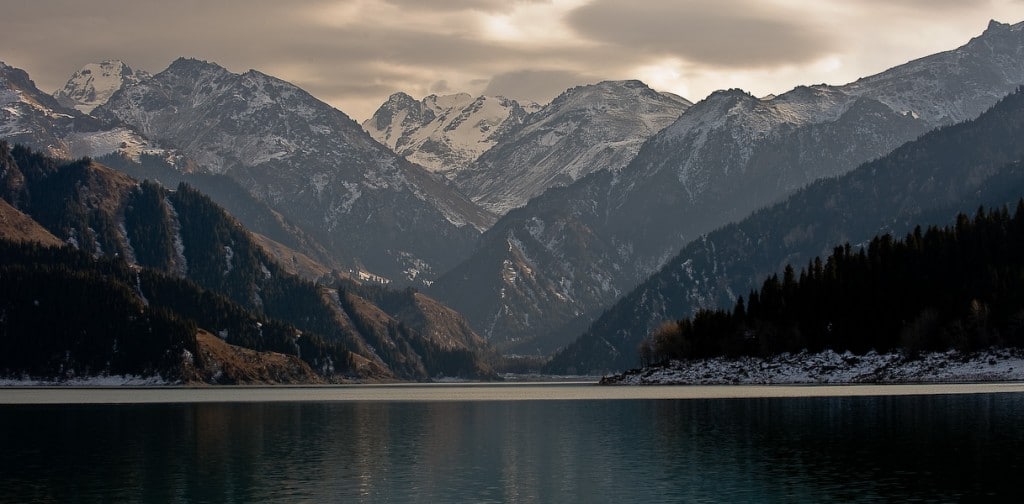 Getting away from the crowds doesn't require strenuous hiking, though, which might be good news for some of you. In fact, I recommend walking around the lake a bit before setting up your picnic. In my opinion, the views are actually better further down the lake and there aren't as many people.
Once you're ready, buses leave every 10 minutes or so until 8pm Beijing time to take you back to the main gate.
Heavenly Lake | Off the Beaten Path
That's the tourist experience and frankly, it's not a bad one. However, for those who enjoy nature and don't mind working a bit for the experience, Xinjiang's Heavenly Lake has much more to offer.
For the best experience, an overnight stay is a must. Whether that's a cheap yurt or a tent, either way it's going to be cheaper (and more fun) to stay on the mountain than in a hotel back in Urumqi.
It's actually possible to start hiking from Urumqi, cross through a valley in the TianShan and arrive at Heavenly Lake, but that goes far beyond the scope of this article. Perhaps I'll touch on that at a later date.
Heavenly Lake offers a good mix of boarded walkway, paths and opportunity to blaze your own trail. A simple walk toward what is known as "Little Heavenly Lake East" (东小天池) gives you an incredible view of waterfalls, greenery and fresh mountain water. Even for day-trippers this is an easy side trip.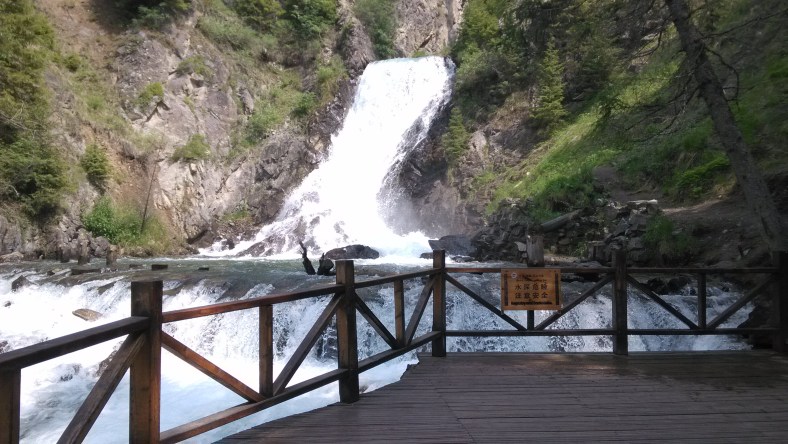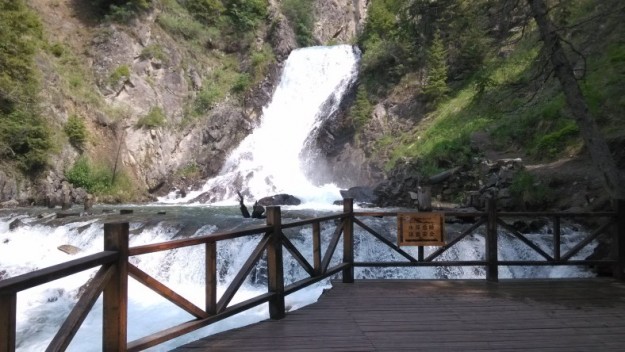 Strictly speaking, camping is frowned upon within this "nature preserve", but the truth is that it's done quite often. Camping on the banks of the lake will probably get you booted, but if you hike in enough to remain inconspicuous you'll be fine.
Most travelers won't have access to camping gear, however, which makes staying in the Kazakh yurts an excellent option. From May through October these yurts are available to rent, either for a single "space" (there's not really a bed, per se) or as a whole. A typical yurt will accommodate 10 people comfortably, so if you're traveling with a group it's ideal.
Be forewarned – the yurts don't come with toilets.
There are a host of small peaks to be conquered around the lake each providing their own stunning view of the mountain vista. It's worth noting that the reserve area is known as a home to a variety of animals, including leopards, so take the normal precaution you would with any outdoor adventure.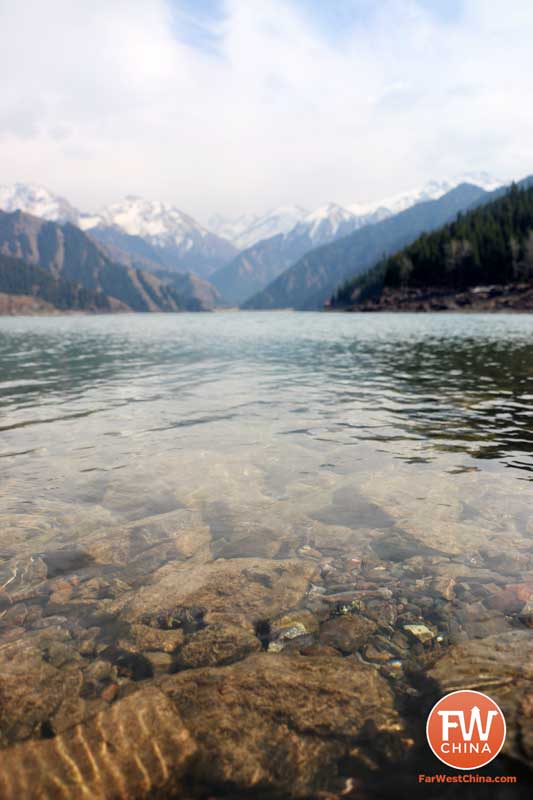 Things quiet down around the lake come 8pm when the last bus leaves with 99% of the tourists.
It's a beautiful experience to stay near Heavenly Lake and if you don't have time to make it out to Karakul, Kanas or Sayram, I'm happy to say that Heavenly Lake is not a sub-standard alternative. It's excellent.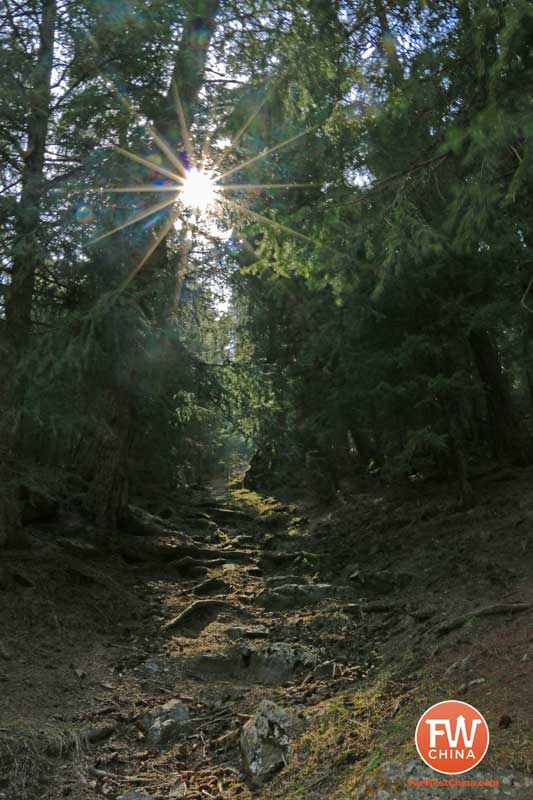 Practical Travel Information
Tourism in this area has grown steadily ever since 1990 when UNESCO designated it the Bogeda Biosphere Reserve. It's not the cheapest place to visit but there are tips I share below to make it cheaper. First, a breakdown of the costs.
If going with a tour group, most of these prices will be combined. Off-season prices (Nov-March) are typically about half off. For the purpose of independent travelers everything is listed below a la carte.
Bus to Heavenly Lake: 50 RMB (leaves from the Urumqi People's Park gate);
Entrance Fee: 215 RMB; this fee includes both the park entrance and the intial shuttle to the lake. Although you could theoretically hike, it's going to take you a couple hours; it's best to use the shuttle.
Electric Cart Transport: 10 RMB (optional transport from the bus stop to the lake, approx 1km)
Ferry Ride on the Lake: ~80 RMB (prices differ based on the boat)
Overnight Yurt: 50-80 RMB depending on your bargaining skills (150 RMB to rent the whole yurt for 10 people)
Practical Travel Tips
In addition to the costs, I'd like to provide a few practical tips as you prepare to visit Xinjiang's Heavenly Lake.
Bring your own lunch: This is true even if you're just going for a day-trip. You can eat at the yurt or the nearby restaurant, but the prices are unbelievably high. Plus, it's just much more fun to find a secluded place and set up for lunch next to the lake.
Don't forget your passport: Rhis really only applies if you want to stay the night. As with any accommodation in Xinjiang, passports are a requirement.
Don't worry about bathrooms: Tourism investment in the region has its benefits. The area has clean, western toilets available.
Bring plenty of water: This is a no-brainer, but it can be easy to forget when you're headed to a lake of all places.
Map of Heavenly Lake
Below is a simple tourist map of Heavenly Lake in Xinjiang.
You can find all of this information and much more within the pages of the FarWestChina Xinjiang Travel Guide. This is the most comprehensive, up-to-date guide book available on the region and when you purchase a copy, you help to support this free website.
Grab a copy in paper back or Kindle on Amazon or you can download a free planning chapter here.