Urumqi International Trade Grand Hotel – Urumqi, Xinjiang
乌鲁木齐国际外贸大饭店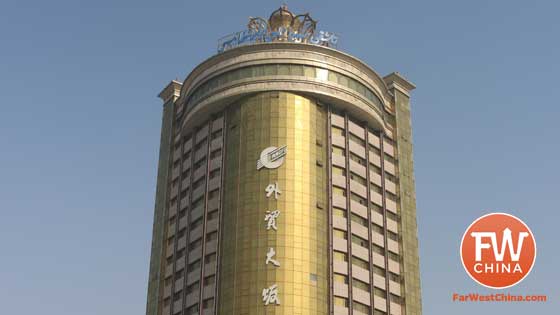 Chinese Name: 乌鲁木齐国际外贸大饭店 (Guójì wàimào dàfàndiàn)
Address: 389 Tuanjie Road
Phone: 0991-8532222
Directions: For the BRT-3, get off at ErDaoQiao (二道桥) and walk to the SE corner of the market. You can also take the 21, 60, 80 or 308 to the Tuanjie Lu stop. Most eveyr taxi would also be familiar with this hotel.

Location
The Urumqi International Trade Grand Hotel is by far the nicest hotel located in the south of Urumqi. From the windows of the upper floors you can get an incredible view of the Urumqi International Bazaar (especially beautiful at night) and an unparalleled view of Urumqi.
From here you will have access to a wide variety of restaurants, particularly Uyghur and Russian restaurants that are nearby. It is within walking distance of most anything you would need, including every type of transportation.
Atmosphere
While the lobby of the Urumqi International Trade Grand Hotel isn't particularly awesome, the rest of the hotel warrants the higher price tag. Since the hotel caters to higher-end Uyghur and Russian-speaking clientele, the decoration has a much more Uyghur flavor.
Hotel amenities include internet access, a fitness center (although not up to western standards), a business center and a couple restaurants.
Room Options
The Urumqi International Trade Grand Hotel has quite a few room options, including their standard room (normally 680 RMB), their Deluxe room (normally 780 RMB) and suites ranging from 1,280 to 1,580 RMB.
The rooms are well-decorated and the bathrooms are quite comfortable and clean. What you'll really enjoy, however, are some of the views from the rooms. On the north side of the hotel you can get an excellent view of the International Grand Bazaar and on the south some great views of southern Urumqi.
Each room comes equipped with internet as well as 24-hour room service.
More Urumqi Luxury Hotels



Another great 5-star option further north.




Urumqi's premiere 5-star hotel in downtown.




A top luxury hotel choice in Urumqi.
Additional Xinjiang Travel Info
About Urumqi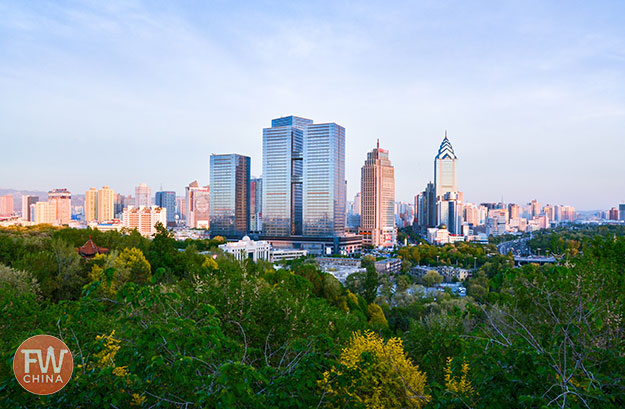 Urumqi, capital of China's largest and most western province of Xinjiang, is located in a pass along the TianShan mountains. Ethnically the city is divided almost in half, with most Uyghur residing in the south while Han continue to build up the north. The Sheraton Urumqi is situated in the middle, mostly in the Han part of the city but quite close anything worth seeing in the city.
From Urumqi you'll have access to the Urumqi International Airport, a train station that can bring you most anywhere in the province, and plenty of tourist agencies to help you in between. If you're planning to spend a few days here, you might want to dig deeper with the FarWestChina Urumqi City Guide.