Grand Mercure Hotel Review – Urumqi, Xinjiang
乌鲁木齐华凌雅高美爵大饭店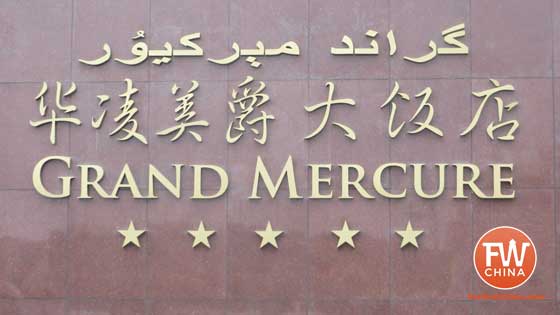 Chinese Name: 美爵大饭店 (měijué dàfàndiàn)
Address: 109 East Xihong Road
Phone: 0991-518-8888
Directions: There are more city buses that stop in front of this hotel than are worth listing but the very best way is to just tell a taxi to go to "MeiJue DaFanDian" or "Hua Ling Da Fan Dian". Almost every taxi driver will know exactly what you mean.
Location
The Grand Mercure Hotel is an Accor-managed, 5-star hotel located in the commercial center of Urumqi, Xinjiang. As one of the elite few 5-star hotels in the city, the hotel has earned a reputation for luxurious comfort on par with what travelers expect all over the world.
Because of where it is located within the city, various rooms overlook the beautiful HongShan Park to the south, the TianShan mountain range to the east and a sprawling, vibrant city in every direction.
Currently there are over 15 different city buses that stop at the HuaLing market, wherein the Grand Mercure is situated, but the most convenient way to access the hotel is via city taxis that can drive you up the steep entry and drop you off at the entrance.
Atmosphere
The Urumqi Grand Mercure offers a unique set of exquisite and attentive services that you won't find elsewhere in Urumqi. Aside from a 24-hour concierge, executive lounge, meeting facilities and a number of great restaurants on site, it is also the only hotel to offer outdoor tennis courts and morning Tai Chi classes in addition to its fitness center and spa.
The hotel decor is subtle but modern with a very open and inviting feel you won't find often in this part of China. The hustle and bustle that surrounds the hotel immediately melts away once you enter the beautiful lobby.
Room Options
The Grand Mercure Hotel Urumqi offers 250 spacious guest rooms and suites, an executive lounge and executive floors. Each room is equipped with custom-designed furnishings, a flat-screen TV with access to international channels via satellite, a in-room safe, minibar, 24-hour room service and, of course, complimentary Wifi.
Unlike many other 5-star hotels in Urumqi, the Grand Mercure isn't surrounded by numerous high-rises which allows incredible views from almost every room and meeting room.
–>Check pricing and availability for the Grand Mercure Hotel<–
More Urumqi Luxury Hotels
Additional Xinjiang Travel Info
About Urumqi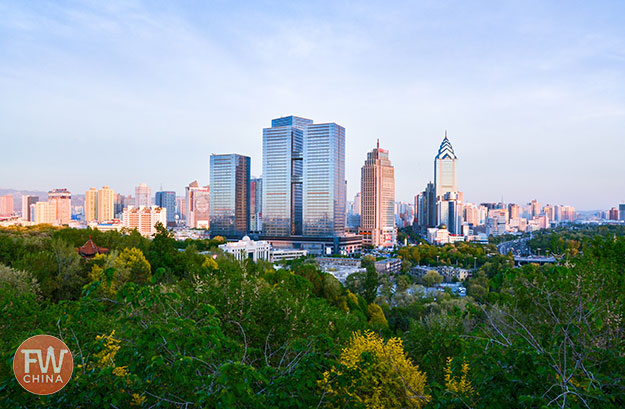 Urumqi, capital of China's largest and most western province of Xinjiang, is located in a pass along the TianShan mountains. Ethnically the city is divided almost in half, with most Uyghur residing in the south while Han continue to build up the north. The Sheraton Urumqi is situated in the middle, mostly in the Han part of the city but quite close anything worth seeing in the city.
From Urumqi you'll have access to the Urumqi International Airport, a train station that can bring you most anywhere in the province, and plenty of tourist agencies to help you in between. If you're planning to spend a few days here, you might want to dig deeper with the FarWestChina Urumqi City Guide.