Is there a special visa or permit required to travel to Xinjiang in 2023? This is a question that I get quite a few times throughout the travel season (although Covid has pretty much killed any such season now) and there's conflicting information online. I'd like to help set the record straight so you can understand exactly what you need to travel to Xinjiang, China.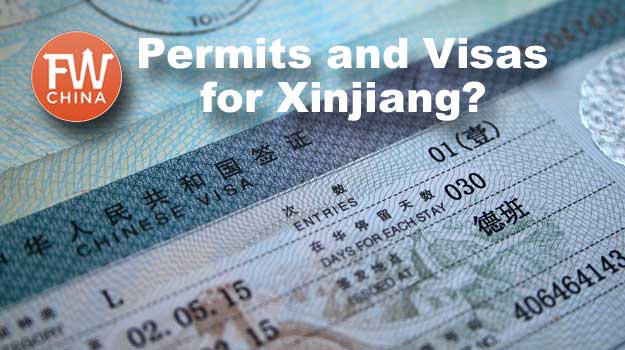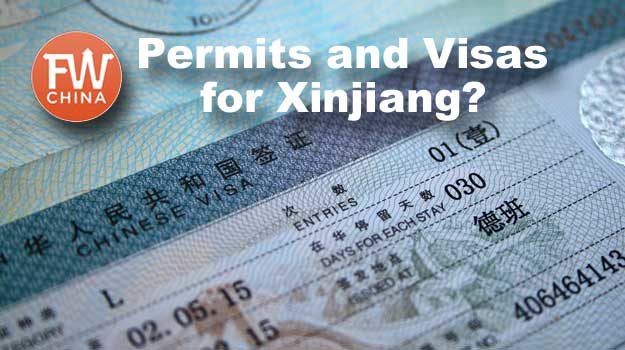 UPDATED 2023: The current global pandemic has changed a lot about travel to China, but even now, a permit isn't required to enter Xinjiang.
The questions get asked in a number of different ways, but it really boils down to one of these three:
Use the navigation links above to jump to a specific section. Also, watch the short video below for my answer or continue scrolling to read more.
Make sure you download the FarWestChina Travel Guide!
Do I Need a Special Visa for Xinjiang?
As of the beginning of 2023…no, you don't need a "special visa" to enter Xinjiang.
As long as you have a passport and a valid Chinese visa, you will not be asked for any further documentation when you enter Xinjiang.
It doesn't matter if you arrive at an international border, a train station or an airport, there is no special visa that is required to enter China's Xinjiang region.
If you haven't yet applied for your China visa, I recommend Passport Visa Express.  I've used them multiple times to get different types of Chinese visas (tourist, student, business). Each time I listed Xinjiang on the application or itinerary and I have never been denied.
This link even includes a promo code for 10% off visa services via our partner website Travel China Cheaper. This can also be found in the highly rated FarWestChina Xinjiang Travel Guide book. I highly suggest you grab a copy before traveling to Xinjiang!
Do I Need a Permit to Visit Xinjiang?
This question is a bit more complicated.
The short answer is "no," you don't need a special permit for Xinjiang. In fact, there are very few places where a travel permit is required in China. We as foreign tourists are technically allowed to move freely about Xinjiang at our leisure.
Technically.
The reality on the ground is slightly different. Here are a few examples:
Military Installations: Xinjiang is home to a high number of military personnel, training camps and military bases. There are some places, such as near international borders or not far from Bayinbulak Grasslands, where military bases exist. While there is no permit that will grant you access to these bases, you will find that these areas will either be off-limits to travelers or nearby highways will be highly guarded.
Sensitive Highways: There are some highways, such as the Chinese Karakoram Highway or even highway G-216 through the Tianshan that sometimes require a travel agency escort or permit letter. If you're going to be making such remote, off-the-beaten-path trips, you'll probably want to consult with a travel agency. The permits usually aren't expensive and can be approved in 24-48 hrs.
Tons of Security Checkpoints: As you travel around Xinjiang, you'll run into an annoying number of security checkpoints. They'll ask you for your passport and visa, but you won't be asked for a specific permit. That said, you can expect a number of questions about why you're there, where you're going, what you're doing, etc.
Homestays and Camping: I've written before about doing a homestay in Xinjiang, but unfortunately a lot of that is going away. While you don't need a permit to travel in Xinjiang, you will need to stay the night at a registered hotel. This means camping and homestays are technically off limits (unless you're very under the radar!)
So to sum up: there is no general "permit" for Xinjiang, but that doesn't mean you can go and stay wherever you want.
Be careful how off-the-beaten path you get. And it never hurts to connect with a local travel agency to see what's possible and what's closed.
Should I Put Xinjiang on my Visa Application Itinerary?
The final question I get often has to do with whether or not you should put Xinjiang on your visa application itinerary.
I used to scoff at this question, but more and more I'm seeing that it's a legitimate concern.
I've known a number of people who have had their visa application denied. It could have been a number of different reasons why (they never tell you the reason), but they all suspect it's because they listed "Xinjiang" on their planned itinerary.
Personally, I've always listed Xinjiang and I've never been denied.
That said, it's up to you what you decide to do. I will say this: there are no officials or police in Xinjiang who will grab your visa and ask whether or not Xinjiang was listed on your itinerary. Once you get your China visa, nobody cares.
Nowadays, I tend to steer people toward not listing Xinjiang. Frankly, it's a huge liability. However, do what feels most comfortable to you.
Conclusion | Permits and Visas for China
As you can see, up to this point, travelers still have relatively free access to Xinjiang.
There are places that will require a permit and others that will be difficult/impossible to enter, but these change so quickly and so often that it's pointless to try to list them here. Ask a local travel agency or connect with a good China visa service company.
Finally, if you're planning a trip to Xinjiang in the near future, I highly recommend you grab a copy of my Xinjiang Travel Guide. It's the most comprehensive, up-to-date guide available. I'm so confident you'll find it useful, I guarantee your money back (no questions asked) if you don't like it.