It all started with a single WeChat message, a kind of Chinese social media, from a friend that lived in Korla. I was planning to drive out his way from the capital of Urumqi and he insisted that my Xinjiang road trip include Highway 216. I had no idea what I was getting myself into.
He told me it was an extremely bumpy ride but the scenery was spectacular.
I was skeptical, mostly because it would require more hours on the road, until he sent me a photo. At that point, there was no going back for me. I was determined.
I packed up my cameras, stocked up on some food and hit the road.
Xinjiang Road Trip: Easy vs Hard
When you look at a map, there are actually two primary highways that connect Urumqi with Korla: the old National Highway 216 and the newer Expressway 314 that connects with G30.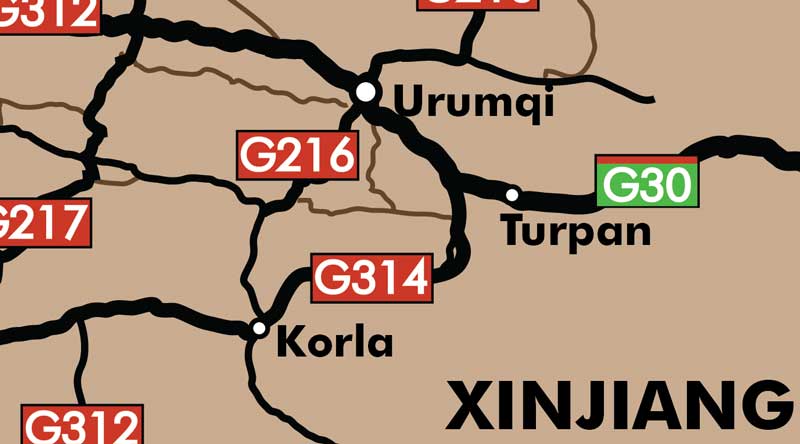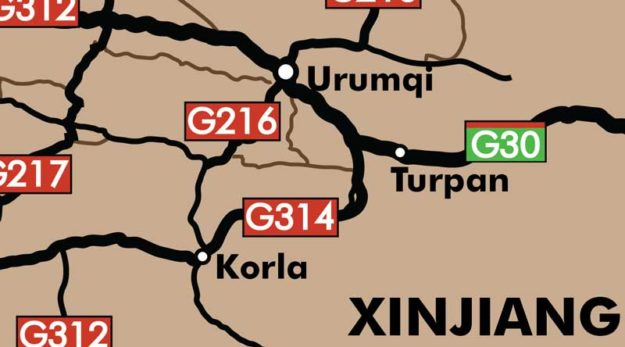 While the expressway is a longer distance, it's a much faster route because the entire road is paved. It's also a toll road that at this point in time costs 140RMB (~US$22).
On the other hand, G216 is a shorter distance but is entirely unpaved. Instead of going around the TianShan, this highway literally weaves its way through the valleys and up the mountain pass.
I'll go into more detail below, but I suggest you first spend two minutes watching my video from the trip. Please give it a thumbs up if you enjoy!

Don't miss more awesome videos! Subscribe to FarWestChina on YouTube.
The Danger of Xinjiang's Highway 216
For the first 50 kilometers or so out of Urumqi, the drive through the countryside was simple and pleasant. Numerous flocks of sheep and goats dotted the rolling hills of grassland around me with the TianShan mountain range creeping up in the distance.
Entering the first valley leading into the TianShan, the road made an immediate turn for the worse. Avoiding potholes became my sole obsession, to the point that I almost forgot about the danger of the cliff.
Almost.
Coming around one of the turns, I looked up long enough to see a strange object a couple hundred meters below me in the valley. I parked my car (there were no other cars on the highway with me) and upon further inspection realized that an 18-wheeler had misjudged the cliff and plunged down to the river below.
I can't be for sure, but I don't know how the driver would have survived that type of accident.
Barely had I entered the TianShan when this mangled mess of scrap provided a grim reminder that this was not going to be the easiest road trip I had ever taken. Beware the potholes. Beware the high winds.
Beware the cliff.
Welcome to the TianShan
My tiny little Honda Fit wasn't made for this kind of journey – I realize that now. It's the only car I have, though, so we powered through.
Approximately every 20 kilometers I couldn't help but stop the car and grab my camera for a shot. Who knew how long the good weather would last and with each bend in the road came the excitement of gorgeous scenery and the fear that this might be my last chance for a beautiful shot.
But it just kept getting better.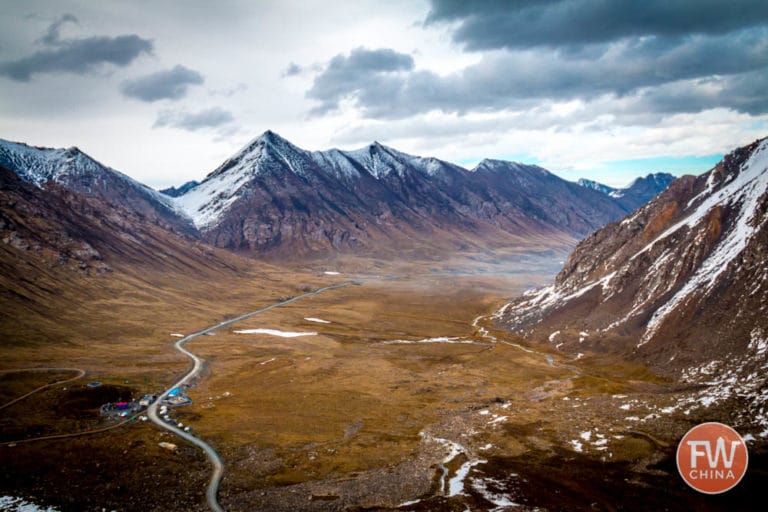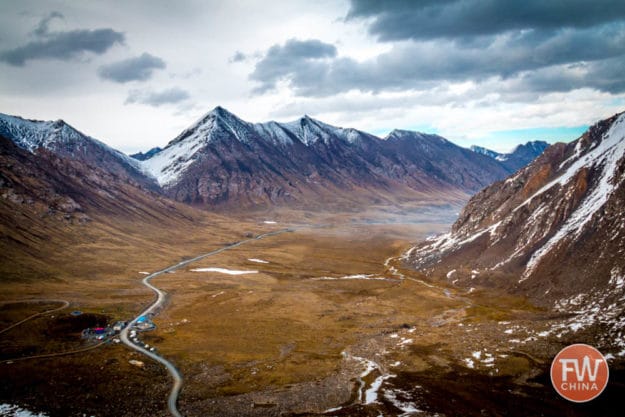 I kept climbing higher in elevation and the towering mountains kept posing for photos that I couldn't resist capturing.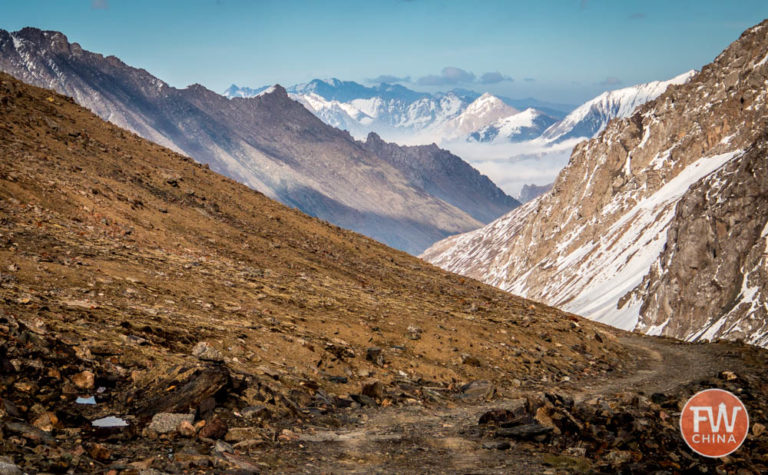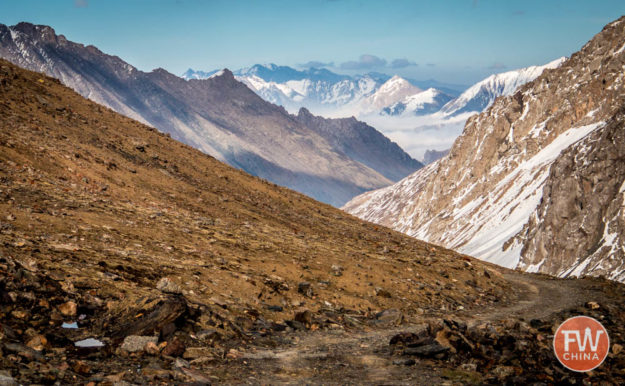 Before the mega-expressway, this used to be the only highway that connected Urumqi with Korla. For decades, if not more, travelers and merchants would traverse this road between the two cities, one of only a few roads that connects northern and southern Xinjiang.
After about 4 hours of being jostled and bumped up the mountain, I came across a tiny collection of yurts (local tents) and a small sign that read "乌鲁木齐一号冰川" – the Urumqi No. 1 Glacier.
Visiting the Urumqi No. 1 Glacier
A small gravel road branched off to where a simple pole blocked any traffic. As I came to a stop a young man stepped out from his yurt and approached the car.
"You want to go up to the glacier?" he asked in a heavily accented Mandarin Chinese. More than likely he was a Kazakh or other minority living up here in the mountains.
"Yes, I do," I replied.
"In that car?" he said with a grin.
"Yes, in this car." At the time, I didn't have any clue what I was getting into. "Can you open the gate for me?"
"200 yuan," he said.
That's ridiculous. It's extortion is what it is. But I decided to play his game. "20 yuan," I countered.
I saw a hint of a smile as he dropped his price in half. "100 yuan, special for you".
"I'll give you 30 yuan, and you know that's a fair price" I told him.
"You can enter for 50 yuan, and I can't go any lower," he said.
It probably wasn't the lowest price, but I was happy with 50 yuan so I paid.
He walked over and lifted the metal pole blocking the road. Not exactly the tourism infrastructure you might expect in China, but in the rural parts of Xinjiang this is often how things work.
Over the next twenty minutes my little compact car groaned and lurched, doing her best to climb the rocky path leading to the glacier. Thankfully the cliffs weren't a dangerous drop, but it still felt like a risky drive.
The glacier came into view and I was in awe. It's not the most magnificent glacier I've ever seen, but within the context of this particular road trip, it was the cherry on top of a wonderful drive.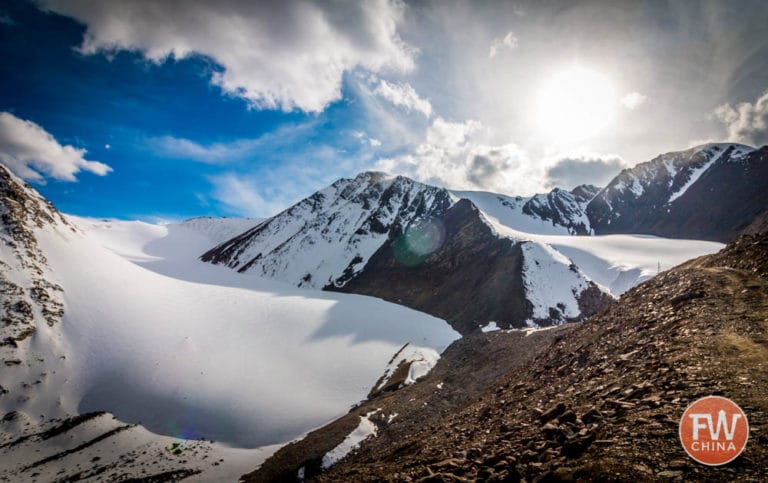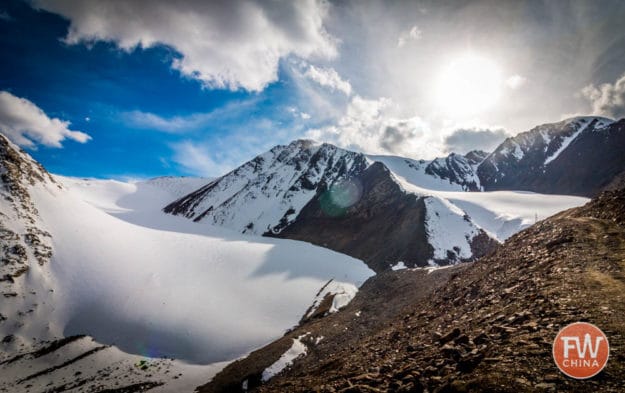 It used to be a few decades ago that the two sections of this glacier met to form one large glacier but over the past few decades it has shrunk at an alarming rate. Such an alarming rate, in fact, that authorities in the region recently banned all glacier tourism.
As one might expect here in China, the result of such strong words was nowhere to be seen on the ground. Nobody was around to watch me walk up to the glacier and nobody would have known if I had tried to get on it.
Crossing the TianShan Pass
Passing back by the collection of yurts, I turned my car south toward Mount Tiangar. The gravel road now zig-zagged up the side of the mountain to the pass marked by a small sign.
From here, it felt like I could see for hundreds of miles into the distance.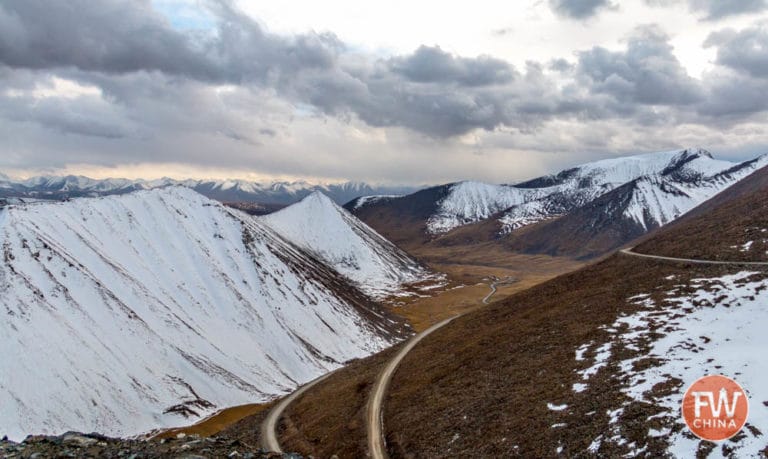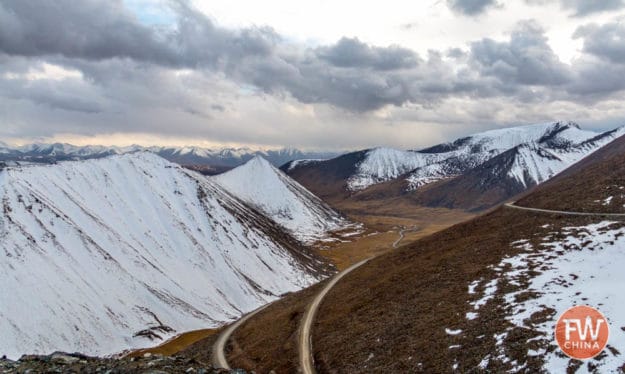 After 5 hours of bumpy driving, I was now only halfway to Korla.
With the evening approaching and the sun hiding behind some clouds, I was now in a race against the end of the day. I didn't want to get stuck driving this kind of road in the night.
Throughout the rest of the journey I passed very few cars. Most of them wisely chose to take the expressway around the TianShan. This is part of what I loved about the trip, though. For the most part, I was completely alone.
No cell phone signal. No rest stops. No signs telling me how many more kilometers I had left.
It wasn't until hour 8 that I finally hit another paved road. I stopped to buy dinner and a drink and the locals just looked at me in bewilderment. "You just took Highway 216?" they asked.
"Yes. I did." I said proudly.
How to Travel Highway 216
For those who may want to take this trip for themselves, be advised that it's not a common tourist route. At best, you'll find travel agencies that will rent you a car and driver to take you to the Urumqi No. 1 Glacier.
If that's the case, I suggest you ask the driver to at least take you to the pass just beyond the glacier before heading back to Urumqi.
The entire road trip was approximately 346 kilometers. It took me 10 hours to drive, but I did stop many times for photo and video shoots, so it could possibly be shorter if driven straight through.
Overall, it's a trip I'm glad I took…but I don't know if I'd ever drive it again. After 4 hours of bumpiness my butt was begging for a break and by hour 8 my body was prepared for mutiny.
Over time, though, I'm sure I'll forget the pain and the photos will draw me to once again consider crossing the TianShan.