Applying for a visa to China can be a frustratingly complicated ordeal, especially after the pandemic. My passport currently has over 20 different China visas in it so trust me…I understand! If you're a U.S. citizen like me, using a Chinese visa service isn't just a luxury, it's now become a necessity. Let me share with you what I do and my recommendation for the best China visa service for US citizens.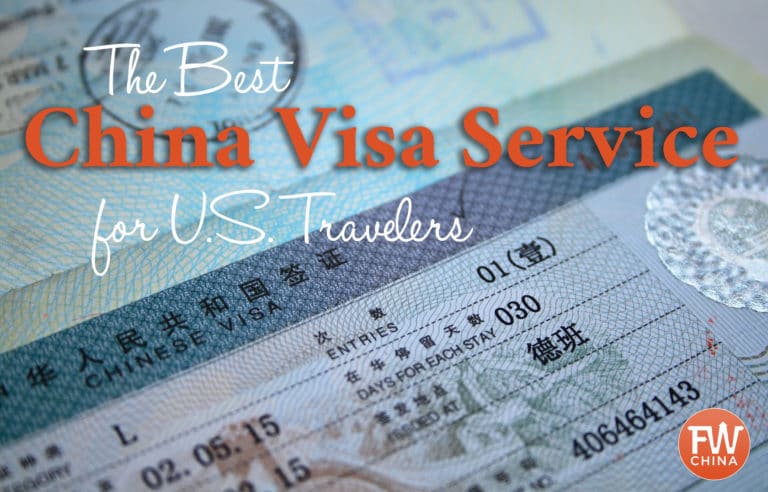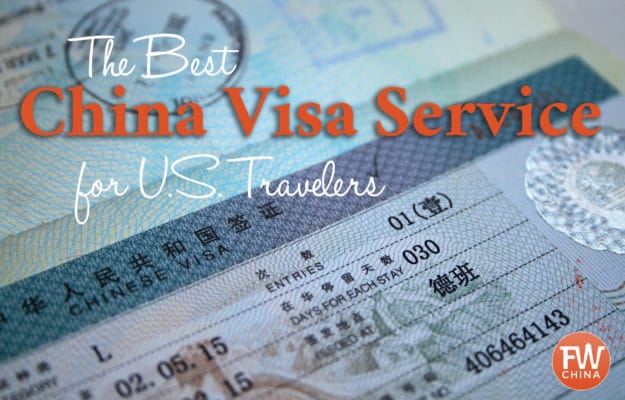 Since my arrival to China in 2006, I've applied for a Chinese work visa, a tourist visa, a student visa and a business visa. I've done my fair share of China visa applications!
In the past, I've done the process by myself and I've also paid to use a 3rd party company. It's scary to send off your passport to an unknown company, I know! That's why it's important to find reliable services based on the experience and recommendation of others.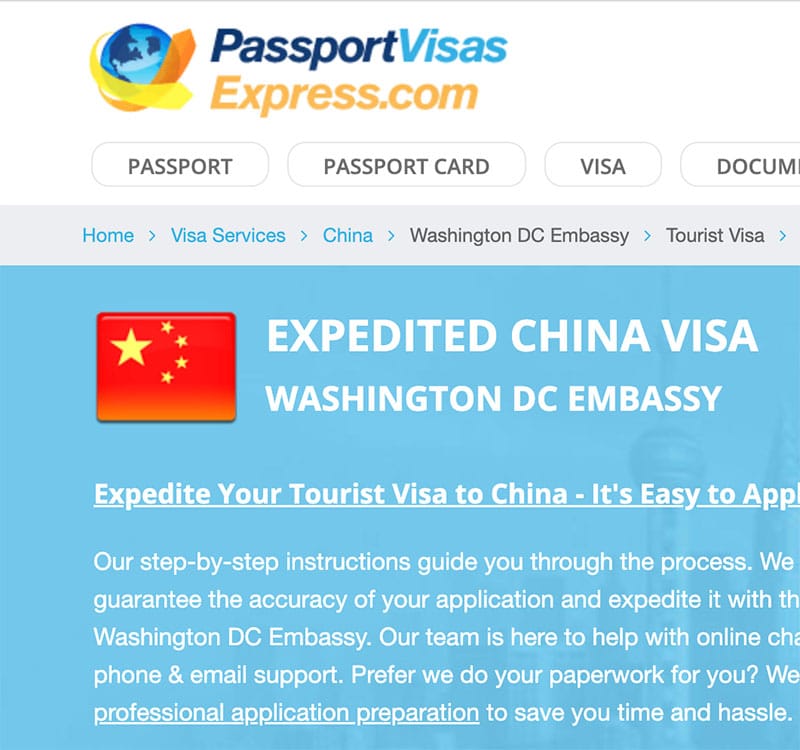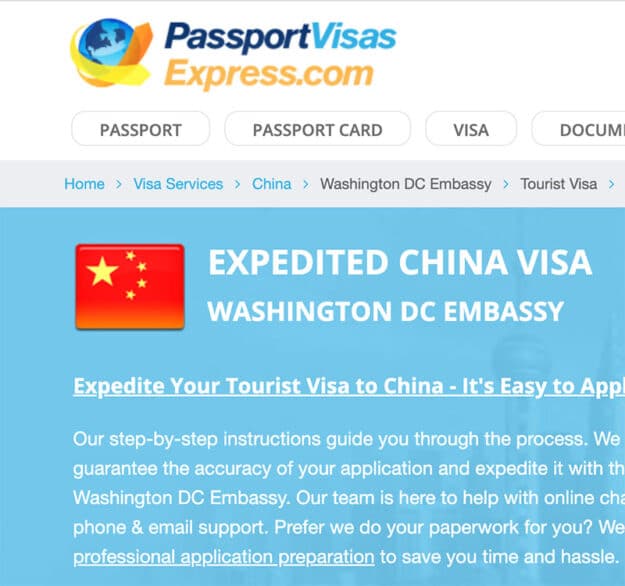 My Recommendation:
Personally, I use and recommend a trusted China visa service like Passport Visa Express. They've processed the China visa for me and many of my family members over the years. You can get 10% off using the code TCC10 from our partner website Travel China Cheaper.
*Note: Some links in this article are affiliate links, which means that at no extra charge to you, I might be compensated if you decide to use some of the services described. I don't recommend anything I haven't used and if you scroll below you'll find that I've even negotiated an exclusive discount for you. Thanks for your support!
How to Submit a Chinese Visa Application as a US Citizen
It used to be that the Chinese consulate in the United States would allow for visa applications by mail, but that is no longer the case. In fact, once China re-opened visa applications in early 2023, they implemented a new appointment system that creates a new bottleneck to the process.
Even the smallest error in your application can mean that you need to start the whole process over again, and there was a staggeringly high rate of rejections.
For that reason, your China visa application must be submitted in person – either by you or a proxy.
To make matters a bit confusing, however, you can only submit your China visa application to the consulate which serves your particular state in the US. For example, if you live in Utah, China requires you to submit to the Washington DC consulate even though the Los Angeles or San Francisco consulate may be closer.
See this color-coded map to determine which consulate you're supposed to submit your China visa application based on your state residence: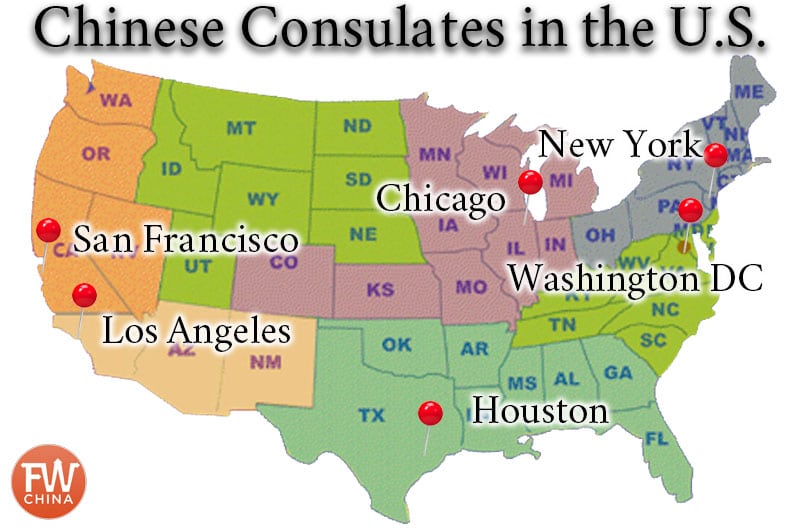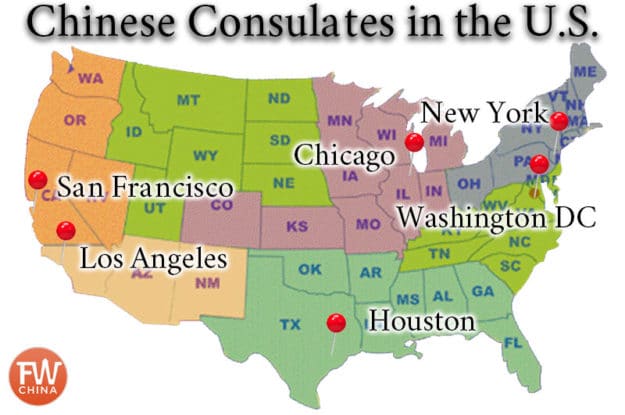 As you look at this map, I'd like for you to consider two reasons why I recommend using Passport Visas Express as the best China visa service instead of doing it yourself:
Pick up and Drop off in Person: Dropping off your China visa application and picking up your newly issued China visa must be in-person, and the time it takes to finish the process isn't guaranteed. For this reason, even though I'm from Dallas (4 hours drive from Houston), it would require me to spend two whole days driving…and I can't know for sure in advance which day I'm going to pick it up!
Mistakes Happen: Let's say you drop off your passport with application and the consulate calls you to say that you forgot to fill in one box or sign one piece of paper. You would have to drive all the way back to the consulate to pick it up and make the necessary changes. You may think to yourself, "Nah, I can fill out the form correctly". I get it. I was the same way until my application was rejected and I had to do the whole process over again. It sucked.
Unless you live right next door to a Chinese consulate, I've learned the hard way that the fee for using a service like Passport Visas Express can save you tons of time and money in the long run.
Learn from my mistake: I've had my China visa rejected before because of a small typo. It was ridiculous and it was a headache to fix. It was at that point that I swore I would never do the application process again by myself!
Other China Consulate Services
What you may not realize is that you might be using the China consulate in the US for more than a simple China visa.
Perhaps you need a new passport since China requires at least 6 months of validity to issue you a new visa. It's not too hard to do this yourself at your local authorized passport center (usually a post office), but it can also be handled by a passport and visa service company.
If you're applying to be a student or for a work visa, China also requires that you submit authenticated documents proving your education, marriage or even your citizenship.
The process of getting a document authenticated includes getting:
A Letter from the Secretary of State from the state where the document was issued. For example, if you need your diploma authenticated and you went to Texas A&M University, you would need a letter from the Texas Secretary of State declaring that the diploma is real. (and no, I didn't go to Texas A&M, thank you very much!)
A Seal from the Chinese Embassy which certifies that the letter from the Secretary of State is authentic. In my experience, this seal is a sticker affixed to the back of the letter from the Secretary of State. It's important that you do not remove the stapled letter from the original document. Chinese officials won't accept the authenticated document if the staple has been tampered with.
Trust me when I say that the process is a headache. It's another reason that I recommend using a service like Passport Visas Express – they can also handle getting your documents authenticated.
Get 10% off using promo code TCC10 from our partner website!
Best China Visa Service for US Citizens in 2023
If it's not plainly obvious right now, my suggestion is that you consider using a trusted visa service to help you along as you apply for your China visa. Not only will they help make sure that your application doesn't have any errors, they will also arrange for drop off and pickup from the Chinese embassy if you don't live near one.
There are numerous services available for US Citizens to use to get a visa to China, but I've personally used Passport Visa Express many times over the past decade and I've always been happy. Thankfully, they've agreed to offer a 10% discount if you use the code TCC10 when you check out!
BONUS: Get 10% off when you use code TCC10
When it comes to the best China visa service for US citizens, that is what I recommend. Applying for a Chinese visa is never cheap, but spending a little extra to get some help is always worthwhile.