If you are traveling to Kashgar in China's Xinjiang region, the Karakoram Highway is a must-see destination! Often regarded as the "Eight Wonder of the World", this long stretch of highway links China with Pakistan, cuts through snow-capped mountains and features diverse cultures along the way. It's a trip that you'll never forget.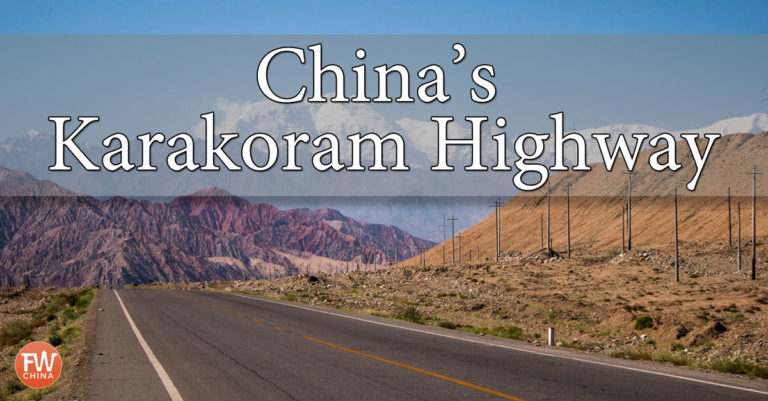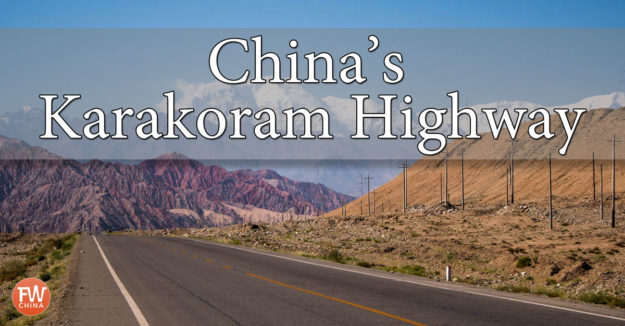 For travelers looking to adventure up the Karakoram Highway, look no further than this guide for some initial tips to start planning your travel itinerary.
In order to help you plan, I've organized the information below into sections you can skip to as well as a video to provide some good inspiration.
As you go through this guide, keep in mind that all of this information – and so much more – is included in the FarWestChina Xinjiang Travel Guide. It's the most comprehensive, up-to-date guide on China's western region. I'm so confident you'll love it that I guarantee your money back if you're not satisfied :)
This table of contents shows you how I've broken down this travel guide. Continue to scroll or click on the links to jump to a specific section.
Let's get going!
Karakoram Highway Points of Interest
To begin, I welcome you to join me on my cycling trip along the Karakoram Highway, during which time I did the research for this travel guide. To make this kind of trip, I assume that you've already applied for a China visa and received all the proper paperwork to enter China.
While driving or biking along the Karakoram Highway, there are a number of different places to stop.
Some are worth a long visit while others aren't.
The map you see below details the most popular destinations along the Chinese side of the Karakoram Highway.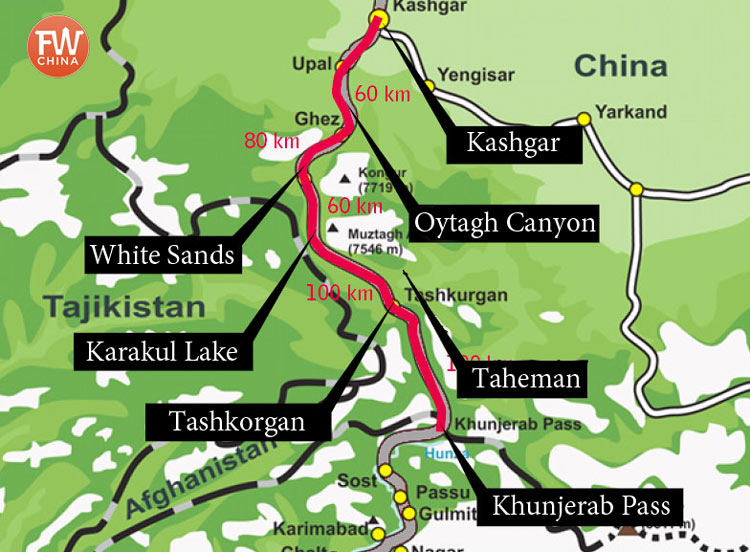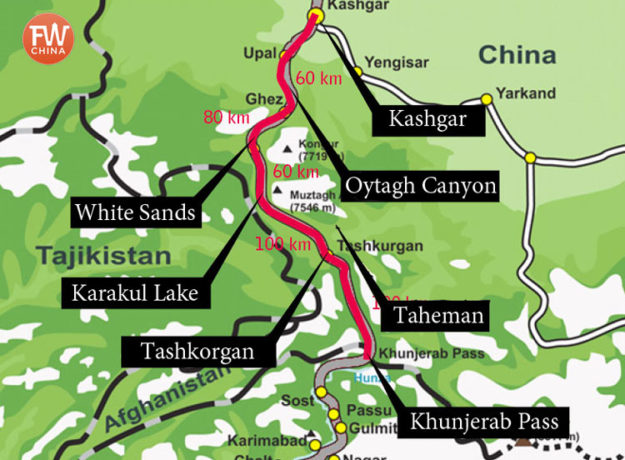 Below, I'd like to detail these points of interest, providing pictures and information you might need as you travel.
1. Opal or 乌帕尔 (Uyghur Village)
Opal is a small village you will reach a little over an hour after leaving Kashgar. In terms of kilometers it's not that far, but because they've imposed these ridiculously slow speed limits, it seems to take forever!
Think of Opal as your run of the mill rest stop where you can stretch your legs, use the bathroom and restock on snacks and fruit.
If you are hungry, there are a number of restaurants in town where you can chow down on Uyghur polo or Laghman.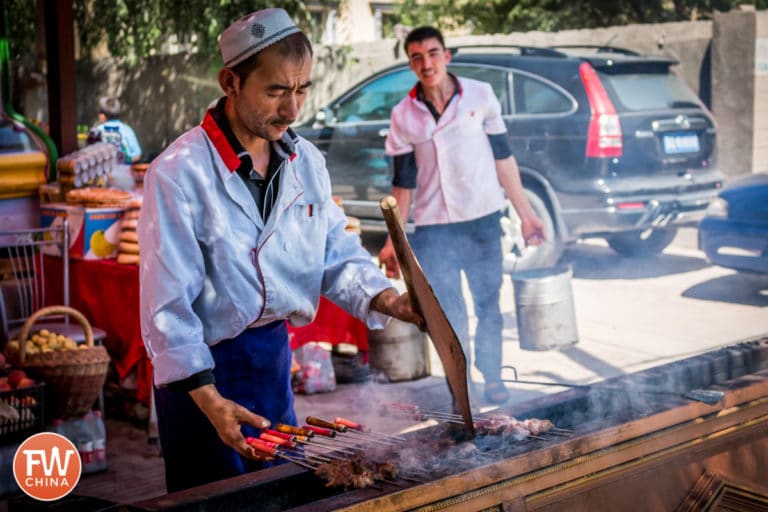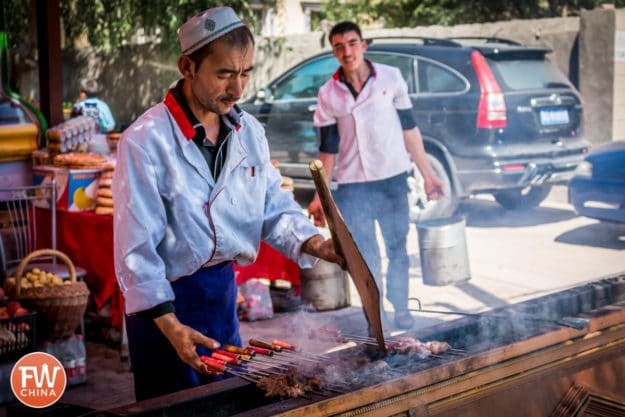 Opal is also home to the Mahmud al-Kashgari tomb, a revered Uyghur scholar from the 11th century.
The tomb and mausoleum aren't incredibly impressive in my opinion, but it the eyes of Uyghur history and culture, it is important.
2. Red Mountain or "Oytagh Canyon"
Not far from Opal are the red mountains of Oytagh Canyon, the first major scenic spot along the Karakoram Highway.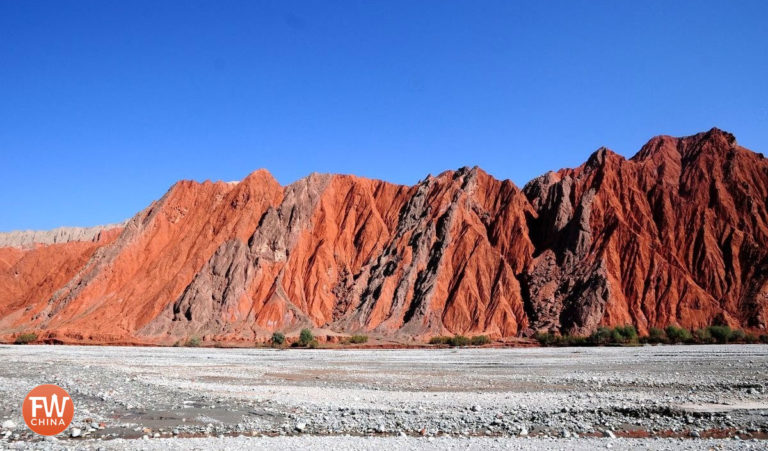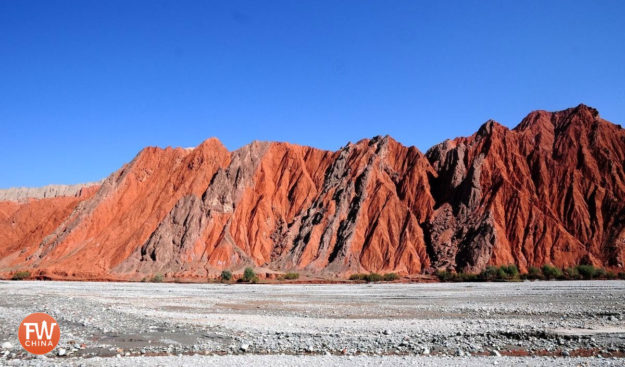 The surrounding mountains in this area all display a red tint and are great for taking photos. If you were to head west into the valley, you would eventually hit the Oytagh Glacier Park (奥依塔格冰川公园) that boasts more incredible scenery.
Unfortunately this place has been closed since 2014 (stupid political reasons).
Until it reopens, you can budget a good fifteen minutes here for pictures and another bathroom break, then move on.
3. White Sand Lake or 白沙湖
White Sand Lake, known as 白沙湖 in Chinese, is a massive water reservoir surrounded by sand dune mountains. The juxtaposition of sand dunes and a beautiful, blue lake make for some fun pictures to show people back at home.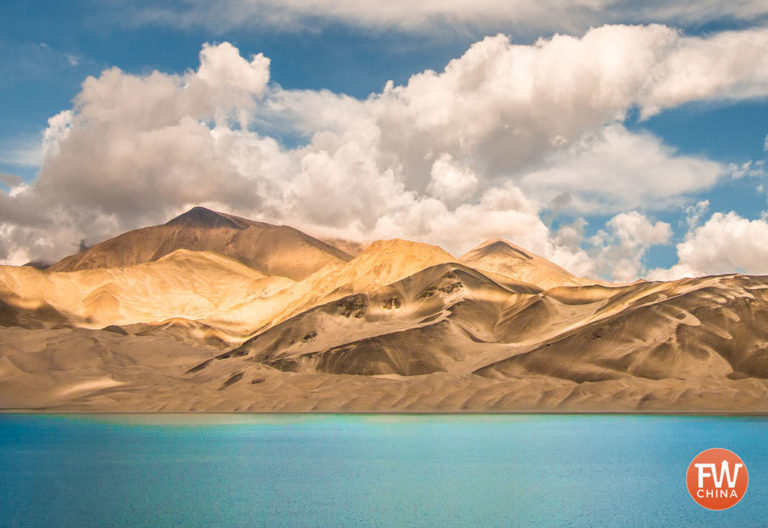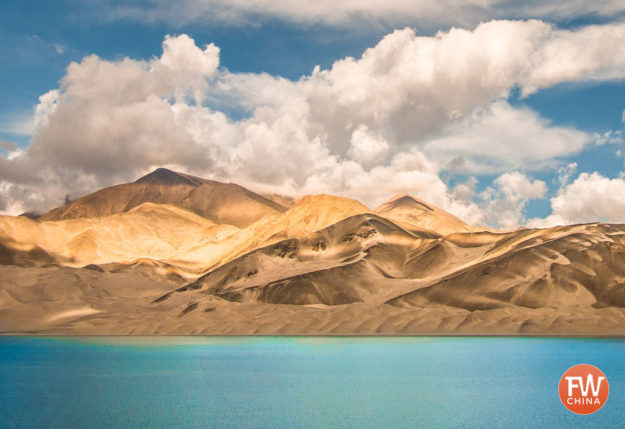 Stopping here for a decent amount of time is well worth it to take in the beauty of the teal colored water and dunes in the distance.
White Sand Lake is also a good spot for souvenir shopping as Kyrgyz traders sell local trinkets – mostly stones – to travelers.
*Note*: Many travelers have reported that they've been able to stay in a yurt near White Sands Lake (it's currently forbidden at Karakul Lake). If this is possible, it's one of the few stops between Kasghar and Tashkorgan where travelers can stay the night.
4. Karakul Lake or 卡拉库里湖
Surrounded on all sides by snowcapped mountains, Karakul Lake is the crown jewel of sights to see on the Karakoram Highway. Towering above the lake is Muztagh Mountain, which translates from Uyghur as "Father of Ice Mountains".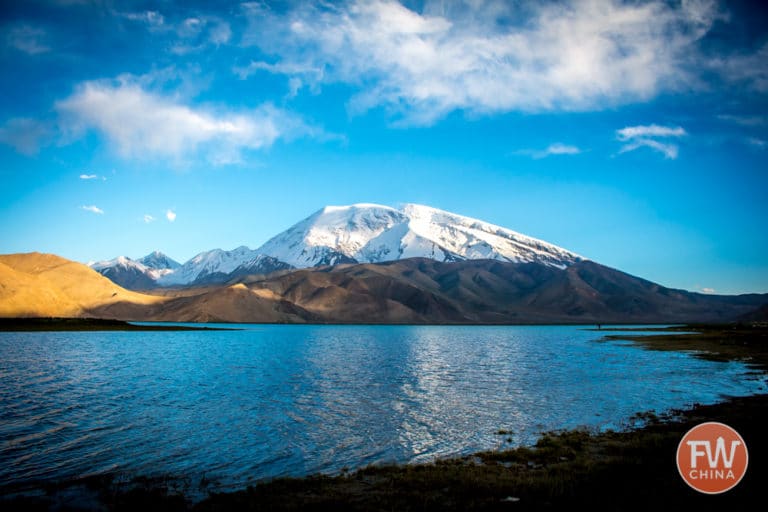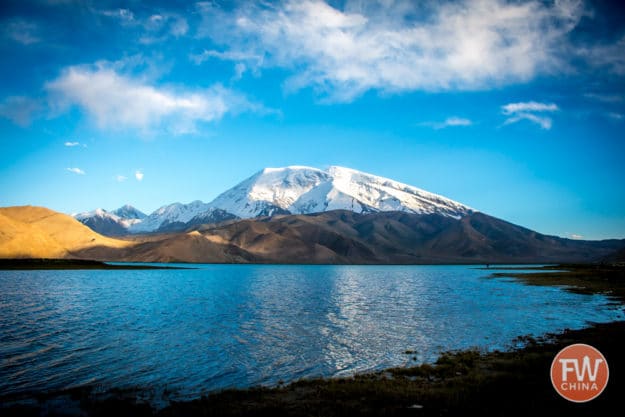 The best time to experience the scenery of Karakul Lake is at sunset and sunrise as the sun reflects off the glacier topping Muztagh Mountain.
It used to be possible to stay the night in the Kyrgyz yurts on the west side of the lake, but since 2017 that has no longer been allowed.
You can arrange for a meal in a local yurt but for the time being that's all that's allowed.
5. Subash Pass or 苏巴什
At an elevation of 13,400 feet, Subash Pass is the highest point in elevation on the Chinese side of the Karakoram Highway. The pass is marked by signs and has a platform built for taking photos.
At this point you might be starting to feel a bit of a headache or nausea, so be careful about altitude sickness
Take a few minutes to stop here and enjoy feelings of having conquered the altitude of the Karakoram Highway while enjoying some additional views of Muztagh Mountain and the valley below.
There's a security checkpoint at this pass where you'll need to show your passport. In addition, you'll see a massive structure that looks like some sort of monument.
It's actually a gate that's been under construction for years and the path behind it leads toward the mountain to one of the massive glaciers. If you have an off-road vehicle, it's possible to drive right up to the glacier!
6. Taheman Grasslands or 塔合曼
About an hour up the highway from Karakul Lake are the peaceful Taheman Grasslands, known for its mountain scenery and winding river.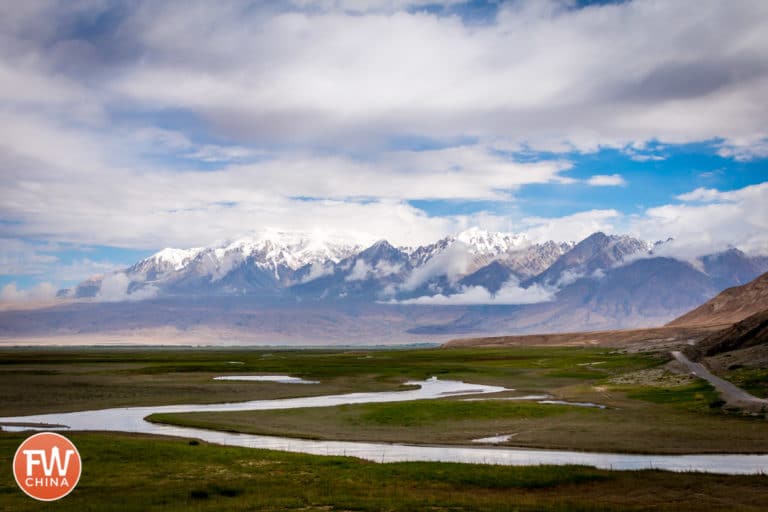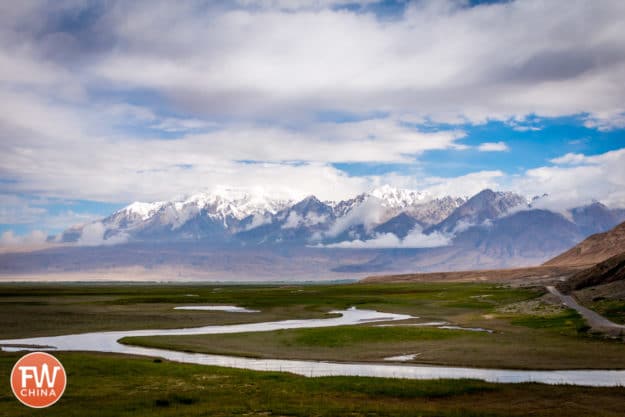 Although at this point you may start feeling antsy to get to Tashkurgan, be sure to have your driver stop at this location. The view of the rivers sprawling across the green grassland valley is nothing short of mesmerizing and a top highlight on the Karakoram Highway.
Side Note: There's a dirt path that curves along the north and east sides of the grasslands (the road follows the west side). This is a great place to cycle if you have the time!
7. Tashkurgan or 塔什库尔干
Despite being a small town, there is plenty to enjoy in Tashkurgan. Most alluring to tourists is the Stone Fortress, which protected passing caravans on the ancient Silk Road as far back as 2,000 years ago.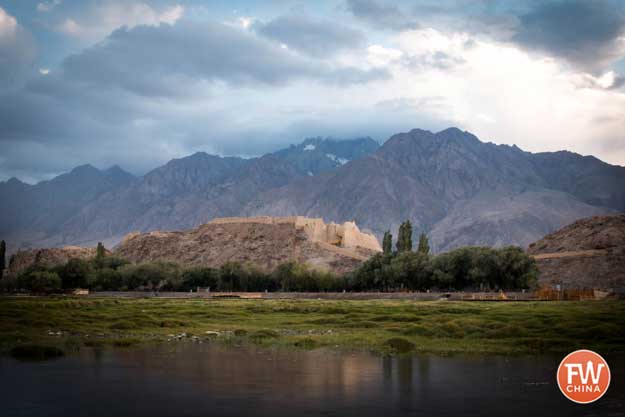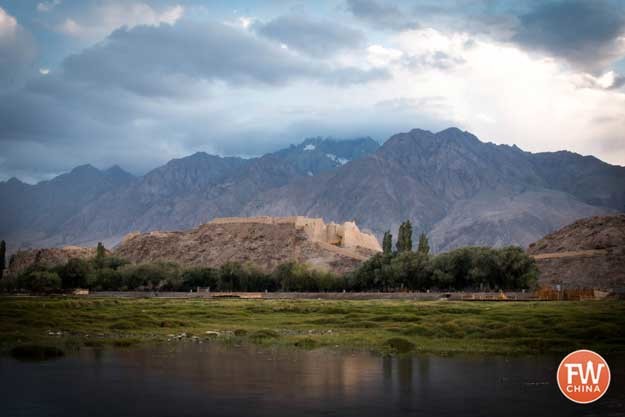 Apart from the Stone Fortress, the Golden Grasslands are a must see in Tashkurgan as well. If you're lucky, you might even run across a traditional game of Buzkashi.
Wooden pathways have also been put in place allowing you to walk above the marshy landscape.
8. Khunjerab Pass (border with Pakistan)
The Khunjerab Pass is the last stop on the Chinese side of the Karakoram Highway before you enter into Pakistan.
While you will not be able to journey up to the actual border between China and Pakistan unless you have a valid Pakistani visa, making it all the way to the border checkpoint provides great views into Pakistan.
There's also a sense of gratification having made it to the edge of China!
How Much Time Should I Budget to Travel China's Karakoram Highway?
You should budget at least three days if you want to thoroughly see everything along the Chinese side of the Karakoram Highway.
Anything over five days may be over stretching your trip unless you plan on trekking around Muztaghata Mountain (which requires a special permit in Kashgar) or cycling up the highway.
It's also fun to spend at least half a day wandering around Tashkorgan.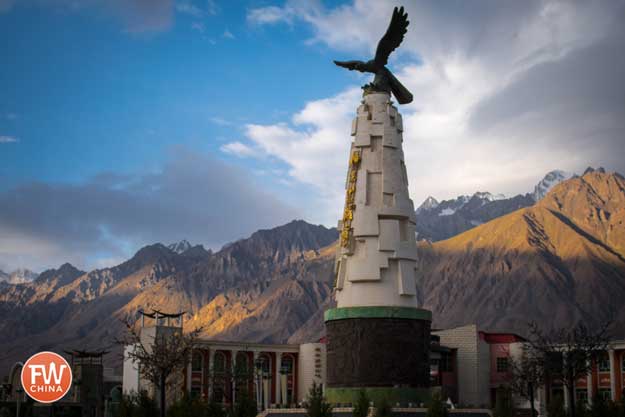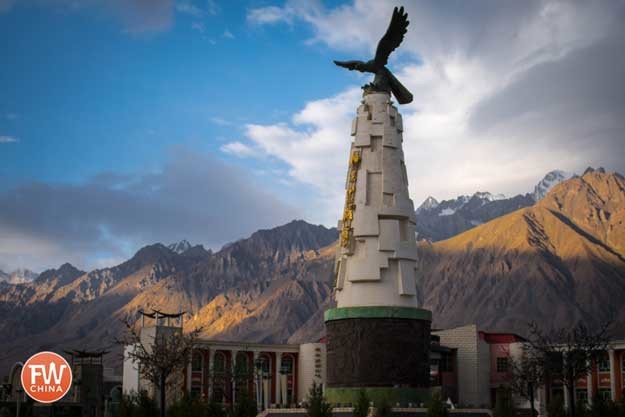 If time is a limiting factor for you, you can arrange for a one to two day trip up to Karakul Lake.
While your experience will be brief, you will still find the trip very rewarding and worthwhile.
How Can I Travel the Karakoram Highway?
There are a number of different ways that you can organize your trip up and down the Chinese side of the Karakoram Highway.
I'm going to cover the three most common here.
Travel with a Travel Agency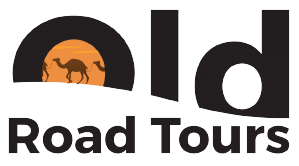 Booking with a travel agency like Old Road Tours is the easiest way to travel the Karakoram Highway. It also gives you peace of mind knowing that your entire itinerary will be arranged for you and all permits arranged in advance.
Using a travel agency gives you the option to customize your trip well beyond simply traveling up and down the Karakoram Highway by car.
Old Road Tours, for example, can arrange for you to trek from Karakul Lake to various Kyrgyz villages along the slopes of Muztag Mountain. In addition, a travel agency can arrange local activities for you that are generally unavailable to independent travelers. Depending on the tour, many of your meals may also be included within the fee.
Yet all this comes at a hefty price.
While prices depend on your itinerary and number of travelers in your group, you can anticipate paying several thousand RMB at a minimum. While expensive, you pay for both a premium service and experience with this option.
Hire a Private Driver
While you will not have all the conveniences and services of a travel agency, hiring your own private driver is another great and more affordable way to travel up the Karakoram Highway.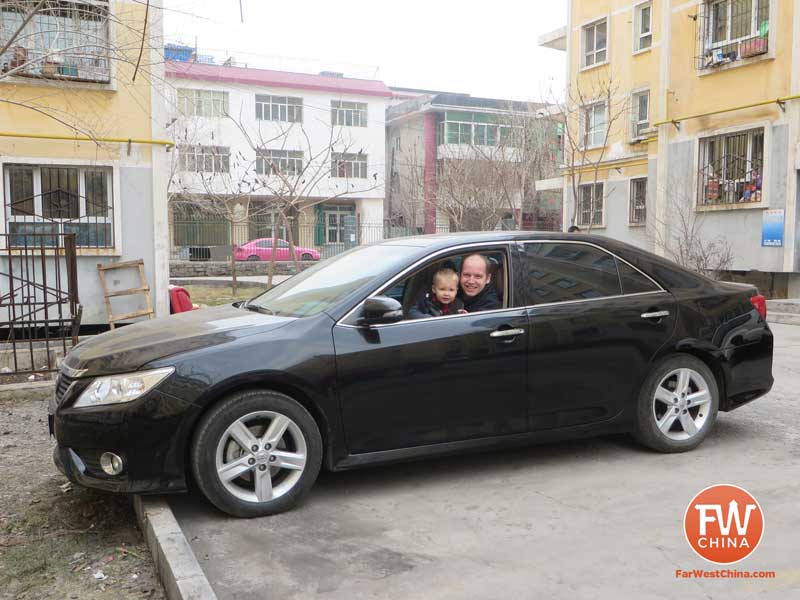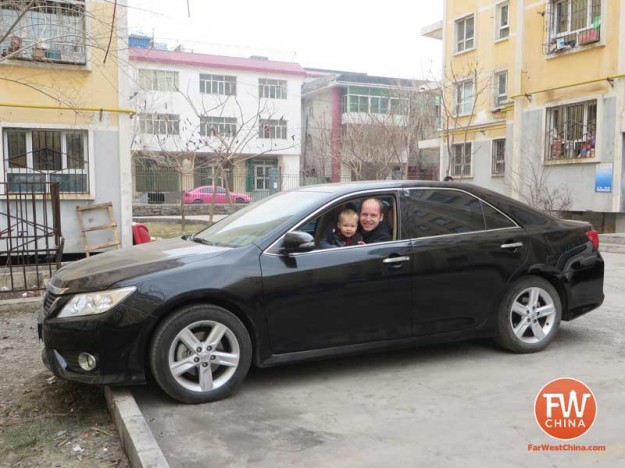 Like traveling with a travel agency, hiring your own driver gives you plenty of flexibility in your trip. You can choose how many days you would like to budget for your trip as well as choose when to stop along the way.
You can also have your hostel do all the heavy legwork for you in scheduling a driver for the journey. Simply let them know in-advance the days you would like to travel up the Karakoram Highway and they will not only find you a driver but also pair you up with other travelers with similar travel plans.
Alternatively you can go to the city bus station (ke yun zhan / 客运站) where there are drivers that can drive you to Tashkurgan. If you are a skilled negotiator, you should be able to agree on a fair price for your trip at the bus station.
Cost of the entire trip depends on how many people will be traveling with you and the length of your trip. The more passengers that sign up for each trip will reduce the price you pay.
Generally for this option, you can plan on budgeting 400 RMB to 800 RMB. This may or may not include housing and some meals. Before agreeing on a price make sure you are fully aware of what is and is not included in the fee.
Take the Public Bus to Tashkorgan
If you want to experience the Karakoram Highway but are under a tight budget, taking the bus from Kashgar to Tashkorgan is a good option. It's also a good choice if you want to get to Tashkurgan and back within two days.
The bus leaves the Kashgar city bus station (ke yun zhan / 客运站) at 9:30 am and arrives at Tashkurgan six hours later depending on traffic and road conditions. From Tashkurgan a bus leaves at 8:00 am and again at 3:00 pm. Tickets are 51 RMB one way.
While you save money and can experience the Karakoram Highway and see Tashkurgan on a rushed timeframe by taking the bus, there are also some downsides to consider.
With the bus you lack the flexibility to stop at scenic areas. There is also no guarantee that the bus will stop at Karakul Lake and may end up driving past it. If you want to take the gamble it's best to stop at Karakul on your way back to Kashgar from Tashkurgan.
When taking the 8am bus, you can anticipate arriving at Karakul around 11am. From there you can try your luck and try to catch the 3pm bus on its way to Kashgar.
What Lodging is Available along the Karakoram Highway?
If you plan to spend the night along the Karakoram Highway in China, the only hotels you'll find that accept foreigners are located in the town of Tashkorgan.
Tashkurgan Accommodations
Most travelers find themselves stopping in the quaint town of Tashkorgan for a night or two. If this is you, there are two options that I recommend:
K2 Youth Hostel – Located within walking distance of the Stone Town and the Golden Marsh, this comfortable hostel has 4 bed and 8 bed dorms along with private twin rooms available. It also features a large communal area with a pool table and bar.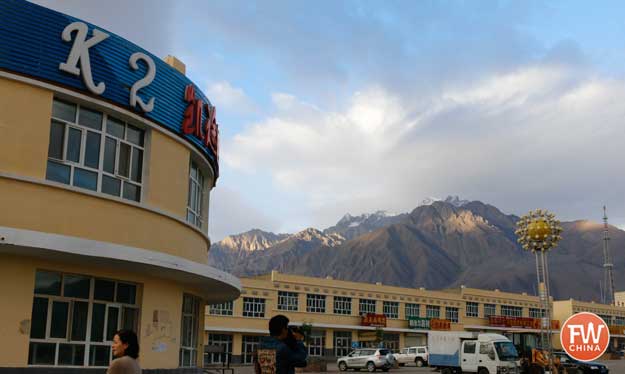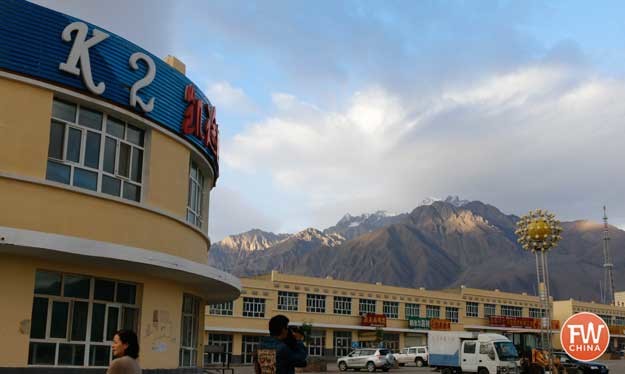 Crown Inn Hotel: At one point this used to be one of the "expensive" hotels in Tashkorgan, but with the rise in competition, the rates are now quite good. The rooms are comfortable and the breakfast (with real coffee!) is exceptional.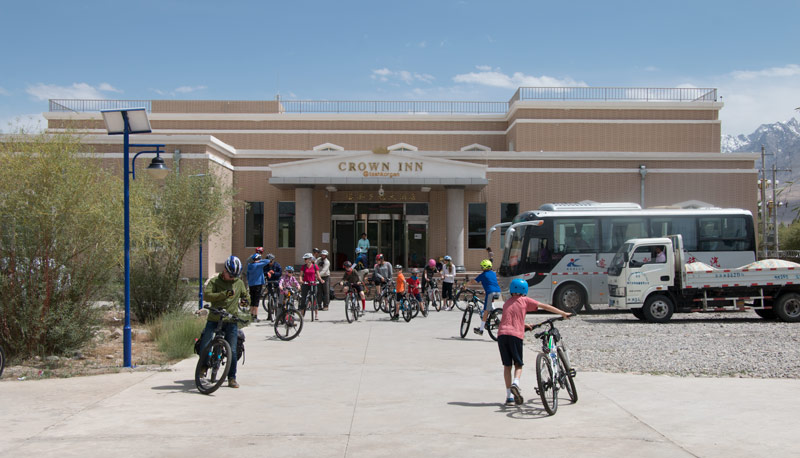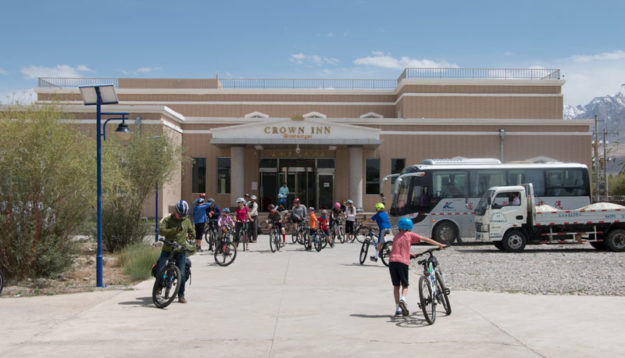 Camping Along the Karakoram Highway?
While camping in China is technically illegal for foreigners, it's a generally accepted practice as long as you're staying out of sight.
If you pitch a tent next to Karakul Lake, chances are the locals or police will drop by to let you know that you must leave. In some cases, such as in the photo you see below, travelers have been able to secure permissions beforehand to camp at the lake, but these permissions are hard to get and can sometimes be expensive.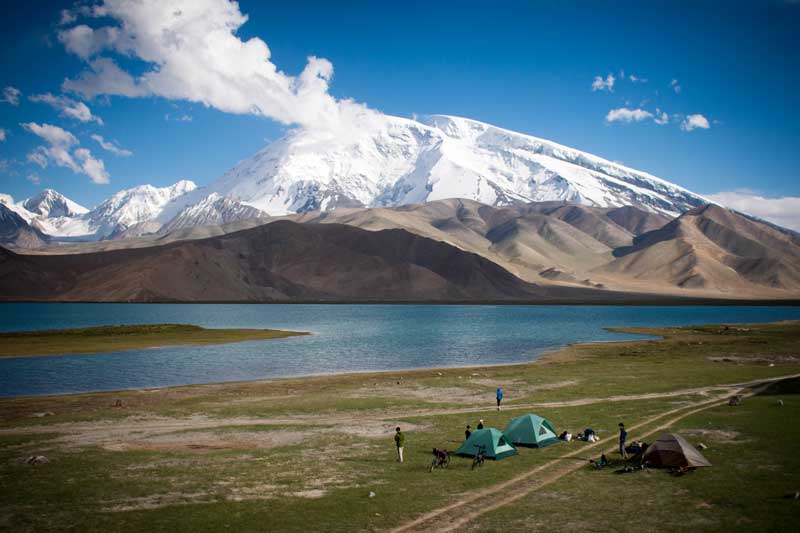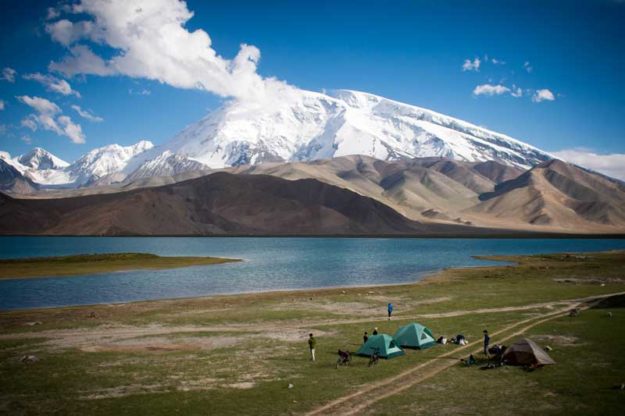 Unfortunately, aside from the lake, there aren't that many great places to pitch a tent along the Chinese side of the Karakoram Highway.
You'll probably have to hike in a good ways and even then there aren't that many flat, grassy areas.
Security on the Karakoram Highway
Local police occasionally require foreigners traveling up the Karakoram to acquire a permit. If you plan on doing any trekking at Muztagata Mountain, there's also an additional payment for an environmental protection fee.
Over the past few years, a permit from a travel agency has been required of some travelers to Tashkorgan.
As the law can easily and quickly change, it is recommended that you double-check before your trip whether you need a permit or not.
In the event that you do need to apply for a permit, you can work with a travel agency or hostel to do so. Be sure to also keep your passport on you during your trip as you will need to use it to register with the authorities at a police checkpoint along the way. Registering takes as little as five minutes.
Is it Safe to Travel the Karakoram Highway?
You can rest easy knowing that traveling on the Chinese side of the Karakoram Highway from Kashgar to Tashkurgan is quite safe. However there is potential for small dangers on the road such as falling rocks, mudslides, and low visibility in the event of heavy rain.
In 2017, a newly-constructed highway was opened that raises above many of the problems that once plagued the highway. That doesn't mean you won't run into delays, but they will (hopefully) be less often.
Fortunately the Chinese government is quick to respond to poor road conditions and deploys construction personnel and hazard markers to alert drivers in the event of any adverse road conditions.
With that said, it is best to discuss with whomever will be leading your trip on how they will prioritize your safety in the event of inclement weather.
When Should I Plan my Trip?
The Karakoram Highway is officially open to traffic from May 1st to December 31st giving you a broad timeframe to plan your trip.
Not being a fan of the cold, I recommend traveling in the warmer summer months of June through early September as temperatures along the highway can get pretty low in the evening.
Yet the rain season is another factor to consider as it hits its peak in July and August. Heavy rains can lead to considerable delays in your trip through slower traffic, lorries getting stuck in mud or even sections of the highway being washed away.
No matter what time of year you plan to travel up the Karakoram Highway, budgeting flexibility into your itinerary to account for abrupt changes in weather is recommended.
Final Thoughts on China's Karakoram Highway
The bottom line is this: if you're in Kashgar and you have the extra time available, a trip up China's side of the Karakoram Highway is an absolute must.
The scenery is unbelievable and the various ethnic groups (Kyrgyz, Uyghur and Tajik) keep things quite interesting all along the way. It's a trip you won't ever regret making!
DON'T FORGET: Grab a copy of the FarWestChina Xinjiang Travel Guide for your journey in and around Xinjiang. It's an amazing resource that goes far beyond what you'll find in Lonely Planet or other travel guides.
How was your trip up the Karakoram Highway? Do you have any additional thoughts on anything else that should be covered here? If so, please leave a comment below.