Ever since the Urumqi BRT opened in 2011, I've been incredibly curious to find out how it would improve the terrible traffic in Xinjiang's capital.
Now that I call Urumqi, Xinjiang my home I've had a chance to try it out first hand and I must say that it's a vast improvement over the congestion that normally plagues the roads here.
For those that will be traveling here to Xinjiang or even those that are planning to move here, it's not a bad idea to get acquainted with the the BRT system before you arrive. If I were you, I would even attempt to stay as close to a BRT stop as possible to make things convenient.
How the BRT System Works
BRT, which stands for "Bus Rapid Transit", is actually a system that has been implemented all across China as a means to speed up bus transportation by separating it from the rest of traffic.
Have you seen the Urumqi City Guide?
Most of the time (not all the time) the BRT buses have their own lanes blocked off by fences to keep other cars out. Practically speaking, this means I can usually get from my stop near the Children's Park (儿童园) across town to the International Bazaar (二道桥) in about 30 minutes, something that wouldn't be possible with traditional buses.
Essentially the BRT acts like an above-ground subway. You wait in a designated area for the bus to arrive and then glass doors open to allow passengers to leave and enter.
How to Use the Urumqi BRT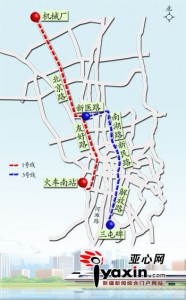 The Urumqi BRT has four different lines – 1,2,3 and 5 (why they skipped four, I have no earthly idea). The problem with the BRT, something that I've found is confusing even for the locals, is that even the same number can take a different route.
Take the 3, for instance, which I'm most familiar with. I once took the bus expecting to arrive back at home only to find us veering off north to some place I'd never been. I now always look at the sign on the bus that says not only "3" but also the start and end points.
The BRT is a simple 1元 to use, which can be paid either in cash or with a convenient pre-paid bus card that you can purchase at certain stops. Because the system is set up similar to a subway, the nice thing is that often you can exit one bus and immediately take another without paying a second fee.
Important Note: like every other form of transportation in China, if you plan on using the BRT it's best to avoid getting on between 6-8pm Beijing time. More than likely you'll find yourself uncomfortably crammed in and unable to exit at your stop.
Here are a few things worth noting about specific BRT lines:
BRT Line 1: runs from near the Urumqi Diwopu airport all the way to the Urumqi train station
BRT Line 2: great connection between YouHao 友好 (upscale hotels & shopping) to BeiMen 北门
BRT Line 3: the only line that always goes through the Uyghur part of town, including the International Bazaar and the south bus station
BRT Line 5: cuts east-west through the city – not useful for most tourist
NEW! The Urumqi K Bus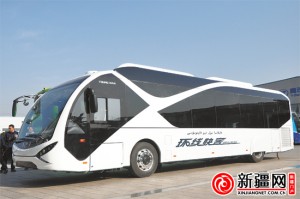 As of January 17, 2014 two new bus lines have been opened: the Urumqi K001 and the Urumqi K002.
Why does this matter?
This is the fastest way to get between the airport and the train station. Each bus only has about 7 stops the entire way and both avoid high traffic areas that cause delays.
Note: The airport stop is actually at Huang Shan Jie 黄山街 which is a bit south of the airport but still convenient.
These buses are new and incredibly comfortable but cost 5元 instead of 1元. Still, not a bad price if you need to get from the airport to the bus station quickly, something that would normally cost you about 30-40元 in a taxi.