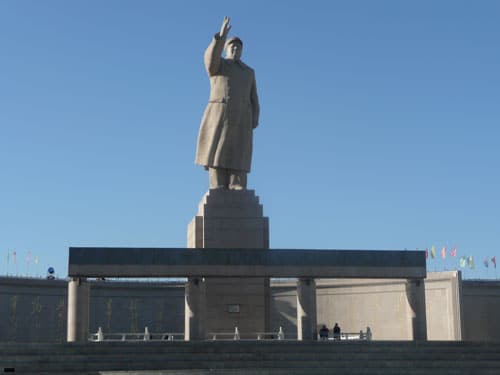 It is impossible to travel through the city of Kashgar, a vital part of the Silk Road on the westernmost tip of Xinjiang, without running into the giant statue of Mao ZeDong.  Located across from the Tiananmen-style people's park, the statue stands with his arm raised to welcome all who come to visit the city.
Usually the sighting of a Mao statue within China is nothing worth noting, but this particular location in the heart of China's biggest autonomous region is just too awkward to miss.  It's symbolism is too pertinent to ignore.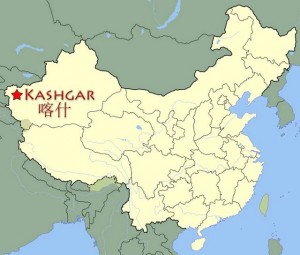 It comes as no surprise that the idea to build a giant Mao statue in Kashgar came during China's Cultural Revolution.  In one of the few cities that still boasts a majority of Uyghur and other ethnic minorities, it's hard to miss the intended message.
History of Kashgar's Mao Statue
The year was 1968 and tensions were high in Xinjiang just like they were in every part of China (for more, read Wang Gang's English).  The leaders at the time decided that the best way to declare their allegiance to Beijing was to build one of the largest statues of Mao in the country.
Statues cost money, though, and anybody who has been to Kashgar can attest that they are not known for their vast financial resources.
The city government reported that every citizen willingly donated what they could to help fund the building of Kashgar's Mao statue, whether that be cash from their meager salary or food stamps that were prevalent during the Cultural Revolution.  You can judge for yourself whether willingly is the correct term to use here.  Stories were told of people young an old who gave beyond their means, all for the sake of the "Great Helmsman".
Finding building materials in a desert oasis proved to be even harder than raising the money needed to buy it.   Once all funds were secured it was then sent to inland China where a total of 16 trucks transported different parts of the mold through Gansu and around the Taklamakan Desert to Kashgar along roads that would barely be considered passable today.
Craftsmen worked for months to complete what would become one of the four biggest Mao statues in all of China, finally finishing the task sometime in 1969 to the applause of controlled fanfare.
The statue stands a total of 24 meters high – 11.74 meters for the base and 12.26 meters for the body (a nod to the Chairman's December 26th birthday) and faces south with his right arm extended.  To say that this has been a beloved monument for the city of Kashgar might be a stretch, but it has become a well-known landmark.
Attempts to take down the statue over the past few decades – either by force or through proper petitions – have failed and are not well documented, however damages sustained by the statue did eventually force the city to refurbish it in 1997.  While they were at it they decided to add a grandstand along with a 62-meter long wall on which was written many of Mao's poem's.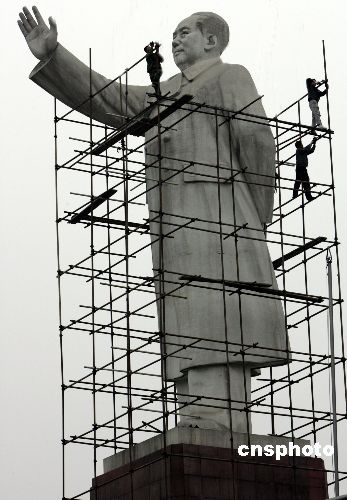 Chengdu's Mao under repairs…quite similar to Kashgar's
Despite the mixed feelings that this statue evokes from most visitors, it succeeds in giving outsiders an accurate understanding of this region of China.  I can't help but visit Kashgar and see embodied in this statue the signs of the times.  Mao, with his back facing Kashgar's Old City and many of it's minority inhabitants, lifts his arm to the south towards the area where all the new Han Chinese have taken up residence.  Less than 2 kilometers away is the Id Kah Mosque, the true heart of Kashgar that may be out of the statue's line of sight but not far from its peripheral vision.
Much has changed over the past 50 years in Kashgar and all throughout Xinjiang, yet this over sized statue of Mao still stands.  Sometimes it's hard to tell whether the statue's extended arm is welcoming new migrants to the city or waving goodbye to its previous occupants whose houses are now being torn down.  With every day that passes, it's beginning to look like he's doing both.