The iconic yellow tiles of Kashgar's Id Kah Mosque have been a travel destination for centuries. For many Uyghur in the villages surrounding Kashgar, it is a spiritual journey. For most of us, it is a curious monument of ancient Uyghur culture in the middle of a quickly modernizing city. Here's everything you need to know before you go.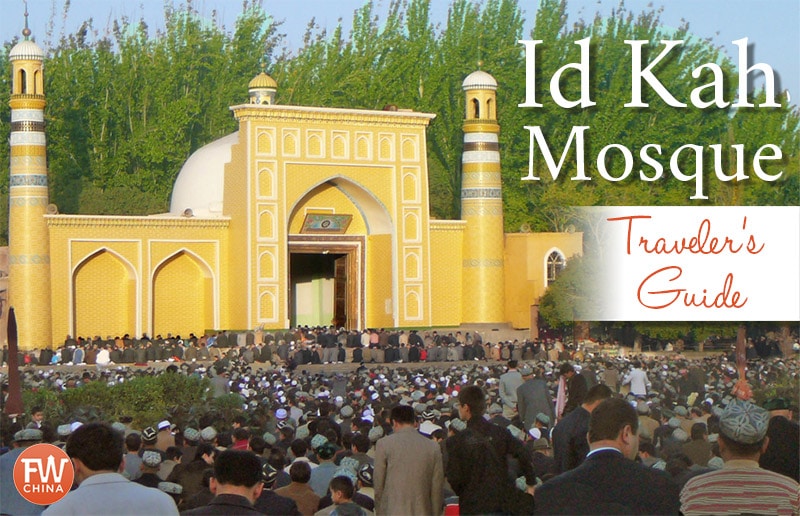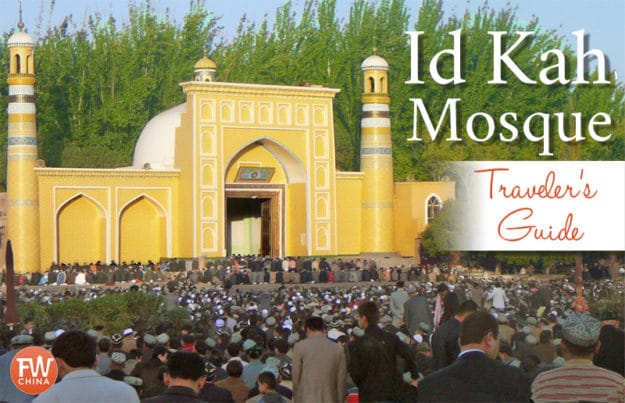 The true heart of Kashgar lies not in the People's Square, a space guarded by China's second largest Mao ZeDong statue. No, the true heart of this beautiful city is in the square and alleyways that fall under the shadow of the yellow-bricked Id Kah Mosque.
The entire mosque covers an area of 16,800 sq. meters, making it the largest mosque by land area in China (there is another mosque in Qinghai whose building is actually larger). Inside the Id Kah prayer halls, close to 20,000 worshipers can cram together to worship during the major Muslim festivals. During normal Friday prayers, however, that number is usually between 2,000-5,000.
I refer to the Id Kah Mosque as the "8 Car" mosque because when you hear it spoken in Uyghur, I swear it sounds exactly like a muffled "eight car". For Muslims in this area this place is a holy site – many travel for days to worship here. For those of us who travel across the world the see this place, here's what you need to know:
Chinese Name: Àitígǎěr Qīngzhēnsì 艾提尕尔清真寺
Uyghur Name: ھېيتگاھ مەسچىتى
Entrance Price: Free to walk around, 20元 to enter
Rating: Highly recommended, especially during prayers
Are you traveling to Kashgar in the near future? Don't forget to grab a copy of the FarWestChina Xinjiang Travel Guide which contains all of this information and so much more that will be helpful for your journey to China's adventurous western region!
History of Kashgar's Id Kah Mosque
The land on which the Id Kah mosque is built was originally used as a cemetery as early as 996 AD. Some history connects the mosque to older structures that dotted this plot of land, it's a tentative connection at best.
The familiar mosque face we easily recognize today only dates back to the early 19th century. The Id Kah Mosque was officially built in 1442. At that time it was a simple prayer hall by the ruler of Kashgar at the time, Saqsiz Mirza, for the purpose of saying prayers for the souls of his deceased relatives.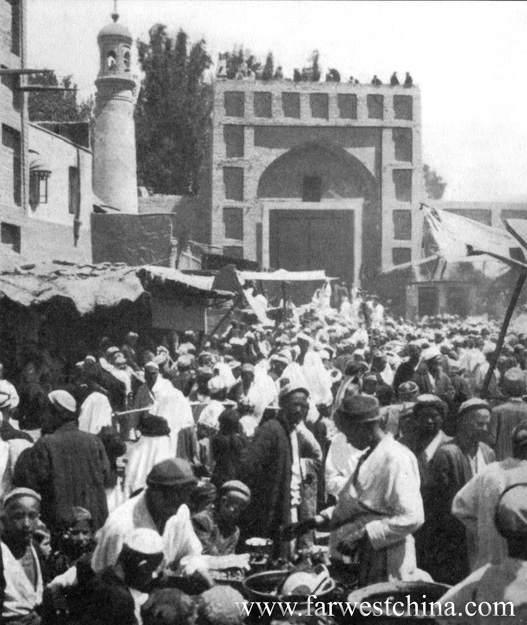 This shot was taken in 1936 by an Englishman named Skrine who was traveling with Aurel Stein during his explorations in Xinjiang. Skrine doesn't credit this as being the Id Kah mosque, however there is no other building in Kashgar even remotely similar in architecture like this. A closer look reveals that when this shot was taken, the mosque wasn't covered in beautiful yellow tile like it is now and I believe that the film slide is backwards (the minaret should be on the right).
The mosque endured severe damage during the Cultural Revolution and has been renovated throughout the last few decades as an attempt by the government to appease the Kashgar residents.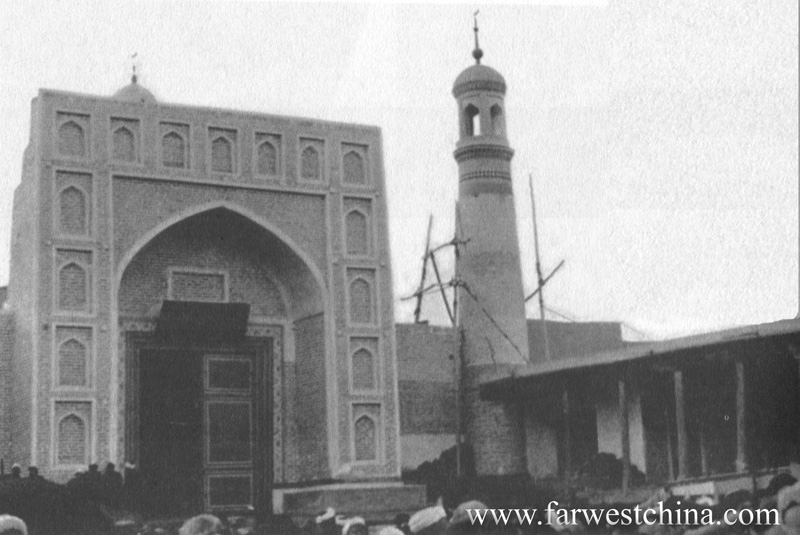 This picture, credited to an E. Techman, depicts the Id Kah Mosque with a busy trading market in the front square.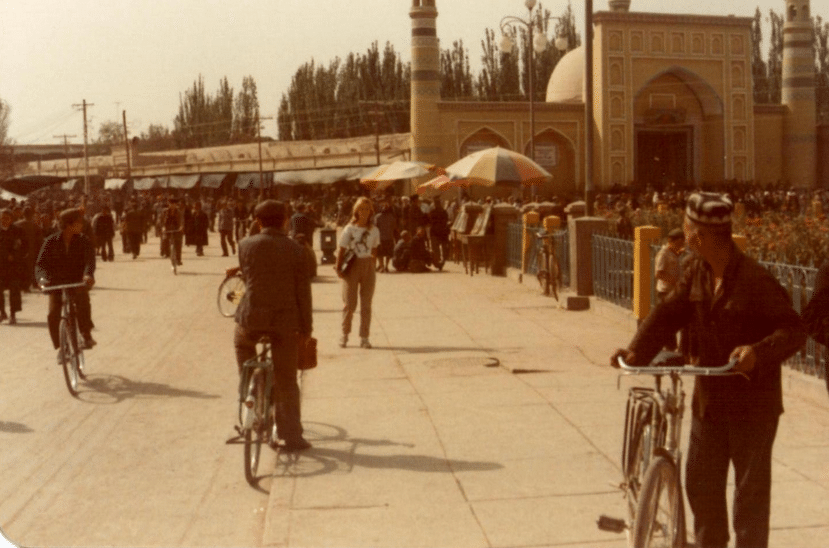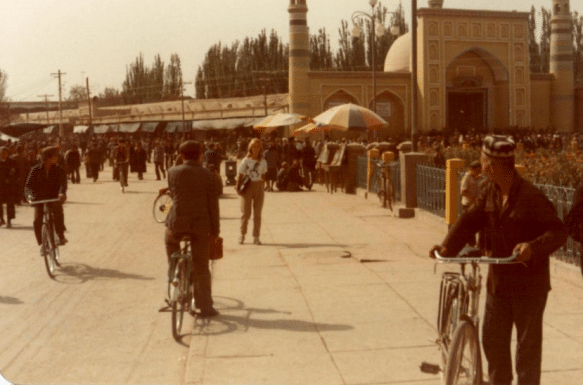 In 1983, travelers were still a rare breed in Xinjiang. This photo, taken by a reader of FarWestChina, is one of a number of amazing historic Kashgar photos.
Nowadays, security cameras still keep a close eye on worshippers. During major Muslim festivals, a large unit of military are usually nearby to remind people who's really in charge. Imams (Muslim religious leaders) at Id Kah are government appointed, as are imams all over the province.
Visiting Id Kah Mosque | Kasghar, Xinjiang
Entrance to the Id Kah Mosque is through the large door of the yellow-tiled face. You'll be greeted by the police who will ask you to open any bags and walk through a metal detector.
Inside the mosque grounds you will find pleasant, tree-lined walkways with ponds and prayer halls scattered throughout.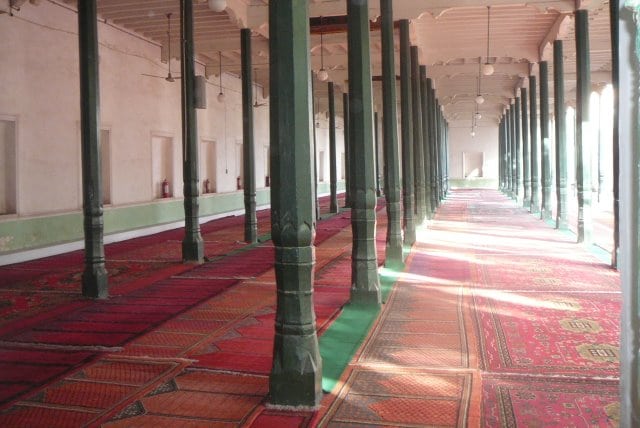 Outside in the square there are plenty of places to have someone take your picture in front of the mosque and the small shops all around the mosque sell everything from Uyghur hats to local snacks.
Women are certainly allowed to tour the Id Kah Mosque although they ask that you don't do so during prayers. It is respectful to be conservative in your choice of clothing if possible, which means at the very least covering your legs on the bottom and not low-cut on the top.
Travel Tip: We spent an entire fifteen minutes wandering around a large, open-air courtyard towards a prayer hall that housed nothing but carpets to kneel on and columns to keep the roof from caving in. We weren't impressed. We shouldn't have expected much more, I guess, but for many travelers I think that taking pictures outside the mosque is more than sufficient.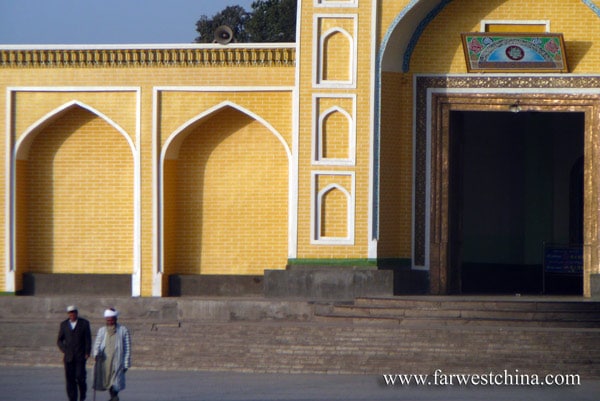 Id Kah During Ramadan and Eid ul-Fitr
For those unaware, Eid ul-Fitr marks the end of the month-long religious fasting called "Ramadan". For the entire month a fast is supposed to be observed from sun-up to sun-down until the final day when they hold a celebration that seems to me to be as big in their culture as Christmas is in America.
People travel long distances to see family, visit friends, and in many cases to visit an important mosque. This is particularly the case where thousands of Uyghur gather to pray at the Id Kah Mosque.
Enjoy even more Xinjiang videos on the FarWestChina YouTube channel!
When we woke up that morning after Ramadan, we knew there would be a lot of people. However, that still didn't adequately prepare me for what we saw. We arrived at 8am to find people from every direction of the city converging on the small yellow mosque which seemed to swallow thousands of them every second.
The only sound we heard were soft footsteps and one small boy trying to sell carpets to those who only brought plastic bags to kneel on. For one full hour the masses never stopped coming and the mosque never stopped swallowing. I later found out that the mosque can hold up to 25,000 people at once, but I figure there's got to be some huge fire code violation going on there.
**Read More: How China Taught Me to View Islam**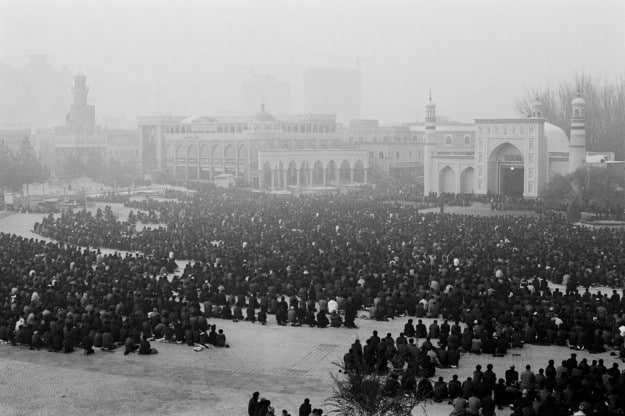 Conclusion | Visiting the Id Kah Mosque
Any trip to Kashgar must include some time wandering around the Id Kah Mosque. Much like the surrounding Old City of Kashgar, it is an historical relic that is slowly changing to the point of no recognition.
China's crackdown on Islam over the past few years means that very few people come to pray here and for those that do, security is unbelievably tight. Even traveling from Urumqi to Kashgar can be a pain.
Take a picture in front of the mosque and then walk around the shops that surround the area. It's also fun to stay at the nearby Pamir Youth Hostel that overlooks the Id Kah mosque.
What was your impression of the Id Kah Mosque? Leave a comment below to let me know!