Next time you squeeze that little packet of ketchup onto your greasy french fry for lunch, think of Xinjiang. There's a high probability that the tomato used to produce that ketchup came from the massive but little-known region of Xinjiang in China's far west.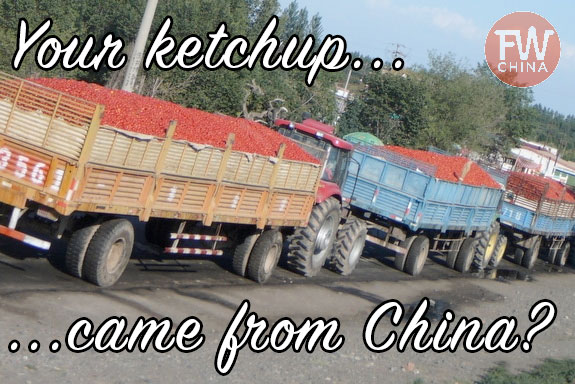 Xinjiang, known as the largest province in China, is famous for a lot of things. You might have read about the poor human rights here (which is true) or perhaps you know that Xinjiang is known for both its oil and cotton exports.
But did you know that Xinjiang produces more than 70% of all China's tomatoes?
Or that China accounts for a quarter of all global tomato output?
Think about that next time you eat your ketchup-covered hot dog.
I've seen it with my own eyes as I've ridden my motorcycle from the capital of Urumqi to the northern city of Karamay. Tomato processing plants along the side of the road are often lined with trucks overloaded with tomatoes.
Little-Known China Tomato Facts
I've already covered a number of very interesting facts about the Xinjiang region on this website. However, there are a few quick facts directly related to tomatoes that are worth mentioning here (and could be good for your next trivial pursuit game):
China exports 700,000 metric tons of tomatoes each year. That's more the US, Turkey and India (the next three top tomato producers) combined.
According to the Guinness Book of World Records, the largest tomato tree in the world originated in China (and can now be seen at Walt Disney's Epcot Center of all places)
Despite all of the good tomatoes in Xinjiang, it is practically impossible to get a good pizza or good salsa in the province. This is sad.
From Plant to Plastic Bottle | Processing Your Ketchup
So what happens between the point that a tomato is picked in Xinjiang (usually during the month of August) and when you buy the plastic bottle?
The production process from a local Xinjiang farm to your doorstep is fascinating.
The tomatoes are picked in the field. Once they've been picked they are put in massive trailers pulled by tractors.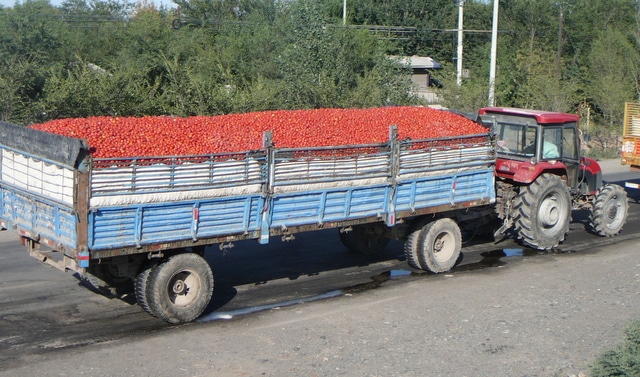 These trailers filled with tomatoes are transported to the nearest processing center here in Xinjiang, China.
After being brought to the plant, the tomatoes are washed in the same trailer in which they were transported.
The washed tomatoes are cleaned and sorted.
The resulting tomato paste is literally shipped in massive blue barrels around the world.
After a bit more processing, it's ready for you to eat.
Final Thoughts | Ketchup from Xinjiang, China
It may seem far-fetched, but in our global economy it's quite possible that the ketchup in your refrigerator originated from western China. Even if the ketchup was made elsewhere, the tomato paste could have come from China.
Even if that isn't true, you now know that one of China's biggest exports is tomatoes, grown in Xinjiang because it's the perfect dry, hot climate for them to grow.