It surprises most people to learn that Karamay, a small town in western Xinjiang, is one of China's weathiest cities. Most people have never heard of this city in China's far western region – even few have visited. Karamay (Chinese: 克拉玛依) was "home" for my wife and I for four years and we loved it. Here's a brief glimpse of Karamay, one of China's richest cities.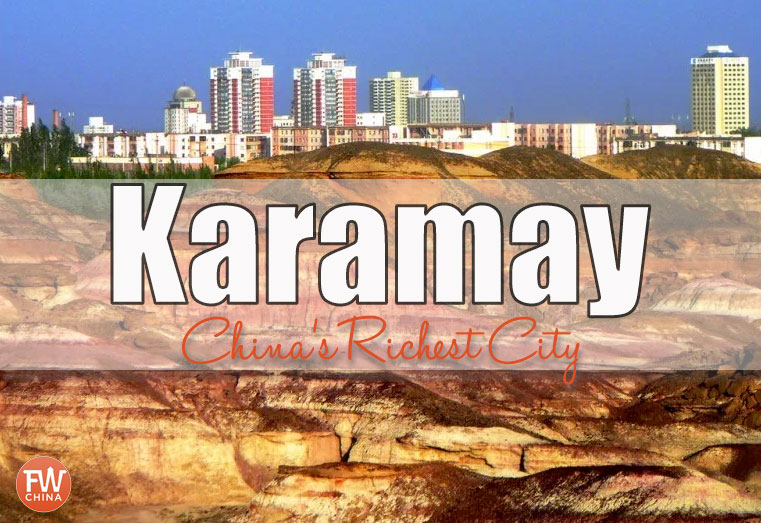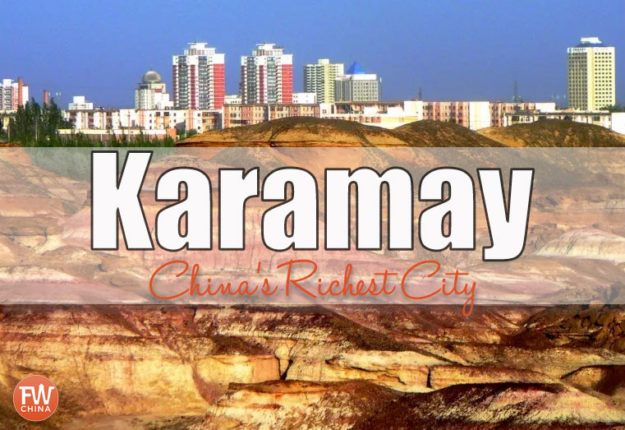 When you think of China's richest cities, no doubt visions of Beijing's grandeur, Shanghai's skyline and Hong Kong's beauty come to mind. According to some interesting research (Chinese), however, those visions would be incorrect. In fact, you'd be on the entirely wrong side of China.
Try looking west toward Xinjiang, China's largest region. Welcome to Karamay, one of China's richest cities per capita.
**Note**: For even more information about Karamay and any other place you can imagine in Xinjiang, you'll want to check out the FarWestChina Xinjiang Travel Guide, the ultimate travel resource for Xinjiang (if I do say so myself!).
Karamay, aka "Black Oil"
Located about 4 hours northwest of Xinjiang's capital of Urumqi and less than 230 kilometers (~140 miles) from the Kazakhstan border, Karamay (قاراماي, 克拉瑪依 or Kèlāmǎyī) is a city literally in the middle of nowhere.
Were it not for Karamay's vast oil resources, this desert dwelling wouldn't even exist.
It's safe to say that there is no other city in China that is as clean, open and inviting as the city of Karamay.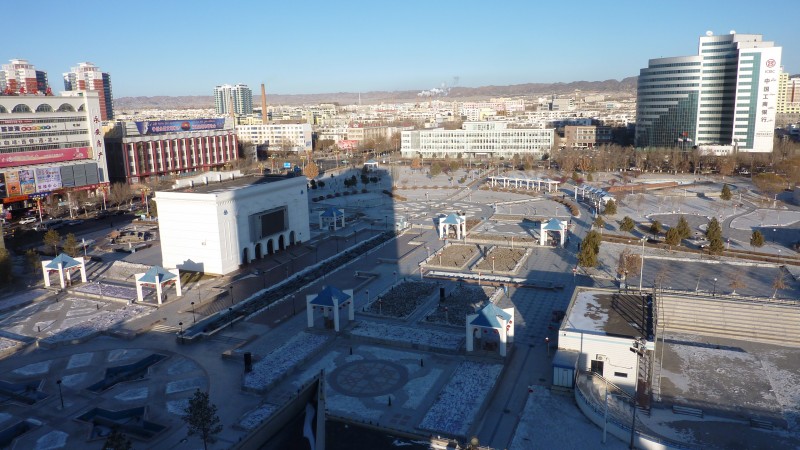 Nobody told me when I first arrived in Karamay back in 2006 just how wealthy the town really was. One thing I knew for sure: this town ran on oil.
Almost everybody I knew worked for the petrol company, and I always found the stories of China's oil workers fascinating. One of the most telling quotes I ever heard came from one of my friends who said:
If the mayor of Karamay and the leader of the oil company are at the same dinner table, the oil exec gets the honored seat at the table.
As a quick side note, when most Chinese refer to "Karamay", they actually refer to the Karamay district, not only the city.
This district includes Baijiantan, Urhe (home of the famous Karamay Ghost City) and Dushanzi, the town where most of the oil refinery happens.
Karamay's Telltale Signs of Wealth
For those who just pass through Karamay it may be hard to pinpoint what makes this city special. It's actually quite small when you consider that it's possible to ride a bicycle around the entire city limits within an hour (that's a bicycle, not a motorcycle!).
In fact, it's my opinion that the small size of Karamay is what has allowed it to top the list of China's richest cities. The GDP per capita skyrockets when you're dealing with only 450,000 citizens!
But what are a couple signs that this tiny town is wealthy?
A Massive City Park: This multi-million dollar park comes complete with a water show, a small mountain and a skate park.
A Golf Course: A driving range and a full 18 holes decorated with fake oil rigs. (UPDATE 2017: This golf course has been transformed into a new city center with tons of beautiful buildings. At this time, it doesn't seem like there are plans to open a new golf course)
A Gorgeous Olympic-Size Pool: As well an an indoor water park with slides, concessions and a wave pool for kids (and kids at heart…like me)
BMW, VW, Honda and quite a few Chinese brand cars have major dealerships in the city displaying various models of luxury sedans.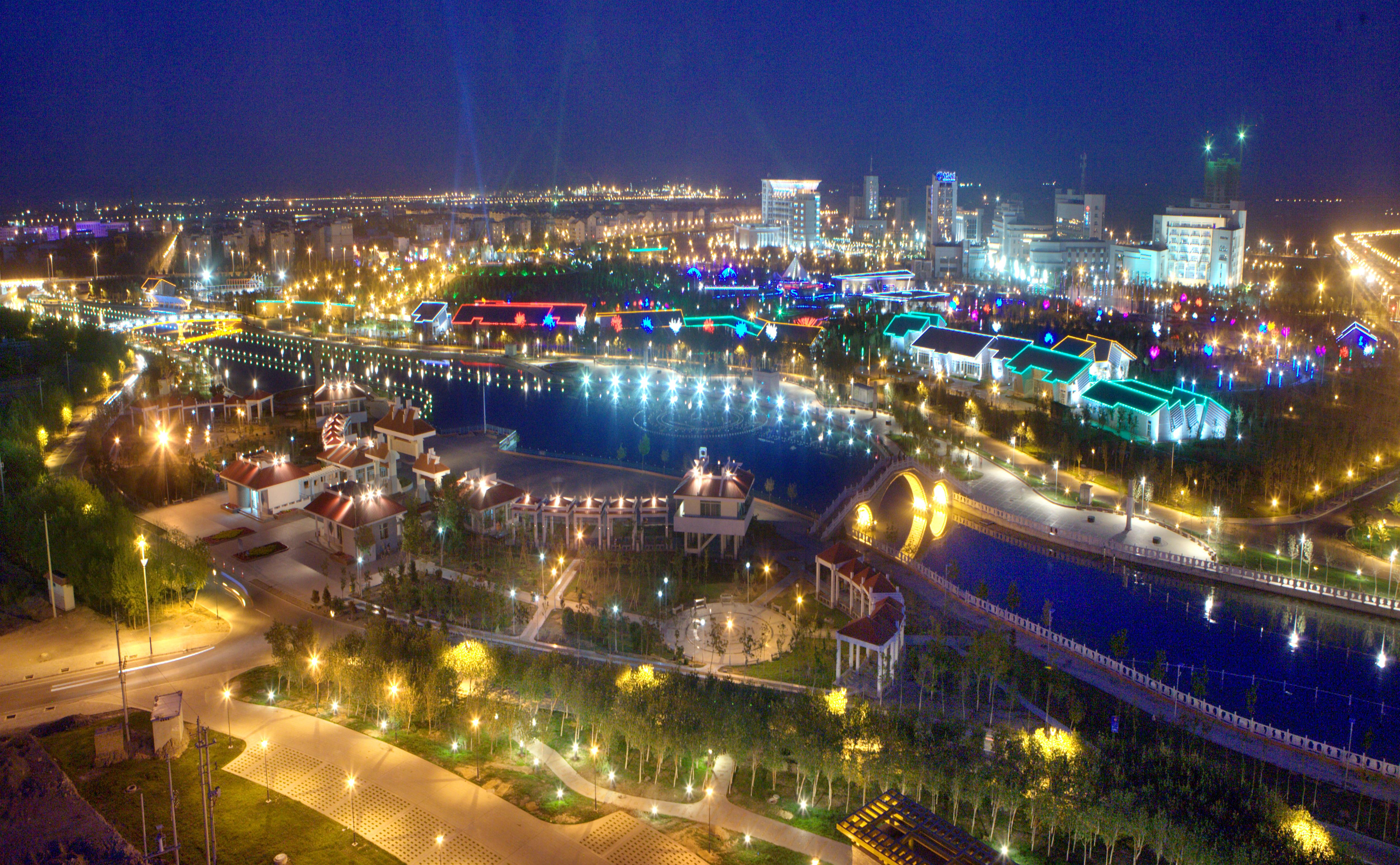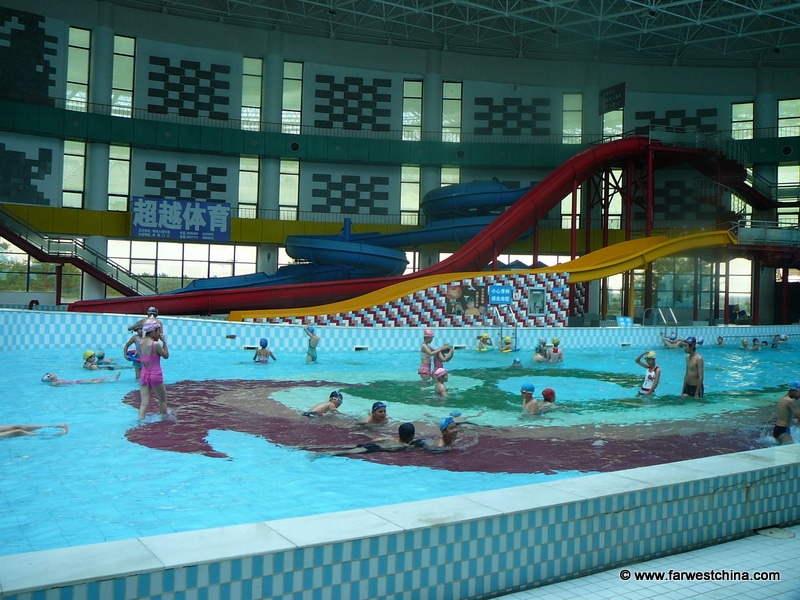 Of course these can be found in many cities around China, but with a population under half a million, Karamay is barely a blip on the Chinese map.
Brief History of Karamay, China
60 years ago Karamay didn't exist.
The remote land was absolutely uninhabited, neither by Chinese or by the locals. It was a barren landscape of desert and brush.
Those who were first sent out to help drill for oil slept in tents on the desert ground and drank rationed water trekked in on the back of a camel.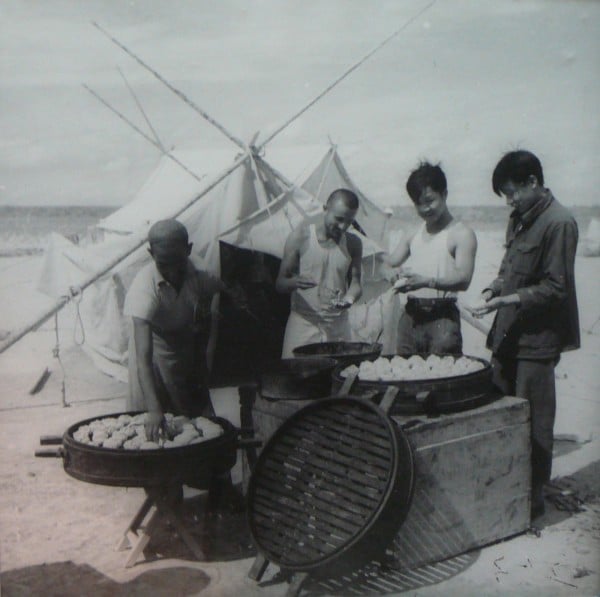 While more than 75% of Karamay's inhabitants are Han, the other people groups – primarily Uyghur and Hui – have a strong presence.
Unlike many other cities in Xinjiang, I saw very little income gap between people groups and in fact met many Uyghur who owned very nice cars.
While the majority of Karamay's citizens would be considered middle class, the small percentage of super wealthy is slowly growing and commanding nice, new offices.
Consider the road that acts as an entrance to the city. When I first arrived it was empty. Now there's a train station and beautiful high rises built by the government, the oil companies and the telecom industry.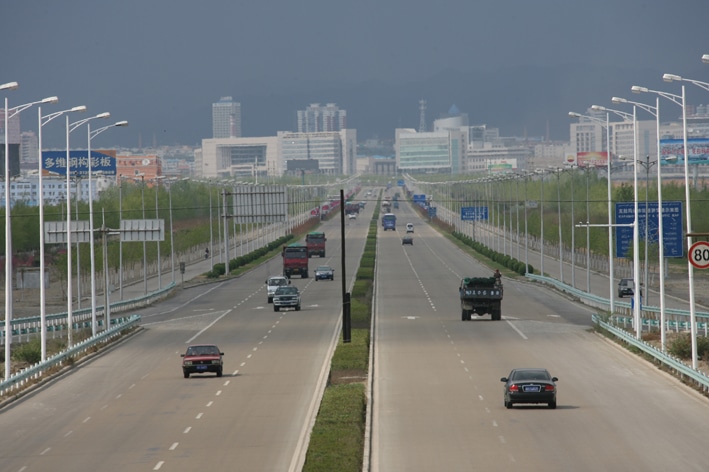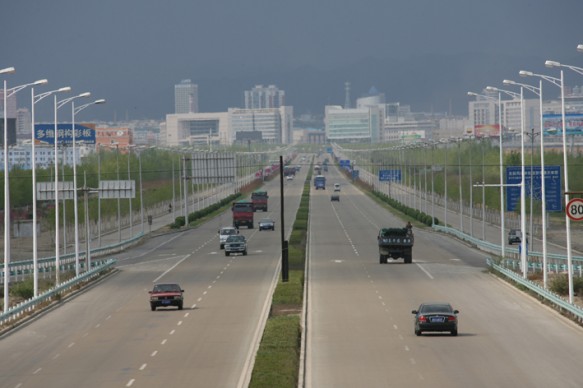 The only other reason that somebody might be familiar with Karamay is because of the famous Karamay theater fire.
Karamay Travel | Tourist Destinations
Karamay is not considered a big tourist destination, but there are still a few things worth seeing if you'll be passing through Karamay.
An exhaustive list of what there is to see and do in Karamay can be found in my FarWestChina Xinjiang Travel Guide, but here are a few of my favorites.
1. Karamay Ghost City (魔鬼城)
Technically located in the Urhe district about 45 minutes north of Karamay, the Karamay Ghost City is a place that got its name from the sound the wind makes as it passes through the rock formations.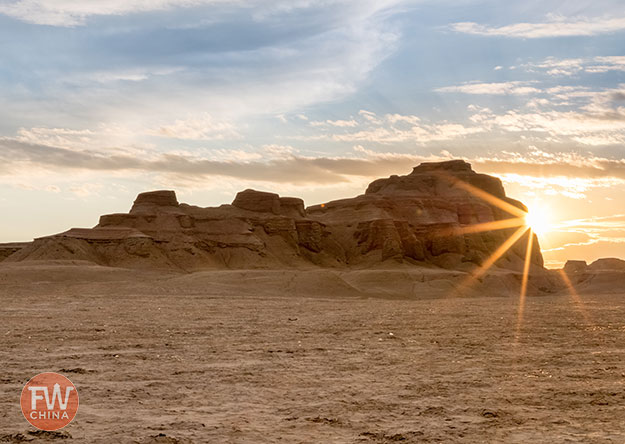 A number of Chinese movies have been filmed here, including the internationally famous Crouching Tiger, Hidden Dragon. Unless you're going with a tour group, you'll want to arrange private transport.
2. The Karamay Bubble
Karamay is known for it's oil, but they've also become for another strange thing: stealing art.
At first glance, "The Bubble" art installation that was built on top of the city's first oil well looks very similar to another popular sculpture in Chicago, USA. Can you tell which one?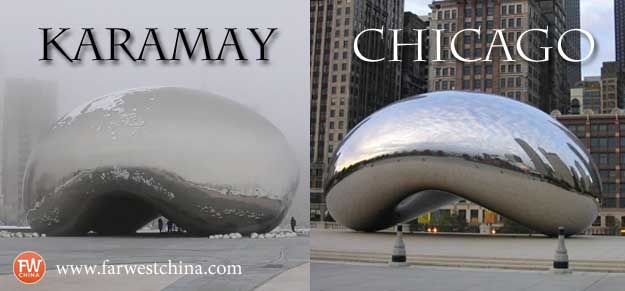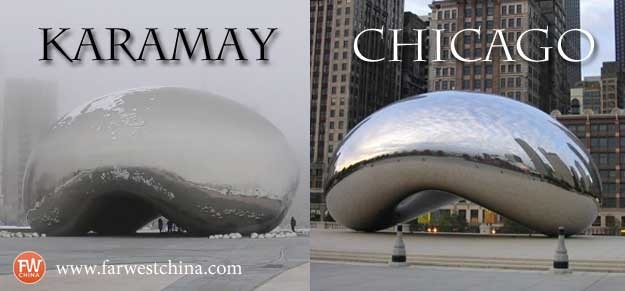 Karamay officials insist that it's a unique sculpture, but it's hard to believe them. You can read more about Karamay's Bubble sculpture and the controversy surrounding it.
Karamay Food | Fried Yellow Noodles
When it comes to Xinjiang street food, I'm a huge fan. I know that it takes a bit of courage to eat unknown foods but, for the most part, it's absolutely worth it.
In the past, I've written about my favorite Xinjiang foods but today I'd like to share my absolute favorite dish from Karamay, my former home. Odds are, you've never tasted anything like it before.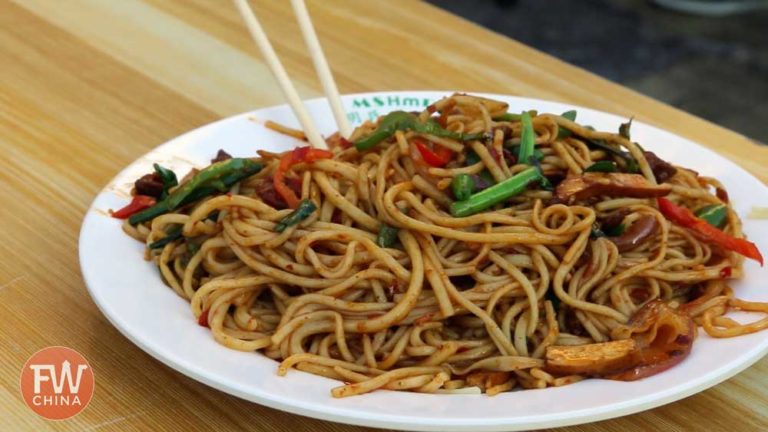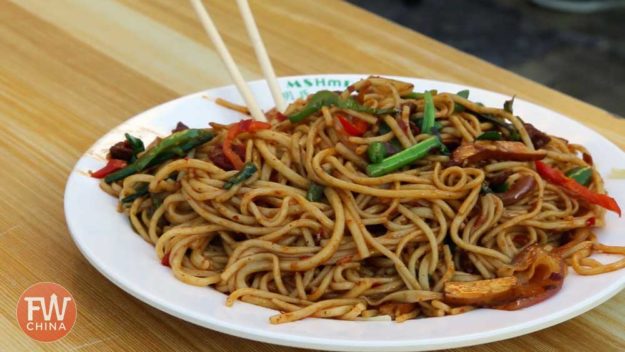 The name of the dish is 炒黄面, literally "fried yellow noodles" and although there are other dishes around China that have the same name, the one in Karamay is unique.
The dish is a mixture of yellow noodles, vegetables, tofu and beef that have been fried to perfection with the addition of a perfect blend of spices. The shop is run by Uyghur folks but it's not a chain restaurant so they've told me that this particular spin on the "fried yellow noodles" can't be found anywhere else.
See what I'm talking about in the video below. Warning: don't watch this while hungry!
See more great Xinjiang videos on the FarWestChina YouTube channel!
Karamay | Tourist Information
If you're planning a trip to Karamay, here are a few tips I can share based on my time in the city:
Getting to/from Karamay
By far the easiest way to get to Karamay is by train, but the city is also serviced by an airport and a bus station.
For information on how to buy train tickets and what you need to know, check out this ultimate China train guide.
Where to Stay | Karamay Hotels
It used to be that there were tons of options to stay in Karamay. Unfortunately, they've limited the number of hotels that can accept foreigners now.
You can roam around trying to find a hotel that will let you stay, or you can check out hotels like the Long Hua Hotel or the Henglong International Hotel.
They're comfortable but a bit pricey, at least compared to other hotels around town.
Additional Karamay Pictures
For a better look at the city of Karamay, I've included some other pictures I've taken of the city over the years. Enjoy!