China knows how to do city parks. In a country where population density in the city is tight, there is almost always a good Chinese public park nearby. But what does it look like in the remote western region of Xinjiang?
Anybody who has lived in any city in China with less than a million people can tell you that entertainment is not a Chinese strong suit. If we want to get out of the apartment to do something our choices are limited to:
Eating out;
Bowling;
Shopping;
There are very few coffee shops to sit in, no high school sports to watch, no movie theater to relax in, few (if any) outdoor pools, and very few social gathering places besides a restaurant.
What the Chinese have mastered, however, is the art of enjoying a public park and it's something that I think we as Americans can learn from.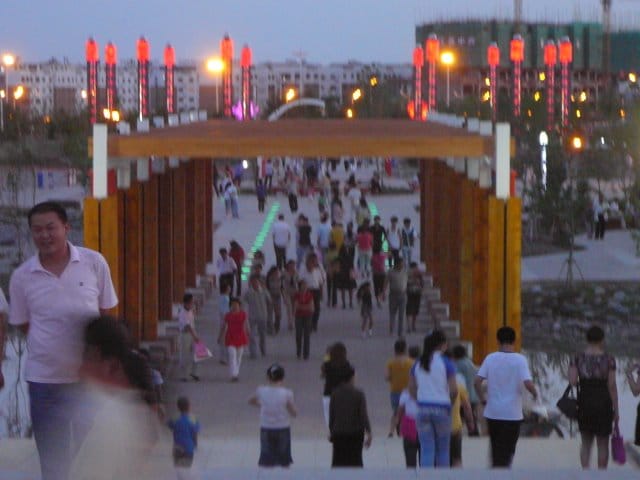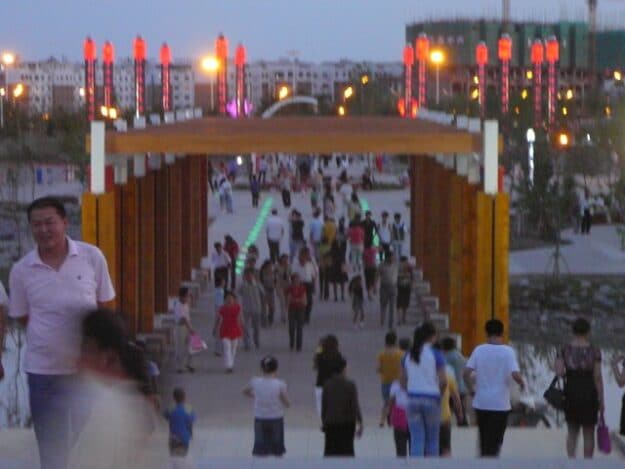 In our small town of Karamay (pop. about 100,000 with an area of no more than 5 sq miles) we have numerous parks ranging from a long walking street where no cars or bikes are allowed to a people's park (a central square) to small neighborhood parks.
Back in 2008, though, the city unveiled an absolutely gorgeous public park.
There is no doubt that it cost the government here a couple million US dollars to build it and everybody is quite proud of it. It is about 1 sq. km in size (which is a large portion of our land here) and even though you can't ride your bike around there's plenty to keep you entertained as you're walking around.
What to Do at a Chinese Public Park
Here's some of the things that you'll find at our new park, named 世纪公园 or "Century Park":
A man-made hill that gives you a good view of the city to the north, the desert to the south, and the sunrise in the east (the sun sets over the city and thus isn't quite as spectacular).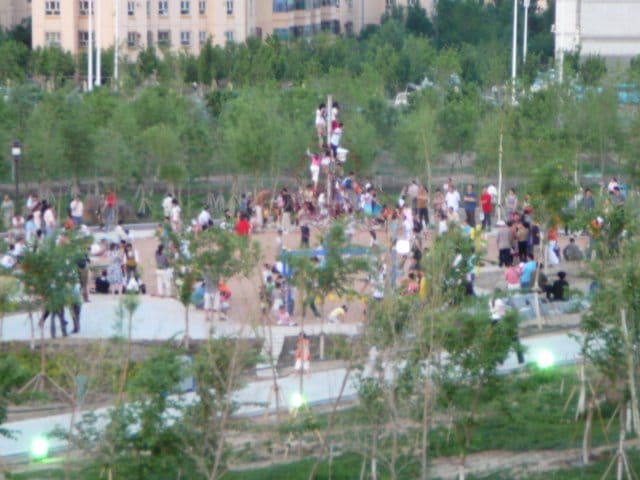 Water everywhere – obviously we love to see water here in the desert! A stream (man-made) runs through the park into a small lake with an island and is diverted to different places within the park including a a couple waterfalls. Pumps bring this water to the top of the hill, back to the stream source and to a couple other places throughout the park.
A large kids play area (see picture on right) which includes a couple large sand "boxes", playgrounds galore, a skate park that would make Tony Hawk jealous, and plenty of area to run around.
Beautiful bridges, lighted pathways, electric trees that light up different colors at night, clean public bathrooms, pavilions to play Majong or cards, and even a place where movies are projected onto a wall of water!
You can even take a night cruise on the man-made river!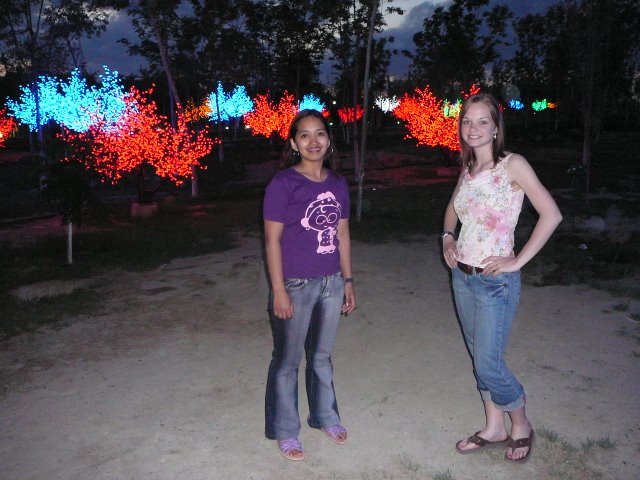 No doubt we have good parks in America with lakes and paths and playgrounds, but in my experience they are used by only a small portion of people. Here in China, seeing as there's not much else to do, the parks are full of people after 7pm when the weather has cooled.
The time we visited in the video above there were at least 250 kids in the play area (not including their parents or guardians), every pavilion was full of people playing music or games, the benches were mostly taken and there were hundreds of people walking everywhere. And that was a weekday!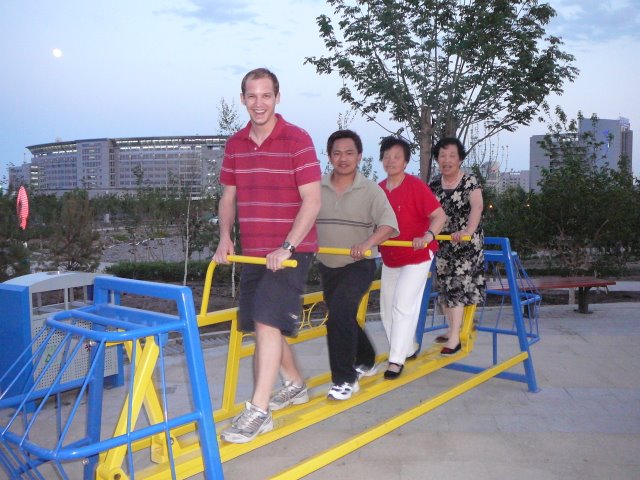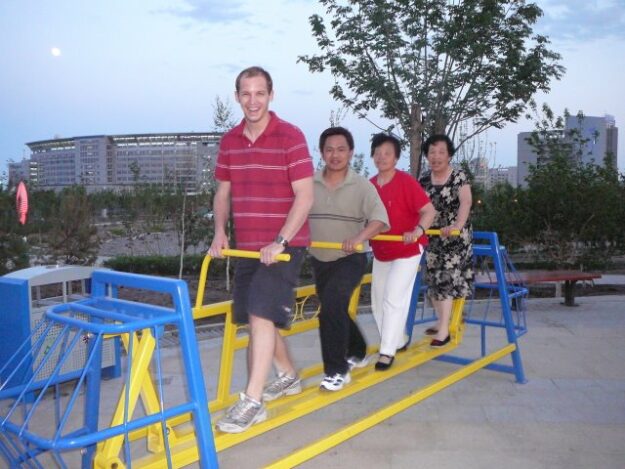 We've also been there on special occasions, such as the earthquake candlelight vigil and there are literally thousands of people that can pack into the large spaces in this park.
To an American mind so many people in the park might feel uncomfortable, but I think that's the difference. To an American a park is a place to exercise, to release some of your kid's extra energy, or to just get away while for the Chinese a park is a chance to socialize and one of the few places to relax with friends and family. It's a very foreign concept to us but I think it's beginning to grow on us.