"[Residents have] hailed the strategic plans that help bring prosperity to their hometown." Xinhua
"Xinjiang should fulfill the goal of building a moderately prosperous society in all aspects by 2020…" China Daily
"The government is trying hard to reduce regional income disparities…" Shanghai economist in Business Week.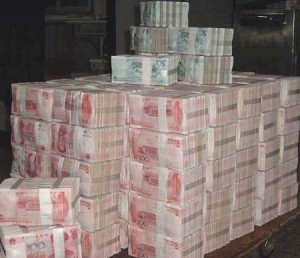 News about Xinjiang's new development plan dominated the China news cycle last Friday, covering the front pages of many major China newspapers.  The package was unveiled after a three-day conference in Beijing attended by President Hu Jintao and the new Xinjiang Party Secretary Zhang Chunxian.
The goal of this package? Raise Xinjiang's GDP per capita, currently ranked 21st in the country, to the national average by 2015.
Xinjiang GDP per capita:      19,798 RMB
China Avg GDP per capita:  25,125 RMB
How are they going to do this? Apparently they're going to utilize massive investment coupled with new tax policies.
Investment in Xinjiang 2009:    214 billion RMB
Projected Investment  '11-'15:    2 trillion RMB
Where is all this money coming from? Some of it is being funneled from other provinces while my guess is that a good portion will come from a new 5% resource tax on oil and gas in the Xinjiang.
How will this affect the average Xinjiang citizen? This, I believe, is the crucial question.  I received an email from a reader named Bruce last week who admonished me for using "macro" thinking to describe a problem that takes place on a micro level.
Posing questions in macro terms, e.g., "How did this affect Xinjiang economically?" is something the Chinese media likes to do because it puts the focus on something abstract — the Xinjiang economy — and takes our eyes off the people behind the statistics.  I would argue that the Han (who are concentrated in Urumqi) definitely suffered economically, but many non-Han throughout Xinjiang who were already at or below the poverty line suffered far worse.
From what I can gather, most of the investment will be passed along to local governments, transportation initiatives,  and regional businesses, primarily those involved in mineral and oil extraction.
Now I want to begin my criticism by saying that I'm glad the government is focused on Xinjiang right now and I admit that it would be virtually impossible for any governing body to come up with a perfect plan.  That said, I think they're approaching the problem like some men approach a bad marriage: throw enough jewelry/money at her and hope that the problem will just magically go away.
A lot of this investment may never reach the poorer Han, and definitely not the non-Han because employment for them in Xinjiang is an uphill battle.  I focused on this difficulty in my review of the book Under the Heel of the Dragon, where Kaltman shows that the employment disparity has a lot to do with language barriers and language barriers are a result of the education system.
Why not take even a portion of this investment and direct it toward schools that from my experience need an upgrade.  Why not invest in a program that offers incentives to grab more bi-lingual minority teachers?  I believe it would benefit a lot of Xinjiang people if they invested in centers that offer free Mandarin courses for non-native speakers.
The government has addressed some of these issues before, but I believe that if they're really hoping to ease ethnic tension the investment focus should be toward the next generation.
Will this investment scheme work? When it comes to the Chinese government, I've learned not to underestimate their resolve.  I have no doubt Xinjiang's GDP will reach the projected goal by 2015, but I don't think this will properly reflect what is happening on an individual level.
So 10 years from now, will we look back on this investment package as a turning point for Xinjiang?