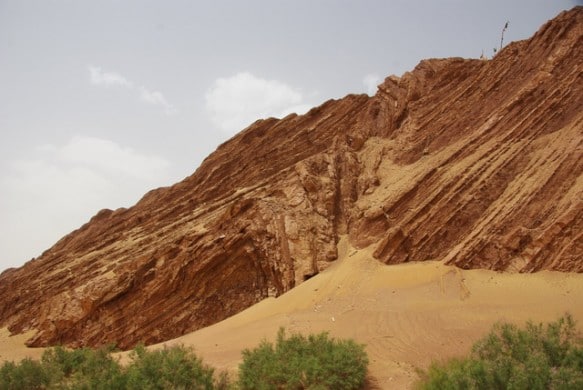 Khotan's Mazar Tagh by Mitchell van Grieken
This gorgeous photo displays one of the lesser-known historical Xinjiang sites found on this map in the middle of the Taklamakan. A description from the photographer:
Mazar Tagh (Cemetery Mountain) is in the middle of the Taklamakan Desert, about halfway along the Hotan cross-desert highway, then west across the Hotan River. However Kurban at Hotan CITS had to organize a 4WD along the old road to the west of the swollen river on a very hot day. I came across it while procrastinating on Google Maps; I find Xinjiang amazing because there are such extremes in topography caused by the convergence of the Indian and Asian tectonic plates. I really loved going there because it's such a contrast to the tropical rain forests of north-eastern Australia that I'm used to. There's an old Buddhist fort and a slightly more recent Muslim grave atop the mountain guarded by a family who enjoys swimming and fresh, clean groundwater.
More details from the ever-helpful website on all things southern Xinjiang, Central Asia Traveler, who quotes Christoph Baumer:
About 180 km north of Hotan, a [200-m high] mountain range with a reddish hue rises up from the desert plain. … On a rocky ledge about 150 m high, the well-preserved Mazar Tagh fort proudly looks down on the [Hotan] River and watches over the former trade route. The position of the fort was almost impregnable. … Within the wall and at 60 cm intervals a layer of tamarisk and poplar wood separated the rough clay courses from one another, lending additional stability to the construction in an extremely dry climate. … Below the fort thin poplar poles project from the sand.  … Here was the Buddhist temple. … The tower is certainly the most ancient structure and could date from the third or fourth century [C.E.] … The Tibetan conquest of Mazar Tagh must have occurred in 790 or 791. … The Tibetans reconstructed the fort and extended it. … [Mazar Tagh was abandoned] when [the Tibetans] lost control of the Tarim Basin around 850.
– – – – – – – – – – – – – – – – – – –
If you are interested in contributing a photo to FarWestChina's Picture of the Week series, please contact me and send in your Xinjiang-related photo. All photos must be originals and will be credited to you and/or your personal website.