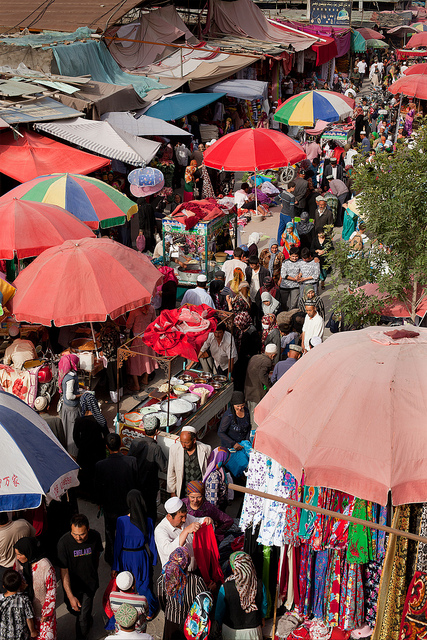 Sunday Market Business by Michael Moss
The Hotan Sunday market rivals the Kashgar market nowadays as being the largest and the best place to step back in time. Among the most popular sights are the colorful silks, incredible carpets, and, of course, the livestock bazaar.
It might interest you to note that as of later this year Khotan will become even more accessible to the modern traveler thanks to a new rail line from Kashgar that has recently been completed. The 488km line won't be faster than a Xinjiang bus but likely more comfortable. Trains should be in service by the beginning of tourist season 2011.
– – – – – – – – – – – – – – – – – – –
If you are interested in contributing a photo to FarWestChina's Picture of the Week series, please contact me and send in your Xinjiang-related photo. All photos must be originals and will be credited to you and/or your personal website.