What is a Yurt and How Can I Stay in One?
March 20, 2012
10 Comments
What is a yurt? If you're traveling to Xinjiang (China), Mongolia, Kazakhstan or any other Central Asian country, it's more than likely that you're going to run into one of them.
Technically, a yurt is a portable housing structure constructed with a wooden frame and wool covering. They are traditionally used by Turkic nomads who make their living herding sheep in the rich grasslands.
For the majority of us, however, a yurt is something completely different. A yurt is an experience. It is a replacement for a hotel and a glimpse into another culture.
Simply put, a yurt is an adventure.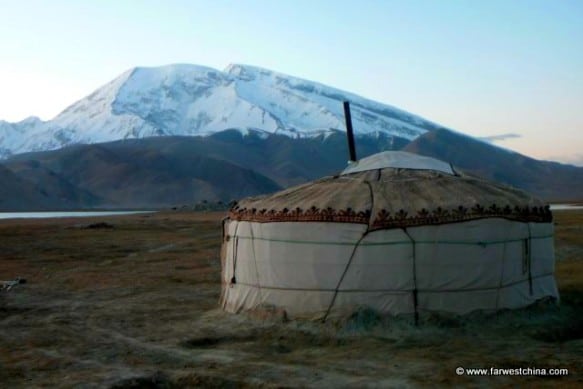 My wife and I stayed in the yurt you see above along the Karakul Lake in Xinjiang, China. We could have opted for a small building that barely passed as a "hotel" or perhaps brought our tent, but we decided to experience a yurt.
I'm so glad we did.
The Making of a Yurt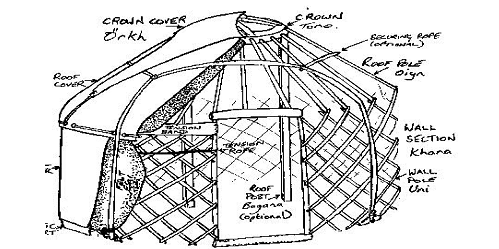 From the outside, the outer wool skin hides the inner workings of a yurt. When I first stepped inside I thought it all looked quite complicated, but I was told by the owner that it only takes about 2-3 hours to set up and tear down.
It all begins with a circular, wooden frame that is usually constructed as a lattice wall and meets at the frame of a door. The roof runs from the tops of this lattice to the center where they support the crown of the structure.
To complete the process, several layers of wool are laid across the entire frame and tied down with rope. The end result, as I found out one cold October night, is surprisingly warm!
Inside a Yurt
The floor of our yurt was covered with carpets with only a few bare patches of dirt. Large blankets were stacked on one side of the yurt while a makeshift "kitchen" occupied the opposite wall.
"Where are the beds?" was the first naive question that I asked our host. It wasn't till later that evening that I realized that all those large blankets would be laid out into what would become an incredibly comfortable bed.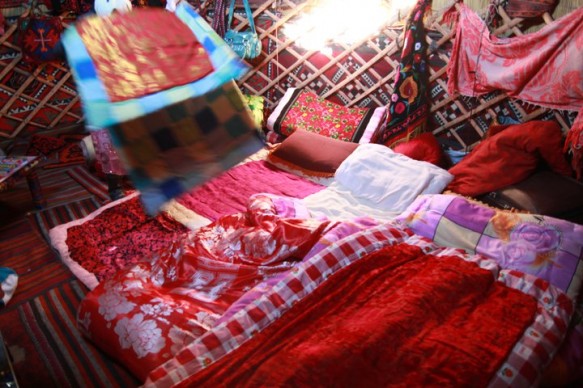 "Inside a Yurt" by FWC Facebook fan Candy Leow
As I slept through the night snug next to my wife, it was interesting to imagine that explorers like Sven Hedin had slept in similar accommodations when he was making his historic journey along the Silk Road.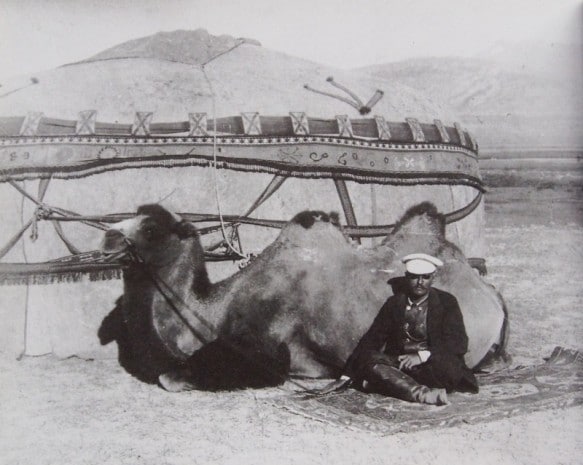 How to Stay in a Yurt
The best part about staying in a yurt is that it's more than just a place to sleep. Our host was a husband and wife who spent time talking with us and hanging out. The wife cooked us great Kirghiz meals while the husband – ever the businessman – attempted to sell us carpets and camel rides.
The whole trip began with a local travel guide who connected us with his friends who rented out their yurt. We came to an agreement of 50 RMB per person (we had 4) which included one of the meals.
On other trips, such as one to Salimu Lake, "tourist yurts" were lined up along the shore and rented out hostel-style.
In Xinjiang, there are three primary places to experience a yurt:
Be warned: the yurts that you find at Urumqi's Heavenly Lake are mostly tourist traps. Perhaps you might consider all of them tourist traps, but the closer you get to the western border of Xinjiang, the more authentic they are.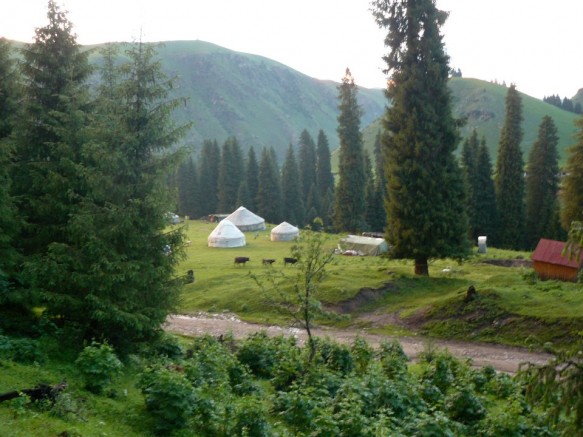 Yurts at Salimu Lake by FWC Facebook Fan Madelein Ghozzi
More Resources
Have you stayed in a yurt? What advice would you give?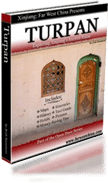 Like what you read?
If so, join over 1,000 others who receive exclusive updates on Xinjiang, plus get a FREE copy of the Turpan Travel Guide! Sign up here: