This is Why I Don't Do Tightrope [Video]
March 24, 2010
2 Comments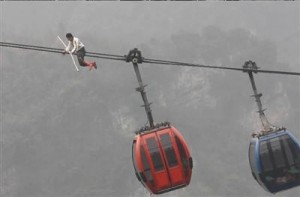 Chances are you missed some interesting news about a tightrope competition in China's Hunan province last weekend. The two competitors, Xinjiang's famous Saimaiti (赛买提) and the Swiss Freddy Nock, raced to see who could walk the entire Tianmen Shan cableway (天门山) the fastest. Unfortunately, speed proved to be Saimaiti's downfall, who helped me determine once-and-for-all that I will never try tightrope walking.
You'll cringe when you see what happens when at about the :20 sec mark Saimaiti begins to jog across the rope:
Video available on Vimeo and YouTube
You can hear all the male spectators groan when he falls. I know I did. Chinese news articles claim that Saimaiti only injured his leg, but I have a feeling he'll be sore in a couple other places come tomorrow morning.
If you watched the entire video you'll notice that neither competitor completed the stunt. Nock, the Swiss, was forced to quit after his shoes got covered in a very slippery oil from the cable car joint.
In Xinjiang, tightrope walking (called "Darwaz" or 达瓦孜) is an ancient past time that still holds cultural value for the Uyghurs despite its waning popularity. Of the few tightrope walkers still around, Saimaiti is probably the most famous, well-known for antics such as standing on his head, hanging upside-down, or (as in this video) doing the splits on the rope.
Sources:
h/t NTDTV: Tightrope Champions Fail Competition in China
163.com (Chinese): 中瑞"高空王子"天门山对决(组图)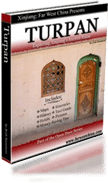 Like what you read?
If so, join over 1,000 others who receive exclusive updates on Xinjiang, plus get a FREE copy of the Turpan Travel Guide! Sign up here: