Maitian Youth Hostel – Urumqi, Xinjiang
乌鲁木齐麦田国际青年旅馆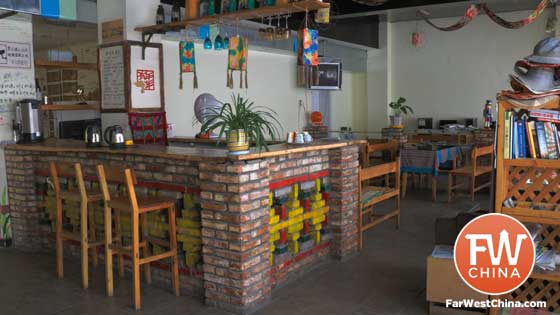 Chinese Name: 乌鲁木齐麦田国际青年旅馆 (wūlǔmùqí màitián guójì qīngnián lǚguǎn)
Address: 726 YouHao South Road
Phone: 0991-4591488
Directions: Take the BRT bus 1 or 2 to the "HongShan 红山" stop or a taxi to the Youhao Parkson Mall (友好百盛 yǒuhǎo bǎishèng). It's located in a small alley south of the Parkson. It's tucked away pretty good, but you can see the sign from the sidewalk (see picture below)
Location
The Maitian International Youth Hostel is one of only a couple hostels in Xinjiang's capital city of Urumqi. It's not the easiest to find (see map below) but of the few hostel options in the city it boasts one of the best locations.
Walking out the door of the Maitian hostel you're within walking distance of Hong Shan Park (where you can get great pictures of the city), less than 30 meters from Parkson's (where you can stock up on food at the basement grocery store) and about 100 meters from bus stops that will take you virtually anywhere in the city.
Across YouHao Street is People's Park where you can grab a tour bus to Heavenly Lake, Turpan, NanShan or pretty much any other tourist spot in Xinjiang. Like I said, of all the hostels this one most certainly has the best location. There's a bar street also across the street where you'll find Fubar, a once foreign-owned establishment that still serves a good selection of drinks.
Atmosphere
Unfortunately, hostels in Urumqi just don't stack up compared to those throughout the rest of China. They're not as trendy and clean and it's hit or miss as to whether the staff actually speak English. Maitian is no different. The lady I met couldn't speak a lick of English.
Maitian has a nice common area with comfortable seating and plenty of light coming in from the windows. They offer free wi-fi for guests as well as computers that you can rent time on if you don't have your own.
I wouldn't count on excellent food options here. If you want local food you should probably head out to a local Uyghur restaurant. If you want international food there's a section at the nearby Parkson's; nearby fast food options include KFC and Burger King.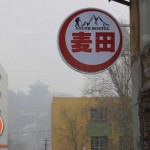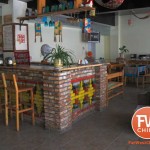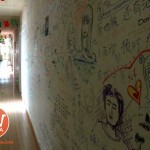 Room Options
Maitian offers private and dorm rooms for reasonable prices that change based on the season (for current rates and availability, click here). What I loved about Maitian was that each room – including the dorm rooms – had their own bathroom with individual showers and water heaters.
What I didn't like about Maitian is that there are no personal lockers. They offer to hold your luggage in a locked room but if you stay in hostels often you know that a locker is very useful.
Additional Maitian Info
Click here to check rates at the MaiTian Youth Hostel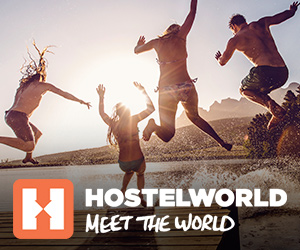 More Cheap Lodging in Urumqi



Cleaner hostel but located by the airport.




A better location but not as clean.




Center of town; one of the cheapest hotels.
Additional Xinjiang Travel Info
About Urumqi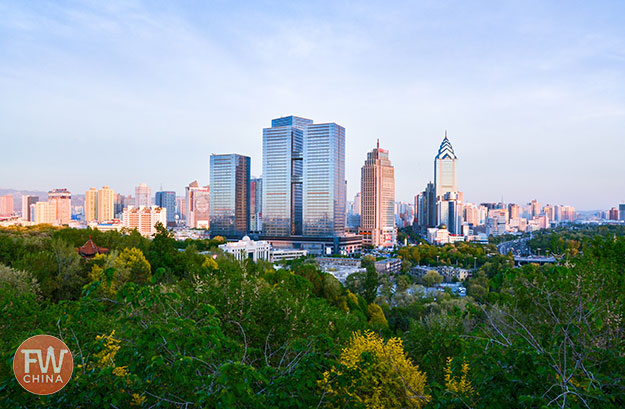 Urumqi, capital of China's largest and most western province of Xinjiang, is located in a pass along the TianShan mountains. Ethnically the city is divided almost in half, with most Uyghur residing in the south while Han continue to build up the north. The Sheraton Urumqi is situated in the middle, mostly in the Han part of the city but quite close anything worth seeing in the city.
From Urumqi you'll have access to the Urumqi International Airport, a train station that can bring you most anywhere in the province, and plenty of tourist agencies to help you in between. If you're planning to spend a few days here, you might want to dig deeper with the FarWestChina Urumqi City Guide.