Turpan Hotel – Turpan, Xinjiang
吐鲁番宾馆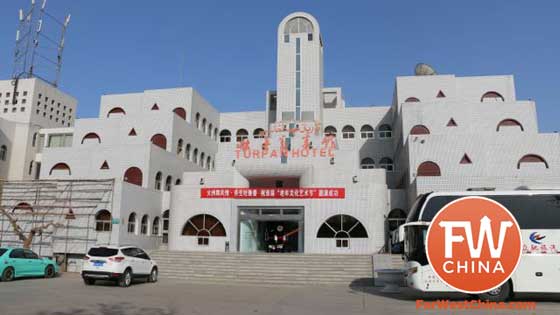 Chinese Name: 吐鲁番宾馆 (Tǔlǔfān bīnguǎn)
Address: 1695 Qingnian South Road
Phone: 0995-856-8888 or email

[email protected]

Directions: This hotel is on Qingnian road, better recognized as the grape trellis street. The hotel is on the east side of the road on the southern-most portion of grape-covered road.
Location
The Turpan Hotel is located down a quiet alley tucked away in the southern portion of the city. It's a bit of a walking distance from many of the tourist attractions around town, including the Uyghur bazaar and the Turpan Museum, but overall it offers a nice atmosphere.
Although it's far from many local restaurants, one thing the Turpan Hotel does have is John's Cafe, a place dedicated to travelers that opens between June and October. Here they sell both local food and western options, although the quality leaves much to be desired.
Atmosphere
Despite the passage of time, the Turpan Hotel remains just as it has been for years – old and run down. That's not to say it's a bad place to stay, but don't expect any amount of luxury here.
There used to be a swimming pool on the hotel grounds, but that has been left in disrepair.
The hotel lobby is nicely decorated and the street outside the hotel grounds is beautiful to walk in the summer evenings. Overall I would say that the Turpan hotel offers a peaceful atmosphere at a good price despite its need for renovation.
Room Options
The great thing about the Turpan Hotel is that it offers not only standard rooms and suites, but also some dorms out back near John's Cafe. In total there are 187 standard rooms, 5 suites, 12 triple rooms and 15 dormitories to choose from.
If you're looking for moderately comfortable, quiet and cheap, you'll probably enjoy the Turpan Hotel.
More Lodging Options in Turpan



A unique boutique hotel in Turpan.




The only youth hostel in Turpan.




One of the best & cheapest hotel options.
Additional Xinjiang Travel Info
About Turpan
Turpan has long been a favorite destination for travelers along the Silk Road because of the many well-preserved ancient cities and Buddhist caves. It is also conveniently located only a couple hours south of Urumqi, the provincial capital.
Turpan is still one of the few cities in Xinjiang that retains the feel of being a "Uyghur town", at least in the southern and western portions of the city. The bazaar, homes, mosques and streets are picturesque for those seeking a glimpse back in time.
From Turpan you have access to an airport, a train station and buses that can take you back to Urumqi. If you're planning to spend a few days here, you might want to dig deeper with the FarWestChina Turpan City Guide.
Worth Seeing in Turpan



Set high on a plateau, this ancient city is one of the best-preserved cities on the Silk Road.




A living museum of Uyghur history and livelihood.




The graveyard of Turpan's ancient kings and khojas.