Turpan Silk Road Lodges (The Vines) – Turpan, Xinjiang
吐鲁番市丝绸之路公寓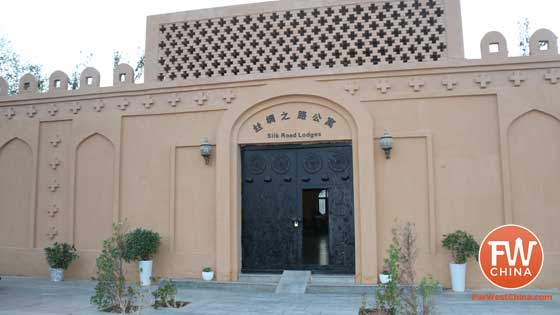 Chinese Name: 吐鲁番市丝绸之路公寓 (Tǔlǔfānshì sīchóuzhīlù gōngyù)
Address: Munar Road, Turpan
Phone: 0995-856-8333 or 136-3997-6886
Directions: Following the signs to Emin Minaret, the Silk Road Lodge is on the east side of Munar Road just before you get to the entrance to Emin Minaret. You'll only see a sign as you need to drive in to get to the actual lodge.
Location
When it comes to location, the Turpan Silk Road Lodge is incredibly unique. Nestled within a beautiful grape orchard 2 kilometers east of the Turpan city center, this lodge easily has the most beautiful scenery of any hotel in Turpan – and possibly all of Xinjiang.
Being so far from the city center allows for peaceful enjoyment of everything Turpan and the Uyghur culture has to offer, although you do sacrifice the ability to quickly get to places around the city, including the bustling Uyghur market or the Turpan Museum. That's not a big deal, however, as these places are just a few minutes away by taxi.
Another excellent benefit of this location is how near it is to the Emin Minaret. You can actually see the minaret from the balcony and if you want you could walk there in just a few minutes. Watching the sun set over this iconic Turpan monument is unforgettable.
Atmosphere
As one of the few luxury lodging options in all of Xinjiang, the Turpan Silk Road Lodge offers what I believe is the most relaxing atmosphere you could imagine. It's quiet, comfortable and full of amenities.
Before I get to the amenities, let me first explain the physical atmosphere. The lodge is built to match the local mud-brick architecture on the outside with a modern interior. There are plenty of places to walk around and enjoy the outdoors, including both a garden in the back and a balcony on either side of the roof.
There's plenty of great seating, including Lazy-Boy type chairs in the dining room, swings on the roof and plush chairs in the common area. Obviously all of this was designed to allow you to get away from the city without denying yourself the luxury of a 5-star experience. You won't be disappointed.
Additional amenities include private car pickup (within Turpan for free, from Urumqi or from the Turpan train station for a fee), the use of a local cell phone during your stay and help arranging tours anywhere you want to go.
Room Options
If you expect comfort when you travel, you will certainly enjoy the Turpan Silk Road Lodge more than any other option in Turpan. Each one of the air-conditioned room is equipped with a comfortable bed, ample space, a desk, free wi-fi, a coffee-maker and much more. Frankly, I think the Lodge blows away the Xinjiang standard for comfort.
The bathrooms are beautiful and clean, complete with western toilets, hair dryers, etc. You'll easily forget that you're in the middle of nowhere on the ancient Silk Road!
In addition to the beautiful rooms, you have access to a comfortable dining area where breakfast is served daily as well as what they describe as "Uyghur/Chinese fusion meals" for lunch/dinner. A selection of fine Xinjiang wines is available to try which, since you're in the middle of a vineyard, might not be a bad idea! A TV is available to watch (but why!?) and a small selection of books to read. There's really no need to go into the city except for tours or to grab a local meal.
–>View Rates and Availability at the Turpan Silk Road Lodge<–
Additional Silk Road Lodge Info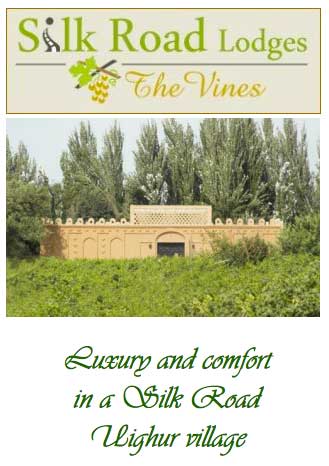 More Lodging in Turpan



One of the cheapest hotel options.




The only youth hostel in Turpan.




An older but cheap option south of town.
Additional Xinjiang Travel Info
About Turpan
Turpan has long been a favorite destination for travelers along the Silk Road because of the many well-preserved ancient cities and Buddhist caves. It is also conveniently located only a couple hours south of Urumqi, the provincial capital.
Turpan is still one of the few cities in Xinjiang that retains the feel of being a "Uyghur town", at least in the southern and western portions of the city. The bazaar, homes, mosques and streets are picturesque for those seeking a glimpse back in time.
From Turpan you have access to an airport, a train station and buses that can take you back to Urumqi. If you're planning to spend a few days here, you might want to dig deeper with the FarWestChina Turpan City Guide.
Worth Seeing in Turpan



Set high on a plateau, this ancient city is one of the best-preserved cities on the Silk Road.




A living museum of Uyghur history and livelihood.




The graveyard of Turpan's ancient kings and khojas.