Tuyoq Village (Chinese: 吐峪沟 tǔyùgōu) is one of my favorite destinations in Xinjiang's Silk Road oasis known as Turpan. Although it's slowly being built up as a tourist stop, for now the ancient Uyghur village still feels like an opportunity to step back in time and see how life used to be lived in Central Asia. If you're planning a visit, you'll really enjoy this Tuyoq traveler's guide.
The city of Turpan has always been one of my favorite places in all of Xinjiang. It's relatively small, it still feels predominantly Uyghur, and it holds the key to much of the region's history.
Turpan (also known as "Turfan" or "Tulufan") boasts only about 300,000 residents and is located in what has to be one of the hottest depressions in all the world. For those who have visited Turpan in July or August, you're nodding your head right now in agreement with me. It's cook-a-burger-on-the-sidewalk hot!
It's also quite close to Urumqi, the capital of the Xinjiang province. So close, in fact, that you could take a high speed train from Urumqi to Turpan in less than an hour! One of the big draws of this Silk Road city is that much of the tourist sites are all relatively close and easy to see in a 1-2 day time.
There are plenty of amazing places to visit in Turpan, including the Jiaohe Ancient Ruins, the Gaochang ruins, the Grape Valley and more. All of these are discussed in detail in the FarWestChina Xinjiang Travel Guide Book.
Still, one of my favorite places is Turpan's Tuyoq Valley, which is where we'll be today.
Introduction to Turpan's Tuyoq Valley
The Tuyok Valley (Chinese: 吐峪沟 Tŭyùgōu) is not part of most of the 1-day itineraries you'll see with any travel agency, so at first we were skeptical when it was suggested we check it out.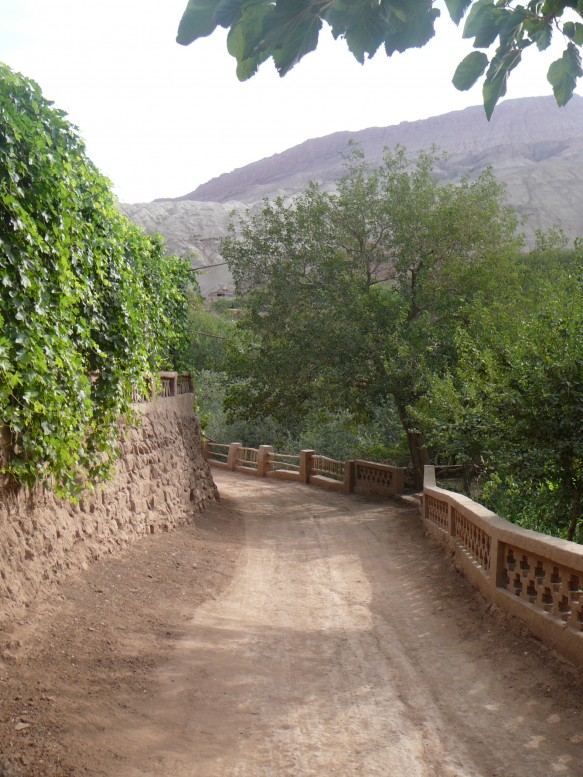 Hidden in a small valley between an extension of the Flaming Mountains, this gorgeous Turpan gem is surprisingly unknown to most travelers.
Tuyoq Valley is a living museum of Uyghur history and a representation of the region's glorious mixture of dry and fertile landscape.
Within a pleasant walking distance you can find:
Uyghur folk homes: Experience mud-brick Uyghur homes in all their glory.
An old Uyghur cemetery: The cemetery is located near the entrance to the village, complete with above-ground caskets.
A Mazar: Although off-limits to enter for foreigners, it's interesting to see this Uyghur pilgrimage site.
A grape valley: During the summer months, this valley is lush green!
Ancient Buddhist caves: These caves were rediscovered by foreign explorers in Xinjiang in 1905. Unfortunately, they're off-limits for tourists.
The locals are pleasant and at every turn in the road we found ourselves pulling out the camera for one more picture.
Living Uyghur History
Because we had hired our own driver (as opposed to joining a tour group), my wife and I were the only tourist in the valley during our visit. We had the entire place to ourselves as we stepped along the dirt paths and peeked through any and all open doors.
The most odd feeling during the visit was the change in attitude toward us as foreigners. In Tuyoq, where tourist are normal, if not annoying, nobody seemed to care that we were white. In fact, most of the locals flat out ignored our presence.
I didn't mind. The truth is, it actually gave us the feeling that we had walked back in time and were exploring all of the ancient cities like Jiaohe and Gaochang back when they were inhabited. Children played in the stream, men gathered grapes to be hung to dry and the women took on the never-ending job of beating the dust out of the rugs.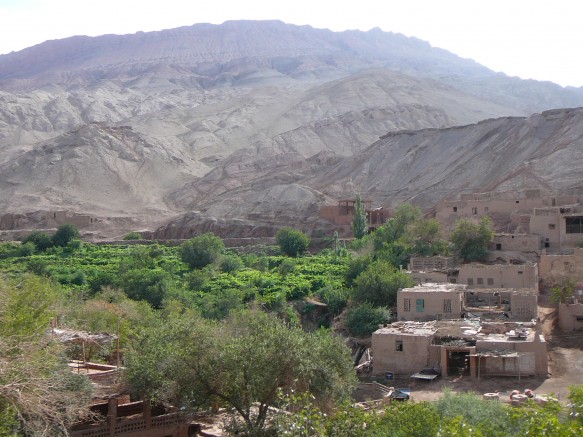 Tuyoq City Layout
The layout of Tuyoq is fairly simple, mostly because it's just so small. The tourist entrance is to the southwest of the valley and requires a short hike down across the river to the heart of the city.
It's here in the heart that you'll find one of the most recognizable buildings in the valley: the mosque. The four minarets shooting toward the sky can be seen from almost anywhere in the town and can help you get re-oriented if you feel lost.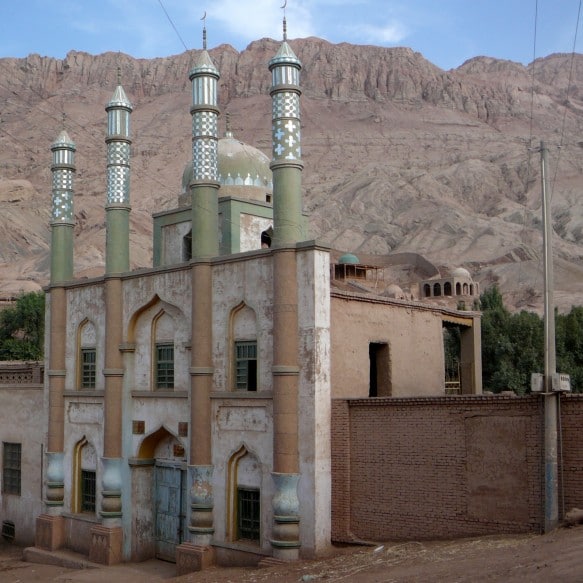 To the north of the mosque is the grape fields and even further is where the ancient Buddhist caves are. As hard as I've tried over the years, I've never been able to see inside these caves – it seems that they are off-limits for travelers.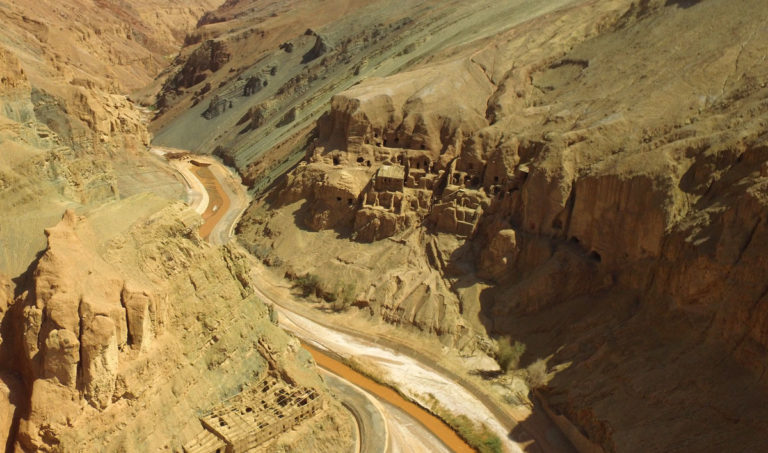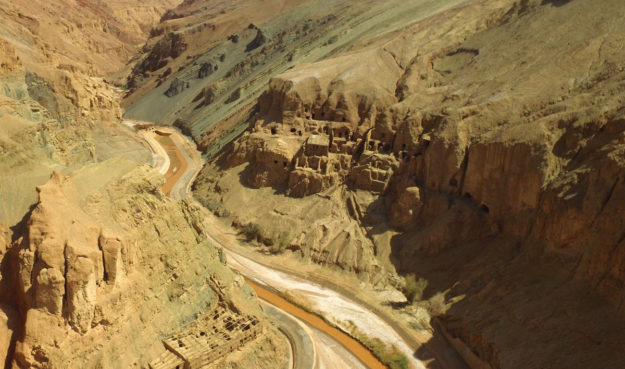 The further south you go on the path the more you'll run across the brick buildings used to dry all the grapes (see an example of one in the picture below).
Tuyoq is actually famous all over China for it's oval-shaped seedless grapes as well as the raisins that are produced in these drying buildings.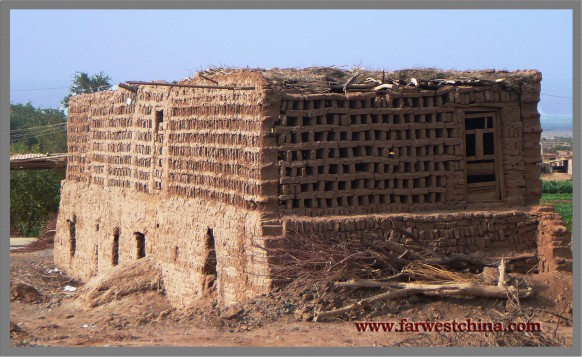 Finally, to the west of the town is the mazar situated atop the hill. Officially called the Hojamu Tomb, Uyghur legend has it that five pious Muslims (and one convert) lived in Tuyoq to preach the faith.
Their memory is honored by the fact that any Uyghur wishing to make a pilgrimage to Mecca must stop here first.
Visit Tuyoq Valley | Travel Tips
Because Tuyoq is a good 70km to the east of Turpan and not extensively written about in major China travel guides, the following tips should be helpful as you plan your visit:
Entrance Fee: It costs 70RMB to enter Tuyoq village.
Transportation: While there are tour groups that include Tuyoq on their itinerary, I recommend grabbing a few friends and renting a taxi for the day. Work it in with other sites to the east of Turpan, including Gaochang and the Beziklik Caves.
Other Tips: Wear some good shoes for hiking as the paths aren't paved for tourists (yet). I would also recommend some water (which is true for pretty much any Turpan tour) because it does get hot. Visiting in the morning or late afternoon is best if possible.
Turpan Tuyoq Valley Map
Below is a rough map of Tuyoq Valley in Turpan. It shows where you enter and the primary paths you can follow. Feel free to wander and climb, though! That's part of what makes Tuyoq so fun to visit.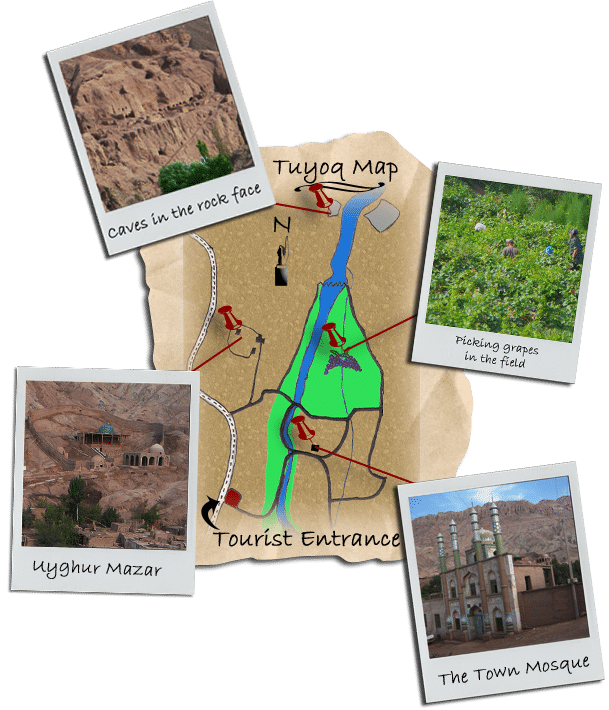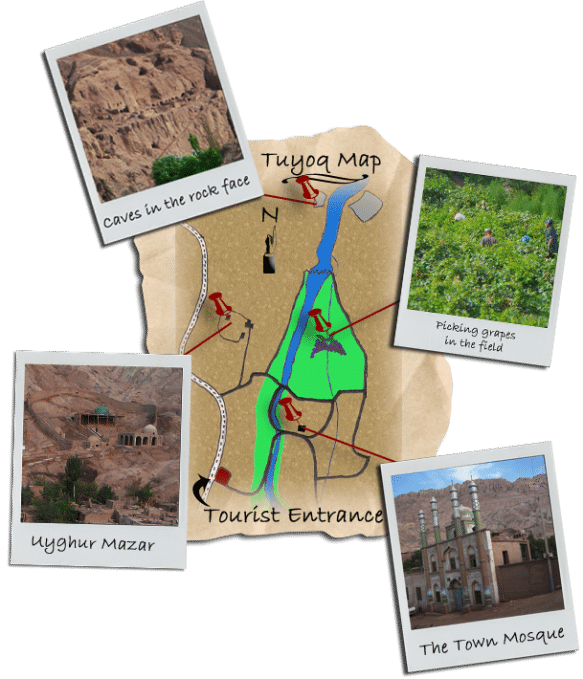 Traveling to Turpan, Xinjiang?
If you plan on traveling to Tuyoq, Turpan, or pretty much anywhere in Xinjiang, make sure you purchase a copy of the FarWestChina Xinjiang Travel Guide.
This is the most up-to-date book available that includes hundreds of pages of tips and recommendations. It's available both in paperback and on Kindle.
Safe travels and enjoy your time in Turpan!