Are you looking to get a Chinese driver's license? The truth is that China is one of those places where a "definitive guide" is impossible – your experience is always going to be slightly different than mine. That said, perhaps hearing about how I obtained a Chinese driver's license will help you understand what to expect and what to do. So…I hope it helps!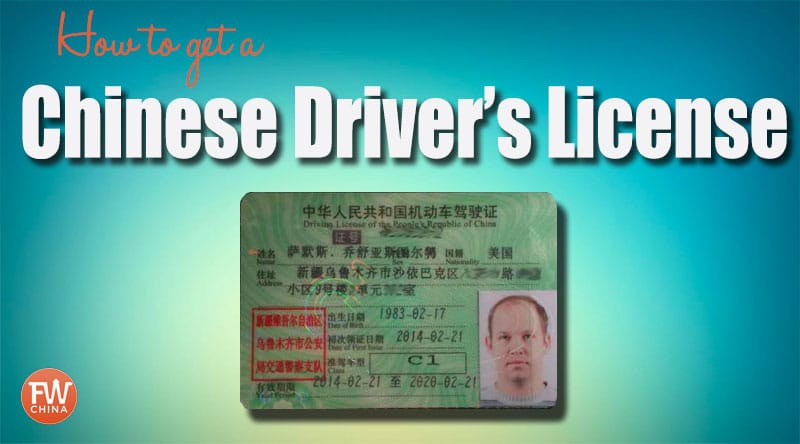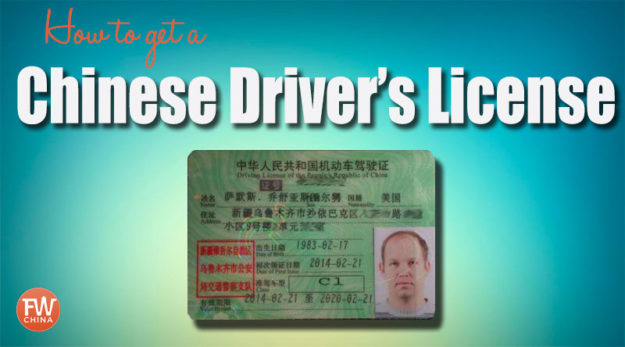 By this point, you probably already know that China does not accept any foreign driver's license or even the International Driver's Permit – basically anything other than the Chinese driver's license.
If you're looking to drive any sort of vehicle in China – even a motorcycle, you're going to need a Chinese driver's license.
What I'd like to do is walk you through the not-so-simple process that I was required to do to obtain my driver's license in China. I've heard that the process is much easier in expat-friendly places such as Beijing or Shanghai, but I can't be certain.
Let's first discuss why I even wanted a Chinese driver's license in the first place before we go step-by-step through the application process.
Why Get a China Driver's License?
Until recently, I had sworn off the idea of getting a Chinese driver's license. I mean, who in their right mind would want to drive in China?
Test your skills on this 10-question example driver's test…
Back in 2009 I had tested for and received my Chinese motorcycle license, but that was a different situation. I was living in the small town of Karamay at the time, a city whose definition of a "traffic jam" was two cars pulled over on the side of the road.
Here in the Xinjiang capital of Urumqi, however, things are quite different. I read somewhere that Urumqi (乌鲁木齐) has about 700,000 private cars, a number that is growing at an alarming rate each year.
So why get a driver's license? Truth is I have no desire to drive here within the Urumqi city limits. I'm perfectly content taking a taxi or bus wherever I need to go. My desire is to have the option to rent a car (or buy a 2nd-hand car) for the purpose of travel around Xinjiang.
How awesome to not be bound by a tour group or the time constraints of a private driver?
Step 1: Finding the Chinese DMV
All it took was one and a half hours on a bus to the Urumqi Department of Motor Vehicles (DMV) to remind me why I wanted to get a China driver's license in the first place.
The Urumqi DMV, known as the 车管所 (chē guǎn suǒ) in Chinese, was inconveniently built as far south outside Urumqi as possible. You'll probably find the same to be true in almost any Chinese city.
The only indication that my bus was nearing its destination was the sight of numerous white cars whose markings boldly pronounced "driver-in-training".
My butt hurt from the hard bus seat and my feet were frozen by a lack of heating. Like I said, a car was looking like an excellent option right about now.
Slowly a complex of buildings emerged from behind some trees and the bus dropped me off. I was on my own to figure out where to go from here.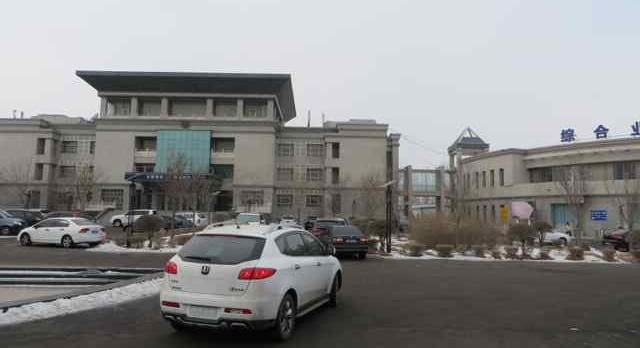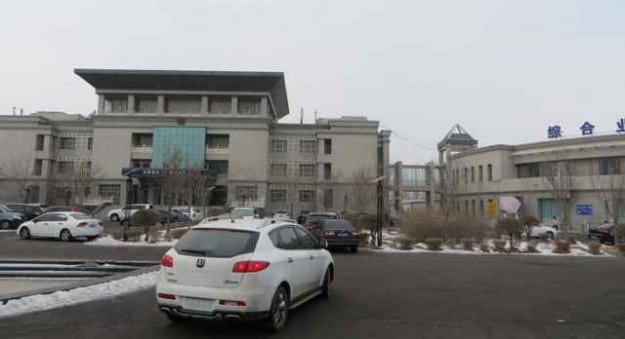 The process of obtaining a Chinese driver's license took me a week to complete (3 trips total) at a cost of around 600RMB (US$100), something I'll detail more below.
If it weren't for one short sentence in the Chinese rulebook, though, it would have taken several months and thousands of RMB.
Chinese law states that a foreigner who has a current (i.e. not expired) foreign driver's license may apply for a Chinese driver's license after passing only the written test. No driving test required.
A test sounds simple, right? Not quite.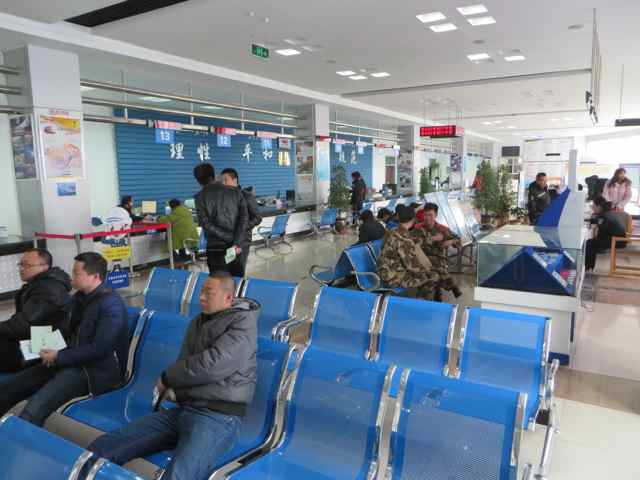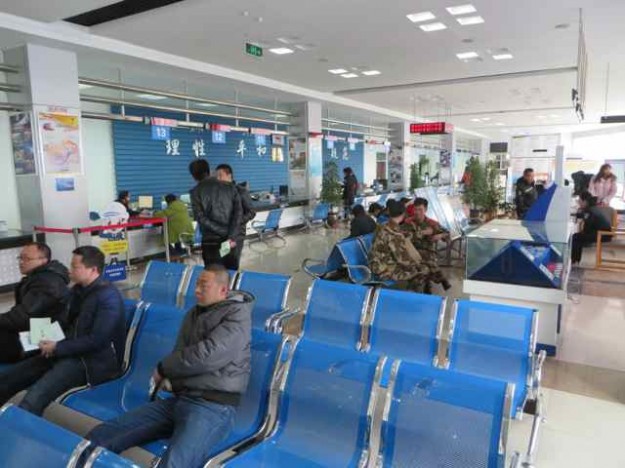 The waiting room of the Urumqi DMV
Step 2: Chinese Driver's License Paperwork
I walked into the main hall on the north side of the complex and took a number. While sitting down I looked around and witnessed poster after poster full of accident photos, adorned with illustrations of dripping blood.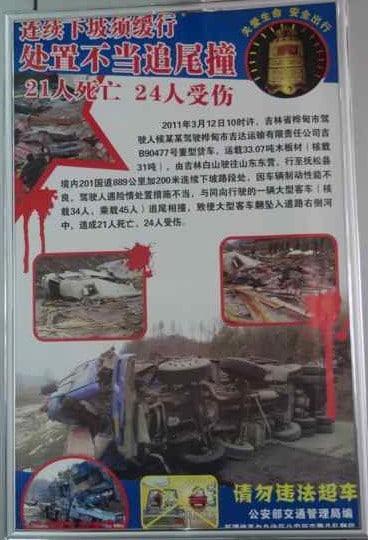 The TV in the corner was playing security camera footage of hundreds of accidents on a loop.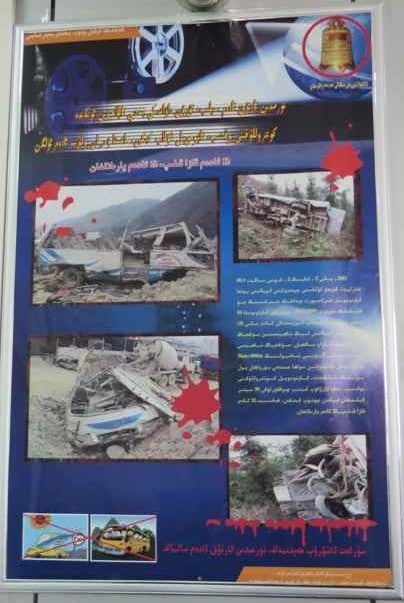 After they had given me enough time to stare in horror at all the death and destruction around me, wondering whether this was all even worth the risk…my number was called.
I thought during my first long trip out to the DMV that flashing my motorcycle license would perhaps speed up the process and allow me to avoid all the paperwork that I had done before, but that wasn't the case.
Sadly, they informed me that being in possession of two licenses is illegal, therefore before I could even consider testing for a C1 license (small car) I first had to forfeit my motorcycle license.
What a drag!
And to think, if I had just kept my mouth shut about the motorcycle license, chances are their system wouldn't have known and I would have both today. I kick myself every time I think about that.
Once my motorcycle license was destroyed (sad day), I was then told all the documents that I would need to bring back during my next trip. These included:
A certified translation of my US driver's license – 75 RMB
A notary signature on this translation – 200 RMB
Copies of all relevant documents (passport, proper Chinese visa, registration card) – 3 RMB
At least 4 white-background photos – 15 RMB
The translation only took a couple days and the notary (a Chinese notary, not a foreign notary) was quick and painless. You'll be looking for the 公证处 (Gōngzhèng chù) in your city.
Oh, but that's not all. Once all these documents have been approved, I still needed to complete a physical exam before I could take the test.
Never mind the comprehensive exam I had to complete in order to obtain my Chinese resident's permit (which included a sonogram, X-ray, and EKG). I had to pay the DMV to do their in-house exam located in the basement of the building that took another hour to complete. Cost: 50 RMB.
Step 3: Taking the Test
On my 2nd trip down to the DMV, I had all my paperwork, had completed my physical exam and was ready to take the test.
I paid the fee of 100 RMB and was ushered upstairs to the testing station.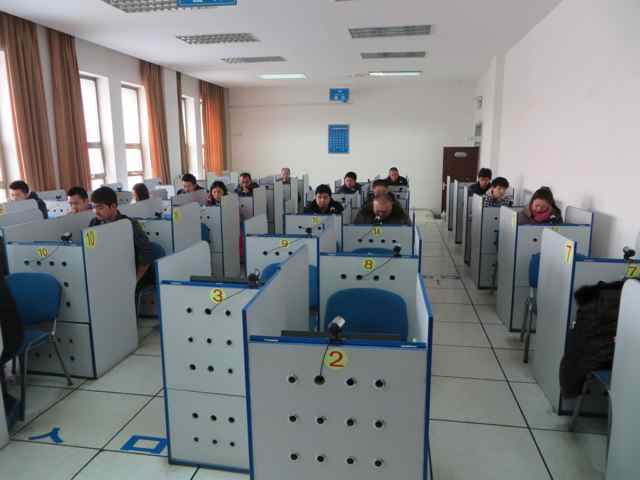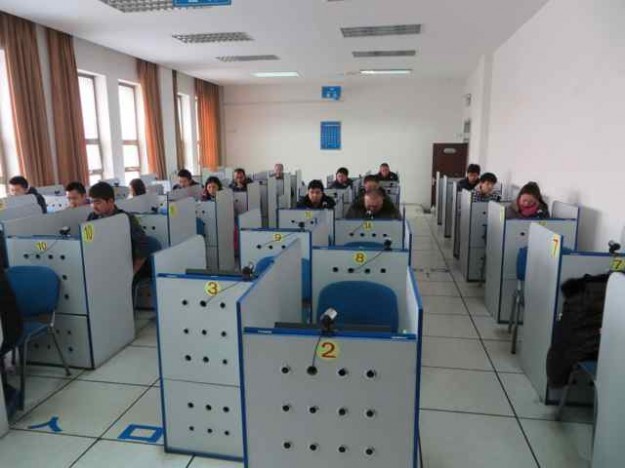 Rooms full of these individual testing stations occupied the entire upper floor, each with their own computer, a simple input device and a camera that was constantly pointed at the test-taker, taking periodic photos to make sure there was no cheating.
Everybody has the option to take the test in one of 8 different languages, including English, but that doesn't mean it's easy. Translations are often confusing and some questions seem ridiculous.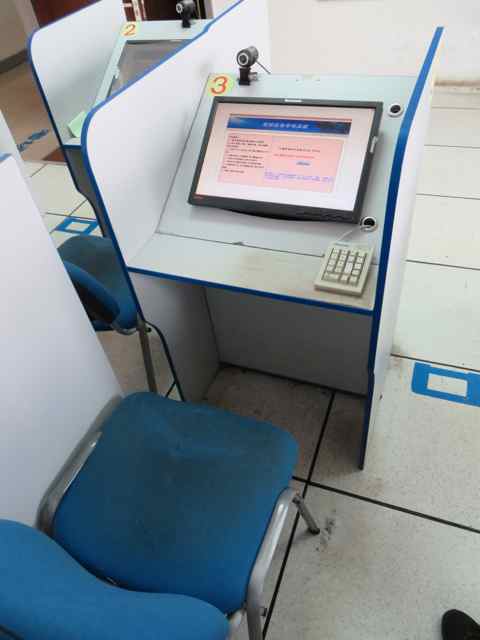 Passing the 100-question test requires a grade of 90 or higher.
I failed with a 78 on my first try and an 86 on my second. You can only take the test two times a day, so I sadly endured the entire 1½ hour bus ride back home!
–>Try your luck with a sample China driver's test<–
Third time is a charm, though! I passed with a 98 the next day and triumphantly brought my completion papers back downstairs. I was under the mistaken impression that I was actually done.
Instead they sent me across the complex to one more building where it was mandatory that I sit through 30 minutes of the most sad, gory accident videos I had ever seen.
"The Wusu Incident" one of the clips proclaimed. "21 dead". Scenes of sobbing relatives and severed limbs were almost enough to make me want to give up driving in China altogether.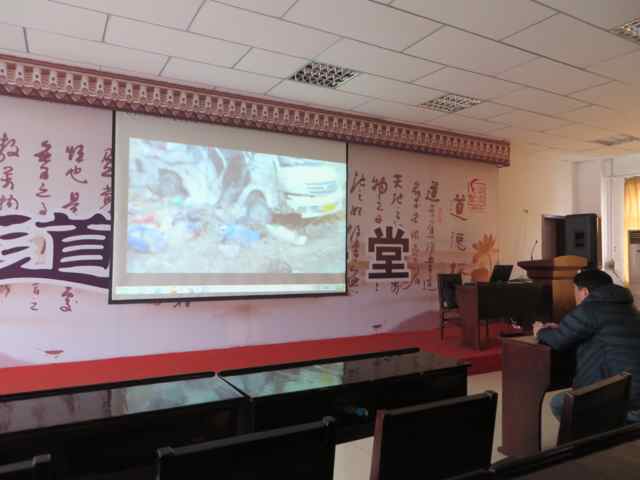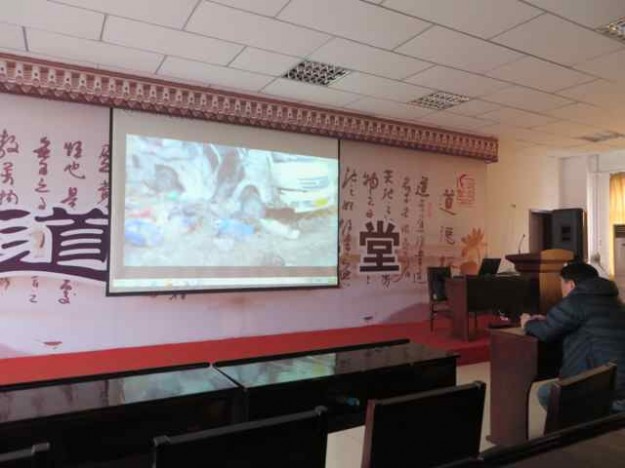 I was almost at the finish line, though, so I was determined to get this done. A half-hour later I grabbed my signed sheet saying I had been duly warned of the dangers of driving in China and that was it.
Step 4: Pick up the License
I did it! I had my Chinese driver's license and I was legal to get behind the wheel.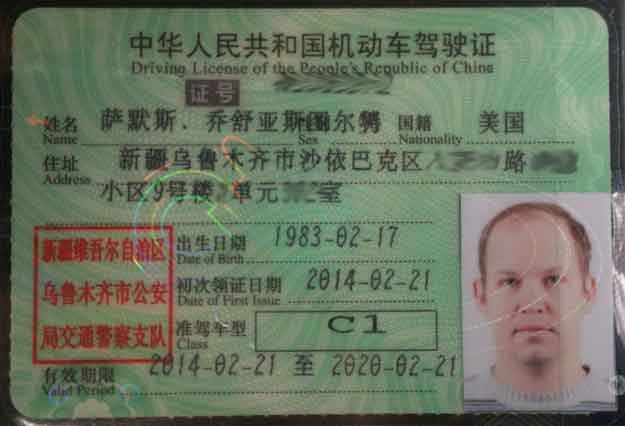 Note: Please don't be jealous of how photogenic I am. It's a gift.
While I have used this license to rent a car in China, I've since purchased a used vehicle that I use to cart my family around.
I'm never more grateful for the car and this Chinese driver's license than during the winter, when taxis are hard to find and freezing cold temperatures make for terrible waiting.
Conclusion | Chinese Driver's License
I've been driving around for a couple years now and thankfully have never been in an auto accident. I did get a speeding ticket once, but that's a crazy story for another time.
I carry this Chinese driver's license as a badge of honor everywhere I go, flashing it like a police badge to anyone who might be remotely impressed.
For those who are considering taking the Chinese driver's exam, whether here in Xinjiang or anywhere in China, there are some excellent free study resources on the internet. My favorite one was this one in English.
There are also quite a few apps you can find by searching either "Chinese Driving Test" or "驾照一点通".