For those who are sweating out the summer even with the air conditioning on full-blast, imagine yourself running 250 kilometers across one of the hottest deserts in the world…voluntarily. That's what some super-endurance runners have done with the Gobi March in China's western Xinjiang region.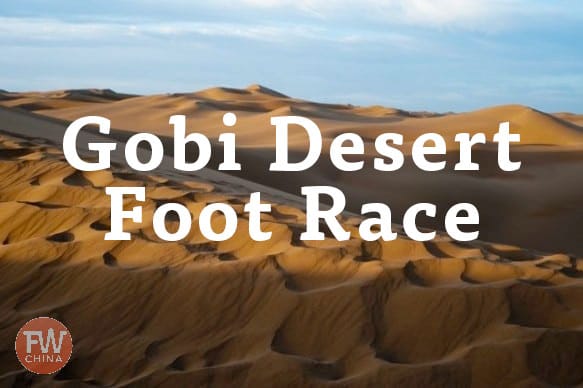 In the summer of 2010, about 150 adventurous runners set out on a dangerous trek across the Gobi desert. The race, dubbed the "Gobi March", has been held in China's Xinjiang province for 7 years now and hosts competitors from all over the world.
The race crosses the sand dunes and mountains of the Turpan Basin, a beautiful part of Xinjiang that is also known as the hottest place on earth. Each leg of the race passed through villages and portions of Xinjiang land that everyday tourists are not permitted to visit, a fact that makes this race all the more interesting.
To give you an idea just how difficult the Gobi March is, consider that out of 157 competitors this year, 33 never crossed the finish line and one of those unfortunately passed away.
It's likely you've never heard of this Xinjiang race before now, but I invite you to experience a new part of China's Xinjiang region through one of the world's most gruesome races.
Preparing for the Gobi March
We're standing in the middle of a Hami melon field in Xinjiang, somewhere in the Gobi Desert about 70 km from the Turpan Basin, eating our first pieces of fresh fruit in five days. In between mouthfuls, the farmers are asking me questions, namely about the Australian videographer that stands beside me.
They don't seem to care that William is British or that I'm Canadian, but they are fascinated by the fact that Brendan is from Australia.
Our conversation (in Mandarin) goes something like this:
"Australia?"
"Yes, Australia." I point to Brendan for effect. The words "Australia person" rumbles from the owner of the Hami melon field to the workers harvesting the fruit.
"Is it as hot in Australia as it is here?"
"Yes, in parts of Australia the summers are as hot as here."
Smiles and offers of more Hami melon.
Brendan, William and I are standing in the middle of a Hami melon field, eating melon, shooting photos and videos as part of our duties to capture the life surrounding the Gobi March 2010.
In 10 minutes, we'll head back (with another melon in tow) to Checkpoint 2, and then once all 130 odd competitors have passed through, we'll return to camp to finish up our media team duties.
What is the Gobi March?
The Gobi March is a seven day, 250 km rough country race through parts of the Gobi Desert and for 2010 the race goes through Xinjiang's dry Turpan area. Since 2003, the organizing RacingThePlanet has hosted the Gobi March, which is one of four 250 km desert ultramarathons in a series called the 4 Deserts (the other races are in the Atacama, the Sahara and Antarctica).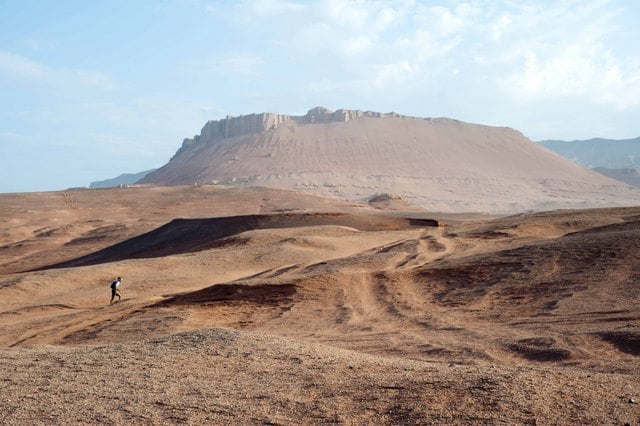 The races are self-supported, meaning that each competitor, staff and volunteer brings everything required to survive for seven days, except for water and a tent to sleep in at night.
Competitors try to pack as light as possible because even half a pound makes a big difference.
While competitors run or walk over 250 km of rough, challenging and breath-taking terrain, Brendan (videographer), William (photographer) and I (writer) work as the organization's media team, documenting as much as possible of the race and the competitors to put on the official RacingthePlanet website.
The seven days are broken up into six stages. The first four stages were relatively short at 30 odd km each, while the fifth stage was 99 km. The final stage is always the shortest and this year was about 6 km. Each stage leads to a camp set up in a different, picturesque part of the desert, although one night we had a home stay in a Uyghur village called Peach Village.
I tried asking the villagers who spoke Mandarin what they thought about 200 strange people staying in their village for the evening, but all I got back was a few smiles and the village head telling me a story about how he runs every day for two kilometers.
Experiencing the Race as a Writer (not a Runner)
If a competitor were writing this, they would be writing a completely different story.
I'm sure they would talk a lot about pain and the emotional and physical stress of getting your body to go through 250 km. They might also write about how they feel even just 24 hours once the race is complete.
Or, they might confess to already thinking about signing up for their next race when the Gobi March had yet to even finish (someone told me this less than 12 hours after finishing 99 km and when it was 40°C outside).
But staff, doctors and volunteers see the race from a completely different view because they're there to first and foremost help the competitors. For someone on the media team, we're mostly observing others and trying to capture the moment. I still had an amazing experience.
Enduring the Gobi March
Documenting the race requires a lot of moving around every day. We went on course for awhile and then off to various checkpoints (where competitors receive water and have the option to rest) to shoot and interview before heading back to camp to shoot and interview more and then spend the evenings putting it all together.
If Brendan and William were shooting a checkpoint or going on the course for awhile, I'd often stay at the checkpoint to help the volunteers give out water, but also to interview. As you would expect, there are completely different reactions when you interview in the middle of helping a competitor refill his water bottle or digging around their pack to find some electrolytes.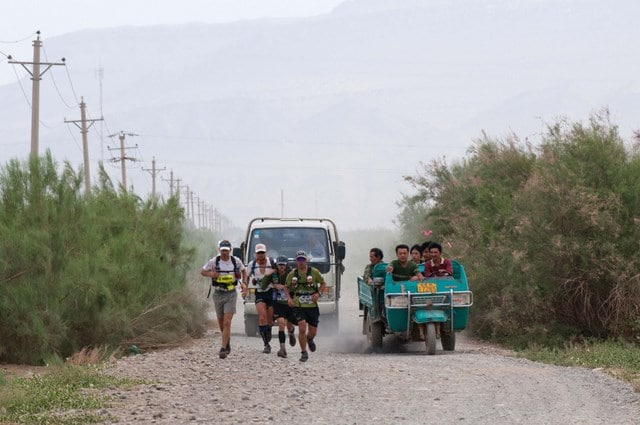 For the front pack of guys who could win the race, there's no chance because they're focused on winning the race and not just completing it. The slower people who are walking at the back will stop and talk to you for as long as you need.
In the middle, it's a combination. I'd categorize these runner as:
Runners that are angry with themselves that they aren't doing better (so stay away!);
Runners that are pushing hard;
Runners that are tired and can't say anything beyond "good" when you ask them how they are.
Runners that have great attitudes and outgoing personalities and will talk no matter what.
But there's only so much interviewing of competitors you can do at a checkpoint and so I spent as much time possible trying to meet people along the course.
Meeting Locals Along the Gobi Desert
Twenty-two kilometers into Stage 2 was Checkpoint 2, located in a village of about a dozen houses and a comparatively tall telecommunications tower.
I met half a dozen children in the village, including a trio of three year olds, two ten year olds and a girl who was seven. Klubic and Hallela were the 10 year olds and eventually, after a lot of hand gesturing, we began speaking in Putonghua and then learning English.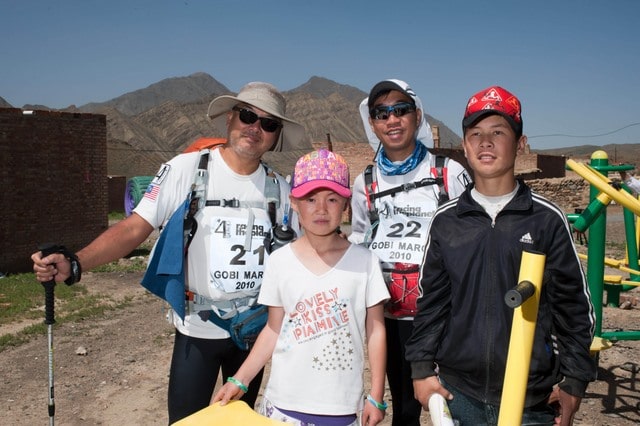 Klubic and Hallela could actually read English very well and at one point ran to get their English reader from Klubic's house. But they couldn't speak or understand anything, including a simple greeting.
With two hours to kill (the photographer and videographer were out on course) I got to work and made an English-Putonghua dictionary of colors and greetings.
And then we got practicing because I was pretty certain that this many different English speakers wouldn't be passing by this village any time soon. At this point in the race, the slower competitors were starting to come through, meaning there was a higher chance of conversation. Klubic was the less shy of the two so when Tremaine Kent (one of the competitors) walked by, I asked if he would mind saying hello.
Klubic: "Hello, my name is Klubic."
Tremaine: "Hello, my name is Tremaine."
Blank stare. I wrote out the word "Tremaine" and Klubic nodded before looking down at his dictionary to ask: "How are you?"
"Good, how are you?"
"I am fine."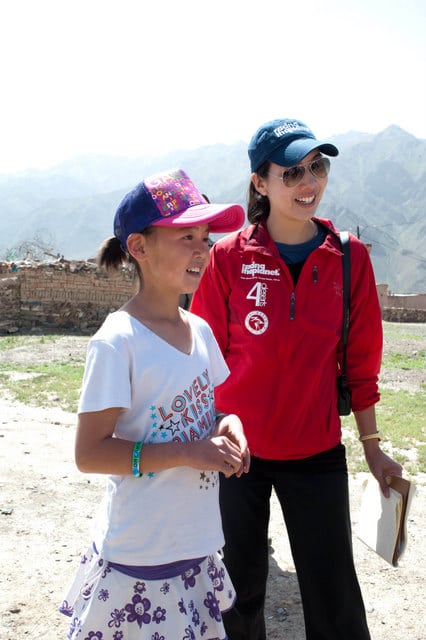 Tremaine said goodbye and went off on the course and then Klubic wanted to practice the name "Tremaine", which is great, but I was kind of thinking he should practice more popular names. Like John.
Klubic and Hallea repeated the conversations over and over again and if a competitor was wearing black, white, red, green or yellow, we would also point to the colors and have them say the words.
After two hours, I had to leave and go to the next camp, which was actually a little bit sad because what English teacher wants to leave having only taught her students three phrases and five colors?
Konichiwa, ogenki desu ka
These kinds of races see competitors from all over the world – Estonia, South Africa, New Zealand and the list goes on.
As a quick aside (but also as an intro into this anecdote), from my experience working on races in Namibia and Gobi, the Japanese and South Korean competitors have, as a whole, the best attitudes to the race, always smiling and really happy to enjoy the experience of being there.
In the Gobi, the oldest competitor was a woman named Kumi Murakami whose advice to the youngest competitors was: "Stop doing these races if you don't enjoy them". And in the words of this Austrian elite racer, who finished second overall: "Every time I do these races, I request to be in their tents. They have the best attitudes and of course, the best food. I always like to see what they are eating."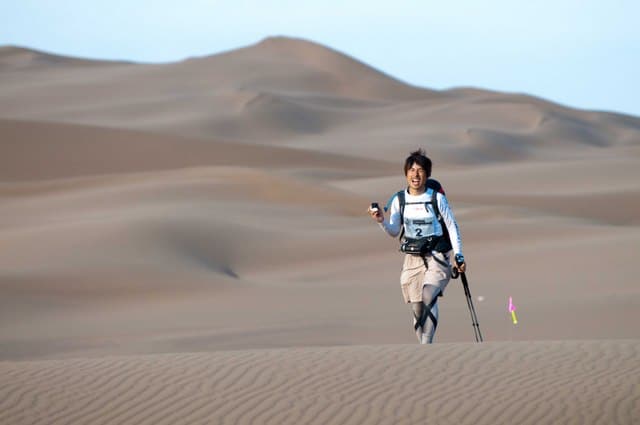 To get back to my original story, I was at Peach Village doing an interview with the village head for a magazine piece. A 15-year old boy was beside the village head and whenever there was a problem with my pronunciation, I would write out the characters and he would repeat the words to the village head.
The village head went to solve some sort of problem that comes with having 200 people cramming into an 11-house village and so I asked the teen about school. And because my Chinese is limited, I asked him what subjects at school he liked. He said languages and eventually told me that he would like to learn Japanese. So I told him there were Japanese competitors who could teach him and we agreed to meet later.
Later that evening, I found Takeshi-san to help. We made another dictionary, this time Mandarin and Japanese and Takeshi-san spent about 20 minutes teaching half a dozen phrases. Konichiwa may never be used again in Peach Village, but if you're stopping by, test it out and see.
You run 250 km? Well, I run barefoot
I spent the week asking locals about what they thought about 150 people completing a race through the Gobi Desert, where they run or walk for 250 km in one week. Usually the villagers would nod and sometimes stare at the competitors' strange, spandex clothing. If I got an answer, it was something generic like: "We like having them here."
Maybe I'm not dramatic enough? Or maybe I need to show the villagers the competitors' feet for a reaction? (Competitors feet get really, really gross)
Turns out, it just takes a hyperactive kid for a reaction. At a checkpoint one day, this kid hops off a moving truck and runs barefoot towards our photographer William and begins shouting at him. I come over and ask him if he's okay.
"What's going on?" he shouts to me.
"A race."
"A race?"
"Yes, people are running for one week, for 250 kilometres."
"One week for 250 kilometres!" he exclaims.
We repeat back and forth and back and forth and there's something about where everyone is from and then suddenly he realizes that the moving truck has moved to a completely new field. He bolts barefoot towards the long-gone truck, as if newly inspired but most likely just because he missed his ride.
The Finish! The Gobi March is Over
On the final day, the competitors had just a short six kilometer stage. The winners of the Gobi March 2010 had already been determined and so everyone was just focused on cheering people across the finish line.
As the competitors ran, walked, hobbled and limped across the finish line, there were cheers everywhere, but also a lot of tears. A lot. (And a strange feast of food and beer at 10 a.m. because after 250 km, there are a lot of people who just want a cold one)
It's difficult to describe the moment of the finish line, but the closest popular culture reference I can come up with is the big reveal on Extreme Makeover: Home Edition.
In university, I had a roommate who cried every single week at the reveal, no matter what the story was or how the house looked.
In the Gobi, I had a friend who worked as a volunteer and shed tears as nearly every single competitor crossed the finish line. She cried so much that people joked that it was a good thing she was wearing sunglasses and it was hot enough outside to be sweating.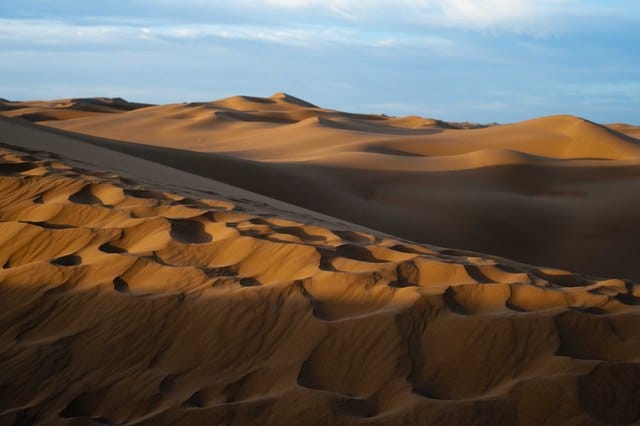 A lot of competitors crossed the finish line together, holding hands or dancing into the finish line. You had a few guys bow down and kiss the ground.
Some competitors were greeted by members of their families who had flown out from different places around the world to meet them. One guy did a cartwheel and the last person to cross the finish line was helped in by his tent mates. Some competitors' reactions:
Philippe of France said this while he was eating a plate of fruit: "I've been dreaming about this [fruit]. It's so fresh and I've been dreaming about it every night, so I'm going to enjoy it and I'm going to get fat now."
Travis who is South African: "I can't really believe it's over, I feel like we are going to go out again tomorrow. Then again, it also feels like we have been out here for more than seven days."
Philip, a Brit who lives in Hong Kong, barely finished one race before he wanted to start another: "I'm looking forward to Sahara already. It's great. Actually, there's nothing better than this feeling of accomplishment."
And Elizabeth, who lives in Hong Kong, thanked me for "not sleeping for a week". And then she said: "I am just thrilled to complete the race and before I came, that was my goal. But three or four days into the race, you realize that the friends you make are more important than completing the race. It feels like I have known everyone for a long time."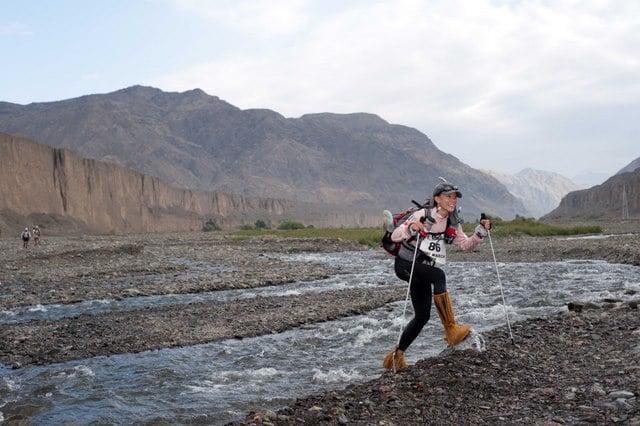 As we were driving back to Urumqi, I would look outside and see all the cars on the highway and just how much highway there really was. It's easy to forget what's happening when you're in the middle of sand dunes.
As I was typing away, I remember thinking that I needed to come back as quickly as possible because next year that sand dune I was standing in really could be another piece of highway. And of course, I have outstanding invitations to stay with some of the Uigher friends I met so if I can find the road back…
A Final Somber Note | RIP Nicholas Kruse
Sadly, Nicholas Kruse, 31, a competitor in the Gobi March race, passed away on July 3, 2010 at a hospital in Urumqi due to, in the words of the organizers "complications due to the heatstroke he suffered on Stage 4 of the Gobi March three days earlier."
About Melanie Ho (Author)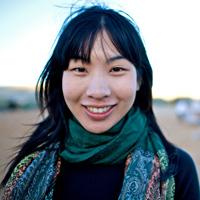 Melanie Ho was a part of the media team that covered this event and over the course of this week she will be sharing photos and stories from her incredible experience in Xinjiang.
Originally from Canada, Melanie has since moved to Hong Kong where she has worked as a writer for over three years. The Gobi March is the second of the desert races she has covered, the first being Namibia in 2009.