K2 International Youth Hostel – Tashkorgan, Xinjiang
凯途国际青年旅舍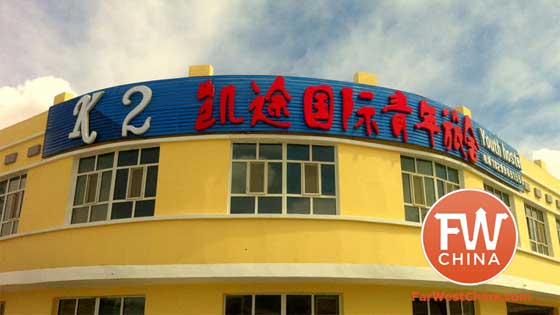 Location
The Tashkorgan K2 Youth Hostel, opened in October of 2012, is located in the tiny town of Tashkorgan along the Karakoram Highway (KKH) between Kashgar and the China/Pakistan border.
The hostel is pretty much in the middle of town, although that doesn't really matter much since it's the only hostel in town. There are hotels that foreigners are allowed to stay at but if you've come this far it's best to just stay at a place that most every other traveler stays at.
It's not as tricky to find as you may think. The big yellow building with a sign that says "K2" on the top helps quite a bit.
Atmosphere
The K2 has a very relaxed and pleasant atmosphere that fits with the pace of the city in general. Most hostels in Xinjiang run on a lower standard than the rest of China, which basically means that K2 is clean enough to live comfortably but don't expect a typical hostel.
They have a pool table in the lobby, a bar and a rooftop terrace which offers a nice view of the city and the beautiful surrounding mountains.
Considering the fact that it's your only hostel option in this part of the world, it's really not a bad option overall.
Room Options
The Tashkorgan K2 Youth Hostel does offer a couple different options for room arrangements including a private room with its own bathroom, a double with a shared bathroom and 8-bed dorm rooms.
They advertise wifi although don't expect to get an extremely fast connection in these parts. The decoration is simple if not a bit boring, but that's to be expected.
–>Check pricing and availability at the Tashkorgan K2 Hostel<–
Nearby Budget Lodging



Great location, courtyard design.




Excellent location next to Id Kah Mosque.




Clean and nice but a bit far.
Additional Xinjiang Travel Info
About Kashgar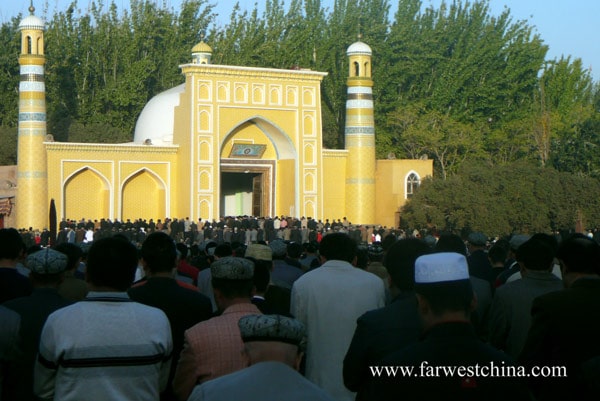 Kashgar, once a famous stop on the ancient Silk Road, has now become the center of Central Asian trade and the westernmost city of China.
Although the city has experienced much change over the past decade, it is still possible to walk back in time through mud alleys in the Kashgar Old City or hear the calls to prayer from the yellow minarets of the Id Kah Mosque.
Kashgar is accessible via air from the Kashgar International Airport in the north of town, via train at the Kashgar Train Station to the east of town and via bus which enters further into downtown.
If you're planning to spend a few days here – which you should! – you might want to dig deeper with the FarWestChina Kashgar City Guide.