A visit to Xinjiang's capital of Urumqi would be incomplete without a visit to the Xinjiang Uyghur Autonomous Region Museum (新疆自治区博物馆) or the "Xinjiang Museum" for short. It is by far the best museum you'll find along the Silk Road and is home to some of the area's most famous and controversial artifacts: the Xinjiang mummies.
Located north of town on the west side of Xibei Lu, the museum is easily accessible by bus or taxi even though it's not in the city center. Those who visited prior to 2000 may remember an older building of Uyghur style that lasted almost 50 years but has since been torn down and replaced by a modern complex that lacks a certain…well…local flavor.
A Walk Through The Xinjiang Museum
Regardless of what you think of the building's architecture, there's no doubt that most of the exhibits are worth the effort of a visit. If you're a Silk Road aficionado, plan to spend an entire day here.
The two-story museum is laid out into 4 sections – Silk Road, Ethnic Minorities, Mummies & Motherland – with a domed entrance hall in the center.
The Museum Main Hall
One of the first things you'll find when you enter the Xinjiang Uyghur Autonomous Region Museum is a giant, round, relief map of Xinjiang. [update 2015: this relief map has now been removed] This map will lay the foundation for your understanding of the Silk Road, so take some time to check it out!
It's important to see how mountain ranges, deserts and other topographical features played a key role in Xinjiang's history. Urumqi's rise as the capital of the region had more to do with geographical location, and this map will show you why.
Keep in mind that Xinjiang is China's largest province – this map represents an area larger than Texas and California combined!
Silk Road Museum Exhibit
If you're pressed for time and trying to plan your trip to the museum, make sure to put aside most of your time for the Silk Road exhibit. Spanning thousands of years of history, this section contains an incredible number of artifacts that have been excavated over time.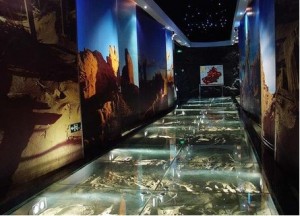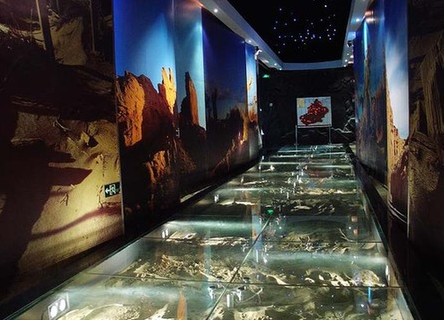 The Silk Road exhibit is on the right side of the first floor and is marked by a long corridor that is meant to make you feel like you are walking back across the sands of time.
The truth is that much of what you see in this exhibit was actually buried and preserved in the sands of the Taklamakan Desert, including rugs, skulls and even food.
Most of the actual places where these artifacts were excavated are either closed to the public or so far off the beaten path that it would take you days just to visit. Thankfully many of the exhibits not only shows the artifact, but also a picture of the area where it was found.
Best of all, everything is translated into English to make it easier on foreign tourist to enjoy!
Ethnic Minorities Xinjiang Museum Exhibit
One the left side of the first floor is another fascinating exhibit that details the lifestyles, clothing, instruments and customs of each of Xinjiang's 12 ethnic minorities.
The Uyghur minority is obviously the most prominent here with replicas of a courtyard home, displays of hats, multiple instruments and traditional Uyghur clothing.
The Kazakh display in the Ethnic Minorities Exhibit
Further into the exhibit, however, you'll learn a bit more about the Kazakh (and their yurts), the Hui, Tuva, Xibe and other minorities. Many of these groups are confined to small areas of the province – often the edges – so this might be your only chance to get to know them.
Mummies – Special Museum Exhibit
Above the Silk Road exhibit on the second floor sits the Mummies exhibit – a quick stop but certainly a necessary one. This is the signature exhibit of the Xinjiang Uyghur Autonomous Region Museum and it's a sight to behold.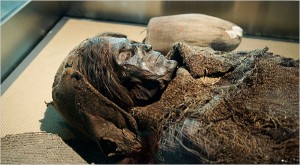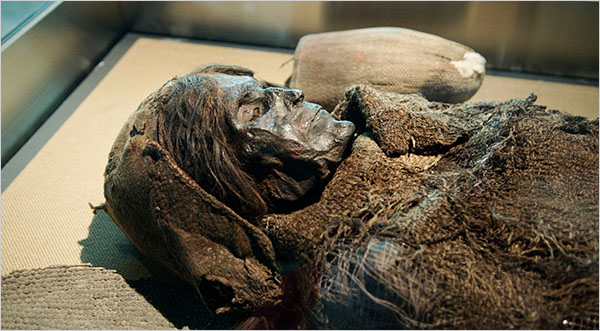 When I hear the word "mummy" my first thought is to the Egyptian burial process of wrapping a dead corpse prior to burial. In Xinjiang, however, the hot and dry conditions in the south of the province served to naturally mummify bodies buried thousands of years ago.
The first glass case you run across is the crown jewel of the exhibit – the Loulan Beauty. Excavated north of the Lop Nur area (south of Urumqi) in 1980, she is one of the oldest and most well-preserved mummies in the world. You can see her delicate lips, thin eyelashes and red hair despite being dated at 1800 BCE.
She's also a bit of a controversial figure.
Her lack of Chinese features or characteristics tend to disprove that "Xinjiang has been an inalienable part of China" according to propaganda. But contrary to what many Uyghur say, the Loulan beauty does little to substantiate their historical claims to the region.
If anything, these mummies prove that Xinjiang has been a melting pot of ethnic groups for most of its history.
Other mummies are rotated on display and they sometimes leave the museum as a traveling exhibit (such as the time it went to the Penn Museum).
Motherland Museum Exhibit
If there's one part of the museum that you should skip, this would be it. Aside from the fact that everything in this exhibit is unashamed propaganda, it's also not very well laid out. Much of it also wasn't translated into English.
Xinjiang Museum Travel Information
A few notes for travelers who wish to visit Urumqi's Xinjiang Uyghur Autonomous Region Museum:
Entrance Fee: Free throughout the year
Hours of Operation: Summer: 10am-6pm Beijing time; Winter: 10:30am-6pm Beijing time; no more visitors are allowed to enter after 4:30pm Beijing time throughout the year
Cameras are allowed
Closed on Monday
Those looking for nearby accommodation should check out the Sheraton Hotel across the street which is a luxury 5-star option. Another excellent option is the Yindu hotel a few bus stops away.
What did you think?
Have you been to Urumqi's Xinjiang Uyghur Autonomous Region Museum? What did you think was worth your time and what was a complete waste?