Setting off to hike the length of the Xinjiang Tian Shan with a cheap Chinese tent and an inadequate sleeping bag had seemed like a good idea at the time.
One month into the trip, trapped on the wrong side of a meltwater river in an unstable gorge, I was a bit less sanguine about the whole thing. Of course, these situations generally pan out OK and, three weeks later, I was strolling along next to the headwaters of the Yili River, 8.5kg (18lb) lighter with a notebook full of new objectives for my next trip…
Rewind 18 years. I'd cycled up from Pakistan to the Chinese border on the Khunjerab Pass, sucking oxygen at 4693m. Lacking a visa, I'd gazed out over the barren high country of Xinjiang then, reluctantly, turned round.
Five years later I was back, with the right paperwork this time, retracing my ride to the border post then continuing on through to Kashgar and beyond. Something about the terrain must've grabbed me because, in 2005, I found myself on a plane dropping down into the curdled brown smog of an Urumqi winter, about to begin my stint as a 'foreign expert' teaching English to classes of eager students.
Hiking the Xinjiang Tian Shan
The 'teaching English' thing never really worked out for me, but a few quick forays into the immense range of mountains south of the city left me in no doubt that this was a place I wanted to get to know better. I've been popping back ever since on a variety of spurious visas, loading up bike panniers or a rucsac with supplies and heading off to see what I can find.
In May of 2013 I decided to get serious (well, as serious as I ever get), stringing together a long solo walk through the hills; east to west, taking in all the variety the range has to offer.
The Tian Shan actually consist of several parallel linked chains of mountains…
The Xinjiang Tian Shan actually consist of several parallel linked chains of mountains, stretching from the Turpan basin in the east to (and through) the Kazakh and Kyrgyz borders in the west. Individual peaks rise to well over 6000m, although most lie below 5500m.
The northern and western foothills are clad in dense pine forest cut by steep gorges. Central, southern and eastern areas consist of rough, high altitude pasture land and wider, glaciated valleys, with massive braided river development. A large area of grassland and wetlands lies at the heart of the range, sitting in a wide basin at 2500-2800m.
The trip didn't have a particularly auspicious beginning. I jumped off the bus in the grimy industrial town of Alagou, expecting to be able to hop a taxi up out of the desert to my intended start point.
The drivers hanging round the bus stop weren't interested and, trudging out of town along a dusty road, I soon found out why. The valley I was heading up had vanished behind an immense dam project, too new to appear on the Google Earth images that were my main source of route planning info.
Oh, well.
The first guy I encountered said it was impossible to continue…
Scrabbling up through the earthworks, the first guy I encountered said it was impossible to continue, I must go another way. The second said it was possible, but too far – over 100km! Oh, aye? The third, nattily dressed in shirt and tie and waving his clipboard around, gave me the answer I was after – go for it, about 35km to the tributary valley turn-off. I was on my way…
Three days later, I found myself lying in a snow covered tent at 3500m, shivering my nuts off while waiting for a weather window to get across the first of a series of high alpine passes. This was to become something of a theme over the next seven weeks.
I'd set off early to beat the unstable and often stormy weather that can blow through during high summer. Leaving so early had the added advantage that I could walk in over thick river ice, allowing me easy access up gorges that entail wading through deep, fast water later in the season.
This proved to be a wise course of action; it was a series of ice shelves and bridges that gave me my escape route out of the meltwater gorge halfway through the trip, in what could otherwise have been a rather tricky situation. Unfortunately, the weather proved less cooperative, and I spent much of the trip squinting into driving snow or curled up in my sleeping bag, wearing all my clothes in an effort to keep warm.
Despite this it was a fantastic journey, traversing remote high country with 2-3 weeks' food in my pack at any one time. The few people I met were Mongol or Kazakh herders, moving their sheep and cattle up onto the high pastures as summer arrived.
I was the first foreigner…they'd ever seen in their area.
The initial assumption was always that I was some strange kind of Uyghur until we started talking and, switching to Chinese, I'd inform them I was an English lǘ yǒu, or 'donkey friend.'
Invariably, they'd tell me that, not only was I the first foreigner, but also the first walker or climber they'd ever seen in their area.
Blazing a Trail in the Tian Shan
The scope for finding new routes in the Xinjiang Tian Shan really is immense, and I find it hard to understand why more people aren't going there, rather than heading for tired and overcrowded 'classics' like Tiger Leaping Gorge in mainland China.
After climbing up out of the Turpan Depression's hot, rocky desert, I spent the next three weeks hopping over a series of 3700-4000m passes, linking up valleys thick with pastureland and pine forest.
A short stint across high grasslands then took me south to the Erbeng Shan, shattered glacial terrain and wide braided outwash plains. More grassland and wetlands took me back north across the G218 to the Borohoro Shan, hanging glaciers and isolated, barren valleys lying at the heart of the range. I've made a selection of photos available online that give at least a taste of the terrain I crossed during the walk.
I stumbled on the FarWestChina page about hiking in the Tian Shan some time ago, while looking for information on the area. Essentially, there isn't any – or rather, there wasn't, because I decided to fill that gap by writing my own e-booklet on hiking the Xinjiang Tian Shan.
While there is no real infrastructure to support trekking and climbing in the region, it's actually quite easy to put together trips lasting anything from a couple of days to weeks or more. Anyone who's moderately fit and has a bit of initiative could organize a challenging and satisfying tour armed with the logistical details laid out in this booklet.
Getting the powers-that-be used to the idea of independent foreigners poking around the mountains should hopefully make it easier for future visitors, easing the stranglehold the authorities currently have on too much of Xinjiang's nascent tourist industry.
Check out Pete's helpful Trekking the Chinese Tian Shan ebook.
At the moment, tourist development is following the usual depressing and unsustainable domestic model, hammering honeypot destinations with huge crowds and destroying the very qualities that attracted the tourists in the first place.
It doesn't have to be this way. I'd encourage anybody heading for the more interesting parts of China to throw away their guidebooks, pick out some random place on a map and start exploring for themselves.
It's almost always more rewarding than following the paper trails left by others.
About the Author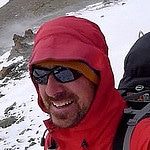 Pete Jones spent many years living in Xinjiang as an English teacher who loved the outdoors. He has made multiple solo trips through the Chinese Tian Shan, now listed as a World Heritage Site.
He is the author of the newly-published guide Trekking the Chinese Tian Shan, available on Amazon.com.