This last month I had the privilege to attend the Uyghur wedding of a friend here in Urumqi, capital of China's Xinjiang region. This is my 4th Uyghur wedding but this one was by far the biggest I've ever seen!
Weddings give incredible insight into cultures around the world and the Uyghur culture is no exception.
From special dances to beautiful dresses, I hope this video and accompanying description will allow you to experience this part of Uyghur culture even if you never have the opportunity to attend one yourself.
Uyghur Wedding Video
I always tell people that Uyghur dancing is deceptively hard. It looks so simple and yet the steps are easy to confuse! Or perhaps I'm just a terrible dancer…that's quite possible as well.
In the video below you'll see a few different dances but if you wait until the end you'll see my very favorite Uyghur wedding dances – only for men!
Don't forget to subscribe to the FarWestChina YouTube Channel!
The Biggest Uyghur Wedding
This particular wedding took place at ErDaoQiao (二道桥), the famous Uyghur bazaar in Urumqi across the street from the well-known Uyghur Grand Bazaar.
At the back end of the bazaar there's this massive theater that hosts all sorts of Uyghur events including weddings.
…the place almost instantly filled with over a thousand people."
As is the usual Uyghur wedding custom, men and women sat separately at tables filled with nuts, fruits and other assorted treats.
Our invitation said 7pm but when my family arrived the place was practically empty. I don't know if this is normal, but it was almost as if everybody else knew that 7pm was a joke. Once the clock struck 8pm, the place almost instantly filled with over a thousand people – by far the largest wedding I have ever witnessed here.
Once the bride and groom arrived the next few hours were filled with eating, laughing and lots of dancing! Hundreds of people filled the floor in front of the stage – men dancing with men, women dancing with women and even the occasional cross-gender dance.
Despite my two left feet, I will admit that I did attempt to join some of the dancing. It wasn't pretty – in fact, I think my 2-year old son danced better than I did – but it was certainly enjoyable!
Through it all the entire bridal party sat at a center table soaking in the spectacle. The bride and groom danced a few times as you can see in the video, but for the most part their time was occupied by guests wanting to say hi and take a picture with them.
The stage background was actually one large LCD screen.
I've never seen these massive trumpets before…think vuvuzela on steroids!
The Uyghur groom gets tossed into the air by his men.
The happy Uyghur bride and groom.
A Uyghur Bachelor Party
I never knew it was possible to eat so much food.
Greasy, oily, irresistibly tasty Uyghur food.  It wasn't long into my first experience with a traditional Uyghur wedding, however, before I realized that I shouldn't have worn my belt.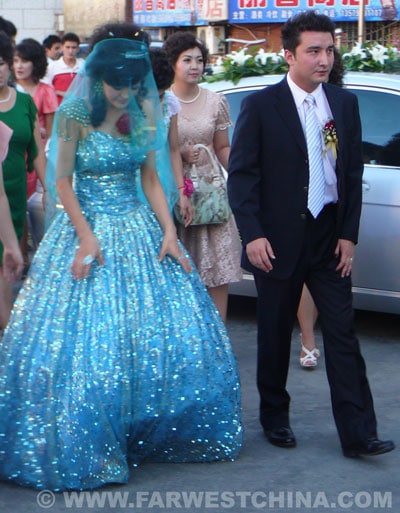 I had been invited by my Uyghur friend Ahmejan to attend his wedding in August of 2009.  It had only been a month after the problems in Urumqi but that didn't seem to have any effect on the marriage celebrations.
This might have been because Ahmejan was a respected citizen in our community but more than likely it was because his bride-to-be was the daughter of the highest ranking Uyghur official in the city.
"If you're coming to my wedding" he told me, "I want you to also be there for our guys-only party the night before". This, I assumed, would be the Uyghur equivalent to a bachelor party.
Food at the Groom's Home
The evening started in front of the groom's home in a small community inhabited mostly by Uyghur. All of the men, mostly in their late 20's and early 30's, arrived in semi-casual attire. For this group of guys that meant a collared polo with slacks and polished shoes. When I came up most of them were gathered around the community announcement board.
"Look at this guy! He looks like he hasn't taken a shower in weeks!"
"That's not a Uyghur name. These two must be Han, and they look just as ugly."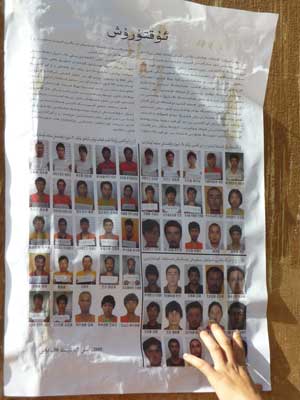 It took me a moment to realize that they were commenting on posters that had been put up all over the city. These posters displayed the men and women wanted in connection with the previous month's unrest. If these guys were worried about what these posters meant for Uyghur people in Xinjiang, they didn't show it.
While all of us were chatting outside, waiting for others to arrive, a group of 15 women were frantically cooking and preparing for an invasion of 20+ Uyghur men (and one American). At the appropriate time we filed into the house and sat down around a table covered with bowls of fruits, nuts, candy and breads.
Immediately the room filled with booming voices and boisterous laughter. Although I couldn't understand most of what was being said, I smiled at the animated expressions and obvious camaraderie shared by these guys.
On the streets most of these men were calm and straight-faced, but in here, even though liquor had yet to be poured, they were displaying their passionate side. Separated from the tensions of Xinjiang society – at least for the moment – they had let down their guard to enjoy the evening.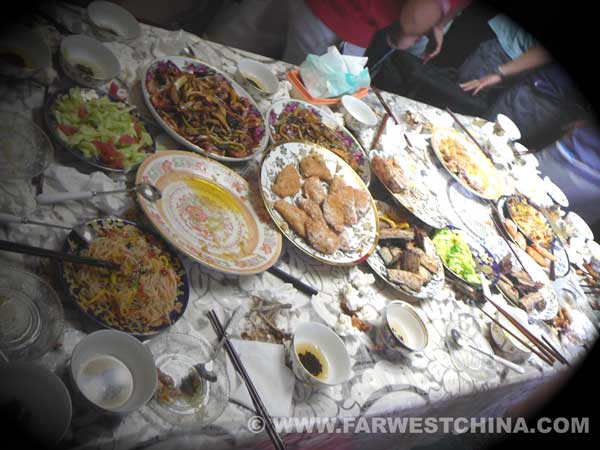 Once the food arrived the flow of plates never seemed to stop: fried whole fish, pollo, meat pies, pollo, noodles, and more pollo. The women who had cooked and were now serving us were the mothers of the men present and they obviously knew their way around a crowded kitchen.
An hour later the meal ended in an unexpected way.  As if on cue, everybody rose from their seats and the tears started to flow.  All the women of the house were bawling, not the least of which was Ahmajan's mother.
She gave a final blessing to her son, who by this point was spilling tears, reminding him of his duties as a husband and how proud she was of him.  It was a touching moment followed by a prayer and a slow exit.
The reason for all of the emotion was made clear to me by a friend later during the night. This final exit from the house represented Ahmejan's step out of the protection of his family. He was now his own man who would soon have a wife to care for.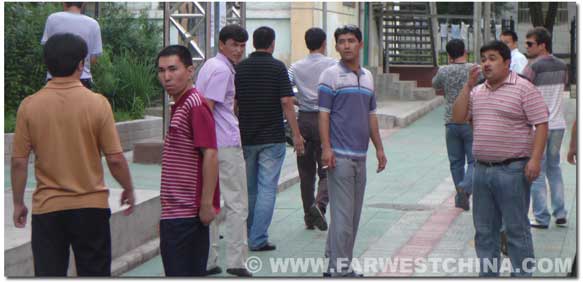 Food at the Restaurant
After such a delicious meal I was ready to hit the town and find out what was next on the bachelor-party agenda. I jumped into the backseat of one of the cars and then cursed myself for moving too quickly. Uyghur food sits heavy in my stomach and I had no desire to revisit the fabulous Uyghur home-cooking.
But before my stomach had even had a chance to begin the digestion process, the car pulled up to our next destination…a Uyghur restaurant.
"You're kidding me! This is our next stop?" I asked my friend.
"Yea" he said with a smile. "Now we can open the beer!"
Alcohol at home with the women present would have been offensive, but here in the restaurant anything was fair game. Bottles of "Jonny Waker" (not a misspelling) were produced along with baijiu (white wine) and numerous bottles of Wusu beer, the pride of Xinjiang.
Food again covered the table although most people were eating slowly. It became evident to me that this time together was less about food and more about the company. The only person with permission not to drink was the groom who had to be up quite early the next morning for the wedding.
As the level alcohol in the bottles decreased, so did the level of each individual's inhibitions.  The conversation was louder, the jokes were funnier, and slowly my presence in the room was forgotten.  While previously much of the conversation had been spoken in Mandarin for my benefit, now everybody was slipping back into their Uyghur language.
They graciously still included me in the conversation but had obviously forgotten that I couldn't understand a word they said.  I just nodded my head and smiled.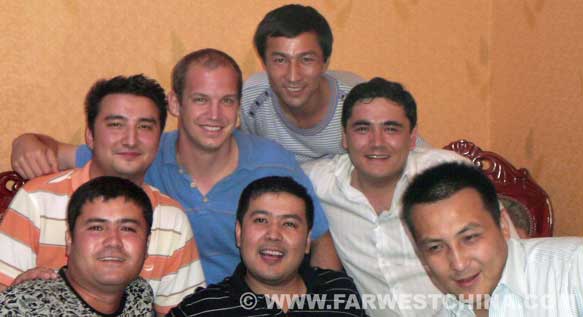 By the end of this portion of the party I looked at the table in surprise to see that we had somehow finished off most of the food here as well, including over 200 lamb kebabs.
It's no wonder some of these men were, how shall I say…not slim?  The amount of food we ate could have fed an army.
Some people were beginning to leave and I would soon follow, but there was still one more part of the party left. By now I was too numb to register shock that this, too, would involve more food.
Food at the Best Man's Home
The groom's final night before the wedding apparently isn't spent as his parent's home. The last leg of the party moved to the best man's house where snacks were out and the TV was on. By this point, now well past midnight, the tornado of activity had died down to a low thunder.
Only a few people participated in this part of the bachelor party, mostly those who would be present at the actual wedding the next morning. I decided it was time to finally leave, assured that the party was over and all that was left was small talk.
I said goodbye to my friend Ahmejan and thanked him for allowing me to crash his bachelor party. I double-checked the time for the wedding the next day and shut the door behind me. Here the groom would sleep the last night of his single life away.
The Uyghur Wedding Parade
A Uyghur wedding ceremony is a very personal, family-oriented affair.  Only a handful of people attend, which excludes most except for family and close friends. Only after the ceremony is complete and lunch is over does the wedding become public.
Very, very public.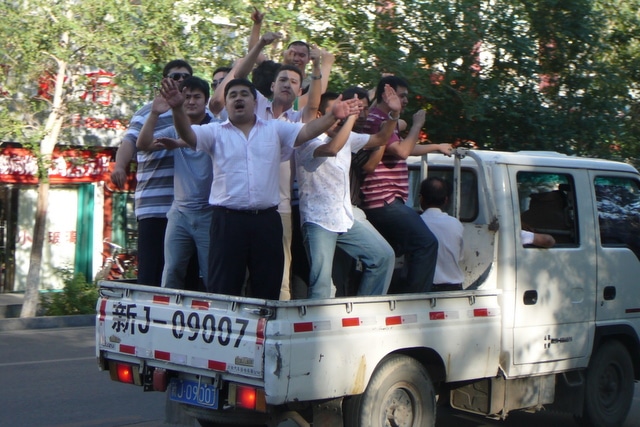 If you're lucky, as a tourist you might see a few of of these public displays in the streets of a Xinjiang city.
A parade of 6-20 cars, led by a flat-bed truck, slowly winds its way through the city making as much noise and ruckus as possible.  It's fun to watch and it's even more fun to be a part of.
The parade usually begins at the bride's home where the groom comes to pick her up, or at the least stops their during the journey.
Just as tears were shed between the groom and his mother during the Uyghur bachelor party, this final act of separation between the bride and her family is also accompanied by misty eyes.
The parade includes the following:
The SUV in the front is typical of this type of parade. The driver here determines the route and the back hatch is opened so that a camera man can capture the whole parade on video.
The second vehicle is usually a flat bed truck with up to 15 men standing crammed in the back. There are also two musicians who keep the party going. Guys back here dance, yell and pretty much make fools of themselves!
The black cars are headed by one carrying the bride and groom, while the rest are part of the wedding party.
If you're wondering, YES, this slow-moving parade causes great headaches for traffic – especially on the one-lane streets. Oddly no one honks in frustration, though…it's just part of life in Xinjiang.
As you might expect, the parade ends at the banquet hall where many people are waiting to celebrate the reception with the newlywed couple.
Isn't that awesome!? The entire parade lasts over an hour and, depending on the size of the city, often covers the whole town.
I wasn't able to catch this on film, but my favorite part of the whole parade was when it passed another Uygur wedding parade going the opposite way on the street.
What followed was nothing less than a competition for the craziest, loudest, most hyped-up truck full of men.
During the video above I admit they were getting a bit tired, but as a biased judge I have to say that when the time came for rowdiness, my friends stepped up and won that competition!
5 Characteristics of a Uyghur Wedding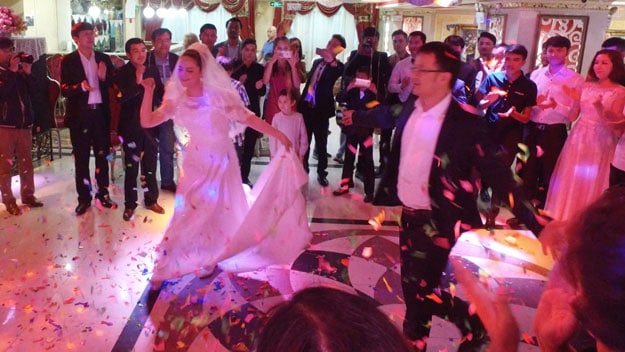 If you've ever attended a Uyghur wedding before, you're already aware that it's an extremely memorable experience. The food, the music, the dancing…all of it combines to create a culture event unrivaled in China's Xinjiang region.
While I don't consider myself to be an expert on the Uyghur culture, I've participated in enough Uyghur weddings to provide some fun insight I'm happy to share with you here.
So whether you've never attended one of these weddings before or you get an invitation every week, today I'd like to invite you to join me at a friend's wedding from May 2016. From this experience, I'll share with you 5 unique characteristics of a Uyghur wedding.
Don't miss more awesome videos! Subscribe to FarWestChina on YouTube.
1. Men and Women Sit Separately
One of the first things you'll notice when you enter the banquet hall of a Uyghur wedding is the arrangement. Large, round tables often fill a hall with a dance floor in the center and a stage at the front.
As people enter, all the men sit together on one side of the hall while the women sit on the opposite side.
All the Uyghur men sit on one side of the banquet hall
The only exception to this "rule" is the wedding party, all of whom sit at a center table facing the dance floor.
Aside from this gender separation, there are usually no other seating arrangements. You sit with your friends and coworkers, which usually means that most tables are further segregated by age.
2. There is No Wedding Cake
Tables throughout a Uyghur wedding hall are always full of excellent Uyghur food.
Whether it's small plates full of famous Xinjiang fruits and nuts or large platters of polo, big plate chicken and countless other local dishes, the table is never empty.
A table full of tasty food at a Uyghur wedding.
One thing you might notice missing, however, is a wedding cake.
This is one of many western traditions that haven't been adopted by the Uyghur people, despite the fact that many modern Chinese weddings have done so.
There are usually plenty of sweets to eat but if you ask any Uyghur about a wedding cake they'll just smile, shake their head and tell you that's just not part of the Uyghur wedding culture.
3. But There IS Plenty of Dancing!
The foundation of a good Uyghur wedding is the dancing. This is a big part of what makes these events so much fun to attend!
There's so much that can be said about Uyghur dancing but suffice to say it's fun to watch. It is elegant, exuberant and joyful.
While the Uyghur men are often energetic – even spasmatic – in their dancing, the women provide a striking contrast with graceful moves and near-perfect posture. It is truly a celebration when everybody gets together for a wedding!
4. Dancing: Men/Men & Women/Women
One of the first things I ever took notice about Uyghur dancing is the fact that it is culturally acceptable for men to dance with men and for women to dance with women.
In fact, it's more common to dance this way than with the opposite sex.
This type of dancing usually takes place with partners facing each other, passing back and forth counter-clockwise to the rhythm of the music.
If it seems awkward at first, it doesn't take long to get used to this type of dancing. While technically partners are dancing with each other, the reality is that each is independently dancing. No one partner is leading the other.
5. The Music is LOUD
If you thought the music at your wedding was loud, you're in for a surprise when you join a modern Uyghur wedding! If your ears aren't ringing by the time you leave the dance floor, then you're probably already deaf.
Now admittedly, this isn't a characteristic of the smaller, village weddings for the Uyghur people. In the cities, however, this has become the norm. Every wedding banquet hall is equipped with large subwoofers that are set to 11.
It's funny to see the older generation of Uyghur sit far away from the dance floor, marveling at the "youth" who like such loud music. Some things are the same no matter what culture.
Conclusion | Attending a Uyghur Wedding
Of course these aren't the only unique characteristics of a Uyghur wedding. There are plenty more that couldn't be fit on this list and many which I probably wouldn't have thought to include myself.
Have you been to a Uyghur wedding?
Then add your comment below with your thoughts about what makes a Uyghur wedding unique.
If you haven't had the opportunity to join in on the festivities surrounding a Uyghur marriage, I encourage to travel out here to Xinjiang someday and do it. It's not uncommon for complete strangers to be invited to join a wedding, so even travelers passing through have had the chance to participate.