Biggest Uyghur Wedding I've Ever Attended:
This last month I had the privilege to attend the Uyghur wedding of a friend here in Urumqi, capital of China's Xinjiang region. This is my 4th Uyghur wedding but this one was by far the biggest I've ever seen!
Weddings give incredible insight into cultures around the world and the Uyghur culture is no exception. From special dances to beautiful dresses, I hope this video and accompanying description will allow you to experience this part of Uyghur culture even if you never have the opportunity to attend one yourself.
Uyghur Wedding Video
I always tell people that Uyghur dancing is deceptively hard. It looks so simple and yet the steps are easy to confuse! Or perhaps I'm just a terrible dancer…that's quite possible as well.
In the video below you'll see a few different dances but if you wait until the end you'll see my very favorite Uyghur wedding dances – only for men!
Don't forget to subscribe to the FarWestChina YouTube Channel!
The Biggest Uyghur Wedding
This particular wedding took place at ErDaoQiao (二道桥), the famous Uyghur bazaar in Urumqi across the street from the well-known Uyghur Grand Bazaar. At the back end of the bazaar there's this massive theater that hosts all sorts of Uyghur events including weddings.
…the place almost instantly filled with over a thousand people."
As is the usual Uyghur wedding custom, men and women sat separately at tables filled with nuts, fruits and other assorted treats. Our invitation said 7pm but when my family arrived the place was practically empty. I don't know if this is normal, but it was almost as if everybody else knew that 7pm was a joke. Once the clock struck 8pm, the place almost instantly filled with over a thousand people – by far the largest wedding I have ever witnessed here.
Once the bride and groom arrived the next few hours were filled with eating, laughing and lots of dancing! Hundreds of people filled the floor in front of the stage – men dancing with men, women dancing with women and even the occasional cross-gender dance.
Despite my two left feet, I will admit that I did attempt to join some of the dancing. It wasn't pretty – in fact, I think my 2-year old son danced better than I did – but it was certainly enjoyable!
Through it all the entire bridal party sat at a center table soaking in the spectacle. The bride and groom danced a few times as you can see in the video, but for the most part their time was occupied by guests wanting to say hi and take a picture with them.
The stage background was actually one large LCD screen.
I've never seen these massive trumpets before…think vuvuzela on steroids!
The Uyghur groom gets tossed into the air by his men.
The happy Uyghur bride and groom.
Concluding Thoughts
Like I said earlier, I hope you have a chance to personally attend one of these Uyghur weddings! What's most interesting is that this wedding reception is just a small portion of the entire Uyghur wedding process.
The Reception:
The time on my watch showed 6:55pm Beijing time. Exactly 24 hours earlier my involvement in this Uyghur wedding had begun and things were finally coming to a head in the building in front of me. Everybody was arriving to enjoy the final act of this Uygur wedding: the grand reception.
I arrived at the steps of the People's Banquet Hall about 5 minutes before the bride and groom drove in. It was located near the center of town along the edge of a predominantly Uyghur neighborhood nicknamed "3-8". It was designed to host both Han and Uyghur events, but it's my guess that most every wedding booked here was Uyghur.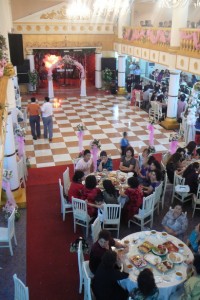 I have been to a couple different Uyghur wedding receptions and many of them are set up similarly. This particular hall was divided into two floors with a large, open space in the middle. Most of this space was taken up by a dance floor while the rest was filled with large, round tables for the guests.
At the front of the hall was a stage where the wedding musicians would play and in the middle, off to the side, was an ornately decorated section with only one table. It was here where the bride and groom sat along with their best man and maid of honor.
Segregation
Most interesting to me during my first Uyghur wedding was realizing that I couldn't sit with my wife. An invisible line divided the entire hall down the middle segregating it by sex. Never did the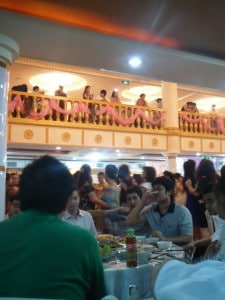 two meet unless it was on the dance floor.
The gender segregation was further arranged by age, so that the younger and older generations were tables apart. Naturally anybody over the age of 40 sat as far away as possible from the blaring speakers, while those who were younger tended to be more reckless with their hearing. I opted for the middle and ended up stuffing wads of tissue in my ears. So loud!
Finally, segregation appeared in one other way which I expected but was still surprised to see: ethnicity. Most Han present were business associates or family friends, but they were small in number. Nobody on the first floor was Han. Nobody on the second floor was Uyghur. Never did the two meet, even on the dance floor.
Entrance of the Bride and Groom
The party didn't begin until the bride had finished changing into her white dress. You could ask me why she didn't just wear that dress to the reception hall but I couldn't tell you the answer. Once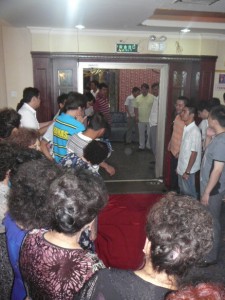 the bride was ready, however, the rest of the wedding blew by so quickly I had trouble keeping up.
A red silk "carpet" was laid at the front of the door with people lined up on both sides. The moment the couple entered, the music started, confetti poppers were blown and the red silk fabric was torn to shreds. It was the most bizarre thing!
Oddly, instead of watching the bride and groom find their seats, many guests played a game of tug-of-war with the silk fabric. The silk obviously tore and each guest was clambering to get their own small "good luck" wedding favor.
Meanwhile, the moment the bride and groom found their seats the kitchen doors opened and food began to pour out.
Eat. Dance. Rinse. Repeat.
I've never felt comfortable dancing with another man. Unfortunately for me this seems to be an integral part of Uyghur culture.
The stage in the banquet hall was manned by two men – one singer and one keyboard player (with background tracks) – and they never failed to play songs that drew guests to the dance floor. The tables were stacked with plenty of food but I never got the feeling that anybody much cared. The wedding was about dancing.
Watch video on Youtube
The Uyghur form of dancing looks very simple. It consists of broad arm and hand gestures with very little contact between partners. All it takes, however, is one awkward foreigner on the floor to understand that what looks simple may not always be simple. My focus was so concentrated on the movement of my hands and arms that I didn't have time to notice my two left feet.
Family Formalities
At the appropriate time the music fell silent and the bride and groom were ushered to the middle of the floor. It was at this point that quite a few significant family events took place.
The wedding rings, which weren't exchanged during the "nikka" (earlier wedding ceremony), were given to the bride and groom by the mothers.
The groom's mother finally lifted the bride's veil, supposedly signifying an acceptance of the bride into the new family.
Small gifts were given by the, including a doppa for the groom and a beautiful red silk now worn by the bride.
Again, I was completely amazed by the lack of physical contact between the bride and groom up to this point. There had been no kiss and even while standing for photos like the one below, they didn't even hold hands.
It wasn't until their first dance that I finally saw my friends smile and physically touch each other. I was relieved because the straight faces they had been wearing all day did not reflect their usually congenial attitudes. This was their wedding, and it doesn't matter what culture you come from…I believe this should be a happy day!
The Last Dance
The night was slowly beginning to wind down, and although everything was happening so quickly I realized that I was exhausted. Once the family formalities had been taken care of, most of the old folks were making their exit, leaving the dance floor exclusively in the hands of the younger crowd.
The bride and groom kicked off this second round of dancing surrounded by their friends who were holding sparklers.
Watch the video on Youtube
It's worth mentioning again that this description of a Uyghur wedding is based on only a couple weddings in one particular city in Xinjiang. More money was obviously spent on this wedding than would probably be spent on most and the format of the city wedding differs from that of a rural one.
No matter what kind of Uyghur wedding you attend, however, I guarantee that you'll leave with a deeper understanding, appreciation, and respect for the people that make up this half of Xinjiang.  I know I did.
My Big Fat Uyghur Wedding: Bachelor Party
I never knew it was possible to eat so much food.  Greasy, oily, irresistibly tasty Uyghur food.  It wasn't long into my first experience with a traditional Uyghur wedding, however, before I realized that I shouldn't have worn my belt.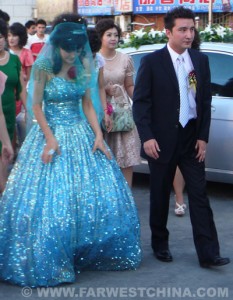 I had been invited by my Uyghur friend Ahmejan to attend his wedding in August of 2009.  It had only been a month after the problems in Urumqi but that didn't seem to have any effect on the marriage celebrations.  This might have been because Ahmejan was a respected citizen in our community but more than likely it was because his bride-to-be was the daughter of the highest ranking Uyghur official in the city.
"If you're coming to my wedding" he told me, "I want you to also be there for our guys-only party the night before".  This, I assumed, would be the Uyghur equivalent to a bachelor party.
Food at the Groom's Home
The evening started in front of the groom's home in a small community inhabited mostly by Uyghur.  All of the men, mostly in their late 20's and early 30's, arrived in semi-casual attire.  For this group of guys that meant a collared polo with slacks and polished shoes.  When I came up most of them were gathered around the community announcement board.
"Look at this guy! He looks like he hasn't taken a shower in weeks!"
"That's not a Uyghur name.  These two must be Han, and they look just as ugly."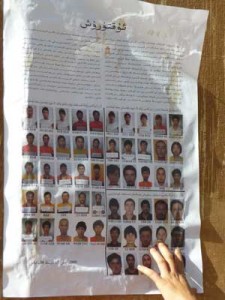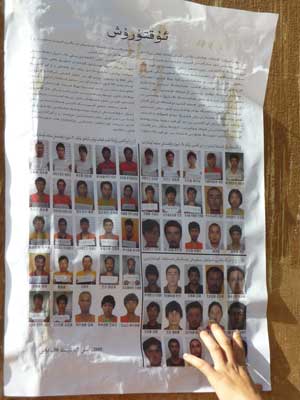 It took me a moment to realize that they were commenting on posters that had been put up all over the city.  These posters displayed the men and women wanted in connection with the previous month's unrest.  If these guys were worried about what these posters meant for Uyghur people in Xinjiang, they didn't show it.
While all of us were chatting outside, waiting for others to arrive, a group of 15 women were frantically cooking and preparing for an invasion of 20+ Uyghur men (and one American).  At the appropriate time we filed into the house and sat down around a table covered with bowls of fruits, nuts, candy and breads.
Immediately the room filled with booming voices and boisterous laughter.  Although I couldn't understand most of what was being said, I smiled at the animated expressions and obvious camaraderie shared by these guys.
On the streets most of these men were calm and straight-faced, but in here, even though liquor had yet to be poured, they were displaying their passionate side.  Separated from the tensions of Xinjiang society – at least for the moment – they had let down their guard to enjoy the evening.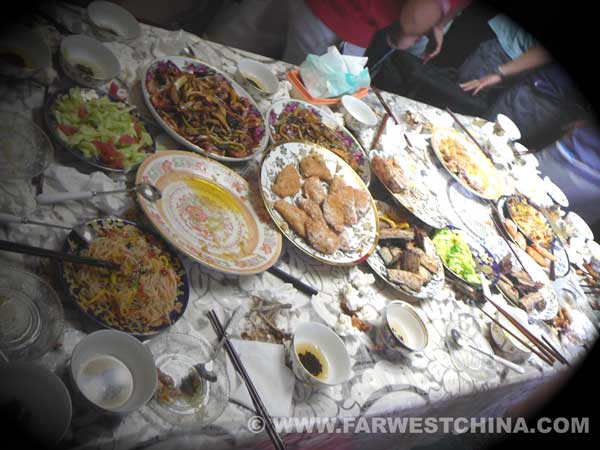 Once the food arrived the flow of plates never seemed to stop: fried whole fish, pollo, meat pies, pollo, noodles, and more pollo.  The women who had cooked and were now serving us were the mothers of the men present and they obviously knew their way around a crowded kitchen.
An hour later the meal ended in an unexpected way.  As if on cue, everybody rose from their seats and the tears started to flow.  All the women of the house were bawling, not the least of which was Ahmajan's mother.  She gave a final blessing to her son, who by this point was spilling tears, reminding him of his duties as a husband and how proud she was of him.  It was a touching moment followed by a prayer and a slow exit.
The reason for all of the emotion was made clear to me by a friend later during the night.  This final exit from the house represented Ahmejan's step out of the protection of his family.  He was now his own man who would soon have a wife to care for.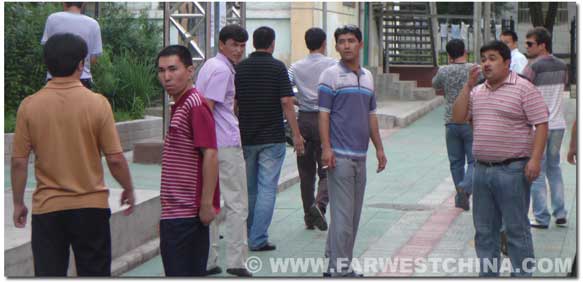 Food at the Restaurant
After such a delicious meal I was ready to hit the town and find out what was next on the bachelor-party agenda.  I jumped into the backseat of one of the cars and then cursed myself for moving too quickly.  Uyghur food sits heavy in my stomach and I had no desire to revisit the fabulous Uyghur home-cooking.
But before my stomach had even had a chance to begin the digestion process, the car pulled up to our next destination…a Uyghur restaurant.
"You're kidding me!  This is our next stop?" I asked my friend.
"Yea" he said with a smile. "Now we can open the beer!"
Alcohol at home with the women present would have been offensive, but here in the restaurant anything was fair game.  Bottles of "Jonny Waker" (not a misspelling) were produced along with baijiu (white wine) and numerous bottles of Wusu beer, the pride of Xinjiang.
Food again covered the table although most people were eating slowly.  It became evident to me that this time together was less about food and more about the company.  The only person with permission not to drink was the groom who had to be up quite early the next morning for the wedding.
As the level alcohol in the bottles decreased, so did the level of each individual's inhibitions.  The conversation was louder, the jokes were funnier, and slowly my presence in the room was forgotten.  While previously much of the conversation had been spoken in Mandarin for my benefit, now everybody was slipping back into their Uyghur language.  They graciously still included me in the conversation but had obviously forgotten that I couldn't understand a word they said.  I just nodded my head and smiled.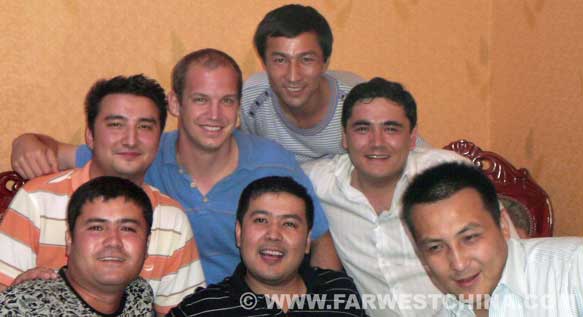 By the end of this portion of the party I looked at the table in surprise to see that we had somehow finished off most of the food here as well, including over 200 lamb kebabs.  It's no wonder some of these men were, how shall I say…not slim?  The amount of food we ate could have fed an army.
Some people were beginning to leave and I would soon follow, but there was still one more part of the party left.  By now I was too numb to register shock that this, too, would involve more food.
Food at the Best Man's Home
The groom's final night before the wedding apparently isn't spent as his parent's home.  The last leg of the party moved to the best man's house where snacks were out and the TV was on.  By this point, now well past midnight, the tornado of activity had died down to a low thunder.
Only a few people participated in this part of the bachelor party, mostly those who would be present at the actual wedding the next morning.  I decided it was time to finally leave, assured that the party was over and all that was left was small talk.
I said goodbye to my friend Ahmejan and thanked him for allowing me to crash his bachelor party.   I double-checked the time for the wedding the next day and shut the door behind me.  Here the groom would sleep the last night of his single life away.
My Big Fat Uyghur Wedding: Ceremony
The morning following the Uyghur bachelor party was an early one.  Merely hours after all us guys had returned from partying it was time to awaken for the wedding ceremony, an event that would stretch from 6am in the morning to late that night.  Were it not for my excitement over being part of this celebration, I probably would have been slow to get out of bed that morning.
Uyghur weddings, as with every culture, can take on many different forms.  There are traditional weddings, modern weddings, short weddings and lengthy ones.  Some brides wear white, some drift to other colors.  There are rural weddings and city weddings, each unique in their own right.
The differences between these diverse celebrations can be confusing; however there is one part of the process that has remained practically unchanged for centuries in the Uyghur culture: the ceremony.
Early Morning at the Bride's Home
I couldn't believe that anybody would want to get married at this hour.  It was 6am Xinjiang time (which translates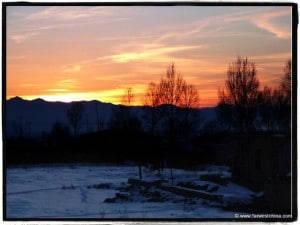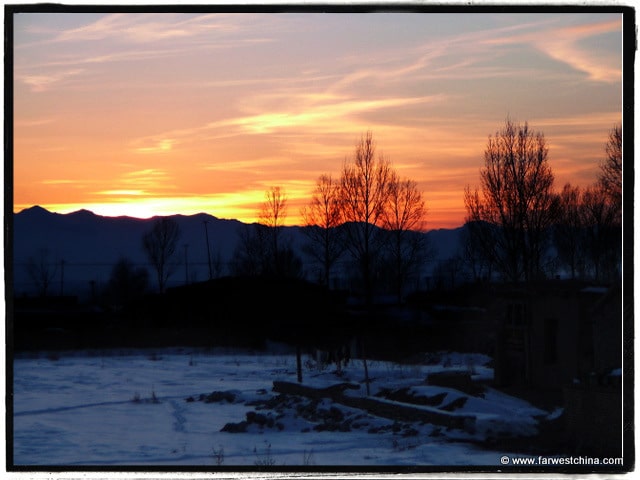 to 8am Beijing time) and a line was forming outside the bride's home.  As sunlight barely began to peek out over the horizon I was relieved to discover that I wasn't the only one experiencing sleep withdrawals.
All of the visitors filed into the 6-storey apartment building that was home to mostly Uyghur people.  The neighbors weren't bothered by the loud raucous being made in the stairwell because they, too, would be attending this wedding.  I have found that the Uyghur community tends to work like that.
Fortunately for me I had met Ahmajan's wife-to-be on previous occasions.  She was a sweet woman with long, thick hair and beautiful eyes, but right now they weren't visible.  She was wearing a white veil and I learned later that she would continue to wear this veil in public until late that night during the wedding reception.
The small apartment was quickly overcrowded with Uyghur, primarily family and very close friends who greeted each other with hearty handshakes or hugs.  Hundreds of people were preparing to arrive for the celebration that night but only a select few made it to this part of the wedding.  They call it a "nikka" and it didn't officially begin until the imam arrived.
A Uyghur Nikka in Xinjiang
Once the imam, a leader at the local mosque, sat down and indicated that he was ready, conversation and noise in the room quickly died.  In the eyes of the Chinese government these two were married the moment they received their red books a couple weeks ago (equivalent to a marriage certificate), but for everybody present in the room that morning the moment was now.
The veiled bride stood separated from her groom, both attended to by their closest friends.  All seats and couches in the living room were taken and many more were standing behind them.  Despite the early hour everybody was dressed in their best clothes and all eyes were on the imam.
His prayer, which could be described more like a low chant, almost put me to sleep.  The melodic hum of his voice gently bounced off the walls of the concrete home and immediately granted importance to this ceremony.  I didn't catch a word of what he said but I think it is safe to assume he was asking a blessing on this marriage.
When he completed his prayer everybody present wiped their face with their hands, a traditional Islamic form of closing prayer.  The imam followed his prayer with more talking which, again, I could not understand.
Uyghur Wedding Unlike the West
It was while watching this that my mind had time to register how bizarrely different this wedding was from any other I had attended.  After you live amidst a foreign culture for a certain number of years you become numb to things that are "different" because most everything you experience is new.  Once I forced myself to really look at what was happening, however, I noticed quite a few things were not what I expected.
First of all, throughout this entire wedding process nobody ever stepped foot inside a mosque.  The couple was Muslim and the ceremony was religious, for sure, but no religious building was used.  The entire ceremony was performed at the bride's family home.
Also, it took me a moment to realize that the bride wasn't wearing a wedding gown.  Her dress was formal and her face was covered, but it was not her wedding dress.  It makes sense now that I think about it.  Brides all over the world spend hours preparing to wear their wedding dresses and to do so here would mean waking up at 1am in the morning.
Finally, when thinking about the ceremony I was struck by two events I noticed missing: 1) the exchange of rings and 2) a kiss.  These two symbolic gestures made no appearance that morning and only one of them made it into the celebration that night.  According to one friend the exchange of rings is a practice that only recently has become popular with Uyghur newlyweds.
Not once during the entire wedding did I see my Uyghur friend kiss his bride.
Post-Ceremony Celebration / Pre-Reception Preparation
After exchanging a Uyghur form of "I do", another prayer was offered and the ceremony ended. At this point the women of the household quickly snatched away the bride to the back of the home where presumably they began to work on her hair and makeup for that evening.
Meanwhile the men took turns congratulating Ahmajan, extending their personal blessings before exiting the home.  The calm atmosphere commanded by the presence of the imam had disappeared the moment he had finished the ceremony and as far as I could tell it was never again found for the rest of the day.
Controlled chaos reigned in the household until lunch time when the men left for a restaurant meal.  Again, only family and close friends were present at this meal, yet somehow it lasted between 3-5 hours.  Meanwhile, in a Uyghur banquet hall only a couple kilometers away, cooks and servers were preparing to receive hundreds of hungry guests for the pinnacle of the wedding celebration: the reception.
But before this could take place there was one thing left to do.  What happens next in a Uyghur wedding can only be described as one of the most fun, unique and hilarious customs I've ever witnessed.
And I have a video to prove it!
My Big Fat Uyghur Wedding: Parade
A Uyghur wedding ceremony is a very personal, family-oriented affair.  Only a handful of people attend, which excludes most except for family and close friends.  Only after the ceremony is complete and lunch is over does the wedding become public.
Very, very public.
If you're lucky, as a tourist you might see a few of of these public displays in the streets of a Xinjiang city.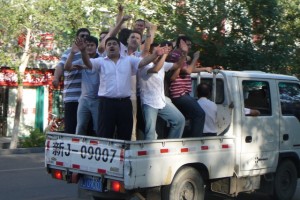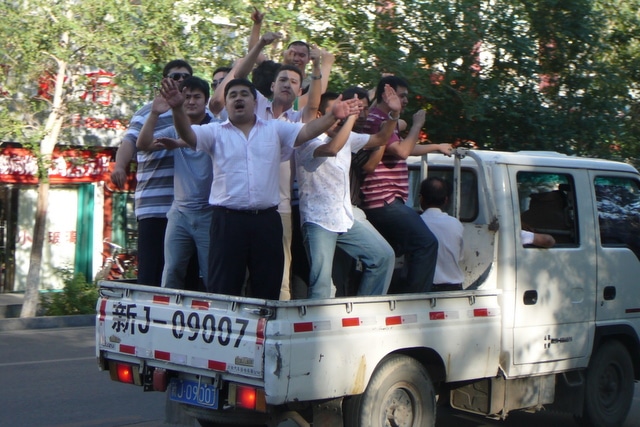 A parade of 6-20 cars, led by a flat-bed truck, slowly winds its way through the city making as much noise and ruckus as possible.  It's fun to watch and it's even more fun to be a part of.
The parade usually begins at the bride's home where the groom comes to pick her up, or at the least stops their during the journey.  Just as tears were shed between the groom and his mother during the Uyghur bachelor party, this final act of separation between the bride and her family is also accompanied by misty eyes.
In the following video you'll see this fascinating parade in action, but before you do let me explain a few things:
The SUV in the front is typical of this type of parade. The driver here determines the route and the back hatch is opened so that a camera man can capture the whole parade on video.
The second vehicle is usually a flat bed truck with up to 15 men standing crammed in the back.  There are also two musicians who keep the party going.  Guys back here dance, yell and pretty much make fools of themselves!
The black cars are headed by one carrying the bride and groom, while the rest are part of the wedding party.
If you're wondering, YES, this slow-moving parade causes great headaches for traffic – especially on the one-lane streets.  Oddly no one honks in frustration, though…it's just part of life in Xinjiang.
As you might expect, the parade ends at the banquet hall where many people are waiting to celebrate the reception with the newlywed couple.
Follow the links to view this video on Youtube (in US) or Vimeo (China)
Isn't that awesome!?  The entire parade lasts over an hour and, depending on the size of the city, often covers the whole town.
I wasn't able to catch this on film, but my favorite part of the whole parade was when it passed another Uygur wedding parade going the opposite way on the street.  What followed was nothing less than a competition for the craziest, loudest, most hyped-up truck full of men.
During the video above I admit they were getting a bit tired, but as a biased judge I have to say that when the time came for rowdiness, my friends stepped up and won that competition!
5 Characteristics of a Uyghur Wedding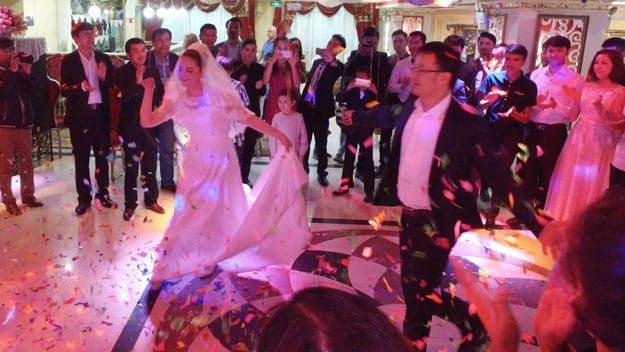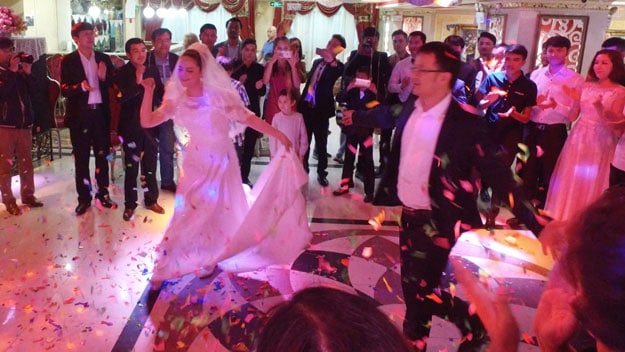 If you've ever attended a Uyghur wedding before, you're already aware that it's an extremely memorable experience. The food, the music, the dancing…all of it combines to create a culture event unrivaled in China's Xinjiang region.
While I don't consider myself to be an expert on the Uyghur culture, I've participated in enough Uyghur weddings to provide some fun insight I'm happy to share with you here.
So whether you've never attended one of these weddings before or you get an invitation every week, today I'd like to invite you to join me at a friend's wedding from May 2016. From this experience, I'll share with you 5 unique characteristics of a Uyghur wedding.
Don't miss more awesome videos! Subscribe to FarWestChina on YouTube.
#1 Men and Women Sit Separately
One of the first things you'll notice when you enter the banquet hall of a Uyghur wedding is the arrangement. Large, round tables often fill a hall with a dance floor in the center and a stage at the front. As people enter, all the men sit together on one side of the hall while the women sit on the opposite side.
All the Uyghur men sit on one side of the banquet hall
The only exception to this "rule" is the wedding party, all of whom sit at a center table facing the dance floor.
Aside from this gender separation, there are usually no other seating arrangements. You sit with your friends and coworkers, which usually means that most tables are further segregated by age.
#2 There is No Wedding Cake
Tables throughout a Uyghur wedding hall are always full of excellent Uyghur food. Whether it's small plates full of famous Xinjiang fruits and nuts or large platters of polo, big plate chicken and countless other local dishes, the table is never empty.
A table full of tasty food at a Uyghur wedding.
One thing you might notice missing, however, is a wedding cake.
This is one of many western traditions that haven't been adopted by the Uyghur people, despite the fact that many modern Chinese weddings have done so.
There are usually plenty of sweets to eat but if you ask any Uyghur about a wedding cake they'll just smile, shake their head and tell you that's just not part of the Uyghur wedding culture.
#3 But There IS Plenty of Dancing!
The foundation of a good Uyghur wedding is the dancing. This is a big part of what makes these events so much fun to attend!
There's so much that can be said about Uyghur dancing but suffice to say it's fun to watch. It is elegant, exuberant and joyful.
While the Uyghur men are often energetic – even spasmatic – in their dancing, the women provide a striking contrast with graceful moves and near-perfect posture. It is truly a celebration when everybody gets together for a wedding!
#4 Dancing: Men/Men & Women/Women
One of the first things I ever took notice about Uyghur dancing is the fact that it is culturally acceptable for men to dance with men and for women to dance with women. In fact, it's more common to dance this way than with the opposite sex.
This type of dancing usually takes place with partners facing each other, passing back and forth counter-clockwise to the rhythm of the music.
If it seems awkward at first, it doesn't take long to get used to this type of dancing. While technically partners are dancing with each other, the reality is that each is independently dancing. No one partner is leading the other.
#5 The Music is LOUD
If you thought the music at your wedding was loud, you're in for a surprise when you join a modern Uyghur wedding! If your ears aren't ringing by the time you leave the dance floor, then you're probably already deaf.
Now admittedly, this isn't a characteristic of the smaller, village weddings for the Uyghur people. In the cities, however, this has become the norm. Every wedding banquet hall is equipped with large subwoofers that are set to 11.
It's funny to see the older generation of Uyghur sit far away from the dance floor, marveling at the "youth" who like such loud music. Some things are the same no matter what culture.
Conclusion | Attending a Uyghur Wedding
Of course these aren't the only unique characteristics of a Uyghur wedding. There are plenty more that couldn't be fit on this list and many which I probably wouldn't have thought to include myself.
Have you been to a Uyghur wedding? Then add your comment below with your thoughts about what makes a Uyghur wedding unique.
If you haven't had the opportunity to join in on the festivities surrounding a Uyghur marriage, I encourage to travel out here to Xinjiang someday and do it. It's not uncommon for complete strangers to be invited to join a wedding, so even travelers passing through have had the chance to participate.