A Uyghur wedding ceremony is a very personal, family-oriented affair.  Only a handful of people attend, which excludes most except for family and close friends.  Only after the ceremony is complete and lunch is over does the wedding become public.
Very, very public.
If you're lucky, as a tourist you might see a few of of these public displays in the streets of a Xinjiang city.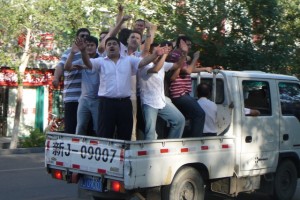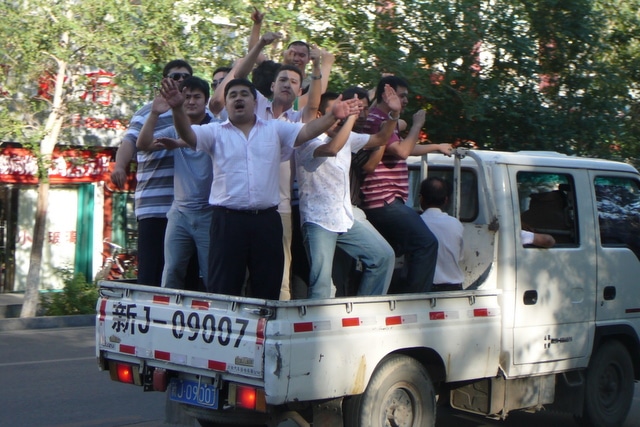 A parade of 6-20 cars, led by a flat-bed truck, slowly winds its way through the city making as much noise and ruckus as possible.  It's fun to watch and it's even more fun to be a part of.
The parade usually begins at the bride's home where the groom comes to pick her up, or at the least stops their during the journey.  Just as tears were shed between the groom and his mother during the Uyghur bachelor party, this final act of separation between the bride and her family is also accompanied by misty eyes.
In the following video you'll see this fascinating parade in action, but before you do let me explain a few things:
The SUV in the front is typical of this type of parade. The driver here determines the route and the back hatch is opened so that a camera man can capture the whole parade on video.
The second vehicle is usually a flat bed truck with up to 15 men standing crammed in the back.  There are also two musicians who keep the party going.  Guys back here dance, yell and pretty much make fools of themselves!
The black cars are headed by one carrying the bride and groom, while the rest are part of the wedding party.
If you're wondering, YES, this slow-moving parade causes great headaches for traffic – especially on the one-lane streets.  Oddly no one honks in frustration, though…it's just part of life in Xinjiang.
As you might expect, the parade ends at the banquet hall where many people are waiting to celebrate the reception with the newlywed couple.
Follow the links to view this video on Youtube (in US) or Vimeo (China)
Isn't that awesome!?  The entire parade lasts over an hour and, depending on the size of the city, often covers the whole town.
I wasn't able to catch this on film, but my favorite part of the whole parade was when it passed another Uygur wedding parade going the opposite way on the street.  What followed was nothing less than a competition for the craziest, loudest, most hyped-up truck full of men.
During the video above I admit they were getting a bit tired, but as a biased judge I have to say that when the time came for rowdiness, my friends stepped up and won that competition!
Check out the rest of this 4-part series on Uyghur Weddings:
The Parade