Before I had time to process what had happened, "boo's" were echoing from the crowd, beverage cups were being thrown down at the players on the court and a fight was about to break out between players and sideline press.
Nearby, a cameraman was sprawled out on the basketball court with his expensive camera a meter to his right, the product of a run-in with the coach of the opposing team.
Meanwhile the arena emcee was taunting the opponents over the PA system saying "The first half you were laughing, this second half we will make you cry!"
This was my first personal experience with the CBA (China Basketball Association), China's version of the NBA, and it was full of quite a few of these memorable moments that were never seen on TV.
And to think, I almost missed out on all this action because up until 30 minutes prior to the game, I didn't even have a ticket.
Attending a CBA Playoff Game
Last Sunday was Game 3 of the CBA Semi-Finals between the Xinjiang Flying Tigers and the Dongguan Leopards, a win-or-go-home night for the Leopards who were down 2-0 to the home team.
I had never been to a CBA game before, much less the playoffs, so I wasn't even sure I'd be able to grab a ticket. Purchasing online wasn't an option since they required a Chinese ID to register, so I found myself standing in front of Hong Shan Arena (红山体育馆) ticket-less.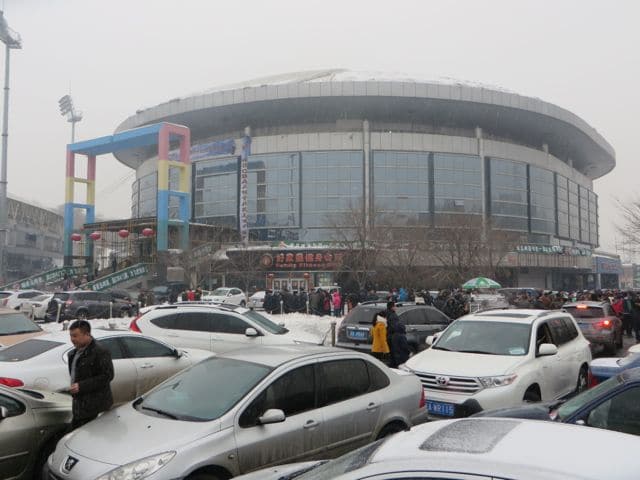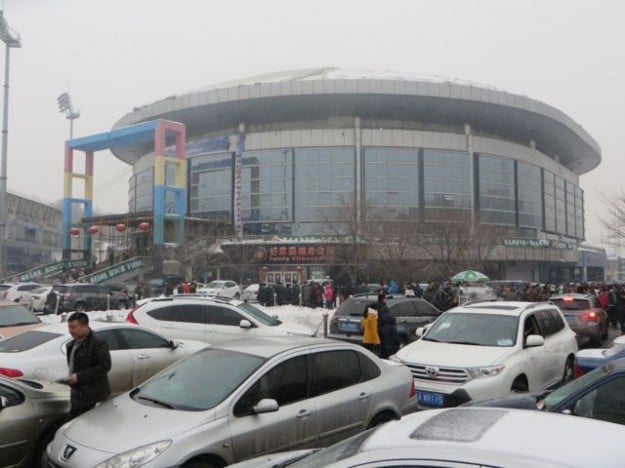 The Hong Shan Arena, located in the Xinjiang capital of Urumqi, is a cozy but otherwise drab venue. Although built in 2002 to the tune of 86 million yuan (US$14 million), the arena has aged quickly due to what seems to be neglect.
It only seats around 4,500 people, which means that there really isn't a bad seat in the house.
This was great news for me, since I only had 200 RMB to spend on the nosebleed section.
I asked around until I was directed to what I can only describe as a small closet where one woman was selling tickets to the game. "Plenty of seats available" she told me. I couldn't help but wonder, is 200 RMB too expensive for the Urumqi middle-class or was there just so little interest in the CBA?
With a ticket in hand I entered the main gate, passed by the single concession stand selling overpriced hot dogs on a stick, popcorn and cola, and took note of the single set of bathrooms that were supposed to accommodate thousands of fans. I ran from the foul smell as quickly as I could to find my seat.
It seems odd, but for years Xinjiang has had a playoff-caliber basketball team whose multiple appearances in the CBA Finals has yet to bring home a championship. One big reason for their success has been management's willingness to spend big money (at least by CBA standards) on foreign players.
Quite a few NBA players have spent a season all the way out here in Xinjiang, drawn by the money and the abundant playing time. This year the Xinjiang team is led by Lester Hudson, recently crowned this year's league MVP, and James Singleton, whom I remember as a player with the NBA's Dallas Mavericks, my hometown.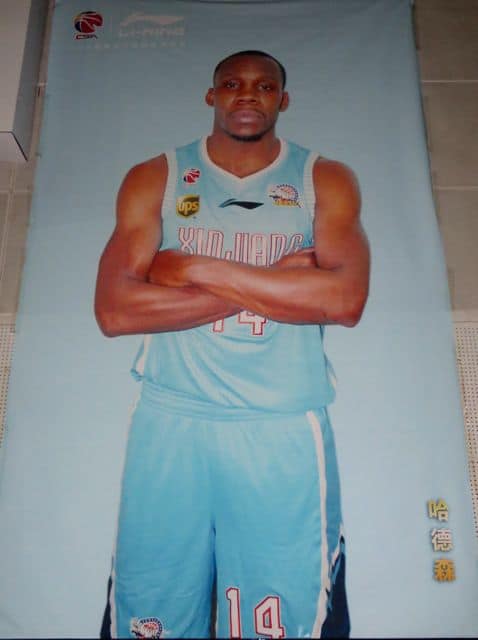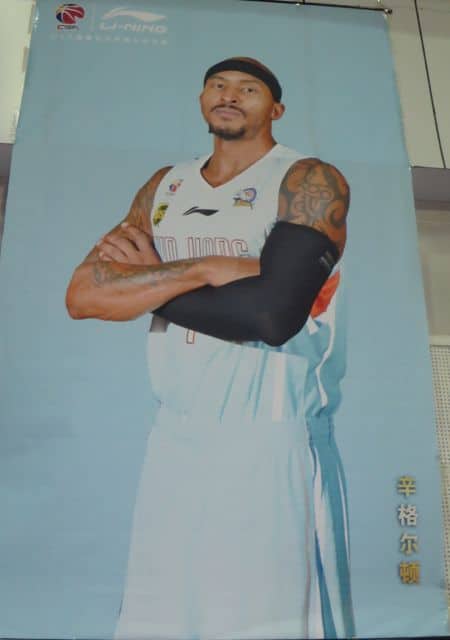 Hudson and Singleton
Following tipoff, these two American guys dominated the floor along with one Chinese named Tang Zhengdong, a post player who was a crowd favorite thanks to his frequent scoring in the paint.
I sat in the stands surrounded by a mostly middle-aged group of men who were more than happy to cheer, yell at the refs, stare at the pretty dancers and scream an English "F-you" toward the opposing team's foreign player. The only thing missing was bottles of beer which I noticed weren't being sold in the venue.
It didn't take long to find out why.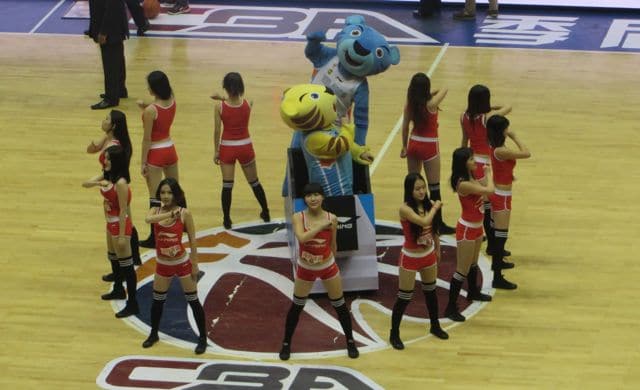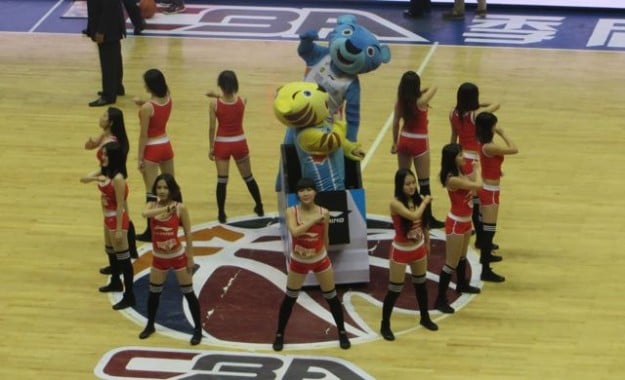 Trucks and Trucks of Police Security
Based on my un-scientific count, there had to have been at least 100 police officers keeping control of the sober yet somehow unruly fans. And when I say "police" I don't mean rent-a-cops or security personnel. They had arrived at Hong Shan Arena by the armored truckload.
Security in the Xinjiang province is always tight no matter where you are, but thankfully the biggest threat these police had to deal with during the game were fans who were throwing their cups of cola onto the Dongguan team bench. No wonder they didn't sell bottles of beer here.
"Please remain civilized" the emcee repeatedly announced.
With thousands of spectators and over a hundred police looking on, the Xinjiang Flying Tigers handily beat the Dongguan Leopards 108-100 to advance to the CBA Finals.
There was no big on-court celebration. There was no grand announcement that we were headed to the Finals. Within 10 minutes (no exaggeration) the arena was empty minus the cleanup crew. I walked outside to find a group of perhaps 40 people waiting by the team bus to snap a picture.
I had a blast attending my first CBA basketball game here in Xinjiang but the fun experience left me with one unanswered question.
Professional Basketball in Xinjiang
Why is it that it that nobody in Xinjiang, or perhaps even China, seems to care about the professional China Basketball Association (CBA)?
Basketball is an extremely popular sport here in China, arguably the most popular behind ping-pong. Ask any male youth and they can probably name their favorite NBA team and a few of their favorite players: 科比 (Kobe Bryant), 詹姆斯 (Lebron James) or 乔丹 (Michael Jordan) among many others.
But why can't the youth in Urumqi name 和德森 (Lester Hudson) or 幸格尔顿 (James Singleton), ex-NBA players who are playing in their own back yard?
Personally, I think one reason is that despite the talent of import players like Hudson and Singleton, the overall quality of play in the CBA is noticeably inferior to the NBA.
Also, most teams seem to be built around two or three foreign stars whose turnover rate is so high it's unbelievable. It's hard for the locals to latch onto the players or become fans when they spend at most a year, and sometimes only a few weeks with a team.
Things might change, however, if the Xinjiang Flying Tigers are able to win a championship this year. With this win they are now one step closer and who knows, maybe I'll buy some last-minute tickets to a Finals game here in Urumqi next week.