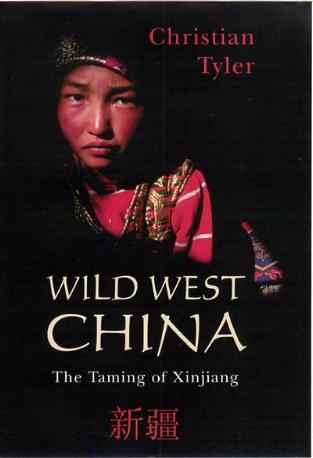 Wild West China: The Taming of Xinjiang
by Christian Tyler
review by Josh Summers
When it comes to information about Xinjiang's history, it's been a struggle for me to learn much while living here.  Sure, I could comb through the internet to gather bits and pieces written in a boring essay-format, but I'm not sure I would even trust what I read on this sensitive subject.
Considering some of the big anniversaries that are coming up this year I asked family back at home to send anything they could find that would help shed some light on this place I'm living.  What I received in the mail, Christian Tyler's Wild West China: The Taming of Xinjiang, seemed absolutely perfect.
I think I liked the book the moment I laid eyes on the cover.  A young minority girl stares ahead from within the shadows and I can't quite tell if she's sad or merely stoic.  This simple image seems to capture the beauty of China's "wild west" as well as its mystery in a way that no Wikipedia article ever could. For some reason the cover on the copy I received misspelled Xinjiang as 疆疆 instead of 新疆, but judging from the picture on Amazon mine might be a rare mistake.
If you're even the slightest bit interested in Xinjiang's history or the plight of the Uyghur, Wild West China is an interesting read.  Although many readers might be scared off by its detailed research and lengthy annotation section, Tyler's work reads more like a novel than a history book.  Warlords, concubines, explorers and missionaries all play a role in the development of Xinjiang, a development which for the most part has been volatile and very bloody.
Breaking Down Wild West China
Wild West China: The Taming of Xinjiang is broken into two parts: pre-1949 history and post (1949 being the year the People's Republic of China was established). China claims ownership of this land as early as the first century A.D., but Tyler argues that Chinese control was never really established until the "peaceful" liberation in October of 1949.  Before that time Xinjiang's borders were constantly shifting and its rulers ever changing.  Ruins and mummies hidden in the desert sands are the little that remain to testify to a long and difficult history.
After China took control in 1949, Xinjiang began to face a different set of difficulties.  While the neighbors to the south generally receive more international attention, it's hard to deny there aren't similar issues at play among minority groups here.
Tyler does a great job of highlighting these issues and discussing the present situation faced by those minorities living both within and outside the provincial borders. In what could have easily become an opinionated piece of western propaganda, Tyler sticks to the facts while revealing the insecurities and weaknesses of the occupier as well as the occupied.
My favorite part of this book is its comprehensive index, a resource that has been invaluable to me as I continue to study Xinjiang.  Although I plan to plow through Wild West China again later in hopes of retaining a bit more information,  right now I am happy to know that any information I might want to find is only a few page flips away.  Considering that this kind of information is not readily available on the open internet, this index is a wonderful tool.
Xinjiang is increasingly becoming one of the most important provinces within China's borders and Wild West China is the first of hopefully many books that will begin to open the curtains to a mysterious land about which very little is known.  Even though it was first published back in 2003, it is still relevant today.
For most people Tyler's work provides as fascinating glimpse of this part of China and a detailed account of its troubled history in a concise, readable format.  For some of you who want to travel to Xinjiang, this book will provide the background to help you admire and appreciate the area and its people all the more.
For another perspective, read the Cornucopia's review of Wild West China
Further Reading on Xinjiang's History
If Xinjiang's history interests you, you should also check out these other reviews