Update 2020: Every single one of the restaurants listed below is now closed. Very few foreigners remain in Xinjiang thanks to China's attempt to cover up the human rights abuses they are committing against the Uyghur. This post will remain active as a time capsule for what once was.
---
My son is a little over two years old now and I couldn't help but laugh yesterday when I asked him what he wanted to eat for lunch. Without hesitation he calmly turned to me and says:
"Pollo, daddy. I want to eat pollo."
My son doesn't want pizza, he doesn't want a hamburger or ice cream. He wants pollo, a signature Uyghur dish here in Xinjiang.
There are no "expat enclaves" here in Xinjiang and although that's part of what I love about living here, it does make getting away from local cuisine difficult. I want my son to at least appreciate Tex-Mex food, even if he doesn't love it as much as I do.
So why, when there are all these excellent Uyghur, Hui, Kazakh and Chinese dishes available, would I write about foreign dining options here in Xinjiang? Three reasons:
I've met too many foreigners traveling through Xinjiang whose digestive systems just need a break from the local cuisine. Trust me, it could happen to you too!
For the sake of people like me who live here – to let you know what's available.
To support the foreign business owners here.
Sure, you can stop by KFC or the new string of Burger Kings that are opening up here, but trust me when I say that your money will be much better spent at one of these fine establishments.
Texas Café – Tex-Mex Cuisine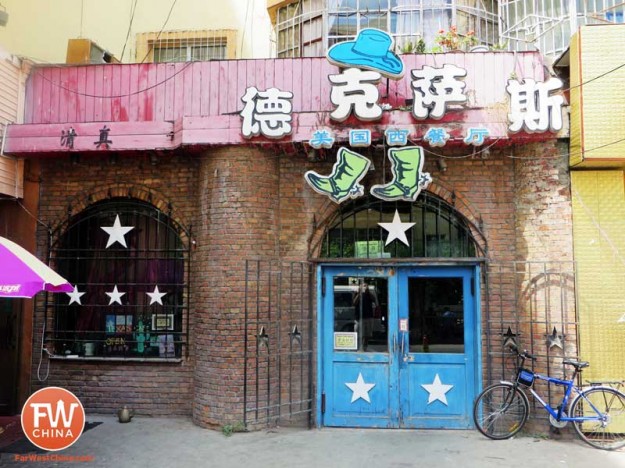 Name: Texas Cafe 得克萨斯西餐厅 (Dékèsàsī xī cāntīng)
Address: 马市巷葡萄长廊 (Mǎshìxiàng pútáo chángláng)
Average Prices: Meal – 50RMB; Coffee – 30RMB
Phone: 281-0025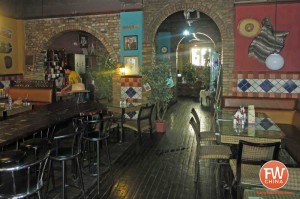 The Texas Cafe has been around since 2006 and continues to provide the only Tex-Mex cuisine available in all of Xinjiang. I've always loved the atmosphere of the Texas Cafe, perhaps because it reminds me of my home in Texas, but also because it's just very inviting.
Aside from traditional Tex-Mex dishes (burritos, fajitas, tacos), you can also get steaks, burgers and pasta – the regular foreign fare (all halal). Their coffee selection is good and I'm also a big fan of their ice cream. Some of the best in the city, in my opinion.
Finally, the Texas Cafe offers free Wi-fi and a library of books to rent or buy. Because of it's central location near NanMen, this is one of the first places I suggest when somebody wants to meet for coffee.
Il Pijazza – Mediterranean Cuisine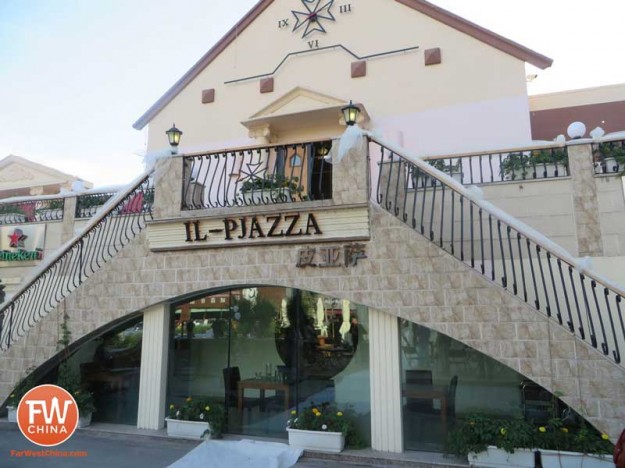 Name: Il-Pjazza (Pí yà sà)
Address: 南湖东路346号无界悠活广场 (Nánhú dōng lù 346 hào wújiè yōu huó guǎngchǎng)
Average Prices: Lunch – 50RMB; Dinner – 80-100 RMB; Coffee – 30RMB
Phone: 418-1751 (Restaurant); 418-1753 (Bar)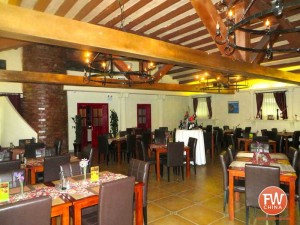 Opened by the same gentlemen who first opened the Aroma (detailed below), the Il-Pjazza is by far the nicest foreign establishment in town. The food is excellent (Maltese, Italian and the traditional foreign fare) and they have an amazing wine cellar if that's your thing, but what blows me away is how beautiful the place is. There's outdoor seating, indoor seating, private rooms and even a separate bar off to the side.
This has been a great date night getaway. It's not the place to bring your computer and get work done, but if you want to bring a good book and sip on a glass of wine during sunset, it's a perfect option.
Because the Il-Pjazza is so new, most taxi drivers won't know where it is and map applications don't yet have the area developed. It's open, though, and if you just look for a big "YoHo Square" sign you'll find it tucked away, a bit difficult to see from the street.
The Vine – Caribbean Cuisine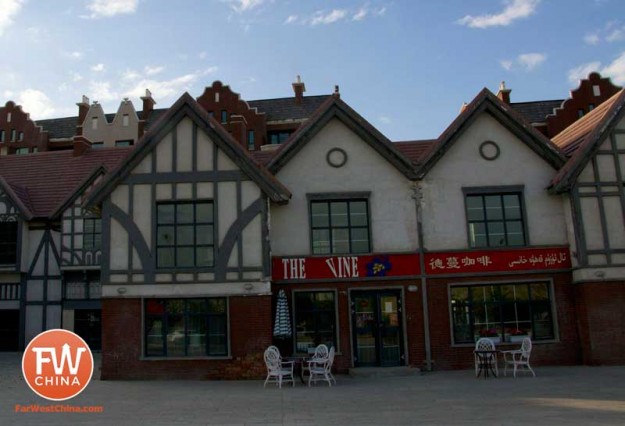 Name: The Vine 德蔓咖啡 (Dé màn kāfēi)
Address: 乌鲁木齐市骑马山路8号 (Wūlǔmùqíshì qímǎ shānlù 8 hào)
Average Prices: Meal – 40-60 RMB; Coffee – 30RMB
Phone: 230-4831
While the Vine currently feels like it's located in the middle of nowhere, believe it or not this is where Urumqi is growing. Eventually when the new Xinjiang high speed train station opens up, this will be a great place nearby to stop for dinner prior to your journey.
Although The Vine is new at it's current location, it's actually been running in Urumqi for quite some time. The sweet lady who runs it has been forced to moved multiple times but has consistently kept it in business longer than most any other foreign restaurant in Urumqi.
Despite this history I didn't have high hopes when I visited this joint. I was blown away, however, by the unique offerings on the menu. I had chicken in a special peanut sauce and it was awesome. You won't find this cuisine anywhere else in Xinjiang and that's what will keep me coming back, even if it is a good distance away.
Considering that the coffee is good, they offer free wi-fi and there's outdoor seating, this is one of those places to sit down and get caught up on emails or social media while traveling.
Rendevouz - Western Bistro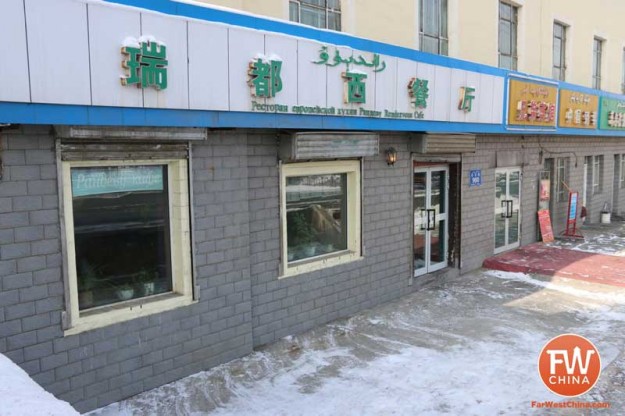 Name: The Rendezvous 瑞都西餐厅 (Ruì dōu xī cāntīng)
Address: 延安路960号 (960 YanAn Road)
Average Prices: Meal – 40-60 RMB; Coffee – 10-25RMB
Phone: 255-5003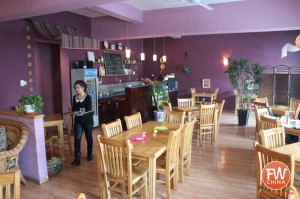 The Rendezvous is the longest-running foreign establishments in the city another restaurant opened here in 2006 (see comments below), but you'd never know it from walking by. As you can see in the photo above, it's quite inconspicuous from the outside and easy to miss unless you know what you're looking for. The words "Rendezvous Cafe" are so small on the sign to almost be unreadable.
The food here is great,however, and the shakes are a kid-favorite around here. The location isn't ideal but there are plenty of buses that pass by.
My only complaint with the Rendezvous is that they don't offer Wi-fi. Maybe it's just me, but when I'm traveling around I like to have access to free Wi-fi and for some reason they have decided not offer it. Other than this, though, you will find their sandwiches, burgers, pizza and a variety of other foods a welcome reminder of home.
George & Dragon – Italian Cuisine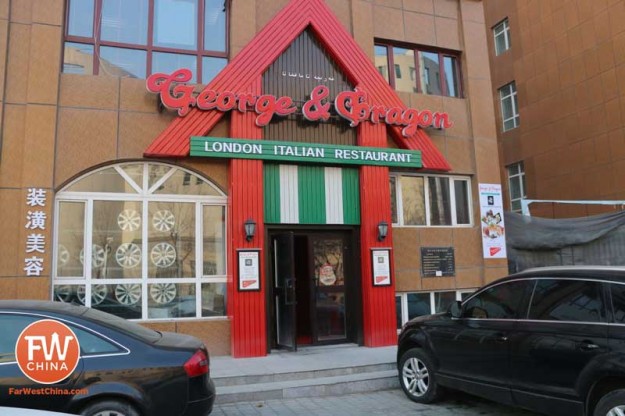 Name: George and Dragon 乔治龙腾 (Qiáozhì lóngténg)
Address: 师大西路179号 (960 ShiDaXi Road)
Average Prices: Meal – 30-60 RMB; Coffee – 20-30 RMB
Phone: 483-6180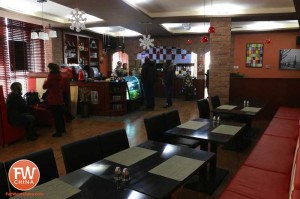 Opened in 2013, George and Dragon bills itself as an English-themed Italian restaurant. They serve good pastas, pizzas, and burgers for reasonable prices (at least by foreign restaurant standards). I was disappointed to find they don't serve fish and chips.
There's free Wi-fi (in fact, I'm writing this article from their dining area right now) and there's always a TV on playing Coldplay or some other English-based band.
If you're going to be further north close to YouHao or visiting the Xinjiang Normal University, this restaurant is a nice little getaway.
Aegean Sea – Greek Cuisine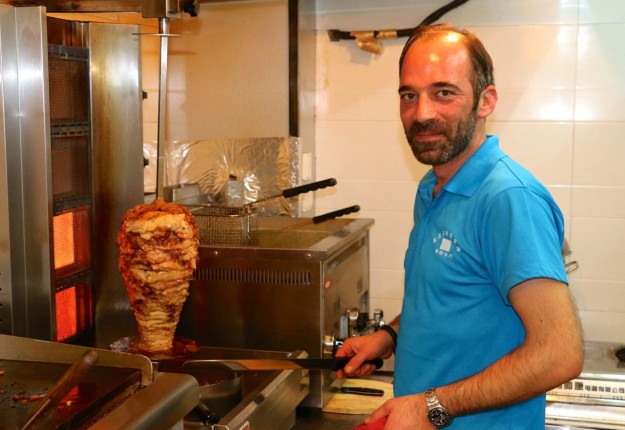 Name: Aegean Sea
Address: 酒花大厦 (behind JiuHua DaXia)
Average Prices: Meal – 30 RMB
Phone: 181-3960-2402
Although this is quite a small restaurant when compared to the others on this list, the Greek restaurant run by Yannis (pictured above) and his sister Sofia has earned a good reputation among the foreigners here for it's good food and cheap prices.
The only problem is that it can be quite difficult to find. Refer to the map I link to above, but you're basically looking for a small place behind the tall building directly north of NanMen.
Once inside you can order a gyro (homemade pita), Greek fish (imported and excellent), Greek pasta, Greek pizza and so much more. Seating is limited and they obviously didn't have a big budget for decorating, but if all you care about is some good Greek food, this is the only place in town.
Aroma – Malta Mediterranean Cuisine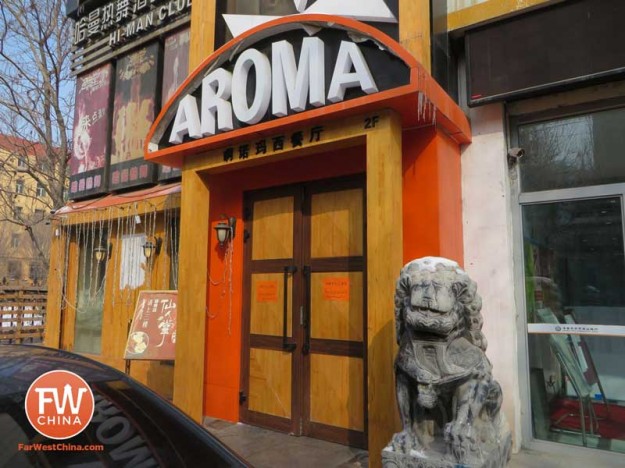 Name: Aroma 啊诺玛 (Anuòmǎ)
Address: 建设路196号2楼 (196 JianShe Road, 2nd floor)
Average Prices: Meal – 50-150 RMB; Coffee – 20-30 RMB
Phone: 283-5881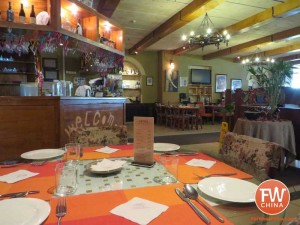 Originally opened by the team that is now running the aforementioned Il-Pjazza, Aroma has always been one of the nicer foreign options in Urumqi.
The central location and pleasant atmosphere inside has been one of the keys to its success.
Currently under new management, the Aroma has maintained its menu of Mediterranean fare which, although expensive, is absolutely delicious. The bar is stocked and the coffee is comforting.
I love the quiet, intimate environment the Aroma offers. It reminds me of similarly-priced restaurants in the West and isn't something you find often here in Urumqi.
---
Final Thoughts
So there you go! There are a number of other foreign-owned coffee shops, bars and even a chocolatier here in Urumqi, but this list is just focused on those places where you can eat an entire meal.
It's also worth noting that I am not diving into places where you can get a burger in Kashgar, Turpan or other places throughout the region. Most of those places are locally owned and operated and although they aren't bad, I've never been terribly impressed.