Anybody who's actually heard of the remote town of Wusu (乌苏 in Chinese or Shiho in the original Uyghur) in China's Xinjiang region usually only knows it for one thing: Wusu Beer. I don't blame them, really. How is any traveler supposed to know that Wusu is home to spectacularly diverse and stunning scenery?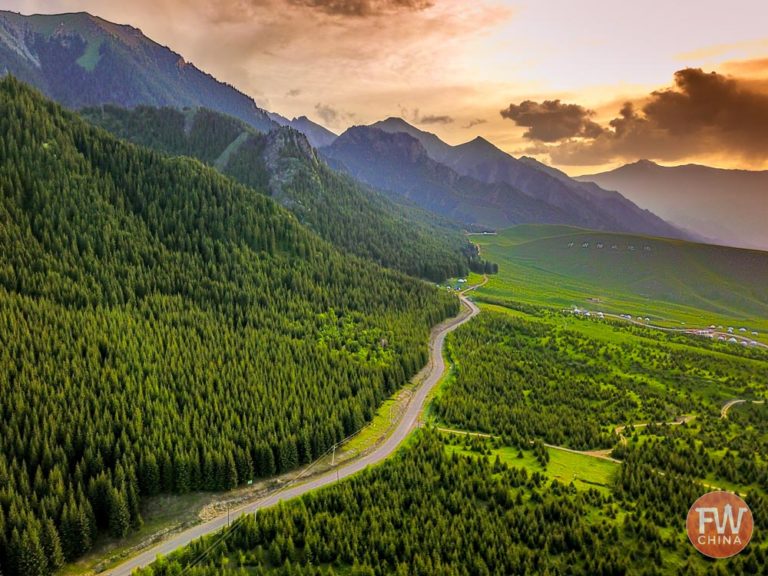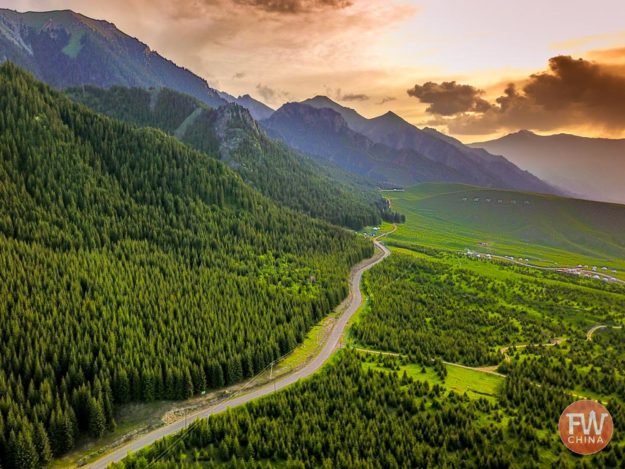 On the invitation of some local friends, I decided to make a trip out to Wusu to find out for myself what hidden treasures lay undiscovered.
With the help of an off-road vehicle, my Mavic Pro drone, and plenty of water bottles, we set out to explore Wusu, Xinjiang.
Before you read more, make sure you watch the video below that was the result of this amazing trip!
Don't miss awesome, weekly videos…subscribe to FarWestChina on YouTube!
Wait…Where is Wusu, Xinjiang?
I left my home in the Xinjiang capital of Urumqi early in the morning, prepared to board a 3-hour train to Wusu.
The reality is that I got off the train at Kuitun (奎屯), part of a small group of towns in central Xinjiang, just north of the Tianshan mountain range.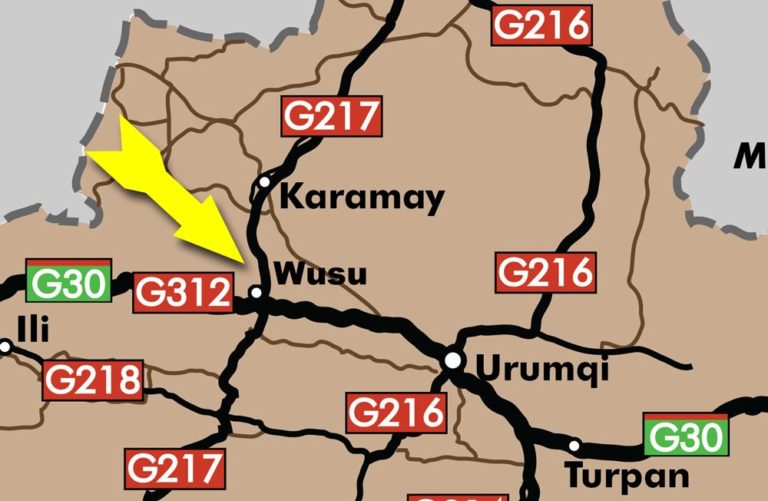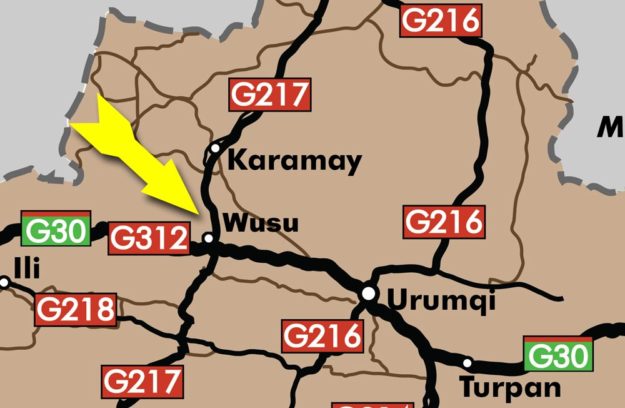 Despite its small size, Wusu has a long history of farming and agriculture in Xinjiang. The town itself is quite small but the land that is technically under the local government's jurisdiction expands almost as far as Sayram Lake near Yili (Ghulja).
Because of the fertile ground, warm weather and consistent sun, Wusu is an ideal place to plant two of the region's most important crops: cotton and hops to make beer.
The Wusu beer has become famous all over China and has even spawned an annual beer festival that overtakes the city each summer (although not nearly as big as the Qingdao festival).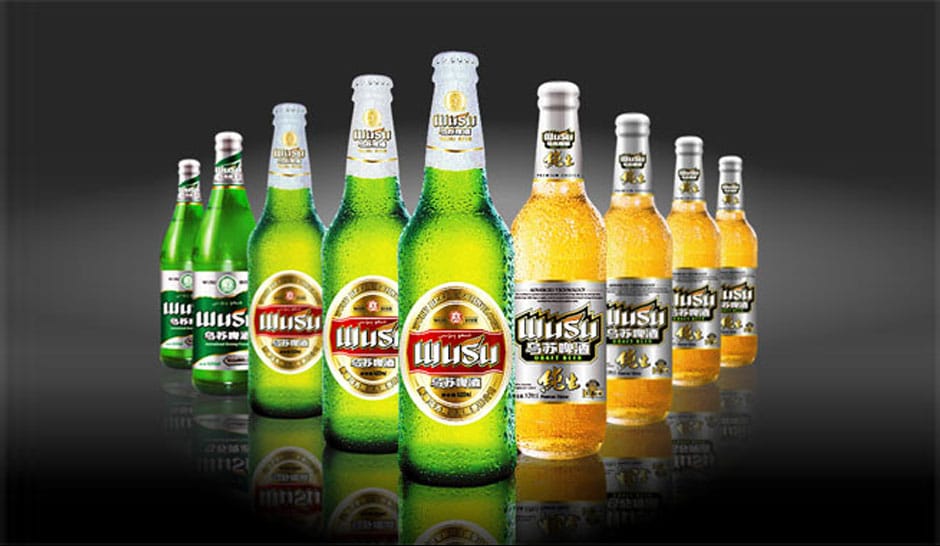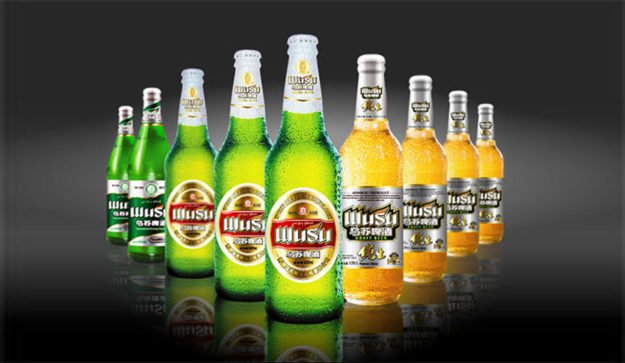 Exploring Wusu | A Traveler's Delight
Honestly, I had no idea what to expect with a visit to Wusu. The city isn't listed in any English-language traveler's guide (including the FarWestChina travel guide…for now!), so I didn't have much information to go on.
Thankfully, my driver and friend/guide were prepared to take me to what they considered worthwhile scenic spots. I was just along for the ride!
Dushanzi Grand Canyon (or Wusu Grand Canyon?)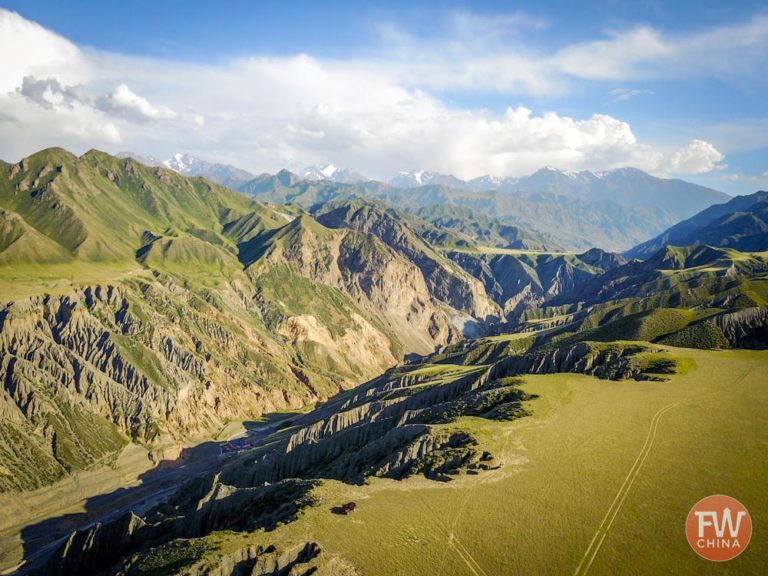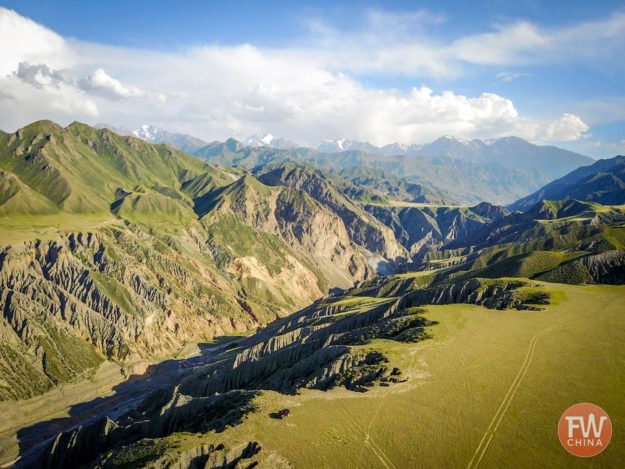 Our first stop was what is known as the Dushanzi Grand Canyon or 独山子大峡谷. The canyon has been carved out by water coming down from the nearby Tianshan mountains, a river that basically splits between two towns: Dushanzi (also known in Uyghur as "Maytagh") and Wusu.
Both lay claim to the canyon and yet Dushanzi somehow won the naming rights :)
At this point, though, that's the way it should be. I've been to both sides of the Grand Canyon and whereas the Dushanzi side has paved-road access and a nice path to a viewing point, on the Wusu side we had to travel off-road for a good distance to get to a good spot.
Entrance to the Dushanzi Grand Canyon, either from the Dushanzi or Wusu side, is for now free.
Wusu Foshan National Forest Park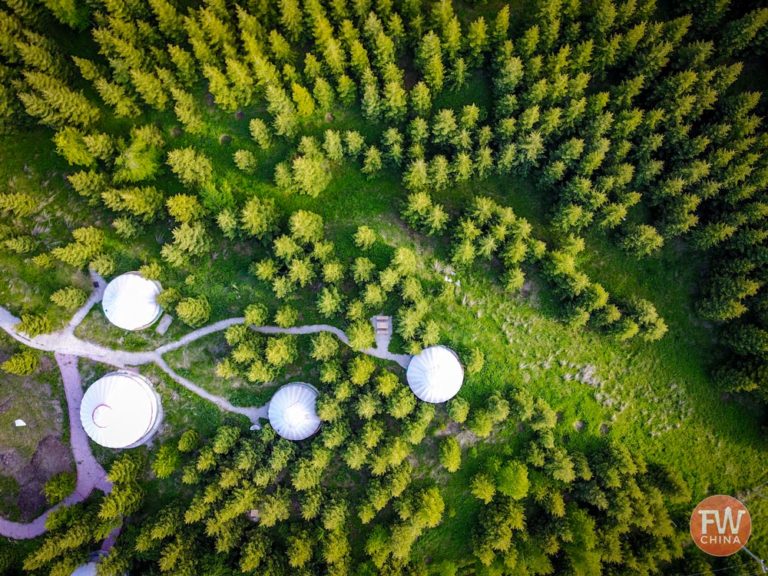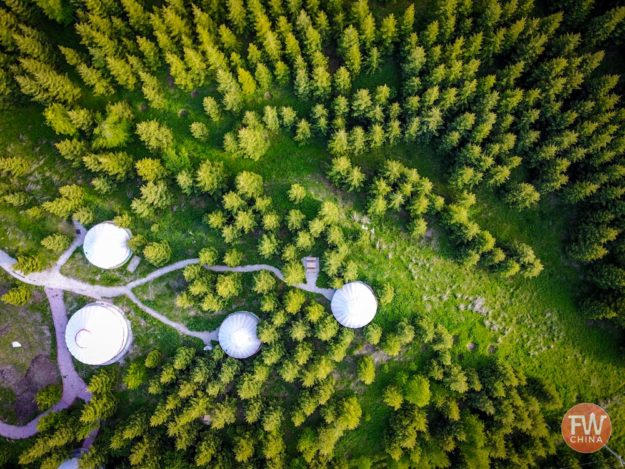 Very few people have ever heard of the FoShan National Forest Park, written in Chinese as the 乌苏佛山国际森林公园. The city has tried to build it up as a tourism hot spot and yet – at least for now – it's only the Wusu locals that go there.
The trek into the mountains is beautiful and the cool weather was a nice change from the dry heat of Wusu. Best of all, there are plenty of Kazakh yurts that offer a good meal of lamb kebabs and beer.
Entrance to this National Park is 38 RMB per person.
Kezijiaer Lake – A "Weird" Lake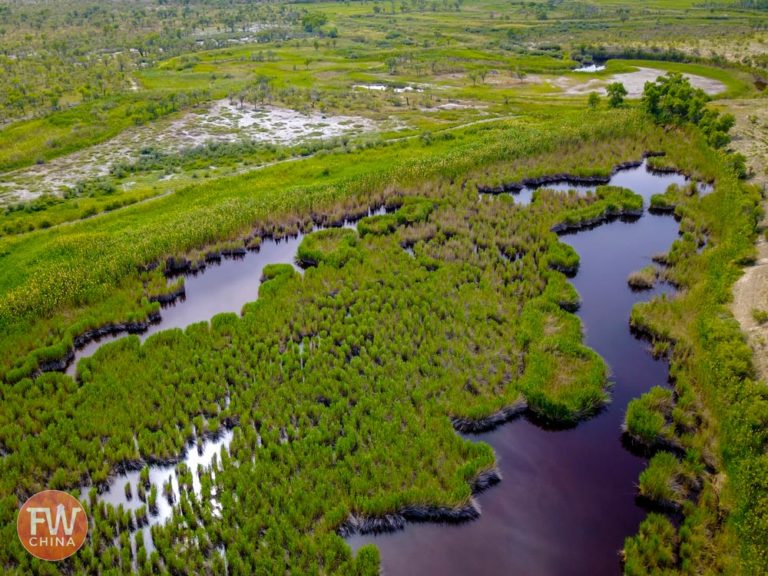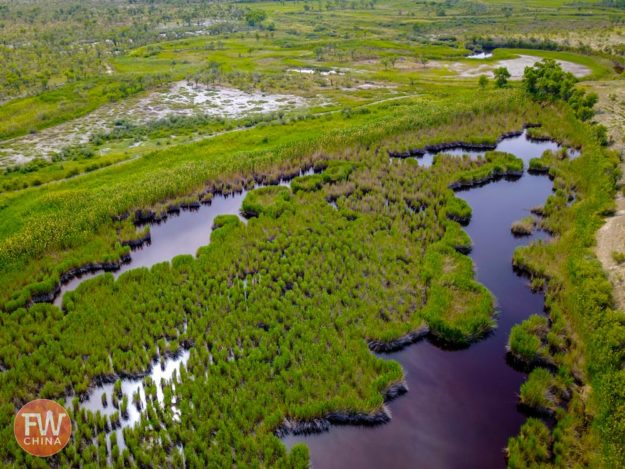 Traveling out further west and a bit north, we started to hit a more desert-like climate. We stopped among a collection of centuries old trees and visited villages that haven't seen a foreign face in years.
Our primary stop in this direction was the Kezijiaer Lake, or 克孜加尔湖. The locals refer to this lake as a 怪湖 or "weird lake" because 1) it's situated pretty much next door to a desert and 2) the cliff-like rocks look like they've been formed from a moving river and yet it's a standing lake. Weird.
Honestly, I've been to some incredible lakes in Xinjiang and Kezijiaer Lake does not rank up there with the rest. Still, it was an interesting stop along the way to our next destination. The desert.
The Wusu Desert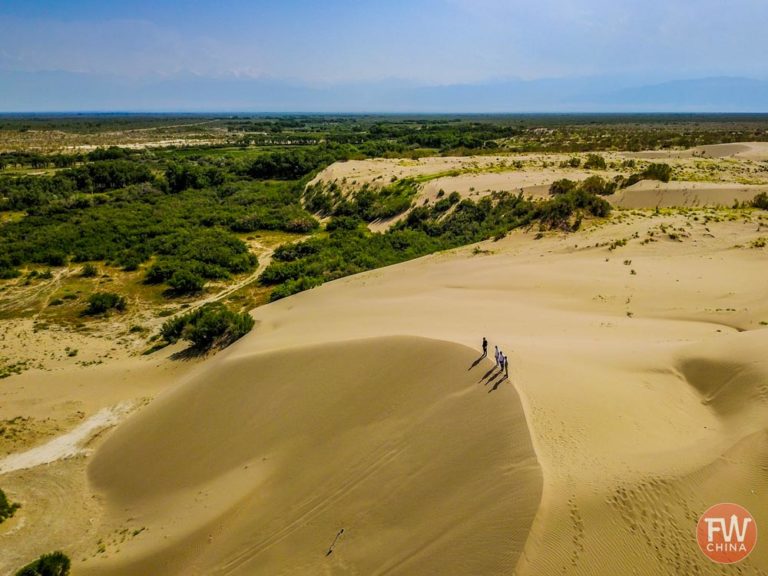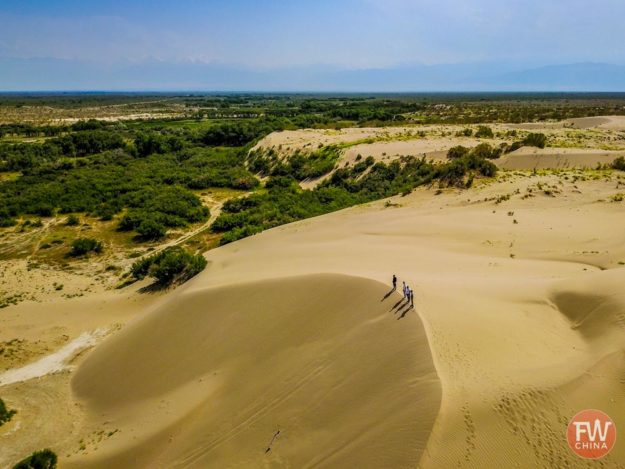 I feel kind of stupid calling this the "Wusu Desert" because that's obviously not the name. It's not a part of the Taklamakan Desert or directly connected to the Gobi Desert, though, so nobody was able to tell me exactly what the name of the desert was.
Frankly, it's not what most people think of when they hear desert: there are shrubs and marshlands that cut through the rolling sand dunes. That was intriguing to me, though.
In the heat of the day, all it took was one climb up the dunes and a run back down and I was finished!
Wusu's Biggest Problem: Security
Now, before you go off and start planning a trip out to Wusu, Xinjiang I must warn you about one thing that almost ruined my travels there: security.
From the time I got off the train in Kuitun (the nearest train station) and registered at my Wusu hotel, I had visited five different police stations for registration. Was that really necessary? No, it wasn't…but in these parts of China where they rarely ever see a foreigner, the local police don't know what to do with us.
Because of the way China's authority is structured and blame is handed down, every police station I passed wanted to take me in and copy down all of my information. Just to be save. CYA, you know?
Well, that made for a super-annoying travel, but frankly not unexpected. I knew coming into Wusu that I would be subject to a lot of scrutiny in this current environment, and the Wusu police didn't disappoint.
Perfect End to a Great Travel Day
My final destination was probably one of the most enjoyable, primarily because it involved a lot of people. I'm talking about the Wusu Night Market that happens every evening. Part of what makes this so special is that it's one of the few night markets that still occurs in Xinjiang – many of them (including in the capital of Urumqi) have been shut down for security reasons.
The night market is a great place to explore different culinary options ranging from Uyghur kebabs to Hui noodles. Of course, there's also the option to drink plenty of Wusu beer ;)
I'm not much of a beer guy, but seeing as this is the Xinjiang capital of beer, I had to give it a try. The local brewery makes a special batch each day that they serve at the night market – they say it's only good for 24 hours before it goes bad – and I have to say that I liked it.
Perhaps I was just worn out and exhausted from the day's travels ;)